Nest Learning Thermostat Reviews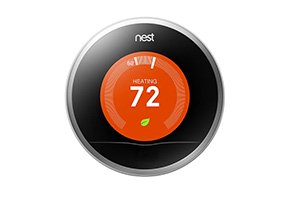 The Nest Learning Thermostat from Nest Labs claims to "learn" your habits, program itself based on your schedule, and to save up to 20% on your utility bills.
About Nest Learning Thermostat
If you're even remotely interested in home technology, you've certainly heard of the Nest Learning Thermostat. This cool little gadget claims to pack a whole lot of punch into a small, tidy package, including learning your schedule, programming itself based on what it's learned, and even giving you the ability to control it from your smartphone. In fact, the Nest Thermostat's learning feature is even claimed to reduce your heating and cooling costs by a whopping 20%.
As if this weren't enough, the manufacturer claims that the Nest Learning Thermostat works in 90% of homes, can be installed by most people in less than 30 minutes, and takes less than a minute to set up once installation is complete.
Clearly, the Nest Learning Thermostat has the ability to revolutionize how we heat and cool our homes. And here at HighYa, we're always interested in learning about the latest and greatest technology, so we decided to try the Nest ourselves. Here's what we learned:
Who is Nest Labs?
Co-founded by Tony Fadell, who previously worked at Apple and is known as "one of the fathers of the iPod," Nest Labs was formed after Tony was building a new home and found limited options available for "smart" thermostats. As a result, he decided to build one himself and Nest Labs was born.
Since it's founding, the Nest Learning Thermostat has gone through five different models and two different versions (the most recent release was during the third quarter of 2013, and is the version we tested). The company has even recently expanded their lineup to include smoke and carbon monoxide detectors.
Our Experience with the Nest Learning Thermostat
Here at HighYa, our primary goal is to make you an informed consumer, so let's take you on a step-by-step journey through our experience with the Nest Learning Thermostat.
Unboxing the Nest Learning Thermostat
When unboxing the Nest Learning Thermostat, we found that the packaging was pleasing to the eye and well thought out, and included everything that was indicated, such as:
The Nest Learning Thermostat with solid stainless steel ring
1.75-inch diameter LCD screen, with 320x320px display
Built-in rechargeable lithium ion battery
Sensor window
Screwdriver
Screws
Back plate
Wiring plate
Overall, we found everything very convenient and easily accessible. But was installation just as easy? Let's take a look.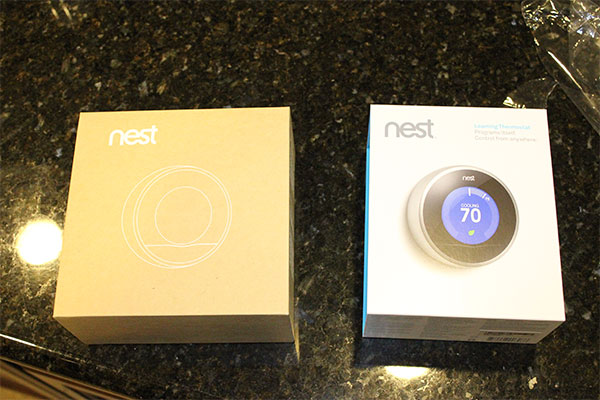 A look at the Nest packaging
Nest Learning Thermostat Installation
If this is your first step into the world of home automation, you're probably wondering if the Nest will work in your home. To answer this, according to the company, the Learning Thermostat will work in 99.9% of homes that already have a traditional thermostat installed. If you have any reservations about whether or not it will work though, you can figure it out by using this handy look at your wires feature on the company's website.
With this said, we found installing our Nest Learning Thermostat to be fairly simple and straightforward, with crystal clear instructions provided across 12 easy steps (you can view and download a copy of the installation guide here). The only note we'd make here is that having a drill handy will allow you to be much more precise (and less messy) than using a hammer to make a hole in the wall. And if necessary, the company even features a 4-minute installation video on their website for easy reference.
Ultimately, installing your thermostat involves connecting 4 red, blue, yellow, and white wires to the appropriate slot (a universal feature among thermostats):
Red into Rh
Blue into W1
Yellow into Y1
White into W1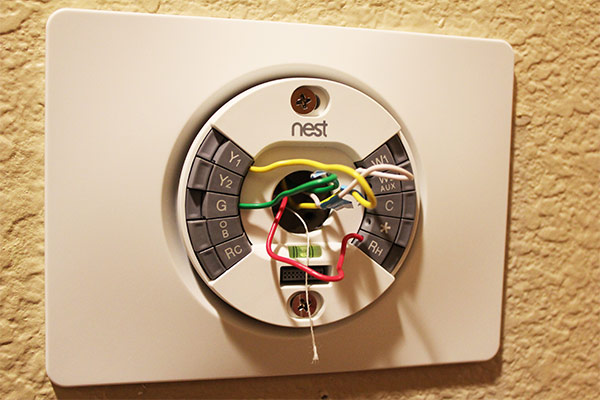 An example of the Nest Learning Thermostat's wiring.
However, we could understand how the process might be somewhat intimidating if this is your first thermostat installation. If this is the case though, the company offers Nest Pros that can install your thermostat for you, which are local agencies that subcontract with the manufacturer.
To enlist the help of a Nest Pro, you'll simply need to enter your zip code, and a list of certified service providers in your area will be displayed. Here, you'll also find contact information for each of these providers, as well as general installation pricing. Note: Unless you really can't do it, you'll save a good chunk of change installing your Nest Learning Thermostat yourself, and you'll learn a new skill in the process!
What Happens After the Nest Learning Thermostat is Installed?
After we installed our Nest Learning Thermostat, the first thing it did was connect to our WiFi network. And while this step isn't 100% required in order to use the thermostat, you'll miss out on numerous perks if you don't connect it to a WiFi signal.
After connecting to WiFi, our Nest Thermostat checked for any software updates and installed them as needed. Then, it asked for our zip code, in addition to where the thermostat was located (e.g. bedroom, hallway, kitchen, etc.). Ours was installed in the hallway, which is probably where most thermostats are located.
Finally, our Nest Learning Thermostat ran a series of quick tests to check our cooling and heating system, as well as the fan. Once it found that everything worked properly, it let us know that it was now successfully installed.
Remotely Controlling Your Nest Learning Thermostat
Now, it's time to talk about our favorite Nest Thermostat perk; the ability to control it from our phone or computer.
In order to accomplish this, all we had to do was create a free account at home.nest.com, and then select the "Add a Thermostat" option. Once we did this, the website asked for our thermostat's Entry Key (each Nest thermostat unit has a unique one), which we obtained by pressing the dial on our thermostat, choosing Settings, selecting "Nest Account," and finally selecting "Get Entry Key."
After we completed this, our thermostat displayed a series of numbers and letters (e.g. "925 Cake"), also known as the Entry Key, which we entered into the appropriate field on the Nest website.
Once we finished the process, we were able to control our Nest Learning Thermostat directly from the website or from our smartphone app, the latter of which can be installed on your iPhone or Android phone by logging in with your Nest account credentials. Super easy and super cool!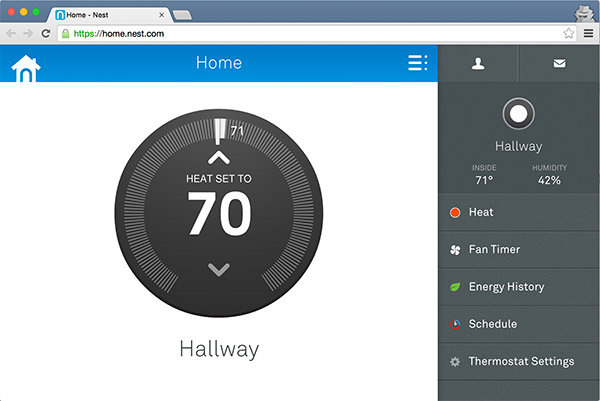 A look at the Nest web interface and controlling it from anywhere
Putting the "Learning" in the Nest Learning Thermostat
After our Nest Learning Thermostat was installed, we finally had the chance to put it to the test and see how it performed in the real world.
At its most basic, the thermostat "learns" using a proprietary algorithm that becomes accustomed to your living habits, and the adjusts according. For example, if the thermostat finds that you consistently set the temperature to 72 degrees sometime around 7pm, it will start doing so automatically. Then, if you tend to set the temperature to 75 degrees upon waking up in the morning, and then turn it down to 69 degrees right before you leave for work, your Nest will begin doing the same after "learning" for a couple of days.
Your Nest Learning Thermostat saves this information in an "energy schedule" that looks very similar to a weekly calendar, and that allows you to add, remove, and adjust any temperature for any date or time of the week. In fact, you can even turn off Nest's learning algorithm altogether if you'd like to manually adjust temperature at all times.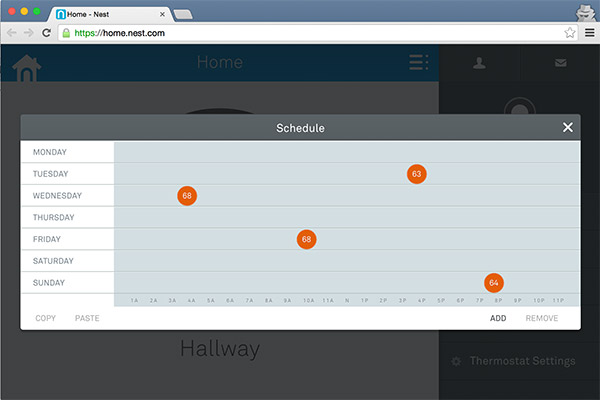 An example of Nest Learning Thermostat's fully adjustable energy schedule
In our opinion, this is an especially useful feature if you have only a few people living in your home with fairly consistent schedules. However, if you have more than few people with inconsistent schedules (e.g. sports, work, school, travel, etc.), then you might be better off manually adjusting your thermostat.
The company claims that a programmed thermostat can save you as much as 20% on your heating and cooling bills. Granted, this likely applies to all thermostats, but Nest claims to make the programming process extremely simply, which is something that most other traditional thermostats don't.
Our Favorite Nest Learning Thermostat Feature
Once our Nest Learning Thermostat has been installed, set up, and programmed, and we had some time to play around with it, our favorite feature was the ability to control the temperature from our computer or smartphone while away from home. Granted, the easy programming aspect of the thermostat is much easier than most of the competition, and it can also help you save money, but as we mentioned above, not all people will use this.
On the other hand, we feel strongly that the ability to remotely control your temperature is something that nearly everyone will use, since you'll be able to make sure your home is perfectly comfortable by the time you walk through the door. In fact, you don't even need to be away from home to use this remote feature; you can just be laying comfortably in your bed and not want to get up.
Are Customers Happy with Their Nest Learning Thermostat?
Overall, it appears that Nest Learning Thermostat customers are very pleased with their purchase, which has led to a very positive online reputation.
CNET appreciated the Nest Learning Thermostat's ease of installation, good looks, functional app, and its ability to remotely control your temperature. On the downside, the thermostat's high price was noted as its biggest potential stumbling block.
Similarly, the 2nd gen Nest Learning Thermostat earned a global score of 95 on Engadget, who also appreciated its beauty, ability to learn your habits, the ability to save you money, and its high quality construction.
The second generation Nest Thermostat had more than 3,400 customer reviews on Amazon (as of 3/6/15), with an average rating of 4 stars. Common compliments appeared to reference its high quality, ease of installation/programming, the ability to control temperature remotely, and good looks.
On the other hand, several customers noted problems with updates, inaccurate temperature readings (e.g. the thermostat displayed 76 degrees when it was actually only 70 in the room), and units that would quickly run out of power and require manual recharging (known as power stealing).
From a company perspective, Nest Labs based out of Palo Alto, CA holds an A rating with the Better Business Bureau, based on 38 closed complaints (as of 3/6/15). Nearly all of these referenced problems with the product or service, including compatibility problems (including damage to HVAC systems), difficulty reaching a representative of the company, and difficulty obtaining refunds.
Nest Learning Thermostat Pricing & Refund Policy
If purchased directly through Nest Labs, the Nest Learning Thermostat is priced at $250 and includes free shipping. However, the thermostat is also available through a wide variety of third-party retailers, including Home Depot and numerous online stores.
Should you choose to purchase your Nest Learning Thermostat through the company, it will come with a 30-day refund policy, less S&H charges. If purchased elsewhere, this policy could vary.
In order to request a refund for your Nest Learning Thermostat, you'll need to contact customer service at 855‑469‑6378.
Our Final Thoughts About the Nest Learning Thermostat
Overall, we really enjoyed our Nest Learning Thermostat. It's very easy to use, and looks sleek, modern, and stylish on our wall.
With this said, our only issue (if we could even call it that) is that the Nest doesn't include a retina display, which might look fairly ancient, especially if you're using it in conjunction with a newer iPhone.
Like we said though, this is an extraordinarily small complaint, and we think you'd probably be very pleased with your Nest Learning Thermostat. We know we certainly were!
Love it

Tennessee

,

Jul 7, 2017
Verified Reviewer

Three years running with no issues. At night, it lights up when you approach so you can adjust the temp. As to saving money, I can't comment because, in the south, we run our AC pretty much 24/7. In the winter it does help keep the house from getting too warm.

Bottom Line: Yes, I would recommend this to a friend

---

Horrible customer service

I've had my Generation 3 Thermostat for less than two weeks now, and it's constantly offline. I contacted their customer support by email, and was told that there are a lot of customers with this issue, and they are working on it. But, I did not get a call back. I called Nest Learning Thermostat twice, and got a recording that they are working on the issue. I finally spoke with a live person, who said that he was not aware of any issues.

The bottom line was that my internet connection was too strong, so now it's my problem. The CSR told me he could no longer help resolve this issue, and that's where it stands. I'd strongly advise not to purchase the Nest Learning Thermostat, until their CSRs know the product, and become aware of the solutions. Now I have an unresponsive thermostat, and I need to pay to have it removed and replaced. Only then can I return my Nest.

Bottom Line: No, I would not recommend this to a friend

---

Advertisement

---