Netflix Reviews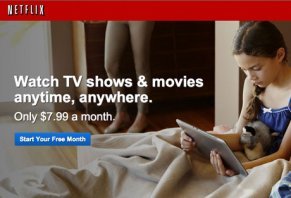 Netflix is a streaming service that allows you to watch unlimited movies, documentaries, and full seasons of television shows.
About Netflix
With a claimed membership of 30 million users, Netflix is an online video service that allows you to watch movies, documentaries, and television shows in a wide variety of genres.
These include crime, drama, family, classics, sci-fi, independent, fantasy, romance, comedy, action and adventure, and much more.
Netflix Features
Because of its prevalence in the marketplace, Netflix can be viewed on almost any electronic device, including computers loaded with a standard web browser, iPhone, Windows 8, and Android phones, iPad, Android, Nook, and Kindle Fire tablets, gaming consoles such as the PS3, XBOX 360, Wii/WiiU, most major brands of Blu-ray players, AppleTV, and many brands of HDTVs and SmartTVs.
Mobile devices will almost universally require the download of the Netflix app, which typically works well without crashing. Computer users may need to download the Microsoft Silverlight plugin in order to view content. You'll be able to watch movies on up to two or four devices at the same time, depending on your streaming membership plan.
Netflix works with virtually any type of internet service, but quality can vary depending on your connection speed. For a great overall experience, the company recommends a minimum speed of 500kbps (0.5MB), though some have complained of low-quality image resolution at this speed.
However, if you have a fast internet connection, which will be especially important if you're interested in one of Netflix's streaming plans, content typically starts playing in seconds, and you can pause, rewind, and fast forward as you see fit.
If you need to manage your data usage, Netflix allows you to switch between three video quality settings, which are:
Good (up to 0.3GB/hour),
Better (up to 0.7GB per hour), and
Best (up to 2.3GB/hour). Note: This is only necessary when streaming HD content. High-quality images can generally be found around the 1.0GB/hour mark.
If you've recently opened your account or never viewed your settings, you'll find the default is Good, which can be changed at any time without affecting your monthly membership price.
While it's definitely a positive that Netflix provides members with both streaming and DVD content, if you enjoy viewing a large number of movies each month, you should keep in mind that you'll have a much broader selection with DVDs than with the streaming option.
In other words, most of the new (and even some of the older) movies are available in DVD format only, and not through streaming.
An often-praised feature of Netflix is that unlike competitors such as Hulu Plus, no content featured on the site contains commercials or any other forms of advertising. Also, after you've had a chance to watch several movies, Netflix provides suggestions on content you may like and is based on your viewing history and ratings.
For members with children in the household, you can change one or more devices to a "kids-only" mode that will allow only age-appropriate material to be viewed. Your children will never be bored, though, because Netflix features countless hours of cartoons and children's television shows.
Netflix Pricing
Netflix pricing begins at $4.99 per month, without any contracts—you pay only on a month-to-month basis. If you're unsure whether or not Netflix is the right choice for you, they do offer a one-month free trial, though it's important to note that you still must provide your registration information, as well as a valid credit card number. If you don't cancel your trial within the first month, it will automatically roll over to a paid membership. However, even if you failed to cancel in time, Netflix will typically issue you a refund if you're only a few days past the deadline.
Depending on your viewing habits, Netflix offers several different plans, including:
DVD by Mail – Limited Plans:
$4.99 per month – One DVD out at a time, with a total of two DVDs per month ($5.99 per month with Blu-ray access)
DVD by Mail - Unlimited Plans:
$7.99 per month – One DVD out at a time ($9.99 per month with Blu-ray access)
$11.99 per month – Two DVDs out at a time ($14.99 per month with Blu-ray access)
$15.99 per month – Three DVDs out at a time ($19.99 per month with Blu-ray access)
Unlimited Streaming Plans:
$7.99 per month – Watch content on up to two devices at the same time
$11.99 per month – Watch content on up to four devices at the same time
Both of the above plans include watching instantly on your PC, Mac, or TV
Pros:
Unlimited access to content, with no commercials or other forms of advertisement.
$4.99 monthly beginning price, without any contracts.
Wide variety of plans to suit any viewing preferences.
A reputation for great customer service.
Content is viewable on almost any modern electronic device.
Cons:
Only a small percentage of movies are available to stream in HD format.
Streaming content does not include newly released movies or television shows that are currently airing/have recently aired.
» Read Next: Streaming Services: With So Many Choices, How Can You Pick the Right One?
"Automatic" system charged my PayPal account

By Dominique J.

,

United Kingdom

,

Jan 8, 2020
Verified Reviewer

They are THIEVES! First of all, going by all the tweets I've seen there is definitely an issue with people's accounts being hacked so I have to question the security of their system. Secondly, I took out a free trial with Sky and canceled it by the required date and 1 month later my PayPal got charged out of the blue - when I contacted their customer service they told me my PayPal details had been there for months and that when I took out the free trial it re-activated the account and charged me 1 month's membership! They won't refund. If I could give them ZERO STARS I would.

Bottom Line: No, I would not recommend this to a friend

---

Movie choices

By Paul L.

,

Nov 9, 2019
Verified Reviewer

They have great titles to choose from. I never get bored in watching their old school movies.

Also, their customer service is great! They try to help you the best you can and try to offer you alternatives. I just wish their price would be more affordable.

Their application is so user-friendly and so classic. I just wish they have their own box that you can bring wherever you go and watch downloaded series/movies.

I love Netflix!

Bottom Line: Yes, I would recommend this to a friend

---

Advertisement

---

MA Content

By Laurie B.

,

Meridian, ID

,

Jul 15, 2019
Verified Reviewer

I have been disappointed lately in the amount of MA content on the Netflix site. I was excited to see new episodes of Designated Survivor, and then when I watched them (rated MA), the language and explicit sex scenes just turned me off. I stopped watching it.

I've discovered Madam Secretary, however, and it is a much better show that doesn't have to resort to low-class material to have excellent story lines and characters.

I don't think Netflix realizes that there are a lot of us out here who don't want to fill our brains with garbage.

Bottom Line: No, I would not recommend this to a friend

---

1 out 1 people found this review helpful

Complete liars and nothing but garbage!

By Anonymous R.

,

New York City, NY

,

Sep 12, 2018
Verified Reviewer

I had a Netflix account, it was AWFUL! They do NOT have any REAL movies on there, just D-list crap films and terrible old TV shows and crummy shows they have made for themselves and over promote. They keep on raising the prices and give you very little.

The service LOVES to cut every movie off, no matter which device I try to watch a film with and have EVERY type of device to watch Netflix with - iPad, iPod, Android smartphone, Smart TV, PS3, PS4, Xbox, Laptop, Desktop computer, and NONE of them play a film from end to end, ALWAYS some "error" or "server disconnect!" I got fed up with it and got rid of it!

I guess you have to be a 10 to 25-year-old sissy millennial sheeple to find Netflix worthwhile, NOBODY in my household was happy with it, so I canceled it, and of course, they try to talk you out of canceling and try to upsell you more GARBAGE! I actually got one "agent" or "customer care rep" (nonsense names and titles they call their phone drones!) to admit that if you want to see the real blockbuster films, you have to pay $21.99 per month for the snail mail DVD service! We tried that a few years ago, it was AWFUL! Two out of ten discs would not show up and they would try to charge ME $175.99 for discs I NEVER EVEN RECEIVED! And nine out of ten discs that would actually show up were in total UNPLAYABLE condition!

Save your money and AVOID Netflix at all cost! It sucked so bad!

Bottom Line: No, I would not recommend this to a friend

---

Advertisement

---

0 out 1 people found this review helpful

Worth the price! Better than competition.

By Ivan P.

,

Sacramento, CA

,

Aug 22, 2018
Verified Reviewer

I have been using Netflix for a few years now. I like that it offers a huge variety of movies for the price. It works very well both on iPhone, desktop, and TV.

I understand that Netflix can't stream recent movies due to movies being streamed in cinemas on TV and Blu-Ray.

Some things I like:

- I love suggested movies feature.

- The interface is pretty intuitive.

- You can download movies on your device.

Bottom Line: Yes, I would recommend this to a friend

---

1 out 2 people found this review helpful

Indispensable entertainment tool!

By Tom P

,

California

,

Dec 7, 2017
Verified Reviewer

Netflix has changed the game of how we view entertainment. Great selection of movies and TV shows, seamless connection, and offline mode is great for flights. I'd gladly pay my monthly Netflix bill instead of my monthly electricity bill, ha!

Bottom Line: Yes, I would recommend this to a friend

---

0 out 1 people found this review helpful

Don't have to buy DVD

By Vu Cu

,

Los Angeles, CA

,

Oct 16, 2017
Verified Reviewer

Before using Netflix, I always have to buy DVD off Amazon. When I get Netflix, I watch a movie every day on my laptop. And it's fairly cheap (more expensive than Torrent of course, but that's illegal).

Bottom Line: Yes, I would recommend this to a friend

---

1 out 3 people found this review helpful

So much content

Virginia

,

Aug 23, 2017
Verified Reviewer

Netflix offers the most diverse content library and largest library among all services. The recency of the content is getting better too, not as good as Amazon or Hulu, but pretty good. Their original content is also HBO quality. They have tons of movies and popular TV show seasons and every Fox show you can think of. Kids? No problem, there are thousands of kids shows and movies available. Overall this service is a must have for a cord cutter and even for a regular cable subscriber.

Bottom Line: Yes, I would recommend this to a friend

---

1 out 2 people found this review helpful

My obsession

By Stacey Alan

,

New York, NY

,

Jun 14, 2017
Verified Reviewer

I've been a Netflix user for roughly a decade! I used them back when they were a completely different company, and I'm super impressed that they were able to completely pivot into streaming and do what Blockbuster should have.

This company now thrives in the digital age. As another reviewer said, they just "get it." The quality of their original content puts them a step above most other streaming services. Orange Is The New Black, House of Cards, etc. They've started the binge model, which is an incredible change in user behavior.

Anyway, all that is to say, the service is worth it.

Bottom Line: Yes, I would recommend this to a friend

---

2 out 3 people found this review helpful

Stream favorite shows

Yes, it is one of my favorite TV show streaming sites. It streams on-demand videos, and they also offer a DVD by mail feature. Perhaps this is my favorite feature of Netflix.

Bottom Line: Yes, I would recommend this to a friend

---

1 out 2 people found this review helpful

Great service!

By Haley

,

Chicago, IL

,

Jan 24, 2017
Verified Reviewer

I can find every show I want to watch, and there are no ads or buffering, so that's nice.

Bottom Line: Yes, I would recommend this to a friend

---