Neuro Blast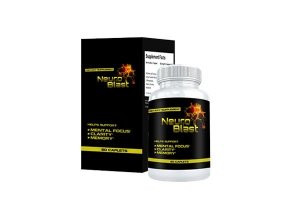 If you're feeling like your brain is in a fog and our memory is performing poorly, Neuro Blast claims to have the answer via their brain-boosting supplement.
Neuro Blast Review: Does It Really Work?
Neuro Blast is a supplement that claims to "enhance your mental state" through increasing your mind's focus, clarity and cognitive precision.
The product is what's known as a nootropic, or a supplement that includes ingredients intended to increase your brain's function so that your memory, focus and acuity improves.
This particular nootropic doesn't provide a lot of information on their website, so, in this review, we're going to tell what the specific claims are, talk about what science says about nootropics, then discuss this supplement's cost and return policy.
What Neuro Blast Claims to Do to Your Brain
Like many of the nootropics we've reviewed, this one's website is packed with claims about how the pills can help you. Here's a quick list of some of the claims:
"Give yourself a mental edge!"
"...built to give you a boost of energy and keep you alert..."
"...support all areas of cognitive function..."
"...goes to work supplying your brain with the ingredients needed to enhance your focus, memory and energy...."
Now, as someone who goes to their site looking for a solution for brain fog, the midday slump most of us feel or general mental sluggishness, these claims are probably exactly what you're looking for.
In most cases, supplements will explain how they bring these claims to fruition by talking to you about the benefits of each individual ingredient.
At the time of publishing, Neuro Blast's website didn't provide a list of ingredients. We called Neuro Blast's customer service line and the phone rep couldn't provide us with a list of ingredients, either. What we know about the ingredients is what's referenced on the website.
On multiple occasions, the website says that these benefits come from a "cognitive blend" that is "pack full" of "nature's best ingredients". In one section they mention "phosphatidylserine complex", which we'll talk about in the next section.
What Science Says About Nootropics
Nootropics have become one of the trending supplement categories over the past few years. Like many supplements, nootropics tend to be a blend of various ingredients, some of which have a certain level of research supporting effectiveness and some having little to no research corroborating the claims a supplement company attaches to them.
There are multiple reputable websites who raise legitimate questions about the effectiveness of nootropics.
In an ABC News article, the reporter Veronica Holland asks Dr. Bruce Cohen, president of McLean Hospital in Belmont, MA., if there's legitimate research backing the claims many supplement sellers make.
"While there are reasons to believe that some of the ingredients might work, there is no convincing scientific evidence that they do work to improve or forestall normal age-related memory losses," Cohen told Holland. "There are studies under way of some of the ingredients, but it is too early to predict whether any will be safe and effective."
The ABC article was published in 2006. Since that time, the nootropics industry has grown exponentially. However, according to a 2018 GQ article from reporter Jay Willis, doctors are still uncertain about the true positive effects of nootropics.
Willis interviewed Dr. Barry Gordon, a professor at Johns Hopkins Medical Center. Gordon told him that definitive proof nootropics work eludes the medical community.
"Certain people might benefit from certain combinations of certain things," he told me. "But across populations, there is still no conclusive proof that substances of this class improve cognitive functions."
We reached out to other experts in preparation for this review and received the following insight Samantha Morrison, a health and wellness expert at hemp wellness company Glacier Wellness:
"While many people are turning to nootropics because they are viewed as safer and less addictive, the evidence doesn't corroborate these claims. In fact, studies have shown that 'smart pills' only boost cognition minutely at best," Morrison told us. "Although they may be safer than the over-prescribed pharmaceuticals, you're better off getting more sleep and maintaining a balanced diet."
With these various experts' input in mind, we do want to point out that the Neuro Blast website says that their supplement includes "phosphatidylserine complex".
According to WebMD, this ingredient is a chemical that the body produces but needs from food sources, too.
The ingredient has shown some promise in studies on cows and with Alzheimer's patients, but WebMD notes that there is insufficient evidence to prove that phosphatidylserine complex can improve your thinking ability.
The site notes that this ingredient could have interactions with drying medications and any medicine you're taking for Alzheimer's disease.
Neuro Blast Pricing, Autoship and Return Policies
At the time of publishing, Neuro Blast was offering a free trial in which you'd pay $4.95 to ship one bottle that was good for 30 days. In order to pay for the order, you need to provide your credit card information.
That's an important fact because, when you read the fine print, you find out that they keep your card on file and can charge you $87.90 14 days after you order your free trial. They do this as part of what's known as an "automatic monthly shipment program," or "autoship" for short.
Basically, when you sign up for the free trial what you're really doing is enrolling in a subscription plan. If you don't call their customer service number at 800-401-9413 or email them at support@neuroblasttoday.com to cancel within 14 days of the date you ordered the free trial, they'll charge you $87.90 and send you another bottle of Neuro Blast.
Now, in the event that they charge you $87.90 for another bottle and you want to make a return, you'll have to request a return merchandise authorization (RMA) and send back your unused portion of the bottle. If you don't get an RMA, they won't refund you even if you send your bottle back.
The mailing address for returns is: Neuro Blast, Fulfillment; P.O. Box 413019; Naples, FL; 34101.
The Final Word: Our Thoughts About Neuro Blast
The research behind nootropics suggests they aren't quite as effective as, for example, Neuro Blast claims. We cited several reputable sources that back this conclusion up. However, that doesn't mean that Neuro Blast absolutely won't improve your brain performance.
That being said, it's a big red flag that their website and customer service line couldn't provide much information about the supplement's ingredients aside from phosphatidylserine complex.
Not only is this lack of information important in identifing which ingredients can help you, but it also helps you understand if there are ingredients that may interact with prescription drugs you're taking.
Our advice is to research other nootropics if you're set on buying one. Amazon has dozens of options for you, many of which have a good deal of consumer reviews that can help you understand how the supplement is affecting actual users.