NeuroGum Reviews
Claimed This company has claimed this profile, is getting alerted on any new customer reviews entering this page, and may engage in dialogue with its customers to address their matters.

Companies cannot pay money or provide goods in order to remove or alter customer reviews.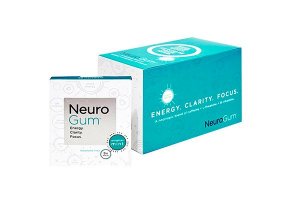 NeuroGum is a nootropic supplement that combines caffeine, l-theanine, and vitamins B6 & B12 into a gum that can enhance focus, reduce stress, and more.
About NeuroGum
NeuroGum is pushing the boundaries of what it means to be a brain supplement, through their new nootropic that contains a patented blend of caffeine, l-theanine, and B vitamins.
Instead of taking a pill or capsule, cold-compressed NeuroGum delivers these ingredients through a mint-flavored, aspartame-free gum.
As you chew, the company claims NeuroGum is scientifically proven to enhance your focus and concentration, reduce stress, improve alertness, memory, and overall cognition, and keep your brain functioning at its best—without jitters or a crash.
Boost your brainpower by chewing gum? It sounds like something out of a futuristic sci-fi flick. But has NeuroGum actually made this a reality, or are they relying more on hype than science?
Nootropics Are All the Rage Nowadays
A nootropic is broadly defined as "a substance that enhances cognition and memory and facilitates learning." Most modern nootropics are classified as nutritional supplements (vs. prescription medications), which are basically viewed by the FDA as food. What's this mean for you?
Basically, supplements manufacturers can make any claims they want, without having to provide a shred of evidence to support them. Keep this in mind, because we'll talk about it again shortly.
Over the past couple of years, we've reviewed dozens of these brain health supplements. And customers don't seem happy.
Most of these products come with 2-star average ratings. Why? Mainly due to complaints of failure to work as advertised, high prices, and difficulty canceling autoship programs or processing returns.
Is this what you can expect with NeuroGum? Let's start by taking a look at its ingredients.
Will NeuroGum's Ingredients Work?
Here's what we're told about NeuroGum's ingredients:
Caffeine 40mg
L-Theanine 60mg
Vitamin B6 (30% daily value)
Vitamin B12 (100% daily value)
Quick note: Recommended daily allowances (RDA) can vary greatly between people. For example, vitamin B12's RDA can range between 2.4mcg and 100mcg, depending on your age, gender, and whether or not you're pregnant.
Yes, it's positive we're told how much of each ingredient NeuroGum contains since most supplements companies leave this out. However, we think it's odd that NeuroGum's manufacturer only included the RDA for vitamin B6 and B12; not the actual content.
Caffeine is widely known to temporarily boost alertness, and is even listed as possibly effective for improving memory in some instances. For this, clinical studies used 200mg of caffeine daily, although each dose of NeuroGum only contains 40mg.
L-theanine is an amino acid that helps transmit nerve impulses in the brain, although there's not enough evidence showing that it can provide any benefits when taken orally.
Vitamins B6 and B12 are essential for the human body and can provide a wide range of benefits, although none of the ones claimed by NeuroGum's manufacturer.
Regardless of the ingredients, we're talking about, they can only work if they're absorbed by your body. And in general, the more your body can absorb, the more effectively the ingredients can work.
Most nootropic substances are encapsulated and taken orally. Then, they're digested by your stomach, passed into your bloodstream, and begin working.
Since you almost never absorb 100% of anything we eat, this method generally absorbs more ingredients than through the inner lining of your mouth. After all, if our skin wasn't selective about what it absorbed, we'd quickly become sick.
What's the point? Because NeuroGum is, well … a gum, your body will generally absorb less of its ingredients than more traditional supplements.
Because NeuroGum is "cold compressed," the manufacturer claims this maximizes its effectiveness. This doesn't appear to be an actual term, though.
During our research, we did come across the term cold-pressed, which generally references oils that are produced at temperatures lower than 120 degrees. We can't help but think this is what the company meant.
NeuroGum's Side Effects
Even though NeuroGum's ingredients might not work as well as the manufacturer claims, will they cause any side effects?
If you've ever had too much coffee or soda in a short amount of time, you know that excessive caffeine can cause insomnia, jitteriness, upset stomach, increased heart rate, and more.
NeuroGum only contains 40mg of caffeine per dose (compared to 95mg for an 8oz cup of coffee), so unless you're especially sensitive or chew more than one piece at a time, this should be well tolerated by most individuals.
Our Bottom Line: Is NeuroGum a Good Nootropic?
Like most of the brain supplements we've reviewed, there's very little clinical evidence showing that NeuroGum's ingredients will provide the huge boost claimed by the manufacturer.
Sure, NeuroGum's caffeine content might temporarily increase alertness, but no more so than a half cup of coffee. So, depending on its price, it's our opinion that NeuroGum might not be a "smart" choice.
My favorite gum ever!

Not only does it taste amazing and it is so soft, easy to chew, but it really works to give you energy and focus! I think this is the best new product, and can't wait to share with others!

Bottom Line: Yes, I would recommend this to a friend

---

This gum is for real!

By Geno B.

,

Sparta, MI

,

Oct 17, 2019
Verified Reviewer

You can say all the negative things you want about NeuroGum, but let me tell you, this gum is for real. I am 72 years old and play golf, and when I chew this gum, I can easily get through 18 holes of golf without any sort of fatigue, shakiness, or anything of the sort. Without it, my legs get wobbly and I feel fatigued around the 15th or 16th hole. I even feel like playing another 18 holes. I see Michelson the pro golfer this year chewing gum as he plays and I will bet dollars to donuts he is chewing this gum.

Bottom Line: Yes, I would recommend this to a friend

---

Advertisement

---

AMAZING! Really does work!

By Denise P.

,

Frederick, MD

,

May 11, 2019
Verified Reviewer

I am health conscious and I don't use energy drinks so when I first saw an advertisement for this gum it really intrigued me. I know a little about neuroscience and decided to give this gum a try.

I think one of the first pieces I chewed was on my way to an interview. I noticed increased sharpness and mental focus. It also gave me a little energy boost, but not with jitters or a racing heart.

Later, I began studying for a certification so I bought a large box of the NeuroGum in Cinnamon flavor. I loved chewing this gum while studying or when I was working on a complex project at work. It always gave me a little pick me up and increased clarity.

I definitely recommend this gum. The Cinnamon flavor is my favorite so far. The mint is fine, it just is a different type of mint than I was used to so it took a few pieces before I got used to it.

I'm really glad this product was developed! It is one of my favorites!

And, their customer service is excellent as well!

A very happy customer.

Bottom Line: Yes, I would recommend this to a friend

---

Love it!

By Sara S.

,

Colorado

,

Mar 22, 2019
Verified Reviewer

This gum is perfect for and afternoon crash, working out or just better focus. I love it and would definitely recommend it to anyone looking for a little boost in their performance!

Bottom Line: Yes, I would recommend this to a friend

---

Advertisement

---

Love it

By Cindy B.

,

San Jose, CA

,

Mar 14, 2019
Verified Reviewer

I absolutely love NeuroGum. I don't drink coffee and sometimes I need a "pick me up" and this gum does it! I use it after lunch, going back to work to have a better afternoon. I use it if I'm dragging in the morning. I love the taste and usually chew 2 or 3 pieces. I recommend it to everyone.

Bottom Line: Yes, I would recommend this to a friend

---

Great product to use before a workout

By Peggy B.

,

Pittsburgh, PA

,

Feb 26, 2019
Verified Reviewer

A friend at the gym gave me a piece of NeuroGum and I must say that it gave me that extra pickup during my workout. It's easy to take when working out, tastes great. I ordered it for myself and will continue to use this new concept to improve my energy at the gym or whenever I need that extra pick me up.

Bottom Line: Yes, I would recommend this to a friend

---

Great stuff

By Emanuele R.

,

Santa Monica, CA

,

Feb 22, 2019
Verified Reviewer

NeuroGum provides a solid boost of focus and attention within 30 minutes without most of the downsides (i.e. increased sweat, jitters, hyperactivity) that sometimes plague comparable products. Flavor is distinctive without resulting overpowering. Overall, a great choice.

Bottom Line: Yes, I would recommend this to a friend

---

No chew like a good NeuroGum chew!

By Arlene L.

,

Los Angeles, CA

,

Feb 12, 2019
Verified Reviewer

I'm a quiet (as opposed to a loud) chewer and love my gum because it satisfies in place of sugar-loaded chocolate.

There's standard gum and then there's extraordinary NeuroGum - my fave being "CinnaMental."

Do yourself a "flavor" and jump onboard the best tasting Neuro chew-chew train.

Bottom Line: Yes, I would recommend this to a friend

---

A gentle boost

By Arlene T.

,

Rockaway, NJ

,

Feb 11, 2019
Verified Reviewer

NeuroGum delivers a gentle boost that improves the ability to focus through boring but necessary tasks – without the coffee side-effect of having to run to the bathroom at inopportune times. The B6 and B12 vitamins are necessary for good energy and alertness, but can be difficult to get through natural sources. Buccal absorption - through the cheek lining - is known to be fast and effective. This website got it wrong. Absolutely no unpleasant side effects with the NeuroGum. CinnaMental is my flavor of choice. I am lucky to have found it and hope the makers will develop additional products. In order to complete this review, this website made me research to find my order number. So while I would give NeuroGum my highest review and would share it/recommend it with my friends, this website gets a negative review because it made me do extra work.

Bottom Line: Yes, I would recommend this to a friend

---

Great energy gum for work or gym.

By Andrew C.

,

London, United Kingdom

,

Jan 17, 2019
Verified Reviewer

I love this product and regularly recommend and share with friends and coworkers. It gives me just the right boost in energy and focus to help me concentrate on difficult, complicated tasks. I also love it when working out. As a Dad with a young kid and a stressful job, I'm almost always trying to cut through the fog of mental tiredness when I get to the gym for a workout. NeuroGum helps me do exactly that and gives me just the right amount of energy without the jitters like other energy supplements tend to do.

Bottom Line: Yes, I would recommend this to a friend

---

Not sure

By Sheila P.

,

Texas

,

Jan 11, 2019
Verified Reviewer

I just couldn't get past the flavor. I chose CinnaMental, and it was awful. I liken it to trying to chew on the potpourri in a yoga studio. It was so bad I had to spit it out almost immediately. Maybe it works, I don't know because it was to gross to continue chewing.

Bottom Line: No, I would not recommend this to a friend

---