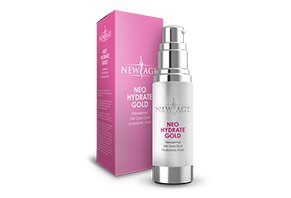 New Age Serum is an online-only, trial-based anti-aging cream that claims to help reduce the appearance of dark circles and wrinkles, repair skin, and more.
About New Age Serum
Wondering if New Age Serum—an anti-aging cream that claims to help diminish wrinkles, repair skin, counter the effects of aging, and make you look up to 10 years younger—is a scam?
We'll cut right to the chase and state that, in our opinion, you should avoid New Age Serum at all costs. Period.
But we also want you to make an informed decision about New Age Serum (or any other product), so to explain why, let's take a closer look at the situation.
First up? New Age Serum's website design.
Where Have We Seen This Site Design Before?
In Avoid These Anti-Aging Websites Like the Plague, we provided an in-depth look at products that use the exact same website design; only the product name and picture were different.
We also talked about how these products almost always come with very poor customer feedback, including unwanted autoship programs and high prices, all wrapped in the guise of a "free" trial (we'll talk about all of this in greater detail shortly).
In fact, we believe it's the same handful of companies responsible for these sites, and that they just change names once the public figures out what's going on.
How does this relate? New Age Serum uses the exact same website template as all of these less-than-stellar products, which (again, in our opinion) is the biggest red flag that you should stay far, far away.
Now, let's talk about red flag #2.
New Age Serum's Ingredients & Clinical Proof
If there's anything that New Age Serum's site template does well, it's to make a whole lot of really big claims, like:
"Better than Botox"
"Amazing new Hollywood secret"
"Look up to 10 years younger"
"Rejuvenate your skin without expensive surgery"
New Age Serum even claims that their "clinically proven skincare technology" was shown to provide an 84% decrease in fine lines and wrinkles, a 95% increase in collagen production, and a 73% decrease in the appearance of dark circles in a recent study involving several hundred women.
What's the problem? The company provides zero evidence to back it up. And considering these exact same claims are made by dozens of other products (see previous section), it's reasonable to believe they hold no validity whatsoever.
And it doesn't get any better with New Age Serum's ingredients, either. In fact, of all the ingredients we're told about (Biosphere, QuSome delivery, Biofil spheres), only QuSome is an actual product. All of the other ingredients appear to be completely made up, and are mentioned only on sites using this same template.
Because these ingredients aren't real, it's no surprise that customers aren't happy with products like New Age Serum. What exactly are they saying?
Customer Feedback for New Age Serum
Although there wasn't any online feedback specifically for New Age Serum at the time of our research, we've reviewed numerous identical products here at HighYa, including Celloplex, Premiera Matrixyl, Encante Cream, Wrinkle Rewind, and more. And the news isn't good.
Overall, these products have an average rating of 1 star, with common complaints citing failure to work (surprise, surprise), high price, and problems with customer service (difficulty cancelling trials and processing refunds). Many customers were even yelled at by customer service representatives, and found the only way to cancel the recurring charges was to cancel their credit card.
Pro tip: Here are some great tips for getting what you want from customer service!
What's all this about high prices and autoship programs? This is what we'll talk about next.
The Dangers of New Age Serum's Trial
Like all the other products we referenced in the previous section, New Age Serum is only available through a trial, where you'll pay $4.95 to cover S&H and will be sent a 30-day supply.
Although this might sound like a deal, all the dirty details are usually buried in the Terms, where customers are unlikely to read them. Why?
Because the company behind New Age Serum doesn't want you to know that after your trial expires, you'll be billed the full price of $89.95. Then, you'll keep receiving new bottles of New Age Serum once per month through their autoship program, and (you guessed it!) will be billed another $89.95 each time.
Yes, the company claims you can call customer service at 800-325-4782 to cancel your trial, request a refund (within 30 days, less S&H charges), or un-enroll from the autoship program.
But we think, at best, you'll receive some pushback from any reps you speak with. At worst, they'll yell at you and hang up in your ear.
The Bottom Line about New Age Serum
From its site design and unproven (read: fake) ingredients, to its unsubstantiated clinical claims and free trial, it should come as no surprise that we strongly recommend avoiding New Age Serum. But what can you do instead?
The reality is that most anti-aging products—whether they're from a major manufacturer or an online-only product like New Age Serum—won't provide the sensational results they advertise. Regardless of how much you pay.
As such, the most effective anti-aging treatments will be cosmetic injections and surgery, although these can be costly (not to mention painful!).
But the good news is that you can start reducing premature aging today by avoiding excessive sun exposure, stopping smoking, eating a well-balanced diet and getting plenty of exercise, cleansing your face daily, and more.
0 out 2 people found this review helpful

New Age Skin Care

By

J. Cathney

,

Texas

,

Apr 18, 2018
Verified Reviewer

Scam! They have figured out a way to trick people and steal their money, AND they are very arrogant about. Customer service people are mocking and ridiculing customers for being tricked (fingers in their ears wiggling and tongue out). Let's stand up and do something about it!

One customer review said contact the Attorney General. How about the BBB and Amazon too? I believe Amazon should not condone something like this, how many of us heard about this through Amazon? If we don't do something, they will continue to do this to our fellow Americans.

I sent the product back within the time frame though I did tell the so call manager "Jess" it was a "scam." He got angry and told me I called his company a scam, he was not going to refund my money AND there was NOTHING I could do about it! He had the attitude that he was doing me a favor by not stealing my money!

I am looking for court cases. Anyone who has sued this company or similar companies with this type of advertising AND won! I am also googling a consumer protection group I once heard about, I know it's Federal.

Any help will be appreciated. I will do all the writing/filing/communicating. Hopefully, it is ok with you all to use these reviews also.

I am one ANGRY customer and will never stop! I simply work too hard for my money.

Bottom Line: No, I would not recommend this to a friend

---

6 out 8 people found this review helpful

Scam - if you don't call in time they will not accept the returned product

They send out the product and your 14 days is not when you receive it. You barely have a week to try out the product. I missed the deadline by a day. So one would expect when you do receive the product you do not want you can send it back unopened, and they will credit your account. Well, forget that theory. They will not accept the product they charged to my account, even after sending it to them unopened. It costs $76. Hardly worth that.

I do not like how it feels on my face. It really dries out my skin. Is heavy and sticky. The customer service gentleman was very courteous as he told me he could give me a credit of $30. But they will not accept the product returned.

I do not think this is a reputable company. I feel it is a scam to get what they can from people not following their strange rules. Beware.

Bottom Line: No, I would not recommend this to a friend

---

Advertisement

---

6 out 7 people found this review helpful

Don't Buy

This company is a rip-off. The "trial" just means after 14 days they are going to start charging your credit card EVERY MONTH. The customer service people are rude. The product is nothing special. Do yourself a favor and do not sign up for this nonsense.

Bottom Line: No, I would not recommend this to a friend

---

8 out 8 people found this review helpful

Do not buy!

By

Terri Huck

,

Westerville, OH

,

Mar 13, 2018
Verified Reviewer

This is the biggest rip-off. I have called three times to cancel my order. The day of the order, the day it was received, and just now. They will not send me a confirmation that my order has been canceled. I don't know what else to do. I will report them to the Attorney General office. Horrible, horrible business and their ethics are down the toilet. Do not buy this product.

Bottom Line: No, I would not recommend this to a friend

---

Advertisement

---

7 out 7 people found this review helpful

Shady

I was under the impression I was ordering samples, and it was not until I kept receiving products that I figured out it was a subscription deal. The prices vary wildly from month to month, and it is VERY hard to cancel the subscription (especially when you didn't know you were subscribing).

Bottom Line: No, I would not recommend this to a friend

---

11 out 11 people found this review helpful

Scam

Do not try the trial - you will continue to be replenished and charged monthly. The product is not worth the price, and the packaging is cheap plastic. Not a luxury product but charging a luxury price. No drastic effects as promised. I am quite annoyed at myself for being scammed.

Bottom Line: No, I would not recommend this to a friend

---

13 out 13 people found this review helpful

The worst

Arizona

,

Feb 4, 2018
Verified Reviewer

On top of the fact that the product does not work, they have the worst customer service! They need to hire people with better skills to treat their clients.

And they have return policies that they do not share with the client, that way they can keep part of their money. What a shame! The worst company ever!

Bottom Line: No, I would not recommend this to a friend

---

10 out 12 people found this review helpful

I love it and it's cheap

I tried New Age serum and anti-wrinkle cream with the free trial I saw while surfing in the middle of the night. I got both products a few days later. While I was annoyed I had to pay $4.95 shipping for EACH product, even though they could have obviously come in one small flat rate USPS box for $4.95, I figured it was only an extra $4.95, so no big deal.

I started using the products. I have combination skin and only have had clear skin after using a high-end acne treatment system for over a decade. I wasn't moisturizing at all, and it was beginning to show, especially around my eyes. I used the New Age products and noticed a difference within two days. My skin felt great, soft and silky, and within the week, my fine lines smoothed out. Even better, IT DIDN'T GIVE ME ACNE!

But because I bought this in the middle of the night while up with insomnia, I was suspicious of the free trial and what I would be charged for refills. I called up the customer service number on the shipping invoice and asked about the "deal" going forward. I got a really nice CSR who explained to me that refills were only $19.95 per product with free shipping. He also explained that I could set my refill frequency! He also said I could cancel at any time with no notice. I set my frequency for two months. I just noticed I'm starting to run low on and sure enough, I was billed last night two charged for $19.95 each exactly. No shipping, no exorbitant price, no tax.

So I've been using the products for two months, my skin looks and feels great, and the products are as cheap as or cheaper than many drugstore brands. YUP, really. That $89.95 price is B.S. Maybe that's old information. IDK. All I know is I'm very happy with both the products and the price.

Bottom Line: Yes, I would recommend this to a friend

---

14 out 16 people found this review helpful

Not a 14-day trial of use

By

Denise Mon

,

Connecticut

,

Jan 17, 2018
Verified Reviewer

I ordered this on January 3rd and just received it on January 16th. I immediately got on the phone with a rep because the packing list said it was a 14-day trial period. My gut told me that it didn't mean 14 days from when I received it, so I called to cancel. James told me it was 14 days from when they sent it. WHAT? How would that work? And I received it 13 days after it was sent.

I realize I am to blame for not reading every single word of the fine print, and now cannot even find the original ad for this to go back and read it. He explained that I could use it and then return if I didn't like it and he'd extend the trial time. Coming here, I'm glad I didn't go for that because I have a feeling I would have been charged for it before my "extended trial" was up. I'm going to keep an eye on my credit card to make sure there is not a charge. Although he tried to get me to trial it, I told him to cancel it and that I would be returning it. He mentioned that if I kept it, I'd get a $19.95 charge for it. But, reading other reviews here, it seems that amount is way too low for what they really charge.

This got one star because this review wouldn't go through without choosing at least one.

Bottom Line: No, I would not recommend this to a friend

View all 3 comments

Hide comments

Jan 19, 2018

I hate seeing yet another victim of this, or these ads, rather. This is one particular company hiding beneath the guise of several names. I have a really catchy one for them and a few they wouldn't want. WATCH your credit card Denise, it might be best to either cancel it. Perhaps, do a review of the customer service, you can receive it by calling your credit card carrier and asking them how you might go about avoiding the charges, which are definitely coming if you haven't already seen them!

I used a prepaid debit card (thank GOD!) and they have continuously tried to withdraw several times a day, every day, for 3 weeks so far. The amounts are varying from $51 to $104! No more shipments have been made except for the "scam trial" that is actually pretty good at doing what several $10 products have done for me already. They don't smell as lovely, however, they are paid in full, so there are no crazy charges on my card. They do make my wallet as glowing and as happy as my face when I see these DECLINED charges on my credit card and debit card alerts! Haha, now who's feeling jilted? I am joking, I'm trying to throw a little humor into what, for most of us, has caused unnecessary ANXIETY and STRESS. (Now THERE'S a wrinkle smoother!)

So, the joking part is when I am shoving it in THEIR faces, and the many faces they have but the rest of it, including the fact that I was able to escape these thieves, is true! I would get on doing something about that card sweetie, as much as we try to manifest a miracle that erases their memory, they have that much more GREED to manifest their computer software to ZAP your bank account, so it is unfortunate and yet INEVITABLE! I hope to see a good report from you about the outcome of your personal experience with this so-called "company". It's probably more like a "den of thieves," sitting around in a basement full of these products that they are ordering at extremely cheap rates from China. (Hint: Check a product on the Wish app from Google Play or their website, and see that items ordered from them all come from China, which takes approximately two WEEKS to arrive at your door!)

It also gives weight to my theory of how they have so many different names for these products. They are ordering them in bulk which gets them even BIGGER savings. So in theory, they are probably getting these at "fall over crying tears of joy" prices, (i.e., say, oh, $.99-$4.99 and getting unsuspecting people like us to fall victim to their shady ads, that keep you from even being able to read the fine print until AFTER you've given them the legal right to rob you blind!)

It makes it hard to trust other reputable companies. This is no joke, it's completely frightening and devastating for some, I added a little humor to lighten the heavy load. I meant for it to hopefully cheer you up. (If only for the moment, I may have saved you from a small wrinkle.) If not, I apologize for the laugh lines. Get it? Good luck to you Denise! Thanks so much for sharing your honest review.

Jan 25, 2018

Hi Julie.

Right after leaving that review, I got on the horn with my credit card company. The rep that I spoke with flagged the company, I explained that the first charge of $6.97 was for shipping which I agree to pay because it was my bad. I explained that's a scam, and I sent the product back and will not pay additional costs. I also sent it back as 'refused' so they paid for the returned shipping, per the advice of the scam rep. (James, who was getting annoyed because I did not want to do a trial.) So, when my statement comes in I'll look for it, and call my credit card company again (as suggested by the credit card rep that I spoke with), to get it removed.

I also realized what the $19.95 cost was for. I replayed the conversation in my mind and what James was saying (but not very clearly and almost trailed off) that I could extend the trial period and then pay $19.95, which I realize is a restocking fee, after reading other reviews. Also, I was charged tax on top of the s/h. Since it shipped from another state I believe, the tax should not have been charged. I see it as another way to get a few extra dollars.

It is a reminder. I am a researcher of everything before I buy anything but I just went for it this time. I generally ignore these ads and look at them as solicitation but for some reason, this one got my attention. The funny thing is that I don't even buy miracle creams, my arsenal is using natural foods right from my kitchen. So, I can say, they are good and clever in the advertising. It's also a reminder to ignore advertising and that if I'm not actively seeking a product, and purchasing from reputable companies, to scroll right by.

When I came on here I read the other comments, even though I thought this was a new product advertisement, I learned it's been going on for a few years now. I could have passed it by if I had done my research. But, with that said, I also thought (was lead to believe) that is was a trial size for the cost of shipping. I realized that once I received the product, that they knew they were misleading people because on the purchase order it said clearly, "This is not a trial size, it's a trial period." (I'm paraphrasing.) It's those words that made my brain kick in and become suspected. I did not read anything on the advertising about being charged afterward and that it would be a monthly subscription, and/or that it would $80, or whatever the exact cost is.

Feb 5, 2018

The same thing happened to me. They have Jesse, James, etc., but all of them are so unprofessional and rude.

---

12 out 13 people found this review helpful

Don't do it! Thieves.

I received my trial amount, 14 days worth. Then I realized I should call and make sure I don't get billed next month and a full month's supply would be sent until after I decide if I like it or not. I paid $5.95 shipping for the cream and $6.95 shipping for the serum. I've been using it for about four days and have not seen any results yet.

When I called and told the customer service rep to not send me any more and don't bill my account, this is exactly what she said to me; you either return the unused portion of what we sent you or PAY for the trial amount we sent you. I said fine, send me a shipping label. She sarcastically said, "we do not do that." I said well then forget it, don't bill my account, it will be negative anyway. She told me it constitutes THEFT and that I am being turned over to two collections.

It's a TRIAL amount folks, and I paid over $12.00 just for shipping. So now I was called a thief because I don't want any more shipments, being turned over to collections and she was a jerk to me. It's a trap, don't do this. It's also available on Amazon. The customer service either makes or breaks a product. I'm ashamed of the folks at Shark Tank. The name fits you. Shame on you!

Bottom Line: No, I would not recommend this to a friend

View all 1 comments

Hide comments

Jan 25, 2018

I wish I had checked here before I ordered and paid $12 for this serum and cream. I had the same experience! They want to bill me another $19.95 each if I don't pay or send the unused product to them. I said I never saw that. I thought the shipping/handling fee gave me a trial size. He told me that on the shipping invoice says that it is not a sample, so I have to pay. I told him he couldn't do that since I didn't have the shipping invoice when I ordered! How crazy was that? Then he told me it's on the website that I ordered from. Where? He replies that "It's on the site." I will never buy from a company that I don't know of online ever again. I feel robbed and a bit stupid for falling for their scam. Do I fight and let them screw up my credit? Or do I pay $40 to appease the thieves?

---

8 out 8 people found this review helpful

Personal experience

After using the serum under my eyes on clean skin, it left my skin sticky for the rest of the evening. I used only two drops under each eye. I also got the sample of face cream and am afraid to use it.

Bottom Line: No, I would not recommend this to a friend

---