New Age Serum
Claimed This company has claimed this profile, is getting alerted on any new customer reviews entering this page, and may engage in dialogue with its customers to address their matters.

Companies cannot pay money or provide goods in order to remove or alter customer reviews.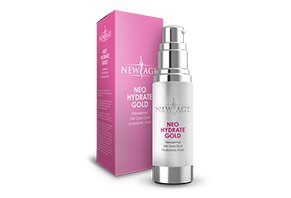 New Age Serum is an online-only, trial-based anti-aging cream that claims to help reduce the appearance of dark circles and wrinkles, repair skin, and more.
New Age Serum Review: Ingredients, Side Effects, Cost, and More
The Instant Wrinkle Reduction technology in New Age Serum (branded as Neo Hydrate Gold) claims to be proven to boost skin moisturization, increase firmness within one week, and visibly decrease the appearance of fine lines after four weeks—so much so, that they advertise you'll take more than 10 years off your skin.
Whether in the morning or evening, simply apply the serum to clean skin, allow plenty of time for it to absorb, and then follow with your preferred moisturizer. Within minutes, the formula will start working at the cellular level to promote collagen and elastin production, resulting in plumper, rejuvenated skin.
It's well understood that collagen and elastin are important components of healthy skin. Can you realistically expect New Age Serum's ingredients to boost these proteins and deliver the results advertised on their website? We'll start with the basics.
The Important Roles of Collagen and Elastin
There's no need for a science lesson here, but it's important to ensure that everyone's on the same page before diving in.
Proteins are long chains of amino acids that play very important roles in the body but act primarily as structural components for muscle, hair, and skin. In the latter, the two most common proteins present are collagen, which acts as an underlying framework to support skin, and elastin, which delivers elasticity and allows the skin to spring back into shape after being stretched.
While both of these proteins are present in high levels when we're young, some estimates indicate that we begin losing about one percent per year upon reaching the age of 40. Combined with other factors like UV damage, environmental exposure, and lifestyle choices, this cumulatively results in skin that wrinkles, sags, and otherwise loses its luster.
According to Dr. Justin West, Medical Director of Finesse Plastic Surgery, though, replacing these lost proteins by means other than injection (whether external creams like New Age Serum, or internal dietary supplements) isn't shown to work in a clinical setting.
"A big myth is that we can replace lost collagen in our skin by eating more collagen, or applying it to our skin with topical products," he says.
This is because the amino acids in collagen or elastin (or other ingredients) don't magically reassemble into proteins when consumed orally.
» Related: Do Anti-Aging Collagen Supplements Really Work for Your Skin?
And while Dr. West advises that "we can help provide the building blocks to collagen production by eating protein and making sure we get enough Vitamin C," he emphasizes "topical collagens in creams and lotions cannot penetrate and integrate into our skin."
With these core details in mind, which ingredients does New Age Serum use in its formula?
Taking a Closer Look at New Age Serum's Ingredients
The label listed on the New Age Neo Hydrate Gold serum indicates it contains the following ingredients:
Water, Glycerin, Methyl Glucoside Proline Lysine Copper Complex, Aloe Barbadensis Juice, Hyaluronic Acid, Hydroxypropyl Methylcellulose, Colloidal Gold, Coffea Arabica (Coffee) Extract, Curcubita Pepo (Pumpkin) Seed Extract, Ethanol, Phenoxyethanol, Caprylyl Glycol, Potassium Sorbate, Hexylene Glycol
According to websites like Paula's Choice, Truth In Aging, WebMD, and EWG.org, most of these ingredients work as skin conditioners (glycerin, Aloe barbadensis juice, caprylyl glycol, heyxylene glycol), coating agents and film formers (hydroxypropyl methylcellulose), drying agents (ethanol), and preservatives (phenoxyethanol, potassium sorbate). There are a few exceptions, however.
Hyaluronic acid is a molecule that has the ability to hold several times its weight in water, as well as to improve cellular turnover, which thereby helps the skin maintain moisture and a healthy glow.
Like its silver counterpart, colloidal gold simply contains particles of gold suspended in some type of solution. While we learned from these sites that it's often used in medicine for drug delivery and gene therapy, none indicated sufficient clinical evidence that it can help improve the condition of the skin.
Comparatively, the clinical research related to caffeine (found in Coffea Arabica in New Age Serum) is much more robust, so Paula's Choice reports it might "have soothing and antioxidant properties, especially when the skin is exposed to UV light. It can penetrate skin and has a constricting effect, which can help improve the look of redness."
However, they report there's little-to-no research indicating it can address other potential facial concerns, such as wrinkles, fine lines, dark spots, or under eye bags.
Finally, the Methyl Glucoside Proline Lysine Copper Complex found in New Age Serum is also contained in several other anti-aging cream formulas, although these same sites didn't indicate sufficient clinical evidence that it's beneficial for the skin.
Could New Age Serum's Ingredients Cause Side Effects?
Other than potential mild, temporary redness or irritation at the application site for especially sensitive individuals, Paula's Choice, Truth In Aging, WebMD, and EWG.org indicated that most individuals won't experience side effects from New Age Serum's ingredients.
It's also important to keep in mind that exfoliating ingredients like hyaluronic acid can increase sensitivity to UV rays so be sure to wear plenty of sunscreen.
» Related: Best Face Sunscreen Buying Guide
As usual, it's a good idea to speak with your dermatologist before beginning any new skincare product, who can help identify potential side effects based on your specific diagnosis.
How Much Does New Age Serum Cost?
If purchased from the main New Age website, one bottle (30 ml) of their Neo Hydrate Gold serum is priced at $49.95.
On the other hand, if you place an order through their BuyNewAge.com landing page, your only option is to pay $6.97 for 14-day trial. After the trial expires, you'll be charged $69.95 for the full-size bottle you already received. Then, you'll continue receiving monthly shipments and charged $69.95 each time.
All New Age Serum orders come with a 30-day refund policy, less S&H charges, although their terms indicate it "must be unopened and unused with safety seal intact" to qualify. Customer support can be reached at 800-640-3456 or customerservice@newageskin.care.
What Can We Learn from New Age Serum Customer Reviews?
Since writing our original article, more than 30 readers had provided feedback about their experiences with New Age Serum, giving it an average rating of about 1.5 stars. While more than one customer seemed pleased, common complaints revolved around no results and problems with the 14-day trial.
According to the BBB, as a company, New Age Skin Care is based out of Tempe, AZ and has been in business since July 2013 with a rating of a B as of 5/14/18. Although, it appears that they are currently not accreddited with the BBB.
New Age Neo Hydrate Gold Serum vs. the Other Anti-Aging Products: How to Choose
As you likely already recognize, from capsules and creams to serums and proprietary ingredients, there are potentially thousands of anti-aging products like New Age Serum competing for your hard-earned money. In fact, copying and pasting Neo Hydrate's ingredients into Google returned another product (Primesse, $49) that appeared to feature an identical formulation.
Given this mind-boggling number of choices, what's the best first step for figuring out the right option for you?
Talk with your dermatologist. During your appointment, they can discuss your needs and concerns, evaluate your skin, and order tests, if necessary. From there, they can recommend science-backed treatments that might deliver the most bang for your buck.
If they recommend you pursue over the counter treatments, based on our years of experience writing about anti-aging products, we'd recommend only doing business with companies who:
Provide a complete list of ingredients for their formulations
Price their products competitively
Stand behind their products with at least 30-day refund policies (including no restocking fees)
Come with mostly positive customer feedback
Does all of this bode well for New Age and their Neo Hydrate serum?
Our Final Thoughts About New Age Serum
Returning to our Collagen Supplements Buying Guide, Dr. Justin West emphasizes that, because of the general lack of clinical evidence surrounding topical and oral collagen treatments, "If you are going to invest in yourself, make sure you spend your money wisely and put it towards products or treatments with proven effectiveness."
To this extent, while the Clinical Study page of the New Age website indicates that their Neo Hydrate Gold Serum provided a wide variety of benefits for participants, it doesn't appear to have been published in a peer-reviewed scientific journal and wasn't available for third-party review at the time of our research.
» See Also: Best Foods for Healthy, Clear, Glowing Skin Recommended by Experts
Furthermore, it seemed that the company had a less-than-stellar overall reputation among HighYa readers, most of whom cited similar complaints.
If you decide to give the serum a try, though, it appears that you'll pay a lower price through their main website, versus their standalone Neo Hydrate Gold landing page. And finally, while New Age seems to stand behind their products with a 30-day refund policy, less S&H, keep in mind that as soon as you try it, you own it.
Editor's Notes: This article was originally written on October 22, 2015, but was revised and updated on May 14, 2018, at the company's request.
49 out 52 people found this review helpful

What a scam!

PA

,

Mar 9, 2016
Verified Reviewer

Do not, I repeat, do not order from this company. I am out about $300, if you count all my bounced check fees that I received after they charged my checking account without my knowledge.

Bottom Line: No, I would not recommend this to a friend

---

16 out 18 people found this review helpful

This is a scam!

By Linda Adams

,

Coushatta, LA

,

Nov 9, 2016
Verified Reviewer

I ordered the free trial and followed with their call back number and was told it would cost me $19.95 if I canceled now. Nowhere on the ad was such information statement otherwise, I would not have ordered it.

They said they would use my card to get the money. I am having to ship back it back at my own expense and call my credit card to stop payment.

​

Bottom Line: No, I would not recommend this to a friend

---

Advertisement

---

19 out 21 people found this review helpful

It is a scam. Do not order.

By Krystyna

,

Illinois

,

Nov 15, 2016
Verified Reviewer

This is a scam and when you try to cancel they will charge you more and keep charging. Have to put a stop on your credit card. Do not order from them.

Bottom Line: No, I would not recommend this to a friend

---

15 out 15 people found this review helpful

Rip off, and scam!

By Lulu

,

Seattle, WA

,

Jan 4, 2017
Verified Reviewer

As this website indicates, these folks are a complete scam and have been operating under other names. I have researched them on a number of websites, including the Better Business Bureau, and they have been sued. So then, they just go at it again under a different name and try to rip off more people.

Immediately when I threatened to go at it online with my reviews and research, not only did I get my auto-renewal canceled without having to return any of the product, I also got my initial shipping and handling of around $6 refunded. Of course, they don't want negative feedback. And, I'm willing to bet that their positive feedback is rigged.

Bottom Line: No, I would not recommend this to a friend

---

Advertisement

---

11 out 11 people found this review helpful

Scam

By Mila

,

Spokane, WA

,

Jan 6, 2017
Verified Reviewer

I am very disappointed!

Since I live in the Pacific Time Zone, I was a couple of hours late to cancel, even though I was not even aware that they will charge my account. Either way, I left them a message, and they canceled it, but not after charging me almost $90 per product.

I tried the serum, and it's a sticky mess, felt like I put honey all over my face. Does not work. Big rip-off!

Bottom Line: No, I would not recommend this to a friend

---

14 out 14 people found this review helpful

Why do they always have to scam you?

By Simone

,

Florida

,

Jan 9, 2017
Verified Reviewer

This is what I would like to know. If a company has a legitimate product and it is so great, then they should be able to allow us to try a sample and then feel compelled enough if we like it to order more on our own. The practices of this company are just as disgusting as the WEN auto order scam.

I ordered the trial on my phone, which meant the type was very small and I thought I would have 14 days from receiving it to call and cancel.

NO. It is exactly 17 days from the day you ORDER it, even if you live in a remote place and the mail is slow. So I was able to put it on my face only five days before they smacked my credit card with a charge of $89.00.

When I called to complain, the customer service was rude and un-moving. Only because I used Pay Pal and they have a 24-hour delay in processing to them did they agree to give me back $50 and made me promise not to call in a chargeback. It's so ridiculous. I heard that this company is founded by Ivanka Trump? Has anyone else heard this rumor? If that is so, then it is even more disgusting to rip off American women with this scam.

Bottom Line: No, I would not recommend this to a friend

---

24 out 24 people found this review helpful

Terrible rip off

By Lee

,

Michigan

,

Jan 13, 2017
Verified Reviewer

A bogus email said that because of my recent order with Amazon I am eligible for a free gift, you only pay for shipping. Then I was charged $89.99 (14 days later) because I did not cancel my order. And I didn't realize I had been charged until the following month when I received another shipment of $69.99.

I usually don't fall for this stuff, but it was the first bogus email about my Amazon order. Needless to say, when you call they have their tracks covered, and if you ship their stuff back they will give you back $50 credit, and there is a $19.99 handling fee.

Bottom Line: No, I would not recommend this to a friend

---

36 out 36 people found this review helpful

Scam artists and horrid customer service!

By Heather

,

Houston, TX

,

Jan 27, 2017
Verified Reviewer

Not only would they not refund my money, but Christian, their customer service rep, threatened me!

These people are crazy. On the phone, they said that you have 14 days to cancel. Well, I got the serum, and only had five days with it, but they went ahead and charged me $89.95. They only offered to give me back $50 and charge me $19.95 to remove the serum from the box so they can throw it away or repackage it for another sucker who gets caught up in the fake hype!

In the five days I used it, I saw NO difference. It does nothing. Not that the company gives you time to find out! I plan on reporting them to the BBB, one, for the false advertising and two, for the threatening customer service rep. Does anyone read the small terms they post? Who actually uses a computer these days? I use my phone and the small writing it is in would require a magnifying glass!

I am also considering speaking to a lawyer because of their business practices. They have false advertising and the ingredients they say they use don't even exist. So I either get a full refund, or I will be calling my lawyer! I will let you all know what happens. I looked at my order form, and I am NOT late on canceling my order! They are in the wrong. Just an FYI.

Bottom Line: No, I would not recommend this to a friend

---

37 out 38 people found this review helpful

Seriously?

I just tried to call and cancel, and ask for a refund, and guess what? They were CLOSED! They said they close at 4 pm Arizona time. I'm in Iowa, and it's only 2 pm. Now if I remember correctly, isn't Arizona Mountain Time? Which means I'm in Central Time, and they are two hours behind?

An email to them is on its way, and no matter what, I will get ahold of this rip-off company one way or another. This product does NOT work!

Bottom Line: No, I would not recommend this to a friend

---

38 out 39 people found this review helpful

Scam

By Mandy

,

West Virginia

,

Feb 1, 2017
Verified Reviewer

This stuff is awful, and they charge you an arm and a leg for this crap. If I could give negative marks I would. Plus, when you call you get told that it's $19.95 to restock them.

Bottom Line: No, I would not recommend this to a friend

---

22 out 23 people found this review helpful

Hidden Charges - kicking myself!

Spring, TX

,

Jul 16, 2017
Verified Reviewer

I have extremely sensitive skin. Dry, flakey, AND oily! There is no doubt about it, these products work! I was amazed at how quickly I saw results. I feel like I've tried at least 50 different products over the last 10 years and was super excited to finally find something that evens out my oily/dry skin and visibly reduces my dark circles.

However, I was super skeptical about the trial order, I thought, "Really, $12.92? There have to be additional charges, right?" I looked and looked all over the pages on the site when I placed my order and found nothing!

I honestly felt betrayed 19 days later when charges of $89.95 and $86.95 hit my bank account. IF I didn't initially expect it, AND I didn't spend over 30 minutes looking for additional charges before I placed my order, I would only blame myself.

So, as much as I loved the results, I truly believe the company is dishonest and unethical and as a matter of principle, I will continue my search to find a different solution to my complicated skin issues.

Although the products work, and I feel they may be worth reordering, I marked I wouldn't recommend the products based on the way they are marketed.

Bottom Line: No, I would not recommend this to a friend

---