New You Keto Reviews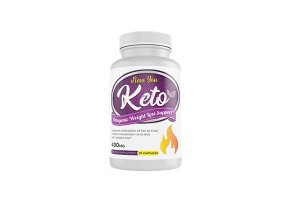 New You Keto is an online brand of dietary supplements that promises to keep you in ketosis so that you can burn fat, recover from exercise faster, and have more energy each day.
What Is New You Keto?
New You Keto is the self-proclaimed "most talked about weight loss product" for staying in ketosis.
According to the company website, this daily supplement contains ingredients designed to keep you in ketosis and support healthy metabolic functions that are associated with weight loss.
The brand claims this supplement works for both men and women and works to assist weight loss, support better sleep and digestion, and promote abdominal fat burn. How does this supplement claim to do this? We'll dissect the available information below.
How Does New You Keto Work?
From what we learned on the supplement's website, New You Keto works by putting your body in ketosis quicker than you could through diet alone. They state that getting in ketosis is "Xtremely [sic] hard to obtain on your own and takes weeks to accomplish."
Rather than merely cutting carbohydrates out of your diet and boosting your fat intake as you would with a traditional ketogenic diet (learn the details here), New You Keto claims that taking these supplements helps your body achieve ketosis faster by transitioning it to burning fat for energy instead of glucose.
Beyond weight loss, new You Keto also promises that you'll experience better brain health, recover faster from exercise, and maintain more lean muscle mass from taking the supplements.
How Do You Use New You Keto?
Per the brand's instructions, New You Keto is best for those who want help losing weight and feeling better in daily life. The brand suggests you take two supplements a day with water and eat keto-friendly meals and snacks to boost your results. Their recommendation is to aim for a ratio of 70% fat, 25% protein, and 5% carbohydrates at every meal.
In order to best track your results, the company recommends taking a "before" photo and logging your physical measurements so you can track your results.
What Ingredients are in New You Keto?
At the time of writing, we weren't able to track down any ingredient information for New You Keto online. When we called customer service in an attempt to learn the specifics, we were told that the company won't share specific product information unless there is already an account associated with a caller.
In other words, New You Keto won't tell you what's actually in their supplements unless you have already purchased them.
Acknowledging that, there's a limit to the information we can report about New You Keto supplements. We would be wary of placing an order of any product for which the ingredients are not made known on its website.
We can discern from images on the website that each bottle contains "400 mg" and includes 30 capsules, which should be enough for fifteen days if you take two a day as directed. It's unclear what precisely this 400 mg consists of.
What Does New You Keto Cost?
New You Keto is only available on the product website at the time of writing. When you navigate to the purchase page, the site shares that you can receive a 30-day supply of 60 capsules (most likely as two bottles) for $4.95 in shipping costs.
The ordering page doesn't share any information about whether you are signing up for a reoccurring subscription when you purchase this trial or anything about the company return or refund policies. We had to dig into the Terms and Conditions to learn the details.
What we learned is that upon ordering a trial of New You Keto, you are immediately enrolled in a subscription program.
Failure to cancel your account within the trial period (17 days after ordering) will result in a full charge of $89.94 for the trial you already received, plus an additional $89.94 for the next month's order. You'll be billed this same amount every thirty days going forward for a new supply of supplements.
If you want to cancel your subscription, the company suggests contacting them by email at care@trynewyouketo.com. Alternatively, you can try the number we called for customer service at (877)453-1114.
You will need to return your first order if you want to avoid the $89.94 fee, even after canceling your subscription. These packages can be addressed to PO Box 20800, Fountain Valley, CA 92728.
What Do New You Keto Reviews Say?
We couldn't find any information about New You Keto online apart from on the product website. While the site showcases images of positive Facebook reviews, we couldn't find an official Facebook page for the brand.
However, our search brought to light a supplement called Keto Tone Diet that uses near identical brand imaging to New You Keto, save for the product name.
Note that we aren't claiming that New You Keto and Keto Tone Diet are the same product. However, it's a common strategy for online companies like this one to create numerous versions of the same product with similar branding to go under the radar longer. For that reason, we deemed it worthwhile to see if they share any useful insight for deciding whether to buy New You Keto.
Here's what we learned. Keto Tone Diet has more than 108 reviews on Facebook and averages 1.2 stars. The comments we read reveal many people consider Keto Tone Diet a scam. There are dozens of complaints from customers who were billed more than expected, struggled to cancel their account, and even received products with different names and labels than what they ordered.
Many people reported that they had to contest their purchase with their bank and that the only way they stopped fraudulent charges was by canceling the credit card used for ordering.
Bottom Line: Should You Try New You Keto?
There are some serious red flags about New You Keto to keep in mind before ordering.
First, there is no ingredients information available online for this supplement, and our calls to customer service showed the company would only provide this information to those who have already purchased from them. Not only does this seem suspicious, but it's also dangerous. We will never recommend consuming a supplement if you can't inspect the nutrition facts first.
Second, New You Keto buries their true pricing information deep in the terms and conditions. We believe most buyers will be under the impression that the supplement costs $4.99 and won't realize they will be charged an additional $89.99 unless they return the bottle to the company within 17 days of ordering. Merely canceling your subscription isn't enough, as the terms and conditions state the brand will retroactively charge you for your first sample if you don't return it.
Finally, New You Keto seemingly doesn't exist online beyond the company website, though we found what looks like a virtually identical product with more than 100 one-star Facebook reviews, most left from people who claimed they were scammed.
When it comes to purchasing online products, it's important to know what you're committing to. We suggest reading our guides on how to avoid being scammed and how to spot a scam website within a few seconds of landing on the page.
Does not work and will not honor discontinue

By Kay G.

,

Indio, CA

,

Mar 21, 2020
Verified Reviewer

This does not work. I have asked to stop shipments but continue to get them. Did not honor my request. Returning product and hopefully will get a credit. No paperwork in the package to supply further info.

Bottom Line: No, I would not recommend this to a friend

---

Scam, rude, thieves

By Sheryl M.

,

Seneca, MO

,

Mar 11, 2020
Verified Reviewer

As many have mentioned, I ordered the New You Keto and New You Cleanse at $4.95 each for trial, I have never even opened the bottle, I had taken it to my doctor as I am undergoing medical treatment. She told me "DO NOT TAKE THIS". I canceled that day. It had only been a week since I placed the order. My bank statement came in, WOW, they charged me $79.95 and $84.95 to my credit card. Mind you, this is even after I had canceled (make sure you get a confirmation number and their name). I have talked to countless people there, no resolutions! Today was the first day that one of their reps has given me the web address care@trynew@keto.com. Oh, and when you receive their product, there is NO paperwork that comes with it. I have them under investigation with my credit card company right now, hopefully, there will be a resolution.

Bottom Line: No, I would not recommend this to a friend

---

Advertisement

---

Scam job from the get-go

By Michael K.

,

South Carolina

,

Mar 9, 2020
Verified Reviewer

Same BS as above. Got charged $84.95. Disputed it with my bank. Closed bank card and opened a new card so there won't be any additional charges. Waiting to hear from the bank on the original charge.

Bottom Line: No, I would not recommend this to a friend

---

Huge mistake!

By D C.

,

Los Angeles, CA

,

Mar 5, 2020
Verified Reviewer

To start, I ordered online the New You Keto "Free Trial" pills with shipping for $4.95, and as I clicked "continue to purchase" it automatically added these New You Cleanse pills to my order that I did not want, and that added and additional shipping charge of $5.95. So they charged my card a total of $10.90 which I did not authorize!

Then today when I saw charges totaling $164.95 ($84.95 and $79.95) on my credit card, I immediately called to get these unauthorized charges reversed. I was told I was paying for the two "FREE TRIAL" bottles, and that because I hadn't called in within a 14-day period they would NOT refund my money.

As the others leaving reviews here, and ALL the others I could hear calling in on the phone banks during my call, I realize that everyone is complaining of the very same thing (!) and the company employees are hired to just tell you that it is not possible to refund any money under any circumstances.

The amount of time I have had the bottles to "TRY" them out was far less than 14 days because of the shipping time. Clearly there would be no possible way to assess the value of these products within the few days allotted and thus the trap of collecting $165 per unsuspecting customer is clearly intentional and underhanded.

Not an ethical, professional, or honest company.

They said they have canceled my "account" (which I never set up!!), and sent me a confirmation email with ID#s E5F8E9A3D1 and #745D1B087C to verify the cancellation, but that email has never shown up! Yet more dishonest misrepresentation.

Extremely DISSATISFIED!

Bottom Line: No, I would not recommend this to a friend

---

Advertisement

---

Scam TryNewYouKeto pills

By Susan S.

,

Plano, TX

,

Feb 28, 2020
Verified Reviewer

My experience is identical to previous reviews. I did not see if this was going to be an auto-refill. When I placed an order for trial KETO, the bottle of cleanse appeared and would not let me decline. I ordered on 1/17/20, received on 1/23/20, although I was out of town. On Feb 3 had a charge on my credit card of $84.95. I disputed through my bank and was credited. I called the supplier on 2/3/20 and they advised I needed to call with 12 days, which I had not read deep into the agreement, so that was my fault. They count from the day of order. I found my confirmation shows 17 days for review. Depending on how you count from 1/17 to 2/3, it is either 17 or 18 days. I still have not opened. How can you receive a pill and evaluate if a week if it works? I have called three times, each time canceling my account to make sure I do not get follow up shipments. After disputing, they rebilled 2/8/20. If I get future orders, I will refuse with proof of return. Not happy.

Bottom Line: No, I would not recommend this to a friend

---

New You Keto and New You Cleanse pills

By Desirae P.

,

Milwaukee, WI

,

Jan 26, 2020
Verified Reviewer

So I ordered online the New You Keto pills for $4.95 and as I clicked "continue to purchase" it automatically added these New You Cleanse pills to my order which were $5.95. So they charged my card a total of $10.90 which I did not authorize! Fast forward four days, I received the package with two bottles. Instantly I felt something was wrong with the whole thing. The labels on the bottles looked very amateur. For ingredients it said "other ingredients". So I googled where the package came from. The package came from Fulfillment Center PO Box 2967 Hammond LA 70401. I could not find ANYTHING with this address or name. So that was a red flag. So I called the customer service number 877-453-1114 to ask about the product and my order. A representative answered and I asked what did my order say? She couldn't even tell me what was sent to me. Smh! I asked to cancel my order and she asked very rudely "WHY?" I said "because I'm no longer interested." She said "well, I see the Keto was sent and also the New You detox." I said "the second bottle was New You cleanse, not detox." She stood quiet. So then I asked "how much MG does the keto have?" She said she had to look online. I said "just tell me what my order says." She told me it shows online it is 400 MG and 30 capsules. I said "well, why does my bottle say 800 MG and 60 pills?" She couldn't tell me why. I also asked "will I be charged anything in a few days," and she said, "Yes, $89 for each bottle." I told her to take me off of any subscriptions! She said she took me off so I hope she did.

Bottom Line: No, I would not recommend this to a friend

---

I want my money back

By Mendaah T.

,

Ohio

,

Dec 16, 2019
Verified Reviewer

I'm angry and confused because I bought New You Keto and cleanse for $10.90 some weeks ago but yesterday I realized these people used my card information for something I don't know. I saw a debit card purchase of $84+ and $79+ with my card from this same Keto. I tried reaching you to no avail, I sent an email but they said address not found. I hope you see this review and address my issue before I do something worse. Oh my God, how can I purchase something worth $10 and end up losing $160+? And I want my money in cash to mail to me because I will never release my card details to whosoever in the name of online purchase.

Bottom Line: No, I would not recommend this to a friend

---