NFL.com Fantasy Football Reviews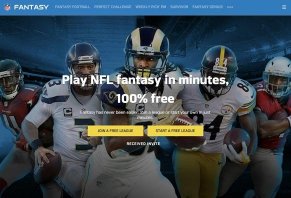 NFL.com provides fantasy football players with a variety of public and private leagues as well as a solid drafting platform that make it a great choice for newcomers and veterans.
About NFL.com Fantasy Football
NFL.com Fantasy Football is a free and paid fantasy football platform where you can join public leagues or create your own league.
Their website is one of the more well-known sites for fantasy football – ESPN, CBS Sports and Yahoo are its main competitors. Trying to figure out which site is the best one for you can be a tough decision, mainly because, at first glance, all the sites look the same.
However, each one has some subtle differences that may sway you one way or another. So, in this review, we're going to cover which types of games NFL.com fantasy football offers, how their draft works, how well their experts rank and how the site compares to ESPN, CBS Sports and Yahoo.
At the end of our review, we'll provide you with an overview of the site's strengths and weaknesses. Along the way, we'll sprinkle in some observations about how specific parts of NFL.com's fantasy football leagues differ from the competition.
The Types of Fantasy Football Leagues NFL.com Offers
As we mentioned in our introduction, NFL.com provides free and paid fantasy football leagues. These leagues can be divided into two basic categories: public and private.
Public Free Leagues
Free public fantasy football leagues are ones that NFL.com sets up. The leagues have 10 teams and a scoring system that rewards the following points for the major scoring categories:
Passing yards: 1 point per 25 yards
Rushing/receiving yards: 1 point per 10 yards
Passing touchdowns: 4 points
Rushing/receiving touchdowns: 6 points
Their default settings don't include points per receptions, which is commonly known as "PPR." Your lineup has nine states (QB 2 WR, 2 RB, TE, WR/RB/TE, K and DEF).
The playoffs in these public, NFL.com-run leagues are two-weeks long, start in Week 15 and has four teams.
Public Prize Leagues
If you want to raise the stakes of the league you play in, then NFL.com offers paid prize leagues they call "Ultimate Experience" leagues. You pay an entry fee to play in a league in which you can win NFL memorabilia. Here's a list of the various prize leagues according to the prize you can win and the entry fee to join the league:
Autographed NFL jersey: $49 entry fee
Customized ring: $24 entry fee
Signed football: $39 entry fee
Autographed mini-helmet: $34 entry fee
These leagues follow the same scoring and lineup size as the public free leagues. However, because it's a prize league, residents of 27 states and Puerto Rico aren't eligible to play in these contests:
Alabama, Arizona, Arkansas, Colorado, Delaware, Hawaii, Illinois, Indiana, Iowa, Louisiana, Maine, Maryland, Massachusetts, Mississippi, Missouri, Montana, Nevada, New Hampshire, New Jersey, New York, North Dakota, Ohio, Pennsylvania, Tennessee, Vermont, Virginia, Washington, and Puerto Rico.
This list is pretty disappointing considering that NFL.com excludes around twice as many states as Yahoo's DFS platform.
Private Leagues
In private leagues, you can either create or join a league (by invite) in which a commissioner has the ability to adjust the league's scoring settings and other features.
This is the main difference between private free leagues and public free leagues – you can customize. And, for a league in which you have returning players, customization is key, especially if you want to add keepers, which are players that you can keep for next seasons.
While these leagues are free, you can choose whether or not you want to implement something called Roster Options is unique to NFL.com, as compared to the other sites mentioned in this review.
Basically, as a fantasy football manager, you'll have to decide every week who you're going to play. Sometimes you get stuck trying to decide two players because they both have upside for the week. In the event that you pick a player and he has a horrible game, Roster Options allows you to replace that player with another who has yet to play.
The fee for making single-player switches is $0.99 per player and unlimited switches for one week of games is $3.99.
Drafting With NFL.com Fantasy Football
To get a sense of what the NFL.com draft platform is like, we did a couple of mock drafts, which are used for practice before you draft for your league. The players you pick aren't permanent; they don't show up on an actual fantasy team.
Here's a screenshot of the NFL.com draft platform: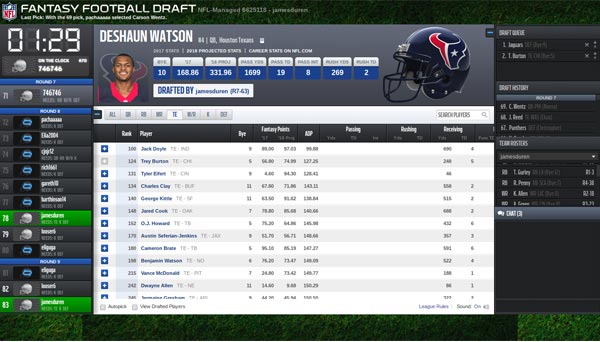 Our experience with their draft platform was a good one. It's set up in a similar way to Yahoo but the user experience is cleaner and easier to use, in our opinion. The drawback of it is that it's a bit cumbersome to see other teams' lineups, which makes it hard to predict which positions a team will draft.
Yahoo, on the other hand, let's you use a draft grid that shows you how many players opposing teams have drafted at all positions. This gives you a frame of reference if you're debating between a QB and RB, for example. If you can see that all the teams after you already have QB's, the, you can take a chance and pick your RB believing the QB you want will be there when your pick rolls around again.
How NFL.com's draft platform works is just part of what dictates the value of their drafting package. The other part of it is the draft kit you get when you use their site. "Draft Kit" refers to a collection of articles, rankings and projections intended to help you decide which players you want and don't want to draft.
NFL.com's Draft Kit page, at the time of publishing, included the following topics and data:
Position rankings
Top bargains
Players ready to break out
Mock drafts by NFL.com's analysts
Players to avoid
Analysis videos about players
Fantasy Genius
The most interesting feature on this list is Fantasy Genius. Basically, this is a crowdsourced rating tool where you can post your team and get people's opinions on how good or bad your draft was. They use a slider that ranges from 0-100 to rate your team.
When the season starts, you can post two players and ask the community who you should start. Here's a screenshot of the pre-draft Fantasy Genius: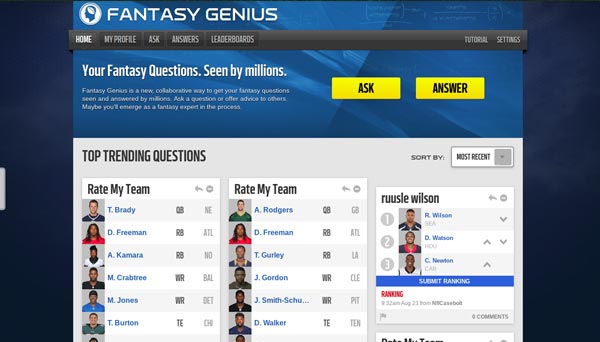 The Fantasy Genius feature is a fun one to use because you can get people to rate your team, you can rate other teams and, since you can leave comments for teams, you'll probably get into some debates about players and strategies that will sharpen your fantasy football skills.
As for the other parts of the NFL.com Draft Kit, how good these parts are really depends on how accurately the site's experts can predict player performance, which is what we'll talk about in the next section.
NFL.com Fantasy Football's Experts
Every fantasy football website big or small is going to have a team of fantasy experts who will dispense advice that spans individual player profiles, position rankings, draft strategies and many other facets of fantasy football.
Some sites are better than others when it comes to the accuracy of the predictions and rankings their experts provide.
When we judge a site's experts, we like to refer to FantasyPros' Accuracy rankings, which provides a list of the top-200 fantasy football analysts from around the country.
According to their 2017 rankings, not a single NFL.com analyst appeared in the top-200. ESPN's fantasy football site that shares that dubious distinction. While these rankings indicate that there are better analysts out there, it certainly doesn't mean that NFL.com's experts are going to always give bad advice.
However, if you like making your decisions based on rankings, you'll find better results at CBS Sports, which has three top-200 analysts, or Yahoo, which has five top-200 analysts.
Comparing NFL.com to Other Fantasy Football Sites
Based on our research of this site and the three other major fantasy football sites (ESPN, CBS Sports, Yahoo), we've been able to come up with a few observations about NFL.com's fantasy football.
First, we believe that their draft platform is the easiest to use. The function is similar to Yahoo but the user experience is far better.
The only thing that lacks is an efficient way to see which players on other managers teams and, in that sense, Yahoo has the advantage because of the draft grid that allows you to see how many players have been drafted at each position on each team.
We think NFL.com's free leagues are great, too, because they allow you to customize your league settings. This is something that you get with ESPN and Yahoo, but not with CBS Sports, who charges $149.99 for a customizable league.
What makes NFL.com slightly different than the prize leagues on Yahoo and CBS Sports, though, is that you get merchandise instead of cash prizes. For serious fantasy football players who view their leagues as a way to make money, merchandise isn't the biggest draw.
In our opinion, NFL.com is a great choice for those who want a free fantasy league or who want to try their luck in a paid league in order to get free NFL merchandise.
The Final Word: Pros and Cons of NFL.com Fantasy Football
In our opinion, NFL.com fantasy football's strengths are that it has an excellent draft platform, free leagues with a variety of customizable functions and a formidable draft kit whose Fantasy Genius is a unique, community-oriented tool that can provide some extra fun for managers.
The downside of the site is that it doesn't offer prize leagues that have cash rewards. Both Yahoo and CBS Sports offer public cash leagues with cash prizes. Also, Yahoo offers DFS fantasy football, another platform through which you can pay to enter a competition and have the chance to win money.
Also, the fact that, at the time of publishing, residents of 27 different states and Puerto weren't allowed to participate in the prize leagues is a drawback because it severely limits who can play.
In general, we believe that NFL.com is a great option for you if you want the basic fantasy football experience mixed with the possibility of entering prize leagues. We also see friend groups using this site to run their yearly keeper leagues, too, as customizations allow for it.
» For Further Reading: Guide to the Best Fantasy Football Sites: Comparison of Yahoo, ESPN, NFL, CBS Sports, and Sleeper
Horrible website design and app doesn't work

By Sam H.

,

Virginia

,

Oct 4, 2019
Verified Reviewer

I just made an account and I am not able to do anything. The website is so poorly designed that I can't access my own league unless I have the exact URL, I can't get to it any other way for some reason. I downloaded the app and it won't let me log in, it just keeps saying "login failure".

Bottom Line: No, I would not recommend this to a friend

---

Horrible support group

By Zack M.

,

Michigan

,

Dec 11, 2018
Verified Reviewer

Well, I am in one of their prize leagues where you could win a signed jersey, and there are three teams in it that a few guys in the league have suggested that they were owned by the same person. Also, when playing the each other, the two bad teams would sit players so that the other team could get into the playoffs. Also, he made a lot of trades with the other teams, no one else, and they got vetoed a lot so he would just tweak the trade still really lopsided. Then he would trade the players back, the same ones he just traded, when the other players came back healthy. Hmmmmm. When I reached out to NFL Digital Care, they just sent back a standard message and never looked into it at all.

Bottom Line: No, I would not recommend this to a friend

---

Advertisement

---

NFL.com Digital Care Dept. compromised my fantasy account

By Chris V.

,

Florida

,

Nov 13, 2018
Verified Reviewer

Henry, who works in NFL. com Digital Care Dept for fantasy leagues felt the need to hack into my fantasy account because a player in my league and I had differences.

When I went to check my lineup and my points, I found that Henry, who is an employee of NFL.COM, spitefully hacked my account, sabotaged my lineup by removing my starting players and putting them on the bench. He then proceeded to lock me out of my account so that I couldn't put my players back in their respective spots. I was 3-0 at the time he did this, which was today, November 11, 2018. He then emailed me stating he did this purposely. It's very troublesome when an employee we are supposed to trust with our account has the freedom to hack into thousands of users fantasy accounts.

Bottom Line: No, I would not recommend this to a friend

---