Niagen
Claimed This company has claimed this profile, is getting alerted on any new customer reviews entering this page, and may engage in dialogue with its customers to address their matters.

Companies cannot pay money or provide goods in order to remove or alter customer reviews.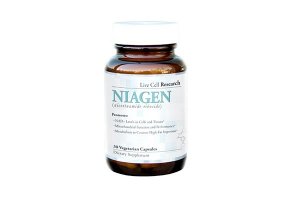 Some say that Niagen is the "fountain of youth," due to its ability to reduce cellular age. Find out why this might not be the case, and if you should buy it.
Niagen Review: How It Works, Benefits, Clinical Studies, Cost
Why are some people calling Niagen the "fountain of youth?" Because, according to research, the nicotinamide riboside inside Niagen may help improve communication within your cells and reduce their age by up to 66%. As a result, you can experience a variety of anti-aging benefits, including improved brain and cardiovascular health, increased muscle endurance, in addition to a boosted metabolism.
As it turns out though, the reality about Niagen may be a lot less revolutionary than the manufacturer makes it appear. But why?
Stick with us and we promise 3 things by the time you're finished reading: 1) You'll have a much better understanding of what Niagen is, 2) you'll learn about the different kinds of research behind it, and 3) whether or not you should give Niagen a try.
Who Makes Niagen?
Niagen is a proprietary ingredient manufactured by ChromaDex, which they claim is the "first and only commercially available form of nicotinamide riboside" (more about this next). After it's been manufactured, ChromaDex then licenses Niagen to third-party companies—such as Live Cell Research—who encapsulate the supplement and sell it as they wish.
Because of this, a quick online search for Niagen will reveal dozens of results, none of which appear to be any different that the Niagen offered through other companies.
What Is Nicotinamide Riboside?
The truth: Answering some of your basic questions about Niagen requires some fairly in-depth explanation. So let's begin from square one, shall we?
Here's the whittled-down series of events that occur after you take a capsule of Niagen:
The nicotinamide riboside contained in Niagen is transformed by your body into Nicotinamide Adenine Dinucleotide (NAD), which is why it's known as a precursor (e.g. a substance from which another is formed).

Within the human body, NAD's primary function is to transfer electrons from one molecule to another, which is a basic part of energy production (also known as "energy sparks"), and is almost wholly achieved by the mitochondria within each of your cells. Think of mitochondria as little engines that power your body.

NAD also acts as a precursor to the messenger molecule cyclic ADP-ribose, which can help improve the transmission of information, both inside and outside cells.
As we age though, the communication between the nucleus (the "brain" of a cell) and its mitochondria becomes interrupted, which can lead to common signs of aging, such as certain types of dementia (e.g. Alzheimer's), wrinkles, the weakening of bones and muscles, and more.
What Happens When You Take Niagen?
Each capsule of Niagen is claimed to include only one ingredient; a 250mg dose of nicotinamide riboside, which is a NAD precursor (don't worry, we'll talk more about this in a moment) that improves communication between the mitochondria and the nucleus inside your cells. As a result, Niagen is claimed to provide the following benefits:
Prevents cellular damage caused by free radicals from occurring, instead of addressing the damage only after it's occurred (like most mainstream antioxidants do).

Supports healthy cholesterol levels.

Supports cellular metabolism and enhances the amount of energy your body naturally burns, without requiring you to restrict your diet or increase your exercise habits.

May help prevent age-related brain degeneration (e.g. Alzheimer's) by preventing the degeneration of axons and neurons (nerve cells responsible for the transmission of information; think of them almost like "information highways").
According to the company, each capsule of Live Cell Research Niagen is claimed to be manufactured in Southern California without the use of stimulants, allergens, or toxins, and to be tested by the company for quality and purity, as well as by an independent third-party lab.
The manufacturer claims you should take one capsule of Niagen each morning upon waking, on an empty stomach, and with a glass of water. There are no known side effects from the use of Niagen (more about this later).
But does supplementing NAD actually translate into real-world benefits? Let's see what the available evidence says.
What Clinical Trials Have Been Conducted Using NAD?
According to the Niagen website, nicotinamide riboside (remember, this is the chemical that turns into NAD) was only recently discovered to have anti-aging properties in late 2013 by Harvard Medical School's Dr. David Sinclair, during his clinical research performed on mice. After the study was complete, the researchers examined "muscle from two-year-old mice that had been given the NAD-producing compound for just one week, [and] looked for indicators of insulin resistance, inflammation and muscle wasting. In all three instances, tissue from the mice resembled that of six-month-old mice. In human years, this would be like a 60-year-old converting to a 20-year-old in these specific areas."
However, keep in mind that just because these benefits were shown to have occurred at a cellular level in mice, this doesn't necessarily translate into any real-world benefits—whether for mice or for humans. In fact, of those NAD studies conducted on humans (such as for Parkinson's disease), the benefits are murky, and even completely non-existent in some instances.
On top of this, in the 2013 Harvard study noted above, mice were injected with 400mg of nicotinamide riboside, versus the 250mg found in each dose of Live Cell Research's Niagen. In other words, these mice—which weigh much less than humans—were given a higher dose than what you'll receive in this supplement.
Niagen's Limited Online Reputation with Consumers
Although Niagen is offered through several different resellers, the most popular option appears to be offered through Live Cell Research, a relatively new supplements manufacturer based out of Culver City, CA. Although the company isn't listed with the Better Business Bureau, they do have a 3.5-star rating here on HighYa (as of 5/7/19), with the most common compliment citing products that work as advertised. On the other hand, the most common complaint appears to reference products that are priced much higher than the benefits they provide.
Regarding Niagen specifically, there weren't a whole lot of online customer reviews available at the time of our research. However, some forum members on PhoenixRising noted an increase in concentration and energy, although several others complained of failure to provide any noticeable benefits, high price, extreme mood swings, and muscle pain. On Amazon.com, Live Cell Research's Niagen has a 4-star rating based on just 4 customer reviews, although nearly all were very short and provided very little (or no) information about their experiences.
Finally, there are numerous detailed status reports from customers who tried Niagen on Longecity.org, although many took much higher doses than what you'll find in a single capsule of the supplement (almost none indicated the company they purchased it from). Overall, it appears that the consensus was evenly split, with some experiencing increased energy and mental clarity, while others experienced no benefits.
Niagen Pricing and Refund Policy
Live Cell Research's Niagen is available in 3 different purchasing options:
1-Month Supply: $46.99, plus $3.95 S&H
2-Month Supply: $83.64, plus free S&H
3-Month Supply: $117.00, plus free S&H
All Live Cell Research products come with a 90-day refund policy, less S&H charges. In order to initiate the process, you'll need to contact customer service at 844-650-5933.
Is Niagen the Answer to Reversing Aging?
When it comes down to it, the benefits of nicotinamide riboside supplementation could possibly have a huge impact on how we age. As WebMD notes though, at this point in time there is insufficient clinical evidence showing that NAD can reliably provide any of the anti-aging or health benefits advertised by Chromadex, or by resellers such as Live Cell Research.
With this said, many online customers seem to have experienced positive results from using Niagen, and Live Cell Research seems to stand behind their products with a 90-day no-hassle satisfaction guarantee. So after everything's said and done, you might only lose S&H charges by giving it a shot (no pun intended).
» Related: Successful Aging: Lifestyle Habits of People Who Age Well
Excellent

By Matthew C.

,

Michigan

,

Oct 5, 2018
Verified Reviewer

Niagen gave me a great boost of energy, which I could feel after just one week of use. I will continue to use the product and have recommended it to my wife. This has lined off with other LCR products I have been taking; it provides the extra effort to do that daily workout.

Bottom Line: Yes, I would recommend this to a friend

---

Just ordered a refil

By Greg N.

,

California

,

Sep 25, 2018
Verified Reviewer

I decided to try a bottle after asking my daughter (a pediatrician). She told me the research is far from conclusive but interesting, and it probably wouldn't hurt to try it. She also warned me about potential rashes and cramps. So I did. I took two tablets a day until my first bottle was almost depleted. Note: I also take flaxseed oil and occasionally L-theanine.

I'm well aware of placebo effects, but I think I've had enough of a consistent pattern of results to dismiss placebo, but it's always possible. I'm 60 and play tennis 1-3 times a week. Within a couple of weeks, I noticed that I didn't feel as depleted after playing a few sets, which previously would have rendered me exhausted.

I've even played in more demanding conditions, which I would have avoided. I don't think even placebo could do that. I'm making fewer unforced errors as well.

I also seem to have better powers of concentration and improved site (in terms of color). I think my mood overall has been enhanced as well. I have had a few minor muscle cramps, usually when idle. So I think for people like me, who may have age-related degradation, encouraging results so far.

Bottom Line: Yes, I would recommend this to a friend

---

Advertisement

---

Niagen triggers Rosacea

By Rich G.

,

Los Angeles, CA

,

Aug 18, 2018
Verified Reviewer

Niagen should NEVEr be taken by anyone with Rosacea!

This supplement causes facial flushing, which triggers Rosacea. I took this product and experienced the WORST case of Rosacea in my life, causing me to seek medical treatment and expensive prescriptions after suffering weeks of pain and embarrassment…

Be aware that all SIMILAR B-3 products will be dangerous.

Bottom Line: No, I would not recommend this to a friend

Aug 21, 2018

Hi Rich, my name is Taylor with LCR Health. I'm very sorry to hear that you had this experience. As always, we urge customers to consult their physicians prior to starting any new supplement to ensure that there won't be any interactions and that the product is right for them. Please email me at Taylor@lcrhealth.com and I will issue you a complete refund.

---

Niagen - effectiveness

By Gerald H.

,

Greater Manchester, England

,

May 27, 2018
Verified Reviewer

Hi.

I have been taking this (one capsule a day generally, occasionally two) for over a year.

I am 66 and I seem to have lots of energy. I do spin classes and basically have a higher work rate than 99.5% of other spinners (also have a great instructor who has took spin for 20 years, she has gone 5-6 times around the planet on a spin bike!). I do a tough abs classes and then two back to back spin classes (spin is 45 minutes each class) on Wednesdays. On Monday I do a spin class and then a 1-hour pump class (50 people and I work with heavier weights than anyone else). I should mention that the age range is about 18-50 generally, with most 18-30 maybe). I also do some bodyweight training.

I don't think I could do this if I didn't take Niagen (by the way, I had a heart attack 8 years ago and smoked like a chimney from 17-58).

So, that is my take. I wouldn't like to stop it to see what happens (unless somebody pays me!).

Bottom Line: Yes, I would recommend this to a friend

---

Advertisement

---

Bad experience

I had a very bad reaction after taking NAD+ (Niagen) for about a week. I was taking 100mg only. I started getting more tired as the week went on, even napping during the day. I also became more irritable and had a difficult time focusing. Finally, I realized what was causing it, the NAD+. I went off it, and it is taking a few days to get back to 100%. I am not sure why I had this reaction, but I clearly did.

Bottom Line: No, I would not recommend this to a friend

Mar 6, 2018

Hi George, I'm Aurora from Live Cell Research. Thank you so much for taking the time to leave us a review about your experience with Niagen. I am so sorry to hear that you did not experience all of the results you had expected. While a majority of our customers do love the benefits of Niagen, we do understand that it may not work well for everyone. I would be more than happy to issue you a full refund, just for giving our product a try. Just email me at aurora@livecellresearch.com and I can begin the refund process right away. I look forward to hearing from you and making this right!

---

Realized how beneficial it was when I forgot to renew and ran out.

When I began taking Niagen, I also started working out at a gym. I at first thought the results during the 2 years could have been from working out. Then I forgot to reorder. Within a week I could feel and see the difference. Now that I have a fresh supply, the fat is going, and I have energy again. In two words: it works!

Bottom Line: Yes, I would recommend this to a friend

---

Jury is still out

By John Lockard

,

Hilton Head, SC

,

Jan 30, 2018
Verified Reviewer

I am just starting my second month of one NR-1 capsule each morning. I do feel a bit more energy, but am waiting on more improvement to kick in. I am holding off recommendations until I feel more positive results.

Bottom Line: No, I would not recommend this to a friend

---

Renewal

By Chris Meier

,

Sedona, AZ

,

Jan 22, 2018
Verified Reviewer

I've been with Niagen for three months. Early on, within 2-3 weeks I noticed an improvement in many of my baseline assessments. Eyesight improved and is increasingly reliable. Memory as well. Endurance in the gym, as well as a sense of general well-being accompany restful nights.

Hair, skin, and nails are your thing. To be clear, I have gradually increased my dosage. Presently, I take 500 mg per day (that's two capsules).

Bottom Line: Yes, I would recommend this to a friend

---

Niagen

This particular supplement has made me feel overall better. It took a couple of weeks before I started noticing any difference. I have taken it daily for about two years and can say that this is one item that I will take as long as I can. It seems to help keep the effects of getting old significantly reduced. I feel physically better than I did two years ago.

Bottom Line: Yes, I would recommend this to a friend

Dec 20, 2017

Hi Marc! Thank you so much for your support! We are so honored to be a part of your daily routine and we are so glad that we could help you. Thank you for letting us know about your experience!

---

Niagen

I love this product. I've been taking this for a month now. I'm feeling the skin on my face tightening. I also take collagen powder, but the skin didn't start tightening until two weeks after starting Niagen, whereas I've been on collagen for four months and nothing.

I did experience diarrhea. I'm not sure if this is from Niagen or not. However, it lasted two weeks, so I believe it's a side effect that goes away with continued use. I don't hear my husband snore anymore! That means I'm sleeping sound. I used to wake up every night. Thanks to Niagen I'm getting the sleep I need.

I've lost 10 pounds, but I'm actually dieting. I noticed Niagen had made it easier by decreasing appetite. I will continue to use this amazing supplement.

Bottom Line: Yes, I would recommend this to a friend

---

Excellent - overall good feeling

By Wilma Sale

,

London, United Kingdom

,

Oct 5, 2017
Verified Reviewer

I started the one-a-day 250mg LCR Niagen on September 1st. I'm turning 67 by the end of October and the first significant change I noticed was being able to play tennis again after an 8-year hiatus. My daughter was amazed I lasted two games of tennis with her. I didn't win even a set but had enough stamina to finish our games. I now have enough confidence to go skiing again in Vail. I am not into bodybuilding, and my most strenuous activity is looking after my 23-month-old grandson. The LCR Niagen supplement gives me the strength/endurance to do hands-on granny duty including driving and shopping, carrying moderate to heavier stuff.

I was lucky enough to be visiting the US in September where I was able to buy 18 bottles of LCR Niagen (now rebadged as NR-1), which I will be sharing with my husband here in the London.

A friend I recommended the LCR Niagen to has suggested I should also take Royal Jelly 2000, but I'm afraid it might negate the positive effects of the Niagen.

As a general conclusion, I'd give a 10/10 to the LCR Niagen (NR-1).

Bottom Line: Yes, I would recommend this to a friend

---