Night Angel Reviews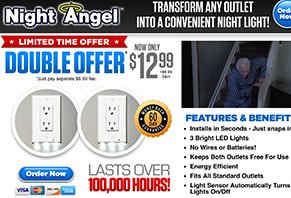 Night Angel's copper prongs automatically draw power from the screws on your receptacle, which can provide ambient light in seconds, without any wiring.
About Night Angel
Using three built-in LEDs that last over 10,000 hours, Night Angel promises to replace your existing outlet cover in seconds and add energy efficient ambient lighting to your home.
In order to install, the manufacturer tells us you simply have to unscrew your existing faceplate and replace it with Night Angel.
Its power prongs will then automatically make connections with the screws on any standard receptacle and draw power to its three bottom-mounted LEDs.
Not only does this mean you can install Night Angel in seconds, without the need for wires or batteries, but the company claims it also means you can keep both your outlets free for use, unlike traditional nightlights.
Whether placed in hallways, bathrooms, kid's rooms, basements, garages, kitchens, or anywhere else, we're told Night Angel's onboard light sensor will turn on the LEDS in the dark and turn them off in the light, while using less than 10 cents worth of energy per year.
But hold on. Before handing over any money, you want to know two key things about Night Angel: 1) Will it work as advertised and 2) will it provide the most value for your money?
Let's get you some answers by starting with the basics.
How Does Night Angel Work? Are There Other Products Like It?
On each side of a standard power receptacle are two screw connections, or four in total. Wrapped around two of these screws (or all of them, depending on your wiring scheme) are wires carrying an electrical current. Subsequently, this provides power to any device plugged into the outlet.
Under normal circumstances, this receptacle is covered by a thin, sometimes flexible, piece of plastic, which uses a small screw to attach itself to the receptacle.
This cover provides not only a more pleasing appearance but also safety, since touching these powered screws can result in an unappealing jolt.
Now, covers like Night Angel take advantage of this situation by using metal and plastic "prongs" that extend from the back of the plate, which then cover these powered screws and draw from the electricity flowing through them.
This way, these covers can provide meaningful benefits, without taking up outlet space.
Night Angel vs. SnapPower
While there aren't a whole lot of lighted outlet covers out there, the original model appears to have been created by a company SnapPower, who also uses this same basic design to charge USB-powered electronics.
From a price perspective, Amazon currently sells each SnapPower Guidelight for $24.97. Comparatively, how much will you pay for Night Angel?
How Much Does Night Angel Cost?
Available in Duplex or Décor models, two Night Angel lighted outlet covers are priced at $12.99, plus $13.98 S&H, bringing your total to $26.97.
Night Angel's Duplex model (top) and Décor model (bottom). Image credit: Night Angel.
Night Angel also comes with a 60-day money back guarantee, less S&H.
Taken together, this means that you'll get two Night Angels for slightly more than one of the competition—although if you request a refund, after shipping your covers back to the manufacturer, you could end up losing money in the transaction.
Nonetheless, to request one, you'll need to contact OnTel Product Corp's customer service department at 844-570-9864.
Night Angel Customer Reviews
Night Angel was too new at the time of our research to have garnered any customer feedback.
However, we've reviewed many other popular products from OnTel, a middle-of-the-road player within the As Seen on TV industry, including Big Vision Eyewear, Foot Angel, and Veggetti.
Overall, while some consumers claimed to have had positive experiences with these products (e.g. worked as advertised, good value for the money, etc.), these products tend to come with 2-star or lower average consumer ratings. Why?
Most complaints claimed that they didn't work as advertised, didn't meet quality expectations, and didn't come with solid customer support. Granted, these are the most common complaints among all products in this genre, so it's not necessarily unique to OnTel's offerings.
What's this mean for you? While ASOTV advertising (like any other genre) is intended to place products in the most favorable light, it's important to keep your expectations realistic before placing your order.
What about feedback for Night Angel's closest competition? Let's carry this thought over to the final section as we come to a conclusion.
Is Night Angel a Good Choice for Ambient Lighting?
When it comes down to it, if you're looking for an outlet cover that requires no wiring and installs in seconds, you're limited solely to Night Angel or the originator, SnapPower.
From functional and appearance perspectives, these two options seem all but identical. So, without firsthand, side-by-side testing, there's no way to draw any reasonable conclusions about which one will deliver better performance.
As we mentioned above, though, ASOTV products don't always have reputations for high quality, so whether or not they'll have the same reputation for quality as the mainstream competition remains to be seen.
Considering this, we think the big question here is one of value, which is something only you can decide. This is because you'll get two Night Angels for the price of one SnapPower cover—but if you decide to return them, you could lose 50% more than you'll get back as a refund.
Here are a couple more considerations before you make your decision:
How Bright Is Night Angel?
Night Angel's manufacturer provides precious few details on their website, so we can't know exactly how many lumens the LEDs on these covers output.
However, according to a response on Amazon from SnapPower's manufacturer (remember, these seem to be functionally identical products), they're probably not as bright as a traditional nightlight.
However, since the light is concentrated directly on the floor, they might wok better to illuminate your path at night, without blinding you.
Will this hold true with Night Angel as well? We'll just have to wait until the customer reviews start rolling in to find out.
Can You Use Night Angel on Nonconforming Outlets?
Not to sound like a broken record here, but again, we're told little more than that Night Angel will work on standard outlets.
But returning to SnapPower's listing on Amazon, we're informed that it can't be used with GFCI outlets, and is only designed for two-opening, single gang boxes.
It can be used with sideways (horizontal) outlets, although this means it will illuminate the side instead of the ground.
Did you find this Night Angel review useful? Great! Be sure to return the favor by telling us all about your Night Angel experience by writing a review below!
Read Next: 11 Ways to Stay Warm for Less This Winter
1 out 1 people found this review helpful

Don't work, don't waste your money

By Carole V.

,

North Carolina

,

Apr 15, 2019
Verified Reviewer

I purchased six Night Angel night light outlets for $33 plus shipping. I ordered them through a game I play using PayPal.

They arrived about three weeks later from China. The directions seem simple and my husband tried installing two of them in different outlets and neither of them worked. I tried installing a third one in different outlets and it would come on briefly, then as soon as you screwed it in, it stopped and wouldn't work again.

I started communicating with the company directly to return all of them. I told them I wanted a full refund and would send back but not to China since it would be cost-prohibitive. They told me to hire an electrician! My husband, a retired firefighter, knows a lot about electrical so that was not well received. We negotiated for a week and I finally agreed to getting the cost back for two of them at $6 apiece and I can keep the rest. But we believe they are junk and would not encourage anyone to buy one.

Bottom Line: No, I would not recommend this to a friend

---

Great idea, poor execution

By Josh P.

,

Rochester, MI

,

Jan 10, 2019
Verified Reviewer

I purchased two of these separately, from different retailers, and both of them work great, as long as they are not completely installed. Once the screw is tightened to bring them into their final position, their design is such that the prongs come out of contact with the electrical contacts on the plug, and they no longer function.

Bottom Line: No, I would not recommend this to a friend

---

Advertisement

---

Total crap

By J P.

,

Spokane, WA

,

Jan 5, 2019
Verified Reviewer

This doesn't work on any outlets that I have or have gotten. It's a total piece of trash. I tried modifying it and the outlets, and it still wouldn't work no matter what. Sometimes it would work before the outlet was placed outside the wall, but as soon as it was sunk back in, it wouldn't work at all! Don't waste your money! I only put one star because I have to put at least one, otherwise it would be a negative five.

Bottom Line: No, I would not recommend this to a friend

---

0 out 1 people found this review helpful

Many don't work

By Rich S.

,

New Philadelphia, OH

,

Jul 28, 2018
Verified Reviewer

I bought a package of ten Night Angels. Six of the ten didn't work at all, two more, the light stays on all the time. Even if I shine a bright flashlight on the sensor. I even built a test receptacle to test them on my work bench to make sure the contacts were making a connection. None of the six would work. It seems there is a problem with a faulty sensor or in the wiring. When tested, I even covered the sensor to simulate darkness to see if the lights would come on. NO LUCK!

There seems to be a shortage of quality control and testing in manufacturing of units. Another improvement that could be made is a little thicker ridge around perimeter of cover to provide more rigidity and coverage of screws and tabs of receptacles.

Bottom Line: No, I would not recommend this to a friend

---

Advertisement

---

4 out 4 people found this review helpful

Works as advertised to a point

I purchased one to check it out. I had to remove outlet and screw the side screws in, as my builders electrician back wired outlets (which I don't care for). They take a little patience to make, sure, they connect the screws. They work well for its design function. They don't turn off, without a direct light shining on them. The earlier review about fire hazard crossed my mind.

Bottom Line: Yes, I would recommend this to a friend

---

8 out 8 people found this review helpful

Worthless

Absolutely worthless. I tried on old and new outlets. I bought six and lost over $30 on shipping and handling, return shipping and handling, and restocking. The biggest waste of time and money ever!

It tried on five different types of outlets, and it would not fit any of them.

The electrician felt like these could be a fire hazard. Great idea, but the developer needs to go back to the drawing board before he gets sued for millions.

Bottom Line: No, I would not recommend this to a friend

---

2 out 2 people found this review helpful

These are great

I had seen these on TV. I saw them on clearance and purchased 3. They were easy to install and really do light up dark areas. I went back to another store that had them on clearance and bought 3 more. I didn't read the installation info when I put the first one in. You should turn off power to the plug you're putting this on. I didn't and was lucky nothing happened, but they do warn you to not have power to the plug when you install it. I'm very happy with it. We'll see how long they last.

Bottom Line: Yes, I would recommend this to a friend

---

4 out 6 people found this review helpful

Night Angel

By Steve Sillers

,

Williamsburg, VA

,

Nov 20, 2017
Verified Reviewer

I purchased two at Bed Bath & Beyond for $9.00 a piece and they worked fine and the light was good. I was so happy I ordered five more on eBay for $12.00 for the lot which said Night Angel on the pic, but when they arrived, they were packed in separate bags. I installed three and they were so dim that I took them back out and trashed them. What confused me was that both sets said Night Angel but worked very differently.

Bottom Line: No, I would not recommend this to a friend

---

9 out 9 people found this review helpful

Nope

By Ed Jones

,

Idaho

,

Aug 29, 2017
Verified Reviewer

I installed Night Angel and it did not work. I had the lights flicker if I pulled it a little, but screwed down as it should be, it won't work. I tried it on a different outlet and the same thing happened.

Bottom Line: No, I would not recommend this to a friend

---

5 out 5 people found this review helpful

Quick and easy to install.

I was at Walgreens while visiting my parents and saw the last one of these on clearance. So I bought it for their house. They have a laundry room that connects to the sun room, a closet and a bathroom that is pitch black at night and hard to navigate if you use that area. So I figured even if it wasn't bright, it would be a good guide to walking in that area.

The longest part of the installation was finding the correct breaker for the room. Once off, installation took approximately two minutes. Unscrew the face plate, make sure the cover is turned in the proper direction, so that the connections fit over the bottom two screws. When first holding it up, it looks like it will be right in the middle of the two screws on each side, but once it's seated in the outlet, you'll be able to see it only touches the bottom two. Screwed in the new outlet screw, turned on the power and viola.

A traditional night light might be brighter for seeing more of your surroundings, but the Night Angel does illuminate the floor in about a one-foot area. So it's great for getting a reference in a very dark room.

Bottom Line: Yes, I would recommend this to a friend

---

5 out 7 people found this review helpful

Good idea, poor design

It is a poor design. The terminals on Night Angel go in between the screws on a purchased Legrand decorator outlet, therefore do not touch the terminals. I will inspect other outlet brands to see if some have a different design. Apparently, the design wasn't tested on very many outlet brands that are commonly used in the USA. I was very disappointed as it is a good idea, just a poor design.

I can modify the attached electrical wires to the Legrand outlet to make it work, but I should not have to.

Bottom Line: No, I would not recommend this to a friend

---