Ninja Coffee Bar Reviews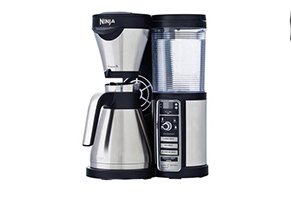 The Ninja Coffee Bar brewing system claims to use unique technology that helps you adjust the amount of coffee you brew, the flavor, as well as the intensity.
About Ninja Coffee Bar
Who could resist an endorsement from Sofia Vergara? Ninja Coffee Bar hopes you can't either, with their new brewing system that lets you choose between different types of coffee, all with the touch of a button.
Want classic brew, or something richer? Prefer over ice drinks? How about frothy specialty beverages?
Ninja Coffee Bar features unique brewing technology designed to deliver better, richer-tasting coffee that's never bitter. You'll also be able to dial up the flavor for any size or style of coffee, at any time, from the comfort of your own home.
Ninja Coffee Bar even claims to put the "best coffeehouse in town on your countertop!"
Celebrity endorsements and marketing hype aside, what's the real deal with Ninja Coffee Bar? Does it deserve a spot on your countertop? Let's start by looking at the brewing system's features.
Ninja Coffee Bar Features
There are a whole lot of features on the Ninja Coffee Bar (we'll compare them with other brands in a moment), but in essence, everything boils down to types and flavor.
This is mainly achieved using "graduated levels of coffee-to-water concentration" through something known as "Thermal Flavor Extraction." This technology automatically calibrates temperature, infusion, saturation, and flavor richness.
Ninja Coffee Bar's Auto-iQ one-touch intelligence also lets you enjoy hot coffee in any size you want, including a cup, travel mug, half carafe, or full carafe.
For example, the Ninja Coffee Bar is capable of making 3 different brew types:
Classic Brew – Features a smooth, rich, and balanced flavor.
Rich Brew – Richer than classic, with more intense flavors. Stands up to extra milk and flavorings. Twice as intense as the Classic.
Specialty Brews – This is based around a coffee extract that can be used to make a variety of hot and cold layered beverages, including over ice options. 3X the intensity of the Classic brew.
Additional Ninja Coffee Bar features include an easy-brew filling basket, reusable filter, drip stop, multi-serve cup platform, precise temp warming plate, removable water reservoir, programmable delay brew, and intelligent clean cycle indicator.
How do all these compare to the competition?
Are There Similar Brewing Systems To the Ninja Coffee Bar?
When you watched the Ninja Coffee Bar commercial, based on CEO Mark Rosen's sakes pitch, you might have believed that there's nothing else out there quite like it. Is this actually the case?
While there are certainly a lot of options, there doesn't seem to be anything on the market that offers the exact same features as the Ninja Coffee Bar, at a similar price.
Sure, you can brew single cups with one, or create intense extracts and specialty brews with another, but nothing in a similar, all-in-one package.
Speaking of price, what's the Ninja Coffee Bar cost?
Ninja Coffee Bar's Pricing, Refund Policy, & Warranty
Available with your choice of a glass carafe or double-walled thermal carafe, Ninja Coffee Bar is priced at four payments of $39.95, or a single payment of $159.80.
When checking out, you'll also be offered a variety of accessory packages, including easy frothers, mugs, cups, tumblers, brew guides, scoops, as well as replacement parts.
All Ninja products (more about this next) ordered directly through the company include free S&H. They also come with a 60-day refund policy, less S&H and a 10% restocking fee, as well as 5-year or lifetime warranties for the "original appliance and/or non-wearable components deemed defective." Normal wear and tear is not covered.
In order to request a refund or process a warranty claim, you'll need to contact the manufacturer at 877-646-5288.
Note: The Ninja Coffee Bar is also available through numerous third-party retailers, including Target, Bed Bath & Beyond, Kohl's, Walmart, and more.
Is Ninja Coffee Bar Wowing Customers?
Ninja Coffee Bar had only been around since late August/early September of 2015, so there weren't a whole lot of feedback about the brewing system at the time of our research.
CNET gave the Ninja Coffee Bar a 3.5-star rating. They claimed that, while you won't be able to find the same number of features at a similar price, its extracts often come out bitter, and the "cheap plastic materials" make it "far from luxurious."
Coffee Detective liked the fact that Ninja Coffee Bar gives you the ability to brew 4 different sizes (single cup, travel mug, half carafe, or full carafe), as well as its frother and its ability to make concentrate.
Ultimately, it got the author's vote, as they claimed it could replace all your other coffee makers (and even your espresso machine, as long as you understand the Ninja Coffee Bar doesn't use real espresso).
From a company perspective, Ninja Coffee Bar is manufactured by SharkNinja Operating LLC, a division of Euro-Pro Operating LLC. Other products in the Ninja lineup include the Nutri Ninja Pro Blender, Nina Cooking System, and Nutri Ninja Duo Blender.
The company had an A+ rating with the Better Business Bureau, based on 284 closed complaints (as of 10/9/15). Most of these appeared to reference difficulty obtaining repairs/replacements under warranty, and most were related to the company's vacuums.
Here on HighYa, Ninja's products had an average rating of 4 stars, with common compliments citing ease of use, good results, and solid quality.
We definitely think that, regardless of the product, what other customers have to say should impact your purchasing decisions. But what about celebrity endorsements?
Is it Important that Ninja Coffee Bar is Endorsed by Sofia Vergara?
It's hard to not like friendly, attractive personalities like Sofia Vergara. But, although it seems like she's genuinely passionate about coffee, should you put any stock in her Ninja Coffee Bar endorsement?
In our opinion, no. Celebrity endorsements are often intended to cause you to make an emotional (versus an informed) purchasing decision. In many instances, celebrities don't even use the products they're endorsing.
We're certainly not saying this is the case with Ninja Coffee Bar, but it would stand to reason that Ms. Vergara could afford a top-of-the-line brewing system—or even to hire a coffee specialist from Colombia to brew it for her!
Now, let's use everything we've learned to make an informed decision about Ninja Coffee Bar.
Will Ninja Coffee Bar Brew Perfect Coffee, or Just Leave You Heated?
Much like wine, food, or anything else we eat or drink, what constitutes your perfect cup of coffee depends almost wholly on personal preference. What you find to be perfectly brewed, your neighbor might find disgusting.
Outside of preference, the Ninja Coffee Bar appears to corner the market, since there isn't anything else quite like it—especially at this price. Sure, the quality might not be "luxurious," but it seems like Ninja Coffee Bar will provide you with important options like size and strength, all at a very reasonable cost.
Are you a coffee newbie, or a longstanding aficionado? Either way, what did you think about Ninja Coffee Bar? Tell us about it by writing a review below!
Best we've ever had

By Jim D.

,

Virginia

,

Mar 30, 2020
Verified Reviewer

For many years, I would go to Dunkin in the morning to get my one cup a day fix of coffee. Then, my daughter purchased a Ninja and I tried coffee at her house - it was smooth with no bite. I immediately purchased one at Bed Bath & Beyond for our house. Previously, we used a Cuisinart - the coffee always tasted burned - hence the trips the Dunkin! With the Ninja, I still use Dunkin coffee from Costco and set it to Rich - every cup for the past year has been great.

Get rid of your Cuisinart or whatever coffee maker you have and invest in one of these for a great cup of coffee. By the way, I still have close to $50 in my Dunkin account - don't know what to do with it since my home-brewed coffee is just as good and in many ways, better!

Bottom Line: Yes, I would recommend this to a friend

---

Ninja Coffee Bar - terrible product

By Allison R.

,

Wisconsin

,

Oct 4, 2019
Verified Reviewer

Save your money. The machine stops working after about 6 months. I paid $20 to ship back and they sent me a new machine. I have had my second machine for 6 months and it stopped working...the same story as the first one. It will brew for a minute and then stop and you have to keep pushing buttons, resetting, unplugging, etc. I called the company and they will replace it again, but you have to send $20 for shipping. This has to be how they stay in business...because nobody would ever purchase this product again. They have you by the horn because you have a $180 invested and I hate to just throw it away. So you pay $20 every six months to have a new one sent. All I want is a dang cup of coffee. Going back to Coffee-Mate. Do not purchase this crappy product or give your business to this awful scam company.

Bottom Line: No, I would not recommend this to a friend

---

Advertisement

---

Ninja Coffee Bar

By Sara V.

,

Okotoks, Alberta, Canada

,

Aug 6, 2019
Verified Reviewer

Worst coffee maker ever. Got this for Christmas, was so excited for it! It worked fine, but then started beeping and only half brewing. Then only brewed for 30 seconds. Called and did 45 minutes of troubleshooting, only for them to tell me to send it back and made me pay, print a label and drive to FedEx to ship it back, then they say it's only backorder. I am demanding money back instead of a replacement...especially after reading these reviews...and the $20 they made me pay - which I also had to fork over for COFFEES. We also have a Shark Duster Buster that broke down after 4 months. Crappy company and very unimpressed.

Bottom Line: No, I would not recommend this to a friend

---

Bang for your buck

By Thomas S.

,

Arizona

,

Jul 31, 2019
Verified Reviewer

We have had ours for over 2 years now and use it daily without any issues. Rich brew is my flavor of choice. Per cup, it works out a lot cheaper than pods and you get a much wider choice of coffee to select from. Our house would go through a jug a day and the frother is the icing on the cake for mixing in MCT oil and creamers.

Bottom Line: Yes, I would recommend this to a friend

---

Advertisement

---

HORRIBLE

By Jean D.

,

Wilmington, MA

,

Jul 14, 2019
Verified Reviewer

My on/off button stopped working after 15 months. I only use my coffee bar once a week. Customer service agreed to "be so kind" as to give me a one time courtesy on the warranty and ship me a new base as it is obviously defective. I would have to pay $20.00 shipping. A $180.00 machine should not stop working after 15 months. I should not have to pay shipping. This company is the absolute worst to work with. Check out all of their reviews for the coffee bars. They will not stand behind their product. I told them I was going to report all over social media their poor customer service and the manager didn't seem to care so here I am. A $180.00 coffee maker is disposable to them. DON'T WASTE YOUR MONEY on this company. I wish I checked out all of the reviews before purchasing!

Bottom Line: No, I would not recommend this to a friend

---

Disappointed

By Deborah H.

,

Fremont, CA

,

Apr 10, 2019
Verified Reviewer

First let me say that a Better Business Bureau rating means nothing as businesses pay for good ratings.

My Ninja Coffee Bar is not very old, and as many others, it will not brew a full pot. Won't even brew a cup. It shuts down automatically after about 30 seconds. It is being caused by an internal design flaw where an air bubble gets in the line. You can try to correct it by pushing the valve down on the base where the reservoir sits. Water should come out. After you dry the area up, you can run a "test cup." If this didn't help call the company and see if you can get another one.

Apparently, the engineers are or have worked the issue out.

Bottom Line: No, I would not recommend this to a friend

---

Junk, do not get near this product.

By Robert S.

,

Wichita, KS

,

Apr 10, 2019
Verified Reviewer

We just bought our second Ninja Coffee Bar after receiving the first one as a gift. Don't get me wrong, they make fantastic coffee - when they are working! The first one quit after a year. I cleaned it every time it said to but still had times when I had to sit and push the brew button every five seconds to get a pot of coffee. It finally just quit altogether. We had a whole house water softener installed and I thought maybe the hard water had something to do with the first Nija's problems. Well, I bought a new one for $180 two months ago and it has already started the constant clean cycle-on-off-keep pushing the brew button nonsense. I'm ticked that I have to fight my coffee maker for a cup of joe.

Lesson learned. I won't be back and I've shared my experiences with family and friends.

Bottom Line: No, I would not recommend this to a friend

---

Don't buy

By William S.

,

Sandusky, MI

,

Apr 9, 2019
Verified Reviewer

The "clean" light comes on randomly, might be two days after cleaning, might be a week...Now it brews coffee instead of beeping, to let me know it's done it beeps 4 or 5 times and shuts the burner off so now cold coffee. The same thing happened to my son's Ninja, replaced it, but the same problem with that one too...So basically, top dollar for cheap quality.

Bottom Line: No, I would not recommend this to a friend

---

Coffee Bar CF091 is horrible. Customer Service is too!

By Vee G.

,

Frisco, TX

,

Feb 12, 2019
Verified Reviewer

I purchased my Ninja Coffee Bar CF091 in December 2017 as a Christmas gift to myself. From the start, the clean light would not go out. I called about this and was told that this is a common defect. Rep said hers does the same thing and her daughter just puts a sticky over it. It started not brewing a full cup or carafe so I called again and we walked thru the cleaning process, including pressing the button below the water tank and the button on the bottom of the water tank to ensure flow.

I had no problems for a bit and did not expect any since I am the only coffee drinker in the house. Sometimes, one cup a day - sometimes two, sometimes none. However, it is always cleaned and descaled. Now I am having major problems no matter how much I clean it. It only works for a few seconds then gives me 5 beeps. I cannot get a full cup of coffee at all.

Customer service says that the machine is definitely defective (which is what I was saying all along), but now since it is one month over the warranty, they would "sell" me a new machine for $149 which is $50 less than the full price. I explained that I purchased this thing from Sam's Club for $99.99 ($30 off special) and got the "there is nothing they can do" speech. I explained that there is no way I could even afford a new one from Sam's since I am now unemployed.

I tried cleaning this thing again and guess what, the clean light finally went out but still only gives coffee for 3 seconds before beeping 5 times. I also told the rep that I have many Shark/Ninja products but this is the first horrible one. I have the Rolater vacuum cleaner, EuroPro sewing machine, Ninja Blender, Ninja Mini Chopper and the piece of crap coffee bar. I will never, ever purchase another product from them.

Bottom Line: No, I would not recommend this to a friend

---

We love our Ninja

By Miles K.

,

California

,

Jan 7, 2019
Verified Reviewer

We have had ours for almost two years and brew at least one pot per day. We clean ours one time per month. We found if you didn't, it would take multiple cleaning cycles with vinegar to get the light to shut off. We have hard water where we are.

The coffee tastes great...it is easy to use.

Bottom Line: Yes, I would recommend this to a friend

---

Nothing but problems!

By Debbie C.

,

Alberta, Canada

,

Dec 3, 2018
Verified Reviewer

I have had two units and am now waiting for a new base which I have to pay the shipping. Rich mode gives 10 to 11 oz instead of 8.8 oz. Mug size gives 17 oz instead of 14 oz. No cup or travel mug is big enough as it constantly over brews. The second unit also has the problem of the Clean Cycle light coming on all the time no matter how much you clean it. I would recommend purchasing a coffee maker from a store where it can be returned, and from a manufacturer that stands behind their product.

Bottom Line: No, I would not recommend this to a friend

---