Niva CBD Reviews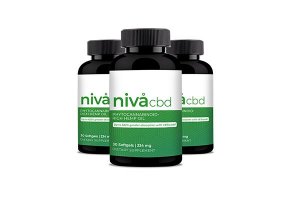 Niva CBD contains 25 mg of cannabidiol per dose, with zero THC content and 622% better absorption, which the manufacturer claims will deliver relief from pain, depression, and many other bodily concerns.
What Is Niva CBD?
According to N3 Oceanic, Niva CBD is a phytocannabinoid-rich, 100% full-spectrum hemp oil that helps relieve chronic pain, anxiety, inflammation, depression, nausea, and sleep issues.
Furthermore, the natural formula doesn't have any psychoactive effects, won't show up on drug tests, and contains no synthetic chemicals or stimulants. Each daily liquid softgel also uses a patented delivery system for maximum absorption—up to 622% better than the competition, the manufacturer says.
But, will you realistically experience "holistic healing" from all of these conditions using Niva CBD's formulation? In this article, we'll help decide by outlining the available clinical support, feedback from industry professionals, and competing CBD supplements.
Let's start with what you'll find in Niva CBD, as well as how it interacts with your body.
How Do Niva CBD's Ingredients Work?
According to the supplement facts label shown on the Niva CBD, each liquid softgel contains:
VESIsorb HEMP CHOICE PCR Hemp Oil Extract (providing phytocannabinoids including cannabidiol (CBD, 25 mg) and terpenes including beta-caryophyllene (6 mg) and limonene) 334 mg
In a nutshell, cannabidiol (CBD) is a chemical produced by the cannabis plant that, once consumed by humans, attaches to specialized endocannabinoid receptors in the body, and has been clinically shown to reduce inflammation, pain, and anxiety. Some studies indicate it can even address symptoms related to epilepsy seizures, along with shaking caused by Parkinson's.
Related: Do CBD-Infused Creams, Oils, and Other Products Really Work?
Marc Lewis, CBD and hemp oil specialist and Executive Editor of RemedyReview.com, says that Niva's dosage is "close to the 400mg dose that we see in a lot of clinical trials."
"So, if a person were going to feel relaxed, go to sleep, or experience less pain due to CBD," he explains, "that's certainly a dose high enough to matter."
Keep in mind that although Niva contains 334 mg of liquid per dose, it only contains 25 mg of CBD.
Lewis also points out that hemp oil and CBD oil (or full spectrum hemp extract) are very different.
"Hemp oil, made from hemp seeds, has some nutritional value," he says, "but all the therapeutic benefits come from cannabinoids, which aren't in seeds."
With this in mind, we reached out to an N3 Oceanic representative and learned that Niva contains in-house hemp oil derived from seeds—not full spectrum extract.
Furthermore, while the VESIsorb® "colloidal droplet delivery system" advertised on the Niva CDB website might sound technical, this term simply references small particles—CBD molecules, in this instance—suspended inside a liquid.
But, despite claims made on the Niva website, the manufacturer doesn't provide clinical support that these small particles will deliver better CBD absorption rates or better overall results related to anxiety, sleep, and so forth.
Niva CBD Side Effects
We've learned from past interviews with industry professionals that the potential side effects related to CBD supplementation generally aren't that bad, and include temporary dry mouth, drowsiness, low blood pressure, and lightheadedness.
You also won't have to worry about getting "high" with Niva CBD, since it contains no THC.
But, keep in mind that CBD is most potent—and therefore most effective on different parts of the body mentioned on the website, including the brain, stomach, bones, eyes, heart, and intestines—when used in conjunction with THC.
As a result, Trista Okel, founder of Empower Bodycare, emphasizes that it will take some time and you should "manage your expectations, [since] you likely won't feel anything at first."
Pro tip: Niva CBD uses bovine gelatin capsules, so it's not vegetarian-friendly.
How Much Does Niva CBD Cost?
Whether you purchase via the NivaCBD.com URL or directly from the Res-Q website, the supplement costs:
3 Bottles: $199.95 ($66.65 per 30-softgel bottle)
5 Bottles: $299.85 ($59.97 per bottle)
12 Bottles: $599.76 ($49.98 per bottle)
All orders come with free shipping, as well as a 60-day satisfaction guarantee, less return shipping. You can call customer support at (800)262-5483 or send an email to service@MyResQproducts.com.
Are There Other Supplements Like Niva CBD?
There are perhaps hundreds of CBD supplements competing with Niva's softgels, including those without THC, that include a variety of omega-3 fatty acid sources, and which promise to address the same conditions like inflammation, pain, sleep, brain function, anxiety, stress, and so forth.
In fact, we encountered multiple formulas that contained the same 334 mg of VESIsorb Hemp Oil Extract as their sole ingredient, with 25 mg of CBD per dose, so Niva certainly isn't unique in this regard.
Here are two of the top CBD supplements competing with Niva on Amazon, as well as how their core criteria compare:
| | | | | |
| --- | --- | --- | --- | --- |
| Brand | Price | Format | CBD Quantity Per Serving | Average Amazon Rating |
| Niva CBD | $49.98+ (5-bottle minimum purchase) | Softgels | 25 mg | N/A |
| New Age Hemp Oil Extract | $24.95 (2-pack) | Liquid | Unknown | 4.3 stars, 587 reviews |
| Mix Rx Hemp Oil Capsules | $32.29 (2-pack) | Capsules | 25 mg | 3.8 stars, 595 reviews |
Niva isn't sold through Amazon and appears to be a brand new supplement since it currently doesn't come with any customer feedback, which is essential when deciding on any online purchase.
You'll also have to buy 12 bottles to achieve its $49.95 price tag, which still makes it the highest priced option in the table above. The minimum you can purchase is three bottles, although your price skyrockets to $66.65 each as a result.
At the other end of the spectrum, you'll pay $12.48 per bottle of New Age's supplement, although it's only available in liquid drops. It also comes with the highest average Amazon customer rating above, followed closely by Mix Rx.
The manufacturer doesn't list New Age's CBD concentration, though, whereas Niva CBS and Mix Rx both contain 25 mg per dose. Will you necessarily achieve better results by paying more for higher concentrations?
Lewis advises that when it comes to specific benefits, "it's hard to say because each person's body is so different."
"With a capsule, it will also depend on how quickly your body processes the CBD," he adds. "I would probably tell someone to start with 50 mg or 100 mg a day and see if that works, before investing in 300+ mg's."
Trista Okel, Founder of Empower Bodycare, mirrors this recommendation: "For people who want to incorporate CBD capsules into their daily regimen," she says, "especially with a full spectrum product, start slow/low in dosage and work up to a dosage that feels right for you."
Let's pull all of these details together and come to a conclusion about Niva CBD.
Our Opinion: Will Niva CBD Deliver Better Value?
We learned from Lewis and Okel there's mounting clinical evidence that CBD supplementation may help provide some measure of relief from a variety of conditions advertised on the Niva CBD website, including chronic pain, inflammation, depression, anxiety, and insomnia.
The problem, however, is that according to Lewis, hemp seeds don't contain cannabidiol. As such, dietary supplements derived from seeds—Niva CBD included—likely won't contain high enough concentrations to deliver some of its clinically proven benefits.
But, even if Niva contains the 25 mg of CBD per dose advertised on its website, the formula features the exact same levels found in dozens of competing third-party supplements, but at prices that are 70% higher in some instances. It also doesn't currently come with online customer feedback, so you'll make a mostly uninformed purchase regarding what others are experiencing.
Together, we think third-party CBD supplements derived from the cannabis plant—not its seeds—will likely deliver better value than Niva CBD, and also potentially represent less risk to your money.
>> Continue reading: CBD Oil in Beauty Products: Your Comprehensive Guide