Nouri Probiotic & Omega 3,6,9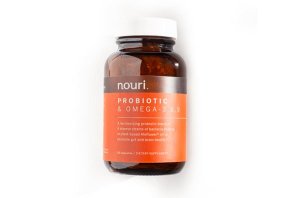 Nouri Probiotic & Omega 3,6,9 is a probiotic that combines common probiotic strains along with omega-3, omega-6 and omega-9 fatty acids. They say the mix of the two promotes gut and brain health.
Nouri Probiotic & Omega 3,6,9 Reviews: Ideal For Your Health?
Nouri Probiotic & Omega - 3, 6, 9 is an oral probiotic supplement that contains five different strains of probiotics as well as a plant-based ingredient containing a variety of heart-healthy fatty acids.
The supplement's website claims that it uses this mixture of ingredients to "promote gut and brain health."
The company behind this supplement is Nouri, a U.S. -based company who manufactures the supplement in America. The company's About page is comprised of a letter from Caroline H. Beckman, its founder and CEO. Beckman said she worked for a health startup at 18 and, while it was a high-profile, seen-and-be-seen type of position, she eventually felt burned out, depressed and anxious.
"Research led me to understand that the invisible inside of me needed to be built before any health product would be effective. Protecting and infusing more life inside my body led to an increase in what is outwardly seen," she writes on the About page.
Because of these circumstances, she started Nouri. She describes it as:
"A company focused on creating visible solutions today for the invisible tomorrow. Much more than introducing products alone, I believe Nouri will introduce a life-giving conversation. Join us as we develop, create and share solutions to increase lives around the world."
In this review, we'll do an analysis of how the probiotic works, what its ingredients are, what the possible side effects are and how to take probiotics effectively. We'll also do a quick overview of Nouri's pricing and then a comparison of this product to other similar products.
At the end, we'll wrap everything up and give you our thoughts about Nouri's pros and cons.
How Nouri Probiotic & Omega – 3, 6, 9 Works
According to Nouri, you take the supplement once a day for best results. One bottle contains 30 pills, which means they last one month. Interestingly, each capsule contains an outer casing holding in oil (omega fatty acids) and a floating probiotic pill.
The pills do not require refrigeration and are gluten-, grain-, dairy- GMO-, preservative- and additive-free. They're also vegan-friendly.
In this sense, the pills have a wide range of people who can take it. And, when they take it, Nouri claims there are a wide variety of results they may experience, with the caveat that the U.S. Food & Drug Administration has not approved their claims.
Some of those claims include:
It can support brain and gut health
Gives you super immunity
Helps your body provide a healthy inflammatory response
Gives you more energy
Promotes advanced digestion
The supplement does this via six different ingredients: five probiotics and a blend of omega fatty acids. According to the label, the supplement has 30 billion colony forming units (CFU).
Nouri Probiotic & Omega – 3, 6, 9's Ingredients
Nouri provides a photograph of the back label of each supplement jar as well as a page dedicated to the ingredients. This type of transparency is a bonus, as we've encountered multiple supplements over the past few years that reveal very little about what's in the jar. Here's a quick overview of Nouri's ingredients:
Lactobacillus plantarum
Lactobacillus acidophilus
Lactobacillus brevis
Bifidobacterium lactis
Bifidobacterium longum
Ahiflower omega-3, -6 and -9 fatty acids
The collection of five probiotics in this supplement are pretty well known for the ability, in some instances, to provide digestive health. There are also those who say that taking probiotics can help your immune system overall, which is something the Nouri website states.
We asked experts about the benefits of these ingredients and received some helpful responses. Dr. Jason Reed, a pharmacist who runs BestRXforSavings.com, told us that acidophilus has a variety of benefits.
"Lactobacillus acidophilus has been found to be effective at producing many positive results for patients who use it as a probiotic. Some of the uses include treating travelers diarrhea, usually caused by drinking or eating foods that had bacteria people had not been exposed to in the past," Reed said. "It can lower cholesterol as it helps aid in absorption of foods since it is attached to the wall of the intestines where food is being actively transported into your body."
He also told us that acidophilus can help boost your immune system.
However, as we point out in our guide to probiotics, not every strain of bacteria is going to have the same effects on you as a company or website may claim. We've found that different strains provide different types of benefits, some of which may help you and some of which may not. Some of those benefits are:
Ease diarrhea resulting from taking antibiotics
Relieve constipation
Help with irritable bowel disorder
Boost the immune system
Based on these various sources of information, we believe there is sufficient evidence to support some of the claims Nouri makes about their probiotic.
As for the omega fatty acids the supplement contains, multiple articles from major websites support the claim that omega-3's can help your brain.
For example, Healthline published an article in Dec. 2017 by Dr. Keith Pearson in which he says the various components of omega-3 fatty acids are, "vital for the maintenance of normal brain function throughout life."
Mayo Clinic notes that omega-6 fatty acids can be good for your heart, while Healthline notes that omega-9's "may have benefits for metabolic health."
Tips About Taking Probiotics
One of the important things to understand about probiotics is that their effectiveness is linked to a few things.
First, the number of CFU should be at least 15 billion, Reed told us. This probiotic passes that test.
Second, probiotics are living organisms, so a variety of things could kill them off and reduce your supplements potency, said certified nutritional consultant Lisa Richards. The goal is to get them into your intestines but, unfortunately, most of them don't reach that goal.
"Most of the probiotic bacteria in your supplement will be killed by stomach acid, but you can mitigate this by taking it immediately after a meal," Richards said. "Introducing food to your stomach will reduce that acidity and make it more likely that your probiotic strains will get through unscathed."
Registered dietitian nutritionist Robert Santos-Prowse corroborated Richards claim, saying that "many species of beneficial bacteria are destroyed by the acidic environment and never make it to the large intestine."
What this tells us is that even though there's sufficient evidence to back up Nouri's claims about probiotics, there's a chance that your stomach acid will mitigate some of those benefits by killing off some of the bacteria in your Nuri supplement.
Side Effects
During our research of this probiotic supplement, we found that there are certain side effects that are relatively common with probiotics.
Many of these side effects are related to your stomach and intestines. WebMD provides a list of side effects you'll often find on medical websites addressing the drawbacks of probiotics:
Diarrhea
Upset stomach
Gas
Bloating
The site goes on to note that the side effects could be more severe for those with compromised immune systems and other "serious" health conditions. For this reason, if you're dealing with a disease or have a weak immune system, consult a doctor before using any probiotics.
Pricing and Return Policy
At the time of publishing, you had two choices for buying these pills: a one-time purchase price or a subscription.
One bottle at the one-time pricing tier was $45. Subscribing to the supplement results in each bottle costing you $40 but means that Nouri will automatically send you a bottle a month and charge your card when they do. Regardless of your choice, the pills will ship for free.
The site notes that you can cancel your subscription at any time and there did not appear to be a minimum length of subscription time.
Also, Nouri will refund your money if you aren't happy with your supplement. The issue we faced when finding information about their return policy is that there is no fine print about returns on their site even though sections of the fine print refer to a "Return Policy."
The Nouri site does not list a customer service phone number, so we weren't able to ask a phone rep about it. We requested by email (hello@dailynouri.com) a copy of the policy but did not hear back by the time of publishing.
We searched elsewhere on the site and finally found an explanation after adding a bottle to our cart and then going to the payment page. Here's what the return policy link stated: "We are bummed that you are unhappy with your probiotics and are going to refund you your first month in full."
What this tells us is that there's a good chance you can get a refund on a one-off purchase. However, if you do the subscription and, after three months, you decide the product isn't a good fit, Nouri will only refund you your first month's payment.
Comparing Nouri Probiotic & Omega – 3, 6, 9 to Similar Probiotics
Because Nouri's probiotic supplement claims benefits that research corroborates, it might be easy to click the buy button. However, we believe it's a good idea to do a bit of price comparison to make sure you're getting a good deal.
We went to Amazon to do some research about probiotics offering the same type of ingredients but, despite sifting through multiple products including ones from name brands like Culturelle, we couldn't find a product with the same ingredients as Nouri.
That being said, we did find many options for probiotics and many options for omega fatty acid supplements. This is important because we found that buying a combination of the two is cheaper than buying a bottle of Nouri:
Renew Life Adult Ultimate Flora (30 ct./30 billion CFU); $17.19
Now Omega 3-6-9 (250 ct.): $12.79
This combination costs a total of $29.98 and includes a one-month supply of probiotics and more than a six-month supply of omega fatty acids.
Based on these details, we believe that, while we can't guarantee one probiotic supplement will work better than another, you can find more value if you buy your probiotics and omega fatty acids separately.
The Final Word: Pros and Cons of Nouri Probiotic & Omega – 3, 6, 9
Based on the research and interviews we did leading up to this review, we believe that Nouri's greatest strength is that the supplement provides a combination of probiotic strains and omega fatty acids that you'll have a hard time finding in other supplements.
Also, the pills novel construction means that you're basically taking two pills in one instead of having to pull pills out of two different jars like you would if you bought your probiotic and omega fatty acids separately. For someone who doesn't enjoy taking pills, this is a big advantage.
Also, the supplement relies on some well-known probiotic strains as well as research-proven fatty acids to contribute to your health.
However, the one main drawback is that, in our opinion, you're paying a premium to have your probiotics and fatty acids in one pill. The comparison we did earlier reveals that buying the ingredients separately can save you a lot of money. A six-month supply of the two products we found on Amazon would be $115.93, whereas a six-month subscription of Nouri would be $240.
Finally, we believe another drawback of Nouri and other probiotics like it is that it doesn't have a slow-release mechanism, a feature that results from the type of outer layer the capsule has.
According to Santo-Prowse, the registered dietitian nutritionist we mentioned earlier, it's best to buy a probiotic with enteric coating because it will protect the probiotics as they travel through your stomach.
"Enteric coating will deliver the probiotic to the small intestine but those bugs still have to make it through 22ish feet of small intestine before getting to the colon where they belong. There are still enzymes, other bacteria, immune cells, etc., to compete with before getting where they need to go," he said.