Novosbed Reviews
Claimed This company has claimed this profile, is getting alerted on any new customer reviews entering this page, and may engage in dialogue with its customers to address their matters.

Companies cannot pay money or provide goods in order to remove or alter customer reviews.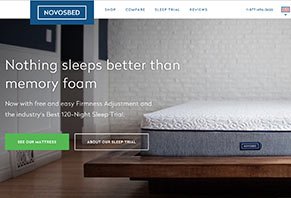 Novosbed mattresses feature three layers of ultra-dense memory foam, which—when combined with their Comfort+ system—offers high quality at affordable prices.
About Novosbed
Online mattress buying might be all the rage today, but when Novosbed entered the scene in 2009, it was largely uncharted territory. Since that time—and throughout three generations of design changes—we're told the company has always remained focused on one thing: building the "most affordable luxury mattress on the market."
To accomplish this, Novosbed builds their mattresses from durable, ultra-dense memory foams in three different firmnesses, along with designer-grade fabrics, through a completely in-house process. Then, by cutting our the middlemen, they're able to match the quality of big international brands, but at one-third the price—while lasting up to 50% longer!
On top of this, since 100% of each Novosbed mattress is recyclable and their materials are manufactured and sourced in the US, they can be a more eco-friendly option.
Novosbed might've been one of the originators of the online-only mattress scene, but does that necessarily make them the best? Are there any important considerations before choosing a Novosbed mattress? We'll provide you with the information, so you can decide whether they'll help you sleep soundly, or whether you should keep looking.
Your Quick Start Guide to Novosbed Mattresses
Novosbed mattresses are available in three different firmnesses: soft, medium, and firm. Regardless of the firmness, your mattress will include three layers, with thousands of vertical air channels to promote airflow and keep you cool. However, the exact types of foam (and thicknesses of each) can vary:
Soft – According to the company, this is ideal for those who prefer a plush mattress with a "quicksand" feel. Features 2" Ultra-Dense Airflow Gel Foam (Density: 3.7 lbs/ft3), 3" Ultra-Dense Memory Foam (Density: 4 lbs/ft3), and 6" Premium Support Foam (Density: 1.8 lbs/ft3).
Medium – This is Novosbed's most popular mattress, which they claim provides a nice balance between support and comfort. Features 2" Ultra-Dense Airflow Memory Foam (Density: 5 lbs/ft3), 2" Ultra-Dense Memory Foam (Density: 5 lbs/ft3), and 7" Premium Support Foam (Density: 1.8 lbs/ft3).
Firm – For those who like more pressure-relieving support, Novosbed's firm option might be a good choice. Features 2" Ultra-Dense Airflow Memory Foam (Density: 4 lbs/ft3), 2" Ultra-Dense Memory Foam (Density: 5 lbs/ft3), 7" Premium Support Foam (Density: 1.8 lbs/ft3).

Although each Novosbed mattress consists of 3 layers, the exact foam type and thickness depends on your firmness preferences.
Surrounding these three layers is Novosbed's two-way-stretch elastic core cover, which they claim protects the core without affecting the foam's properties. On top of this, the ultra-soft stretch-knit cover is soft enough to use without sheets, and since it's washable, you'll always be able to maximize your comfort.
To round things out, Novosbed's furniture-grade upholstery siding provides durability, flexibility, and support.
Are Novosbed Mattresses Easy to Set Up?
Like many other online-only mattress companies (more about the competition soon), Novosbed ships their mattresses compressed down to the size of a large trunk. As such, when you receive yours, you'll need to slide the mattress out of the box and carefully cut the outer plastic.
Next, place you mattress on your bed frame or foundation and cut away the remaining plastic (you'll want to hang on to this in case of a return).
After about 5 minutes, your Novosbed mattress should be "ready to enjoy," although it can take up to 48 hours to fully expand. Note: Unlike many other manufacturers, Novosbed claims there is very little off-gassing (or the associated smells) once their mattresses are unpacked.
From there, we're told that your mattress (like any foam mattress) will require a break-in period of about 2-3 weeks.
How much will all this memory foam and cool packing technology cost you?
How Much Do Novosbed Mattresses Cost?
Novosbed offers their mattresses in the following sizes and prices:
Twin: 38" x 74.5" x 11"; 54-57 lbs: $799
Twin XL: 38" x 79.5" x 11"; 57-61 lbs: $849
Double/Full: 52.5" x 74.5" x 11"; 75-80 lbs: $899
Queen: 59.5" x 79.5" x 11"; 92-98 lbs: $999
King: 75.5" x 79.5" x 11"; 117-124 lbs: $1,199
Cal King: 71.5" x 83.5" x 11"; 116-124 lbs: $1,199
In addition, you'll be able to purchase accessories and services like:
Foundations: $179 to $279
White Glove Delivery (there's no indication as to exactly what this is, or how it differs from standard delivery): $99
Old Mattress Removal: $35
Memory Foam Pillows: $109 - $149
The company claims you can expect delivery in 1-6 business days, depending on your location, with free shipping.
What Is Novosbed's 120-Night Trial?
Starting from the night you receive your mattress, Novosbed gives you 120 nights to try it out before committing to your purchase.
Within that time, if you find that you're not satisfied, Novosbed can send you one of their proprietary Comfort+ kits. This way, you'll be able to add a layer of softening or firming foam that "integrates seamlessly"—simply unzip the mattress cover and add the Comfort+ layer on top, which shouldn't take you more than 2 minutes.
What Is Novosbed's ​Refund Policy & Warranty?
If you're still not satisfied with your mattress after a couple more weeks, simply call customer service at 877-496-3626 and they'll arrange to have it picked up and donated to a local charity. All you need to do is wrap the mattress in the original protective plastic and leave it on the ground floor on pickup day.
If you decide to hang on to your Novosbed mattress, it'll come with a 15-year warranty against defects in materials and workmanship. The first 10 years of your warranty are non-prorated (total coverage), and the remaining 5 years are pro-rated (declining coverage based on age).
What Are Novosbed's Customers Saying?
Pretty much anywhere you look, Novosbed's mattresses seem to come with very high marks, including popular mattress review websites like Sleepopolis, SleepSherpa, Sleep Like the Dead, and many others. What are they saying?
Clearly, most people seem to like their Novosbed mattresses, with common compliments centered around on-the-dial firmness, balanced comfort and support, and fantastic quality for the price. In fact, SleepSherpa claims Novosbed succeeded in making the "most affordable luxury mattress on the market."
However, Sleep Like the Dead noted that there was some pretty significant off-gassing/odor after unboxing, and that the mattresses tended to sleep hot. However, this last concern is exceptionally common among memory foam mattresses from other manufacturers, and definitely isn't unique to Novosbed.
Speaking of which, Novosbed has some pretty stiff competition from the likes of Casper, Tuft & Needle, Leesa, Saatva, and many other online-only mattress manufacturers—nearly all of which come with high marks from customer as well. Comparatively though, it seems like Novosbed might have carved itself a nice little niche in the space. Why?
Based on their price points and focus on quality construction and materials, Novosbed seems more targeted toward the luxury crowd than it does bargain shoppers. This doesn't mean that you won't get a good night's sleep with other mattresses, although Novosbed seems especially focused on setting themselves apart with quality.
From a company perspective, Novosbed was founded in 2009, with offices located in Edmonton, AB, Canada and distribution centers in Breinigsville, PA and Toronto, ON, Canada. This way, your mattress will never have to cross the border or be subjected to steep fees and taxes.
Novosbed ha an A+ Better Business Bureau rating at the time of our research, with no closed complaints (as of 6/28/16).
Is Novosbed Too Good to Be True?
After reviewing well over a dozen online mattress companies, it's easy to recognize that Novosbed places a great deal of emphasis on helping their customers make an informed decision (e.g. through their in-depth Buying Guide), and then delivering a top-notch product once they decide to order. Even if they don't, they seem to go the extra mile with their Comfort+ kits.
Based on the company's stellar online customer satisfaction ratings, it seems that this isn't marketing speak, either. In other words, Novosbed appears to deliver on their promises.
Now, will a Novosbed mattress cost you more than some (if not all) of the competition? Probably, but it seems like you'll get what you pay for.
Given all these factors—not to mention their completely free 120-night in-home trial—it might be difficult to think of a reason why you shouldn't give Novosbed a try if you're in the market for a new mattress.
Severe Scoliosis and Kyphosis Relief

By Barry A.

,

PEI, Canada

,

Dec 13, 2016
Verified Reviewer

Twelve years ago our oldest daughter was born with mental and physical disabilities and proceeded to light up our life in ways we could never have imagined. She's been a pretty happy kid with minimal complaints about life and she managed to beat most of her physical disabilities to become fairly mobile. We enjoyed a very stress free routine with her until the fall of 2015. Suddenly our easy going kid who was the easy sleeper of the family, stopped sleeping and started hours upon hours of fussing, moaning and frustration at night. She then book ended things by waking up super early and continuing with her grievances. She also can't speak so we had no way of simply figuring out what was up. She went from being enjoyable during the day to difficult, grumpy and generally unpleasant. Her siblings paid the price of her new grumpy nature. We were concerned with no explanation for the sudden change, which also meant no resolve and no relief for anyone.

Early in 2016 (as soon as she turned 12) we discovered she had rapidly developed severe scoliosis, kyphosis, and lordosis. Altogether a complicated condition with unsavory and often unsuccessful 'treatment' options that consist primarily of major back surgery to fuse one's spine with rods, hooks, and screws. After scrounging together everything we had to travel across the country to two different provinces with her to see specialists about alternative options, she was turned down due to underlying conditions worsening with treatment.

We regrouped and realized that her pain was isolated only to when she was in bed despite foam toppers and an expensive brand name traditional mattress. It was obvious she needed a new kind of bed. Naturally, we gravitated to the department store to their mattresses, but couldn't stomach the prices for memory foam there. We were already stretched pretty thin from traveling out of province for medical help. It didn't seem fair that we would need to go "toes-up" financially just to find a glimmer of relief for this wee kid.

So, we let Google help us out and uncovered a world of online memory foam stores and a review site or two. All of which have prices that are in line with the reality of the average family financial situation. Attainable relief! In no time we narrowed our selection of several excellent brands with excellent guarantees down to a couple, but Novosbed really seemed to stand out for their extra step in the commitment to quality. They must really believe in their product to back it up with such hefty guarantees. If they were so confident (backed with nearly 5 star reviews) then it might just turn out ok.

We liked that it was in Canada and the product is largely sourced in Canada with free shipping! We live in a very remote area of a somewhat remote province without access to retail options. Their Comfort+ really helped us take the leap into a new mattress for our complicated, twisted kid. Being able to adjust the firmness without having to return the whole mattress was gold. We haven't had to use the option because the Medium was perfect for her needs right now.

She immediately felt better from day one on the Novosbed (medium). We forgot that she was actually very sweet and happy. The grumpy, irritable, intolerant 12 year old is gone and the well rested, pain-free, joy-filled kid is back. She wanders off to bed early every night, she can hardly wait to get into it. We don't hear a peep out of her after lights out anymore and most of the time she's content to lay in bed until the morning chaos is over before calling for help getting up. There was no off-gassing from the mattress either, which was just a pleasant side note. Other family members are putting in their requests for a Novosbed also, but in the meantime we frequently find them nestled in her bed.

Turns out with the Novosbed she's actually pain-free 100% of the time even with severe scoliosis. We aren't sure what the future holds for her back health and we are prepared that we may one day have to make tough choices with regards to surgery, but Novosbed makes it so we can take our time to make right choices for her situation and avoid fusion surgery for now (or ever) and focus on other non-invasive treatment.

Novosbed customer service was really excellent as well. They were warm, friendly, and professional. They seem eager to work with their customers when its needed.

Bottom Line: Yes, I would recommend this to a friend

---

Awesome Customer Care

By Sheri

,

Atlanta, GA

,

Dec 15, 2016
Verified Reviewer

We ordered our firm mattress from Novosbed on October 4th. It arrived super fast, just a couple days after ordering. My son and I took it out of the box and got it set up on the bed. It had a slight smell to it, but nothing overwhelming. The bed didn't take long at all to get to its shape and was ready to sleep on that night.

After sleeping on the mattress for a month, my husband and I did agree it was a bit too firm for us, so we contacted Novosbed for the Comfort+. Their customer service was awesome. The Comfort+ was out of stock, but they gave us a date that it should ship by. The Comfort+ arrived ahead of the date they told us it would ship by, and now we sleep amazingly.

I would definitely order from them again. The mattress is comfortable, well made, and easy to set up (with help because it's heavy). Their customer care is 2nd to none.

Bottom Line: Yes, I would recommend this to a friend

---

Advertisement

---

Medium Firm Full Zize Novosbed

By Laura Starr

,

Ontario, Canada

,

Dec 17, 2016
Verified Reviewer

I purchased my new mattress in September. It is now December. I love it. I went with Novosbed after much time was spent reviewing the new online mattress companies. I decided that Novosbed had the most options for choosing comfort. I filled out the questionnaire to determine the comfort level that was recommended by the company. It suggested medium. I also appreciated the removable and washable mattress cover.

Delivery & setup were simple. Initially I felt the mattress a bit firm, but the second night I slept well. I still hoped it would have been a bit more squishy so I called the company for the additional comfort kit, (another reason to consider Novosbed, the ability to tweak the comfort level) but they suggested I need to wait a month to allow for breaking in.

I waited as instructed, then called & it was sent out right away. Installing the additional comfort squish was not too difficult and honestly I have slept like a dream ever since. My old mattress was approximately 10 years old and beginning to sag. I had previous back surgery and the saggy mattress was straining my muscles giving me discomfort in my back again. I wanted to try memory foam for the support it offers, and liked the options with Novosbed. Also no risk financially, if it isn't for you, full money return. I do however really love my bed and won't be returning it.

Bottom Line: Yes, I would recommend this to a friend

---

Great bed

By Ken

,

Toronto, Ontario, Canada

,

Dec 22, 2016
Verified Reviewer

I was skeptical about Novosbed originally and how it would work, but I am really happy I got the bed. It only took a couple of days to arrive and it was super easy to take out. The bed feels amazing to sleep on and I am impressed that they're willing to give you so much time on their guarantee.

I've recommended Novosbed to several friends.

Bottom Line: Yes, I would recommend this to a friend

---

Advertisement

---

Excellent night's sleep and solid construction.

By Ross E

,

Bloomington, MN

,

Dec 26, 2016
Verified Reviewer

Novosbed has been a great purchase for my wife and me. We have slept well almost every night and I get into bed and am thankful for how comfortable the bed is. There is little to no motion transfer and I have not experienced "sleeping hot" as some have mentioned in the past. I would say that the Novosbed is luxury quality at a value price. We are interested in trying out the comfort + option, which is great to have at no cost, but the bed without it has been great anyway. We would also recommend their foundation, even at a somewhat premium price the foundation is solid and has had no squeaks or problems either. Overall, we are very happy with our purchase.

Bottom Line: Yes, I would recommend this to a friend

---

I LOVE my bed

By Renee

,

Lawrenceburg, TN

,

Feb 8, 2017
Verified Reviewer

I spent a night on my sister's memory foam mattress, and it changed my life. I knew I wasn't sleeping well at night on my inner-spring mattress and I always woke up with back pain. I started researching and comparing mattresses, which is not an easy thing to do. The things I considered were price, comfort, and customer service. Novosbed bed fell in the middle of the price category and everything I read suggested that the higher-priced mattresses didn't give you more for your money.

The comfort was a hard thing to determine because everyone has a different opinion about what's comfortable, firm or soft. The advantage Novosbed has is the Comfort+ Kit that they offer. If you feel you need to adjust the firmness or softness, they will send you the kit for free.

Customer service was a big one for me because I don't like dealing with a company that takes your money and then could care less if you're satisfied or not. When I read the Novosbed customer reviews, I was impressed that the company was quick to answer questions or solve problems.

I ordered the King size with medium firmness, and it arrived in two days. After 30 days of good sleep, I decided to adjust the comfort to a softer level. I called the company and requested the Comfort+ Kit. Now it's perfect, and the best sleep I've ever had.

Bottom Line: Yes, I would recommend this to a friend

---

Wonderful Mattress

By Rick

,

Jul 12, 2016
Verified Reviewer

Our daughter gave us one and we have enjoyed so much we bought one for her spare bedroom since my wife cares for her children a lot. Now my wife has the same wonderful mattress wherever she sleeps! Thanks for a wonderful product and world class customer support.

Bottom Line: Yes, I would recommend this to a friend

---

Like Sleeping on a Cloud

By Joan Vertrees

,

Thousand Oaks, CA

,

Jul 18, 2016
Verified Reviewer

We compared many online mattress companies but kept coming back to Novosbed because of the mattress design, the quality of the cover and the reviews. We are so happy we chose Novosbed!

When we first received the medium mattress it seemed slightly too firm when sleeping on our sides, causing a few pressure points but the mattress was immediately super comfortable for sleeping on our backs. It took about six weeks for both sleeping positions to feel wonderful.

We eventually tried the soft add-on comfort kit and although it did help with the firmness issue, we felt it made the mattress too high for our tastes. After a few weeks, we decided to try the mattress once more without the comfort kit and it turned out that all it needed was a bit more time for our bodies to adjust. The medium mattress is now perfect without the comfort kit for both sleep positions. We just needed to be more patient. We love our Novosbed mattress now and look forward to sleeping on it every night.

There is another thing regarding our Novosbed purchase that we can't overlook and that is that we would have to write a book to say how wonderful the Novosbed Customer Service is. We are sure there's not another company on the planet as nice and pleasant to work with than Novosbed. We put them to the test with our indecisiveness, our repeated phone calls and endless questions and they were awesome every step of the way. We give them an A+ for knowledge, courtesy, helpfulness and caring!

We want to mention in closing just a few very minor issues we had that were nothing really but we want to be completely thorough in our review. First, we were missing a few slats for the frame but Novosbed shipped the missing slats right away. Second, the mattress shipping box came slightly damaged but the bed itself inside was protected with extra thick plastic and wrapped so tightly that there was absolutely no damage to the mattress itself.

The bottom line is that if you are in any way hesitant to buy a mattress online, don't be. The Novosbed Company is truly awesome! Their mattresses are every bit as comfortable as other high-end, expensive memory foam mattresses sold at those fancy, overpriced showrooms for a fraction of the price. We highly recommend Novosbed for their quality products, their extremely comfortable mattresses and their excellent customer service.

Bottom Line: Yes, I would recommend this to a friend

---

Not a fit for us - too hot and firm

By L. T.

,

Twin Cities

,

Oct 5, 2016
Verified Reviewer

We are waiting for our 60 day period to be over so we can return this bed. We have the Novosbed firm, it is too firm for us and sleeps pretty hot. The materials seem to be quality, it is just not a good fit. We have not been able to get the comfort plus option due to backorder, so I'm not sure if that would have helped. The company sent us a link to write a review and even though I did fill it out, I was surprised that it didn't seem to show up anywhere. Customer Service responds quickly, however, keeping us waiting for the topper for this long seems wrong.

Bottom Line: No, I would not recommend this to a friend

Oct 21, 2016

I'm Andy Prochazka, Co-Founder of Novosbed.com. I have followed you case personally. After hearing from you, we sent you a Comfort+ adjustment kit within 24 hours. Also, Sam, our CEO, reached out to you regarding your experience. If, after you've tried the Comfort+ kit, your Novosbed still doesn't work, please contact us to arrange a free return. I hope the mattress works for you and that we have earned back your confidence in our company.

FYI: Due to overwhelming demand in early September, we experienced a delay sending out Comfort+ kits. As of today, we are fully stocked and are back to normal shipping times (Comfort+ kits and the rest of our products usually ship within 24 hours).

---

Excellent mattress, once the warmth issue resolved.

By Christina

,

Edmonton, AB

,

Oct 30, 2016
Verified Reviewer

We received our new mattress about 2 months ago. Initially, the mattress has a bit of an odour to it, but that fades over time. We were going from a spring mattress to this memory foam mattress. Our Novosbed was much more supportive, comfortable, and my husband was not waking up with back pain as he had done previously. My one complaint was that it sleeps quite warm. Novosbed recommended the St. Dormeir wool mattress protector to resolve this issue, and it seemed to solve it completely for us (as well as making our bed cozier). If you are a warm sleeper I'd recommend purchasing this pad as well. It seems counterintuitive to purchase wool to sleep cooler, but the technology works (you can read more on their website). Overall we're very satisfied with the quality, delivery process, and customer service at Novosbed.

Bottom Line: Yes, I would recommend this to a friend

---

Your mattress search should end now.

By Simon Halpin

,

Quebec, Canada

,

Nov 6, 2016
Verified Reviewer

After trying a less expensive bed-in-a-box for their 90-day trial, I still never got a good night's sleep. At first, it seemed firm enough, but in the end, it was too soft. I debated giving any on-line purchased bed another shot, but then I discovered Novosbed and their Comfort+ option and extended sleep trial and I figured I had nothing to lose.

I am SO happy that I tried Novosbed. Instantly, I knew this bed was in a different league. It is heavier, feels more solid and gives better support. It's no surprise really seeing that it's almost twice the price but my philosophy is you get what you pay for, and a quality bed like this should be an investment.

The price should not deter you from buying this bed, particularly given the fact that you could pay double from a traditional retailer for a bed of this quality.

The fact that you can choose various firmness levels and then adjust up or down with the Comfort + addition, and the free trial, eliminates any "risk" of making a bad decision.

The order came in 3 days and I live in a rural area! The ordering process was smooth and efficient and my dealings with their customer service has been excellent. Do yourself the favor and buy this bed. You won't regret it.

Bottom Line: Yes, I would recommend this to a friend

---