NuBrilliance Perfection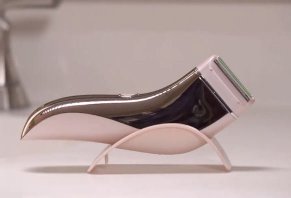 The NuBrilliance Perfection is a hand-held, wet-dry shaver for women that runs on a lithium battery and claims to provide a close, smooth shave via aloe strips and ceramic trimmers.
NuBrilliance Perfection Review: Is It Worth It?
NuBrilliance Perfection is an As Seen on TV battery-powered shaver and trimmer for women.
The Perfection claims to provide an unmatched shave via a pair of ceramic shaving mechanisms that can work on all areas of the body.
"Now there's a perfect way to shave and trim unwanted body hair wet or dry with no nicks, cuts, bumps or razor burn. It's not magic, it's perfection … NuBrilliance perfection," the device's commercial says.
The company selling the shaver is Emson Inc. They specialize in selling and marketing As Seen on TV Products. One of their other popular beauty products is the Flexible Mirror, a versatile device with a magnifying mirror, round LED light and a bendable neck.
In our review of this product, we'll talk about how it works, provide tips for using the device, its pricing and return policy and similar shavers for the sake of comparison.
We'll wrap up with a bottom-line section that reviews the NuBrilliance Perfection's pros and cons.
How the NuBrilliance Perfection Works
This shaver function is tied to its design. It features a pair of ceramic trimmers infused with aloe and vitamin E that, according to Emson, provide you with "painless shaving" in wet and dry conditions.
Visually speaking, this shaver is striking. It is shaped asymmetrically to fit your hand and comes in a modern rose gold color.
The shaver ships with a comb attachment you use to trim hair, a stand on which to put the shaver when you're done and a travel case.
The comb isn't meant to do any heavy-duty trimming. Rather, the device's website and commercial show women using the comb to trim longer peach-fuzz type hair on the cheekbone.
The NuBrilliance Perfection runs on a rechargeable lithium battery.
Pros and Cons of the NuBrilliance Perfection's Ceramic Blade
Most razors feature steel blades. However, this NuBrilliance device uses ceramic blades. This made curious about the advantages of ceramic over steel.
There isn't much information available about ceramic use for shaving blades but the information about ceramic knives versus steel knives is plentiful. This will be the basis of our comparison.
Speaking about ceramic knives with Business Insider, chef David Mawhinney said that ceramic offers one huge advantage over steel.
"I think for home use people would see the advantage in never having the sharpen or hone them," Mawhinney told Business Insider.
This statement is truer when the quality of the ceramic increases. However, even top-quality ceramic trimmers are in jeopardy of breaking or chipping.
So, it's important to store your NuBrilliance Perfection on the stand you get rather than putting in a drawer. If you put the shaver in a drawer, there's a chance that it can get banged around and its ceramic trimmers could crack or split.
An article from design and lifestyle website Hunker noted that, based on an interview with the International Barber Association, ceramic hair trimmers "allow for a smoother and faster cut."
We reached out to the American Barber Association to confirm this fact but did not receive a response at the time of publishing.
NuBrilliance Perfection Pricing and Return Policy
When we did our research, the Perfection sold for $19.99 and shipping was free. Your color choices were rose gold or pink. As we mentioned earlier, the shaver ships with a comb accessory, a stand, and a travel case. It does not ship with any replacement blades and we did not find a way on the device's website to buy replacement blades.
If you aren't satisfied with your shaver, you have 60 days from the date of purchase to get a refund for the product. You'll need to call (800)808-2624 to start the return.
According to the fine print, the address to which you send your return is ATTN: Returns, 400 Returns Rd., Wallingford, CT 06494
The fine print points out that you should see the refund within three to seven days of getting your return. Keep in mind that Emson won't refund the shipping you paid to send the device back to them.
How NuBrilliance Perfection Compares to Two Top-Rated Amazon Shavers
Women's shavers are pretty plentiful online. We went to Amazon to find out which shavers sell the best and have great customer reviews.
Amazon's best-selling women's shaver was the Panasonic Close Curves, which sold for $17.99 and had an average rating of four stars from more than 11,000 reviews.
The Panasonic works in wet and dry conditions and functions as a shaver and trimmer. The battery takes 12 hours to charge and lasts 20 minutes.
Another popular option is the Brori Electric Razor, which earned the "Amazon's Choice" badge for being popular, well-received and affordable. What's interesting about this shaver is that it looks exactly like the NuBrilliance and even has the same stand. It doesn't come with ceramic trimmers but has moisturizing strips.
This device comes with an LED screen that can tell you how much juice your battery has left, too. Also, the product's Amazon page said that it takes 90 minutes to charge the battery. You can get three months of use out of one charge, they claimed.
The Brori was $34.98 and had an average rating of 4.6 stars from more than 65 reviews.
This comparison made us wonder how long the NuBrilliance battery lasts, so we called customer service. The phone rep told us that they did not handle this product so she couldn't tell me anything about the product's battery life.
This lack of knowledge is relatively common among As Seen on TV products, especially when the product in question is new like the NuBrilliance Perfection was at the time of publishing.
However, we'd advise you to keep in mind that the shaver's battery life is a mystery and that there are no guarantees about how long it takes to charge it and how long it lasts.
The Bottom Line
We believe there are a few things to like about this product, based on our research. First, the product has a reasonable price compared to similar products. Second, the accessories it comes with protects the ceramic trimmers. Third, ceramic trimmers are supposedly popular with barbers.
There's a lot to like here, especially if you're on a budget and you want to try a product that's new to the market.
However, we think there are some red flags. First, customer service was not able to tell us about the NuBrilliance Perfection's battery life nor how long it takes to charge. This is a glaring omission considering the device is battery powered.
Second, we couldn't find any place to buy replacement trimmer heads, which means that your shaver will only last as long as the trimming head.
Finally, Panasonic offers a similar product with clear specifications for how long its battery lasts and how long it takes to charge it.
If you're someone who prefers to buy brand-name devices, then the Panasonic may be a better choice. However, if you're okay with buying a shaver without any details regarding battery life and you want a shaver with an eye-catching design, the NuBrilliance Perfection could be a good fit.
» Recommended Reading: 2019 Best Epilator Buying Guide