Nucific Advanced Slimming Probiotic
Claimed This company has claimed this profile, is getting alerted on any new customer reviews entering this page, and may engage in dialogue with its customers to address their matters.

Companies cannot pay money or provide goods in order to remove or alter customer reviews.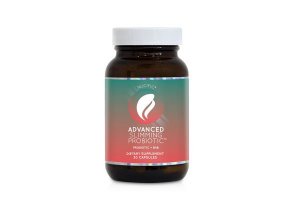 Nucific Advanced Slimming Probiotic includes nine bacteria strains and two types of beta-hydroxybutyrate that, combined, promise to help balance digestion, improve energy, and shed fat.
Nucific Advanced Slimming Probiotic Review: Ingredients, Benefits, Side Effects, and Clinical Support
The Nucific Advanced Slimming Probiotic features a blend of specialized bacteria strains, keto-related compounds, and cutting-edge protocols they advertise will help easily eliminate unwanted fat from your body, without making changes to your lifestyle.
The company tells us the supplement can also help you block fat absorption, increase fat burning around your midsection, improve energy, support a healthier immune system, boost gut health, enjoy smoother digestion, and minimize cravings. The website even indicates you can "enjoy some of the fat-burning benefits of keto, without the restrictive diet."
All you have to do, they say, is take one capsule every day in the morning, with eight ounces of water. Advanced Slimming's ingredients are suitable for anyone who wants fast and dramatic fat-loss results, and many users report noticeable results within the first week.
In this article, we'll examine what kinds of real-world results you might experience from Nucific's Advanced Slimming Probiotic, what you'll pay for the formula, and how it stacks up against popular competitors.
First, though, let's quickly explore the world of probiotic supplements.
How Do Probiotic Supplements Like Nucific Advanced Slimming Probiotic Work?
According to a 2016 study, there are as many bacteria cells in your body as human cells, with a total mass of about 0.2 kg (0.44 lbs). And among other benefits, they play critical roles in digestion and immune function.
Not all bacteria in our body are beneficial, though, and we frequently knock the balance of "good" and "bad" bacteria out of whack from excessive stress, a poor diet, insufficient exercise, and taking antibiotics and other medications, to name just a few.
This is where certain foods (kefir, yogurt, sour milk, kimchee, etc.) and probiotic supplements like Nucific Advanced Slimming come in, which work by reintroducing beneficial bacteria strains to your gut.
After decades of research, these strains are clinically shown to help relieve gas and bloating, boost immune function, decrease instances of diarrhea, and relieve irritable bowel syndrome (IBS) symptoms.
With these high-level details in mind, let's zoom in on Advanced Slimming's specific formula.
Taking a Closer Look at Nucific Advanced Slimming Probiotic's Ingredients
The Nucific website lists the following ingredients for Advanced Slimming Probiotic:
Calcium beta-hydroxybutyrate (BHB): 100 mg
Magnesium beta-hydroxybutyrate (BHB): 100 mg
Bifidobacterium breve (Morinaga B-3®): 50 mg
Lactobacillus acidophilus, Bifidobacterium lactis, Bifidobacterium longum, Lactobacillus plantarum, Prebiotic Fructooligosaccharides (FOS)(ProbioSEB® Trio): 50 mg
Lactobacillus gasseri: 5 mg
Beta-Hydroxybutyrate & Ketosis
If you restrict your diet to at least 80% fat, 15-20% protein, and 0-5% carbohydrate content for long enough, your body switches from using glucose for fuel to fat.
Once this occurs, your liver releases a type of acid known as ketoacids (or ketones), into your bloodstream. This formally signifies a state known as ketosis and is a popular method of shedding fat at an accelerated rate.
» Related: Ketogenic Diet: A Comprehensive Beginner's Guide
The beta-hydroxybutyrate contained in Advanced Slimming Probiotic is a type of exogenous (outside the body) ketone. Found in a variety of dietary supplements, this ingredient aims to artificially raise ketoacid levels in the blood, thereby causing the body to technically enter a state of ketosis.
However, we didn't encounter clinical support on sites like the National Institutes of Health's PubMed, WebMD, or the Natural Medicines Database during our research indicating that beta-hydroxybutyrate supplementation can deliver the same fat-burning potential offered by nutritional ketosis.
The Probiotics in Nucific Advanced Slimming Probiotic's Formula
Probiotics, on the other hand, are clinically shown to help provide a swath of gut-related benefits, including balanced digestion, boosted immune response, decreased bloating and gassiness, and improved IBS symptoms.
Specifically, the Bifidobacterium genus, which includes species like breve, lactis, and longum, has strong clinical support for delivering benefits like reducing constipation and some urinary tract infections, as well as decreasing cholesterol.
The three Lactobacillus strains found in Advanced Slimming might provide many of these same benefits, in addition to antifungal and antibacterial properties.
ProbioSEB Trio is manufactured by Specialty Enzymes, who advertise that it's a unique blend of three bacteria strains. However, they don't mention any exceptional benefits on their website.
Finally, fructooligosaccharides are sweet, low-calorie carbohydrates that the body can't digest. Therefore, they don't impact blood sugar levels and are frequently used as food for bacteria—formally called prebiotics—upon reaching the digestive tract.
Clinical Support for Nucific Advanced Slimming Probiotic
Pulling all of these details together, we can see that many of the bacteria strains found in Advanced Slimming Probiotic and other supplements have been clinically shown to deliver a variety of digestion-related benefits. But, what about weight loss?
The Morinaga B-3 in Advanced Slimming comes to us from Maypro, who claims its bacteria blend can promote weight loss, reduce body fat, and support healthy liver function after 12 weeks of supplementation. However, their site references a single unpublished study to support these claims.
When it comes to the Advanced Slimming, specifically, the Nucific website lists two clinical studies supporting the manufacturer's claims:
A 2015 study showing the Lactobacillus gasseri SBT2055 (LG2055) strain could help significantly increase fecal fat excretion in humans.

A 2013 12-week study showing this same strain reduced abdominal fat count by an average of 8.5% among 210 Japanese participants.
Based on these data (while positive), we think it's important to maintain realistic expectations regarding Advanced Slimming's real-world ability to produce "a dramatic reduction in waist circumference and overall body fat," as advertised by Nucific.
And while the company indicates the supplement can work without changes to your lifestyle, a disclaimer at the bottom of one Advanced Slimming website emphasizes, "it is recommended that users follow a strict diet and exercise regimen to achieve weight loss results."
Potential Nucific Advanced Slimming Probiotic Side Effects
Despite all of the potential gut-related benefits provided by probiotic supplements, most people don't experience side effects. And for those who do, they're typically no worse than temporary, mild digestive upset, which generally resolves itself as bacteria levels re-balance.
Nucific also emphasizes that Advanced Slimming Probiotic contains no gluten or other allergens.
How Much Does Nucific Advanced Slimming Probiotic Cost?
What you'll pay for Advanced Slimming Probiotic depends where you purchase from. On Nucific's standalone site TheSlimTummySecret.com, prices include:
1 bottle: $49.95
3 bottles: $134.85 ($44.95 per bottle)
6 bottles: $254.70 ($42.45 per bottle)
However, you'll pay considerably more if purchased from the main Nucific.com website:
1 bottle: $64.95
3 bottles: $173.85 ($57.95 per bottle)
6 bottles: $329.70 ($54.95 per bottle)
Both sites offer free shipping and 90-day refund policy, less return shipping. You can reach customer service at 888-679-5520 or support@nucific.com.
Nucific Advanced Slimming Probiotic vs. Competing Probiotic Supplements
Although medically supervised bacteria supplementation has been around for decades, it wasn't until relatively recently that supplementation became popular among consumers. In the past few years, however, this market segment has exploded.
As such, there are perhaps thousands of probiotic supplements competing for the same customers as Nucific's Advanced Slimming formula, many of which contain similar bacteria strains and make similar advertising claims. Here were some of the top-rated Amazon selections at the time of our research:
| Brand | Price / Cost Per Dose | # Bacteria Strains & Concentration |
| --- | --- | --- |
| Nucific Advanced Slimming | $49.95 / $1.66 | 9 / 50 mg |
| Vitamin Bounty Pro 50 | $28.49 / $0.95 | 13 / 50 billion CFU |
| NatureWise Max Time-Release | $34.79 / $1.16 | 30 / 450 billion CFU |
| Florastor | $60.55 / $0.61 | 1 / 250 mg |
| Align Extra Strength | $41.08 / $0.98 | 1 / 5 billion CFU |
| Ultra-30 | $27.50 / $0.92 | 18 / 30 billion CFU |
| Digestive Advantage | $19.99/ $0.25 | 1 / 2 billion CFU |
When choosing between probiotic formulas, you'll want to focus only on those that contain beneficial bacteria strains, and which aren't crammed with a bunch of extra ingredients. You'll also want to ensure they contain a complete list of the strains they contain, along with their concentrations.
And perhaps most importantly, we've found that most customers don't report that higher-priced probiotic supplements deliver meaningfully better results. With this in mind, we can see in the table above that Digestive Advantage clearly offers the lowest prices, followed by Florastor and topped out by Nucific Advanced Slimming.
The former options only offer one bacteria strain, although customers often don't report a direct correlation between the number of strains and CFU count found in a supplement, and more pronounced benefits.
Let's wrap all of these details together and come to a conclusion about Advanced Slimming Probiotic.
Our Final Thoughts About Nucific's Advanced Slimming Probiotic
We've written about several other Nucific dietary supplements in the past, including BIO X4, most of which come with five-star ratings among 1,000+ HighYa combined readers.
The company also held an A+ Better Business Bureau rating at the time or writing and stands behind all of their supplements with a 90-day refund policy.
Given all of this, there doesn't seem to be a lot at stake for giving Advanced Slimming Probiotic a try—outside of return shipping fees if you decide to request a refund. Based on pricing, though, we might recommend purchasing from TheSlimTummySecret.com to save a few dollars.
Still, based on the level of clinical support provided on sites like the NIH's PubMed related to probiotics as a whole, as well as on Nucific's websites for Advanced Slimming's formula, specifically, we'd recommend maintaining realistic expectations about the supplement's ability to deliver "fast and dramatic fat-loss results."
On top of this, it's also the most expensive in the table above from a cost-per-dose perspective, and third-party customers often don't report improved results after paying more for a probiotic.
Specials please!

By Lisa M.

,

Holmes

,

Jul 10, 2019
Verified Reviewer

Hi, I love Nucific's Advanced Slimming Probiotic!

It is very expensive considering me and my daughter use it. Please offer deals like you do with BIO X4. Thank you!. Time goes by so quick I don't realize I need to order more.

Bottom Line: Yes, I would recommend this to a friend

---

Advertisement

---