Nucific Probiotic Complex Reviews
Claimed This company has claimed this profile, is getting alerted on any new customer reviews entering this page, and may engage in dialogue with its customers to address their matters.

Companies cannot pay money or provide goods in order to remove or alter customer reviews.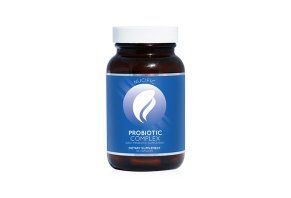 Nucific Probiotic Complex is a 15-strain supplement that claims to help balance your digestion, while delivering one of the most viable formulas available.
What Is Nucific Probiotic Complex?
Packed with 30 billion colony-forming units of 15 different strains in each dose, Nucific's Probiotic Complex promises to help balance friendly gut bacteria and optimize digestion, boost nutrient absorption, increase energy, restore metabolism, and deliver better overall health.
Nucific tells us the biggest difference between their Probiotic Complex and competing supplements is one of viability. Specifically, the company claims to submit their formulation to a "grueling, multi-stage process" that ensures they make it to your digestive tract alive.
According to their website, you just have to take one capsule of Probiotic Complex once per day (ideally, in the morning right before your first meal), and it will start going to work.
These days, probiotic supplements can be found in just about every form and dose, from the far reaches of the Internet to your neighborhood pharmacy. Given this level of competition, is there anything that makes Nucific's Probiotic Complex more worthy of your money?
Let's explore what we learned during our research so you can have some answers before handing over your money.
Probiotics: What Are the Benefits and Side Effects?
Here's the short version of how this process works: Your digestive tract is home to trillions of bacteria cells.
Some of these are "good" in that they can provide benefits like helping to absorb vitamins from the food you eat and to fight off pathogens that can make you sick. Others are "bad" and can lead to bloating and gassiness, lack of energy, and frequent illness.
In most instances, this balance between good and bad gut bacteria remains fairly even. This balance can be thrown out of whack, though, from factors like chronic stress, a less-than-stellar diet, illness, and a recent round of antibiotics.
In order to help restore balance, probiotic supplements reintroduce specific types of beneficial bacteria (known as strains) into your digestive tract, using anywhere between one million and 30 million+ colony forming units (CFUs, or the number of individual bacteria cells per dose).
Websites like WebMD and MedicineNet indicate that probiotics don't often cause side effects, and when they do, it's often not much worse than mild, temporary digestive upset, such as gas or bloating. They report this often subsides within a few days of regular use.
As always, it's important to speak with your doctor before starting any new supplement regimen.
What about Nucific's Probiotic Complex? Which specific strains does it deliver?
What Ingredients & Bacteria Strains Are Found In Probiotic Complex?
According to the label listed on Nucific's website, their Probiotic Complex supplement contains 30 billion CFU of the following bacteria strains:
Lactobacillus acidophilus
Bifidobacterium lactis
Lactobacillus plantarum
Lactobacillus rhamnosus
Lactobacillus casei
Lactobacillus salivarius
Lactobacillus bulgaricus
Bifidobacterium breve
Lactobacillus paracasei
Lactococcus lactis
Streptococcus thermophilus
Lactobacillus brevis
Bifidobacterium bifidum
Bifidobacterium longum
Bifidobacterium infantis
The genus, or family, Lactobacillus is the most popular found in probiotic supplements. And the most well-known species in this family is acidophilus, which boasts loads of clinical support showing it can provide benefits like reduced diarrhea-associated illness, reduced IBS symptoms, and even some antifungal properties.
You'll find that many species within the Lactobacillus genus have been clinically shown to provide a variety of gastrointestinal benefits, although rhamnosus may also help obese women lose weight, reduce viral-associated pulmonary damage, and even reduce the development of allergic disease.
L. brevis seems to be helpful for reducing dental plaque, L. salivarius is especially useful for addressing pancreatic necrosis, and L. bulgaricus helps fend off undesired bacteria.
In our experience writing about these types of products, Bifidobacteria are the second most popular genus currently found in probiotic supplements.
Like Lactobacillus, Bifidobacteria have mainly been shown to address digestion and gut-related issues. Standouts include:
B. lactis – Can also modulate brain activity, reduce total cholesterol, and reduce the risk of contracting an upper respiratory illness.
B. breve, bifidum, longum – Can help treat necrotizing enterocolitis in newborns and address IBS.
Finally, Lactococcus lactis is used for its antimicrobial and brain modulating properties, while Streptococcus thermophilus may help address antibiotic-associated diarrhea.
How much will you pay for these different bacteria strains?
How Much Does Nucific's Probiotic Complex Cost?
How much you pay per bottle of Probiotic Complex depends on how much you purchase:
1 Bottle (30-day supply): $45
3 Bottles: $118.80
6 Bottles: $221.40
Like all Nucific products, Probiotic Complex comes with a 90-day refund policy, less S&H. To request one, support can be reached at 888-679-5520 or support@nucific.com.
Now that we know more about Probiotic Complex's three essential factors (function, ingredients, and price), how does it compare?
Customer Reviews: Nucific Probiotic Complex vs. Third-Party Probiotic Supplements
Which Factors Are Most Important When Buying a Probiotic Supplement?
There are three different factors you should consider when weighing your next purchase:
Make sure there is a list of probiotic strains—along with their CFU—on the bottle, and that it's not crammed with a bunch of extra ingredients.

Based on our research, you might not need to spend a lot. In other words, more money doesn't appear to necessarily deliver more value.

Make sure the supplement has a mostly positive online customer reputation. Are you finding a recurring theme among complaints?
How Does Nucific Probiotic Complex Stack Up?
Using these three factors as our guidepost, we can see that some of the most popular probiotics here on HighYa, such as Probiotic America ($46.99 plus $4.95 S&H; 13 different strains; 30 billion CFU), Whole Body Keybiotics ($39.99; 14 strains; 37.5 billion CFU), and Essential Cultures ($38.95 plus $6.95 S&H; 15 strains; 30 billion CFU), meet these three essential criteria.
Comparatively, the biggest difference is that Nucific claims their Probiotic Complex is more viable than others, although exploring these (and many other) options, you'll find that nearly all claim to feature some technology or specialized strain that is especially adept at surviving the harsh stomach environment.
Given all these similarities, how can you choose the best one?
Probiotics Can Work Differently In Everyone
When it comes down to it, the only way to know for sure is to give them a try. After all, we all have different physiologies that might react very differently to the same set of ingredients.
To this extent, many of Nucific's products—including BIO X4, seemed to come with mostly positive customer feedback here on HighYa. Most compliments cited effective results, although, like many nutritional supplements, the most common complaint referenced no results.
Despite several reader complaints related to less-than-stellar customer service experiences, Nucific seems to stand behind their products with a 90-day money back guarantee. So, if you're not pleased with the results, you might not be out much more than a few bucks in S&H charges for giving it a shot.
Based on what we learned during our research, though, including customer feedback, bacteria formulation, CFU count, and price, we think there are many other supplements on the market in close competition with Probiotic Complex.
Pro tip: According to the supplement-focused group ConsumerLab, the "milk test" mentioned on the Nucific website "will not reliably tell you if a probiotic supplement contains viable organisms or not."
Taking all of this together, it's our opinion that Probiotic Complex might deliver improved digestive health. But it might not necessarily be a unique or extra compelling probiotic supplement.