NutriBoss Reviews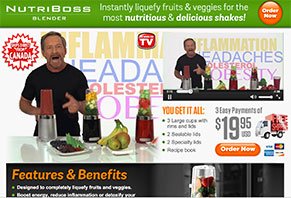 The NutriBoss blender is claimed to pulverize fruits and veggies and make ultra-healthy shakes that can boost your energy, reduce inflammation, and more.
About NutriBoss
According to the manufacturer, the NutriBoss blender is designed to completely liquefy fruits and veggies and to make all natural, "heart healthy" shakes that can boost energy, reduce inflammation, and detoxify your body. On top of this, NutriBoss claims to also pulverize nuts such as almonds, peanuts, cashews, and pecans for homemade nut butter.
In order to accomplish this, the NutriBoss blender contains a blade with 2 serrated edges to chop and 4 razor sharp edges to slice, which can ultimately save you time and money.
As the weather warms and the thought of baring your midriff becomes a reality, it's only natural to think about eating healthier. But can the NutriBoss blender boost your health, or is it all just marketing hype? Consider the following:
It All Comes Down to the Ingredients
Most importantly, keep in mind that the healthfulness of the shakes you make with the NutriBoss blender, and any benefits you receive, is wholly dependent on the ingredients you include. In other words (although it might seem obvious), if you include a lot of whole, low-sugar fruits and veggies, you'll certainly experience more healthful benefits than if you decide to make ice cream shakes.
On top of this, keep in mind that even if you do include healthy ingredients, the benefits you achieve may not be as noticeable as the NutriBoss commercial might make it seem. In fact, your body does a very good job of naturally detoxifying itself, so the shakes you make with the NutriBoss may not help at all from this aspect.
Is the NutriBoss a One-Trick Pony?
Next, keep in mind that it appears the NutriBoss blender is intended to do one thing, and one thing only: liquefy fruits and veggies and to make shakes. That's it.
In other words, it doesn't offer variable speeds like the Vitamix S55 Blender or the Blendtec Designer 725, reduce heat buildup like The Boss Blender from Breville, or feature a high-velocity motor like the Nutri Ninja Duo Blender.
Granted, the NutriBoss is much less expensive than most of these models, but it's also much less versatile.
Similar Blending Options
Finally, it appears that the NutriBoss blender was designed to go head-to-head with similar options such as the Nutri Ninja Pro Blender. In fact, the two appear to be nearly identical in design, with the "upside down cup" on top that's pressed down to begin blending.
Here on HighYa, 19 customers have provided feedback on the Nutri Ninja and rated it an average of 4 stars, although it's impossible to say at this point if you'll experience the same with the NutriBoss (more about this next).
Customer Feedback for the NutriBoss Blender
The NutriBoss blender was a very new product at the time of our research (URL registered January 2015 and trademark filed February 2015), so there were no online customer reviews available.
However, NutriBoss is manufactured by E Mishan & Sons, Inc., who also makes the Big Boss Healthy Press, Bell + Howell Solar Charger, InStyler Ionic Ceramic, and many other ASOTV products. Compared to many other "As Seen on TV" manufacturers, these products seem to come with slightly higher customer ratings, although common complaints still tend to center around poor quality and failure to work as advertised.
From a company perspective, E Mishan & Sons holds an A- rating with the Better Business Bureau, with 75 closed complaints as of 5/29/15. There, the most common complaints appeared to reference poor quality products that don't work as advertised, difficulty receiving replacements covered under warranty, and difficult customer service experiences.
Granted, you may not experience the same with NutriBoss, although it's definitely something to keep in mind.
NutriBoss Pricing & Refund Policy
The NutriBoss Blender is priced at 3 payments of $19.95 (or one single payment of $59.85) plus free shipping.
For this price, you'll receive a 15-piece set that includes:
3 large cups with rims and lids
2 sealable lids
2 specialty lids
Recipe book
The NutriBoss comes with a 30-day refund policy, less S&H charges. In order to request a refund, you'll need to contact customer service at 866-612-2383.
Can the NutriBoss Blender Improve Your Health?
Chopping to the point: When it comes down to it, all the NutriBoss blender does Is to help you extract the nutrients from whole fruits and veggies. However, the exact ingredients you use, how often you drink them, and the diet and exercise you adhere to will make all the difference in your fitness and overall health.
As such, if you think that the NutriBoss blender—in and of itself—is going to transform your health and your body, you're almost certainly bound to be disappointed. Instead, if you view the NutriBoss as a tool in your arsenal, in conjunction with eating a balanced diet and getting plenty of exercise, you might find it worth the price.
Gift

The NutriBoss was given to me as a Christmas gift. I was excited about getting it. But when I went to use it, it only works if you hold and twist it and doesn't work at all in the "hold down position."

I tried calling the number they give you and was given so many options to chose from. I tried one, left a message with my name and number, but have received no response yet.

I am very disappointed. I just wanted an answer and maybe a replacement.

Bottom Line: No, I would not recommend this to a friend

---

Best blender ever!

Houston, TX

,

Jan 4, 2017
Verified Reviewer

I purchased the NutriBoss Blender without ever hearing or knowing anything about it. My wife and I used it exclusively to make various types of smoothies, which were delicious, and well textured. The NutriBoss Blender is the best!

Something happened and it broke, so we had to get rid of it, and our lives have not been the same. We bought the Nutra Bullet, then returned it. In our experiences, the NutriBoss far outperformed the Nutra Bullet and made much better smoothies for us.

Bottom Line: Yes, I would recommend this to a friend

---

Advertisement

---