NutriBullet Reviews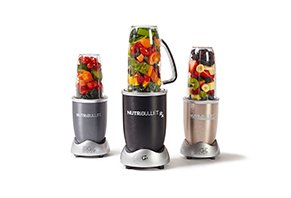 NutriBullet is a nutrient extractor that's claimed to maximize the nutrient content of fruits, vegetables, and other foods you eat, while promoting better health.
About NutriBullet
NutriBullet nutrient extractors claim to use proprietary technology to break down and pulverize the stems, seeds, and skins of whole fruits, vegetables, and other foods, and to provide your body with all the nutrition they have to offer.
Compared to traditional juicers, the drinks/smoothies that you'll make with your NutriBullet—known as NutriBlasts—are claimed to be "virtually predigested." According to the company, this means they allow your body to more easily absorb the maximum amount of nutrients they contain, without relying on chewing, stomach acids, and digestive enzymes to break down food.
In addition to NutriBlasts, the NutriBullet is also claimed to be useful for extracting frozen foods for sorbets, milling brown rice into flour, soft nuts into nut butter, and more. And when you're finished using your NutriBullet, its non-toxic, BPA-free, high-impact plastic cups are dishwasher safe for easy cleanup.
Because of these benefits, NutriBullet claims they have "started a health revolution that has transformed millions of lives" and that can help you "take charge of your health."
But are NutriBullet's promises of improved health legitimate? Is it a good quality piece of kitchenware, or will it be a waste of your hard-earned money?
We'll answer all your important questions in a moment, but let's first take a look and NutriBullet's different models:
NutriBullet Model Comparison
Overall, NutriBullet is available in 3 different models:
The Original NutriBullet
Touted as "the first step towards healthier eating," the Original NutriBullet (and the focus of this review) extracts nutrition from within food and breaks down seeds, stems, and skins of fruits and vegetables.
At 5 pounds, the basic NutriBullet model features 600 watts of power, 18oz and 24oz cups, the ability to make 5 NutriBlast servings, and a 100-page recipe book. All of NutriBullet's heavy lifting is accomplished via an extractor blade that breaks through seeds, stems, and skin, while the milling blade mills grains, herbs, and nuts.
NutriBullet Pro
The mid-level NutriBullet Pro model weighs in at 7 pounds and features 900 watts of power, 18oz, 24oz, and 32oz cups, a Top To-Go lid, the ability to make 7 NutriBlast servings, and a 150-page recipe book.
From a performance standpoint, the NutriBullet Pro offers much of the same functionality as the Original model, although it can also "break down tougher ingredients like wheatgrass and whole fruit."
NutriBullet Rx
The top-level NutriBullet Rx model weighs 9 pounds and features 1700 watts of power, 30oz and 45oz cups, the ability to make 12 NutriBlast servings, a heating functionality, and a 150-page recipe book.
This model carries over the functionality of the previous 2 models, but also allows you to make hot "superfood soups" and sauces, and features hands-free SMART technology.
What Is Nutrition Extraction?
In a nutshell (pun intended), NutriBullet's nutrient extraction capabilities make the foods you eat more bioavailable, which means your body can better absorb the nutrients they contain, thereby promoting better health.
Here's how the NutriBullet FAQ explains it:
"Unlike juicers and blenders, NutriBullet nutrition extractors break down the cell walls of fibrous plant foods, releasing important vitamins and minerals contained within. At the same time, they reduce beneficial fiber, pulp, seeds, and skins into a smooth-as-silk texture, delivering food to your body in an easily digestible, easily absorbable form."
What Are NutriBullet's NutriBlasts?
Using this nutrient extraction technology, you'll make healthy drinks called NutriBlasts from fruits, vegetables, nuts, seeds, herbs, and any other ingredients you'd like to include. These NutriBlasts are claimed to feature a smooth texture and pleasant taste.
According to the NutriBullet website, "by drinking just one NutriBlast a day, you can give your body the vitamins and nutrients it needs." In fact, the company even claims, "It has been shown that with the addition of these foods to your daily diet, you can prevent disease, lose weight, relieve joint pain, promote healthy, younger-looking skin and even add years to your life."
With all of this said, there's no doubt that eating the proper servings of whole fruits and vegetables on a daily basis can put you on the path to good health. However, it's important to keep in mind that the NutriBullet is just a tool, and the NutriBlasts you make with it are only as healthy as the ingredients you extract.
In other words, if you make your NutriBlasts high fat, high sugar foods, you almost certainly won't achieve many of the related health benefits.
What Are Customers Saying About the NutriBullet?
Since writing our original NutriBullet review, 40 HighYa readers have provided feedback about their experiences, and have rated it an average of 3.5 stars. Common compliments appear to revolve around NutriBullet's blending capabilities, ease of use, and improved health/wellbeing.
On the other hand, some of the most common NutriBullet complaints cited gaskets coming loose (more about this next), loud operation, cracked cups, and excessive heat when extracting.
There were also a whopping 4,700+ NutriBullet reviews on Amazon at the time of our research, with an average rating of 4.2 stars. There, most of the compliments and complaints mirrored those found on HighYa.
From a company perspective, NutriBullet, LLC is based out of Pacoima, CA and held an A+ rating with the Better Business Bureau, based on 208 closed complaints (as of 6/10/15). There, the most common complaint appeared to cite difficulty obtain replacement parts or refunds for defective products covered under warranty (note: the NutriBullet model isn't referenced in many of these complaints).
The Problem with NutriBullet's Gasket
By far the most common online complaint related to the NutriBullet was that the rubber seal (e.g. gasket) around the base of the blade comes loose and gets mangled, essentially rendering the whole device useless.
Despite the widespread problem, it doesn't appear that the company has formally recognized it, and numerous consumers have complained of poor customer service experiences when attempting to find a remedy.
As such, we might recommend purchasing a 4-pack of replacement gaskets on Amazon after placing your NutriBullet order (this is only a recommendation—we do not receive commissions for purchases made through this link). This way, for a minimal amount of money, you can be prepared if you experience the same issue, while also saving yourself from a potentially frustrating customer service experience. And if you need help installing your new gasket, there are multiple how-to videos featured on YouTube.
Note: Even if your NutriBullet's gasket doesn't become dislodged, it's apparently still easy for food to become stuck underneath, which means it will need to be regularly cleaned.
NutriBullet Pricing and Refund Policy
NutriBullet models are priced as follows:
NutriBullet: $59.99
NutriBullet Pro: $79.99
NutriBullet Rx: $179.99
Extended 4-Year Warranty: $14.99
There are also a variety of other accessories available on the NutriBullet, although curiously, this doesn't include gaskets.
If purchased directly through the manufacturer, all NutriBullet orders include free shipping.
There is also a NutriBullet ASOTV offer available, which includes two NutriBullet Pro for the price of $119.94 plus $39.98 S&H.
Note: If you register for free on the NutriBullet website, you'll save 10% on your order total.
Regardless of the model you choose, NutriBullet comes with a 30-day refund policy, less S&H charges, as well as a 1-year warranty against defects in materials and workmanship.
In order to request a refund or to process a warranty claim, you'll need to contact customer service at 1-800-523-5993.
Finally, keep in mind that NutriBullet is available from dozens of third-party retailers, including Target, Walmart, Bed Bath & Beyond, and many more.
The Bottom Line: Will NutriBullet Improve Your Health?
Gasket issue aside, NutriBullet appears to have a primarily positive online customer reputation, so you'll likely find it useful for making healthy NutriBlasts and giving your body the maximum amount of nutrients they contain.
However, it's also important to keep your expectations realistic. In other words, while these NutriBlasts may help put you on the road to better health, it takes a balanced diet and regular exercise in order to truly maximize your health, which is a long-term process that won't happen overnight.
Customer Service very POOR

By Karen Rose

,

Susanville CA

,

Jun 20, 2015

Ok, now I am really getting upset! I am ready to pursue this all the way to Consumer Reports and anyone else who will listen! I purchased the NutriBullet with great hopes. According to your commercial I was getting the best of the best. Unfortunately, I feel anything but happy with your product. I barely used it for two months and it froze up.

I still have it and can not use it. I contacted you, and to replace it I would pay the shipping of $8.98 which I did. You have taken my original payment for the NutriBullet and now my shipping cost, and I still haven't received a replacement. Then I contact you and you tell me to fill out a letter stating that I never received the product. I did so and faxed it back to you. I check my checking account and the $8.98 has come out for the shipping so I am thinking, well maybe the NutriBullet is still coming. But no. It has been two months now and still nothing from you.

Now I have had it, refund me all my money now! You are very poor at Customer Service.

Bottom Line: No, I would not recommend this to a friend

---

Nutri bullet boost

By Ann boucher

,

Augusta, Maine

,

Jun 24, 2015

Never will order again from this company again. Product doesn't work. In ordering not clear. We were told bill was paid and then we receive a collection notice beware. Didn't want to even give one star but no choice.

Bottom Line: No, I would not recommend this to a friend

---

Advertisement

---

Unimpressed

By Allyson

,

UK

,

Jun 13, 2015

When working the NutriBullet is brilliant. I have just returned a second unit. As with the first unit, it broke down within about six weeks. The price of the unit is high, I thought I was buying a quality product. As I am the sole user of the unit it has not been used excessively. I would recommend you look at other units before you decide to purchase the NutriBullet and keep the packaging in the likelihood you may have to return the unit.

Bottom Line: No, I would not recommend this to a friend

---

Never Order From the Official Website

By Ariel

,

Fort Lauderdale, FL

,

Jun 12, 2015

I love the NutriBullet but beware of its official website.

I ordered a replacement blade from them and when I went to the checkout, all these pop-ups for "free" items kept showing up. I selected one of them, the Vitality Superboost Powder.

First off, it wasn't free. It cost $20 in shipping. Then it signed me up for automated ordering, where it ordered a new shipment and charged me another $30-something for it every few months. I didn't find this out until after I received the second shipment.

I tried calling them up so I could return it and get my money back, but they basically told me "Tough luck, you're stuck with it." I at least managed to cancel the stupid automatic ordering.

Then one month later, I get another charge on my card for $26.99 from them. I call them up again and find out that it's the second payment from the shipment I had gotten previously, which they conveniently forgot to tell me about.

Once again, I couldn't get my money back. So, my advice is to never buy anything from their website, it's a total scam.

Bottom Line: Yes, I would recommend this to a friend

---

Advertisement

---

Easy to use and easy to clean

By Bryce Dixon

,

Maryland

,

Sep 1, 2017
Verified Reviewer

I received a NutriBullet through a gift exchange several months ago. Prior to receiving the NutriBullet as a gift, I had never really thought about purchasing one. In fact, at the time I didn't have a blender, nor was I really in the market for one. However, since I now had one, naturally everything was worthy of going through the NutriBullet.

Which brings me to my first point. If you're silly enough to think this product will work on its own, revolutionize your diet and change your life, you're going to be disappointed. After all, it's a blender! You can put healthy stuff in it, or you can put Oreos in it, blend them up and pour them over ice cream.

Now that we have gotten passed the heartache of understanding that this is a cooking accessory and not a nutritionist, as a blender it works great! The biggest thing for me is that it's easy to clean. Cleaning blenders is notoriously annoying, it's typically difficult to clean them by hand, and putting them in the dishwasher is hit or miss from my experience. However, the fact that the NutriBullet comes apart, the pieces are easy to clean by hand, and putting them in the dishwasher seems to work pretty well depending on what you were blending.

Bottom Line: Yes, I would recommend this to a friend

---

Super easy to use and clean

By Renee

,

New Jersey

,

Jun 9, 2015

I've never been a veggie lover, but I eat them because they are so important for health.

With the Nutribullet, I mix greens (spinach, kale, arugula, chard, collards, etc.) with fruits of my choice. Add other nutritional options like almonds, pumpkin seeds, sunflower seeds, or walnuts. Add protein powder if you wish. Chia seeds, flax seed, or macs powder make healthy additions too. Just mix (it works way better than my blender) and drink. Delicious! And it's very easy to wash out. Only 2 parts usually. I highly recommend this product.

Bottom Line: No, I would not recommend this to a friend

---

The Perfect Product

By John Lutz

,

Suffolk , NY

,

Jun 20, 2015

Perfect product. It tears through vegetable and fruit matter that makes it so much easier for the body to accumulate and process. It's a very logical product to direct health. And from a design standpoint it is ingenious. I make quite a few NutriBullets a week with vegetable and fruit matter knowing that my body will easily acclimate it for my digestive system.

I give it 10 out of 10. It has not failed me yet.

Bottom Line: Yes, I would recommend this to a friend

---

5 stars and more energy!

By Tony

,

Chicago, IL

,

Mar 18, 2014

I love the unit. We bought ours from Bed Bath and Beyond with a 20% off coupon.

It definitely kicks off our day with a jump start. I now have energy that I never had before. You just need to find the right combination to get the perfect taste.

Bottom Line: Yes, I would recommend this to a friend

---

NutriBullet

By Dwight Bridgett

,

Windsor, NC

,

Jul 23, 2015

I am old school at 62 years of age. If a thing isn't broke, why fix it? My NutriBullet is working just fine and I'm proud to own it. All I can say is, "Attaboy".

Bottom Line: Yes, I would recommend this to a friend

---