Nutritarian Diet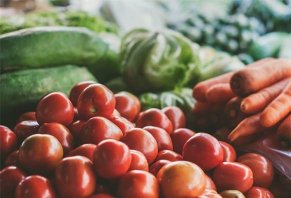 Founded by Dr. Joel Fuhrman, the Nutritarian diet is a primarily plant-based eating strategy that focuses on maximizing the nutrients you take in each meal to improve your health and energy.
Nutritarian Diet Review: Does It Work?
The Nutritarian diet is a health approach that promises to help you lose weight, lower your risk of disease, and increase your energy. This primarily plant-based eating strategy works to maximize your nutrient intake per calorie so that you fill up on "superfoods" rather than animal protein and processed snacks.
This eating strategy was developed by Dr. Joel Fuhrman, a family physician and president of the Nutritional Research Foundation. According to the company website, Fuhrman developed his health approach throughout two decades of researching the foods that are most closely linked to health and longevity.
At the time of writing, Fuhrman has authored six books based on healthy eating and has become an advocate for plant-based, whole food diets. He claims that following this eating strategy can help you reverse many types of disease, including cancer, heart disease, and type 2 diabetes.
Should you follow the Nutritarian diet, or does it make too many empty promises? This article will help you decide.
How Does the Nutritarian Diet Work?
The Nutritarian diet is branded on its website as a plant-based, disease-fighting eating strategy. It is designed to give your body the nutrients it needs from healthy food so you stay in optimal health.
At the time of writing, the Nutritarian diet offered several action plans, many of which are published in Fuhman's books or available for purchase through his website. These plans range from the long-term eating guide, "Eat to Live," to the six-week, "10 in 20" detox program designed to jumpstart weight loss.
Regardless of the method you choose, the general premise of this plan is that "Health=Nutrient Intake per Calorie" (H=N/C).
In other words, according to the Nutritarian diet's premise, your long-term health is dependent on the nutrient content of each calorie you consume. As plant-based foods tend to have the highest levels of micronutrients per calorie, these are the foods this eating strategy focuses on.
Fuhrman breaks the Nutritarian Diet down into four primary principles:
Maximize Nutrient Density: When you follow the Nutritarian diet, you focus on the quality, not the quantity of your calories. The plan uses the Aggregate Nutrient Density Index (ANDI) to rank foods by nutrient density per calorie. Kale and broccoli come in around 1,000, while chips and soda scores close to one.

Achieve Nutritional Adequacy: The Nutritarian diet emphasizes the importance of getting enough micronutrients in your food and through supplementation if necessary. These include zinc, iodine, omega-3s, vitamin B12, and vitamin D.

Maintain Hormonal Balance: Through the Nutritarian diet, Dr. Fuhrman reports that you should monitor two hormones (insulin and IGF-1) to protect yourself from diseases like diabetes and cancer. That's one reason why the eating plan is high in fibrous foods that keep insulin under control.

Avoid Dietary Toxins: Avoiding toxin exposure is an aim of the Nutritarian diet. You will need to remove all processed foods from your meals and focus on filling up on plant foods to help your body eliminate dietary toxins.
We also learned several other tips for success on the Nutritarian Diet through the company website.
These include eating your "G-Bombs" each day (greens, beans, onions, mushrooms, berries, and seeds), only eating at mealtimes, avoiding processed food and sweeteners, and replacing one meal each day with a fresh salad. The Nutritarian diet also encourages vigorous daily exercise.
What Can You Eat on the Nutritarian Diet?
As the Nutritarian Diet is primarily a plant-based eating strategy, your meals will consist of plenty of fresh produce, beans, and nuts, as well as a smattering of whole grains and seeds.
You won't consume much meat or eggs and will cut sweeteners and processed food out of your diet entirely (or minimize them as much as possible).
Depending on the Nutritarian diet program you follow, the requirements may vary. Fuhrman's website indicates that the general goal is to consume approximately one pound each of raw and cooked vegetables, one cup of beans or legumes, and at least four servings of fresh fruit each day.
The Nutritarian diet website includes its own food pyramid with the following tiers, ranked from the bottom to the top:
Vegetables: half raw, half cooked, should be 30-60% of your daily calories
Fruits: 10-40% of daily calories
Beans/legumes: 10-40% of daily calories
Seeds, nuts, and avocado: 10-40% or less of daily calories
Whole grains and potatoes: 20% or less of calories
Eggs, oils, fish, naturally raised animal products, dairy: less than 10% of calories
Commercially raised meat, sweets, cheese, processed food: rarely, preferably never
The Nutritarian food pyramid differs from the one released by the USDA in several key ways.
Notably, it puts the focus on vegetables, rather than whole grains, distinguishes between the protein found in beans and meat, and states that all animal products should make up less than 10% of your daily diet.
To comply with these guidelines, the Nutritarian diet suggests that you think of salads as main courses, not as a side dish, and to make raw vegetables the base of at least one meal a day. Even cooking oils like olive oil are meant to be avoided in favor of whole olives instead.
Regarding beverages, the plan recommends sticking to plain water or caffeine-free herbal teas.
» Recommended Reading: Best Grains, Fruits, and Vegetables That Improve Digestion
Is the Nutritarian Diet Healthy?
Will giving up most processed foods and animal products make a positive difference for your health? We spoke with health experts and looked at some of the research for following a plant-based diet, and the evidence seems to show it should.
According to one study published in a 2016 issue of JAMA Internal Medicine, there was a strong correlation between death due to heart problems for people who ate red meat, eggs, and dairy products. In contrast, the same study found that those who ate more plant proteins like beans and nuts were less likely to die from heart-related issues.
Likewise, a 2017 study in Nutrition & Diabetes highlighted that there is an association between plant-based diets and weight loss. Study participants who successfully followed a whole-food, plant-based diet for a full year dropped an average of nine pounds each.
Is the Nutritarian Diet Hard to Follow?
Whether you find the Nutritarian diet challenging to follow depends on how whether a plant-based diet is a significant adjustment for you. We think that you might find the diet restricting if you tend to eat a lot of meat and dairy and regularly drink beverages beyond water.
Says Cathy Gonzales, a family nurse practitioner, "It's not a bad diet, it's just a bit extreme. I don't think it is a diet for people who are not ready to change their whole life. On this diet, eating out would be very difficult, and most people would need to cook everything at home. Processed foods or animal protein aren't allowed, so basically, if you're ready to go vegan, go for it. If not, then there's probably a better diet out there for you that can achieve the same results without being so extreme."
On the other hand, the Nutritarian diet programs offer hundreds of approved recipes that give you flexibility for the kinds of food you can eat. This means that you can adjust the menu to a certain degree to meet your preferences.
Another thing to keep in mind is that the Nutritarian Diet doesn't restrict your total food consumption. So long as you plan your meals to contain lots of fiber-filled vegetables, you shouldn't go hungry.
Likewise, the Nutritarian diet does permit "bad" foods in limited quantities so you don't need to commit to giving them up altogether. That's a big positive for Joli D'Elia, a certified health and fitness coach in Connecticut.
"The Nutritarian diet allows for a little more wiggle room in terms of sweets and processed foods," she told us. "For this reason, I prefer Dr. Fuhrman's plan as most people are not ready to take out all added sugars and the processed foods 100% of the time. The good news is if you follow the plan 'most of the time,' your body will thank you for it. The addition of these high nutrient foods that your body breaks down and thrives on will increase health and vitality."
How Does the Nutritarian Diet Differ from a Vegan Diet?
The Nutritarian diet advocates for eliminating most animal products from your diet. How does that compare to going vegan?
One key difference is the plan's focus on the nutrients per calorie. While it's possible to follow a vegan diet while eating dessert and processed foods, the Nutritarian diet emphasizes whole, plant-based foods and restricts your sugar intake.
Likewise, Vitacost reports that the Nutritarian diet emphasizes the role of healthy fats in your diet and allows for large servings of nuts, seeds, and avocados each day. Another differentiating factor is that the eating strategy isn't 100% plant-based, as you are permitted to consume a small amount of wild-caught fish.
Put another way, a vegan diet tends to emphasize what you can't eat (animal products), while the Nutritarian diet puts the focus on what you need to eat (greens, minimally processed fiber-rich foods, and plant-based fats).
All Nutritarian diets closely resemble a vegan diet, but not all vegan diets necessarily look like the Nutritarian diet.
What Does the Nutritarian Diet Cost?
At the time of writing, it's possible to follow the Nutritarian diet as a monthly subscriber or by purchasing the company's supplemental materials as resource guides. These include the books written by Fuhrman, as well as program PDFs that are sold online for about $16 for non-members.
Below are the tiers of membership available at the time of writing:
| | Gold | Platinum | Diamond |
| --- | --- | --- | --- |
| Price | $7.95/ month | $49.95/month | $3,000 one-time fee |
| Benefits | 1,700+ recipes and meal plans, access to 'My Health Tracker,' position papers by Dr. Fuhrman, product discounts, access to webinar and social media events, the Nutritarian diet private Facebook group, videos and teleconferences, and read-only access to Ask the Doctor. | All Gold membership benefits, as well as full access to Ask the Doctor and special offers on events. | All Platinum membership benefits, as well as a 1-hour private consultation with Dr. Fuhrman, an annual 30-minute consultation with a wellness center physician, VIP seating at event lectures, and access to the Diamond Dinner with Dr. Fuhrman at Getaway retreats. |
Per the website's terms and conditions, all memberships are auto-renewed and are non-refundable. You can cancel your monthly membership at any point. If you want further information about these membership benefits, you can contact the company through their contact page.
The Bottom Line: Does the Nutritarian Diet Make Sense?
This plant-based dietary approach seems to put the focus in the right place—ensuring that you monitor the nutrient content of your meals and eschew the empty calories found in sugar and processed food.
However, this eating plan requires you to give up almost all animal products, which is more than a lot of people want to commit to. That's why many of the health experts we spoke with were reserved about recommending the Nutritarian diet.
They told us that this plan could improve your health and help you lose weight—but only if you can commit for the long term.
Even so, following the diet even partway is likely to make a big difference for your health if you aren't already eating large amounts of fruits, vegetables, seeds, nuts, beans, and whole grains. For that reason, we think that most people will benefit from following the principles that Fuhrman outlines in his books and in the Nutritarian diet membership program.
For these reasons, we suggest purchasing his supplemental material or subscribing at the membership tier that makes sense for you if you are interested in maximizing your nutrient intake per meal.
» Recommended Reading: A Beginner's Guide to Losing Weight and Getting in Shape