NuWave Brio Reviews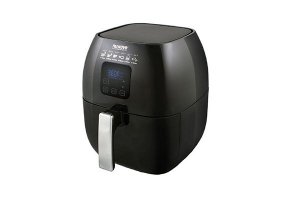 NuWave's Brio air fryer uses super-cyclonic hot air to provide all the delicious taste and texture of fried foods, but without the unhealthy fat and calories.
About NuWave Brio
By harnessing 1,300 watts of power, the NuWave Brio digital air fryer circulates super-cyclonic hot air around your food from all sides, which sears the outside and locks the flavor and juices inside. And all of this with up to 70 percent fewer calories than traditional frying.
In other words, the manufacturer tells us that you'll be able to enjoy the same delicious crunchy fried foods you love, but you won't have to worry about the guilt or messiness.
But the website indicates that Brio isn't just for fried foods; they say it can make virtually anything, in one easy-to-use appliance that cooks up to 50 percent faster and fits right on top of your kitchen counter.
Additional features include a digital touch screen for precise temperature control, even heat distribution, a unique Pre-Heat function for perfectly crispy results every time, and a safety latch. Then, when you're finished cooking, its non-stick fry basket and other parts are dishwasher safe for easy cleanup.
Whether you're looking to bake, roast, grill, broil, toast, or air fry, the NuWave Brio commercial certainly makes it appear compelling. After all, who wouldn't want all the same great taste as fried foods, but without the waist-expanding calories and other potential health risks?
Once it's set up in your home, though, can you realistically expect it to perform as well as the website and commercial make it seem? Is it really as healthy as advertised? How does it stack up to other air fryers?
You've landed here with a lot of questions. Give us a few minutes as we discuss what we learned during our research so that you can make a more empowered purchase.
Air Fryers vs. Traditional Frying
Before diving into Brio's specifics, it's important to take a look at the fundamental differences between traditional frying and air frying.
When frying with the regular method, grease is typically heated to somewhere between 350°F and 375°F. Then, foods (which are often battered and breaded, or feature an otherwise high starch content) are placed in a basket and submerged in the oil.
Once the two make contact, the surface of the food quickly dehydrates and browns (known as the Maillard reaction), as the sugars and proteins are broken down in the crust. This crust also prevents oil from soaking into the food, as the interior remains soft and gooey.
While fried foods might taste delicious, they absorb the fat and calories from the oil they're cooked in. And according to Leah Cahill, Ph.D., an assistant professor at Dalhousie University in Canada, eating too many fried foods can also increase the risk of obesity, high blood pressure, high cholesterol, and diabetes. Is there another way?
In place of submerging food in hot grease, devices like NuWave Brio surround food with hot air, usually between 200°F and 400°F, and for longer periods of time, which promise to accomplish much of the same result.
Pro tip: However, according to Science of Cooking, the Maillard reaction doesn't occur until 285°F (140°C). As a result, cooking foods below this temperature, whether with Brio or another device, will not result in many of the taste and texture benefits associated with traditional deep frying.
How does Brio deliver this super-heated air?
A Closer Look at How NuWave Brio Works
According to the owner's manual, NuWave Brio is about 12.5" tall, 9.5" wide, and 11.5" long (with basket handle). It weighs a total of 14 pounds and as mentioned earlier, uses 1,300 watts of power.
The device comes with a four-foot retractable cord and can be used with any standard electrical outlet, as long as it's placed on a flat, level surface when operating. Because of the hot air vent in the back, you'll always need to make sure that it's at least three inches away from a wall or other potential obstruction.
At the center of Brio's operation is its digital display, where you'll be able to select different modes and functions, including:
Easy Start – Here, the device is programmed to cook at 360 ̊F for 10 minutes once you press the Start/Pause button. Both temperature and time can be adjusted based on your preferences.
Auto Pause – If you need to temporarily pause cooking for any reason, simply press the Start/Pause button.
Pre-Heat – This preheats the device to the desired temperature before food is added, providing a crispier finish for foods like frozen appetizers, French fries or chicken wings.
On this same display, Brio's temperature can be adjusted in 5° increments, between 100°F and 400°F. If necessary, you can use materials like aluminum foil, metal, and even some glass pans and frozen entrée trays in the device's three-quart fry basket.
Note: The website and commercial indicated that Brio is designed to prevent water damage and can be used as a dehydrator, although neither feature was mentioned in the user's or owner's manuals.
Nonetheless, NuWave emphasizes that, compared to the competition, the device's temperature accuracy only fluctuates within an average of 5° of the set temperature. It also features a safety mechanism that prevents the unit from operating unless the fry basket is securely in place.
According to the company, NuWave Brio's advanced technology allows you to air fry food without oil, while remaining within 5°F of your target temperature.
Are There Any Safety Concerns Related to the NuWave Brio?
While this safety mechanism certainly appears useful (we didn't test the device ourselves), the owner's manual emphasizes that children should be closely monitored when using the NuWave Brio. Why?
First, the device releases hot steam from the rear air outlet opening (remember the minimum 3" clearance we mentioned earlier?), which could quickly cause a burn. Hot steam can also escape when removing the frying pan from the appliance.
Next, most accessories designed to be inserted into NuWave's chamber—such as the Grill Pan, Baking Pot, and Reversible Rack—will become extremely hot during the cooking process. And to ensure longevity, you'll want to avoid scratching the non-stick surface with sharp edged metal utensils or knives.
Finally, despite what an average consumer might reasonably conclude based on the image below, which was taken from Brio's commercial, the owner's manual expressly notes that it's not for outdoor use, and you should "not let the cord hang over edge of table or counter."
How Much Does the NuWave Brio, Its Accessories, & Recipe Guide Cost?
One NuWave Brio is priced at three payments of $33.33, or a single payment of $99.99, plus $19.95 S&H.
During checkout, we were presented with many different upgrade opportunities, including:
6-quart Air Fryer: $49.98, or three payments of $16.66
5-piece Nylon Utensil Set: $7.98 P&H
Set of 4 germ and stain-resistant Flexi-Mats: $3.97 P&H.
Ceramic Knife Set: $17.49 P&H
Grill Pan: $39.99, or three payments of $13.33
Baking pan and stainless steel reversible, adjustable wire rack: $34.95, or three payments of $11.65, plus $3.95 P&H.
Add two years to your warranty: $24.99, or three payments of $8.33
Silicone Cooking Kit (trivet and cupcake liners): $9.99, or three payments of $3.33, plus $1.95 P&H
Customized Carrying Case: $14.85, or three payments of $4.95, plus $2.95 P&H
If purchased directly from the manufacturer, Brio comes with a 90-day refund policy, as well as a one-year top-to-bottom warranty against manufacturer defects.
In order to request a refund or file a warranty claim, you'll need to reach out to customer support at 877-689-2838 or help@nuwavenow.com.
What Can We Learn From NuWave Brio's Online Customer Reviews?
Between popular online marketplaces like Amazon, Walmart.com, QVC, and Target.com, we encountered hundreds of reviews for Brio at the time of our research. Cumulatively, it seemed to have an average rating of about four stars.
Across these sites, most compliments appeared to reference ease of use, along with quick, tasty results. On the other hand, customers frequently complained about less-than-stellar quality and longevity.
Note: We encountered a YouTube video from April 2017 indicating that Brio's safety latching mechanism repeatedly malfunctioned, causing the hot pan with food grease and burnt bits to fall, thereby ejecting the contents. However, it might be a unique occurrence, as we didn't encounter any additional complaints regarding this during our research.
From a company perspective, NuWave, LLC is based out of Libertyville, IL and has brought many other popular products to market recently, including the NuWave Oven, PIC (and the updated Flex model), and Oven Pro Plus.
They held a B+ rating with the Better Business Bureau based on 184 closed complaints, as of 9/12/17. Most of these revolved around guarantee or warranty issues. A company representative responded in each instance.
How Does the NuWave Brio Compare to Other Digital Air Fryers?
Because of the tasty, lower-calorie results they promise, digital air fryers have become extraordinarily popular over the last several years, with dozens of LCD-based models available. These are often priced somewhere between $70 and $150, putting Brio somewhere near the middle.
In fact, the manufacturer acknowledges this by including a large comparison section, pitting the device against the competition for features like pre-heat, auto-pause, safety shutoff, and overall temperature range. But are these necessarily important functions?
According to Air-n-Water's buyer's guide, the five most important factors you'll want to consider when deciding which air fryer is right for you include size, wattage, capacity, and settings and features. How do other models stack up to Brio?
| Model | Price | Size | Wattage | Capacity | Settings & Features |
| --- | --- | --- | --- | --- | --- |
| NuWave Brio | $99.99-$150 | 12.5" H x 9.5" W x 11.5" L; 14 lbs | 1,300 | 3-6 qt, depending on model | Pre-heat, Easy Start, Auto-Pause |
| Power Air-Fryer XL | $149.99 | 12.8" H x 11.4" W x 13.2" L; 12 lbs | 1,500-1,700 | 3.4 qt - 5.3 qt | One-touch settings, 7 preset programs |
| GoWise USA Air Fryers | $126-$178 | Varies by model | 1,350-1,700 | 2.75 qt - 5.8 qt | 7 presets, temperature indicator light |
| Elite Platinum | $80 | 12.4 H" x 11.6" W x 12.4" L; 10 lbs | 1,400 | 3.2 qt - 4.25 qt | 60-min. timer, can be used without a basket |
| Emerald | $80 | 13" H x 13" W x 15" L; 13 lbs | 1,400 | 3.4 qt | Multi-function (fry, roast, bake, grill), 60-min timer |
Which is right for you? As with most appliances, this will be a needs-based decision on your part.
For example, pulling from the options above, if low price is most essential, then the Elite or Emerald options might work best. On the other hand, GoWise's 5.8 qt model delivered the most power at 1,700 watts and also featured the largest capacity, but also one of the highest prices.
Are multiple functions a must-have? In that case, Elite Platinum might not be right for you. But it did come with the lightest weight and one of the most compact designs, if space is a concern.
Our Final Thoughts About NuWave Brio
In the end, if Brio's specifications match up with your needs, the air fryer comes from a popular company and has mostly positive online feedback from customers. And if you're one of the relatively few who don't find it to their satisfaction, the manufacturer stands behind it with a 90-day warranty.
Just keep in mind that if you decide to request a refund, you'll lose your initial $20 in S&H, plus whatever it will cost to ship the 14lb device back to the company. Obviously, this will vary greatly depending on your location.
If you're perhaps looking to achieve the most value and avoid S&H charges altogether, you might consider shopping locally for the NuWave Brio air fryer at retailers like Target, Walmart, and Bed Bath and Beyond.
Finally, while it's good that many customers report cooking fried foods with less (or even no) added oil, the user's manual indicates that it might be necessary for some dishes. Furthermore, many of the foods that customers reported worked best in their air fryers (not Brio, specifically) were pre-fried options like French fries, chicken tenders, fish sticks, and so forth.
As such, if you're considering NuWave Brio as part of an overall healthier, slimmer lifestyle, be sure to speak with your doctor first about whether it makes sense based on your needs and diagnosis.
1 out 1 people found this review helpful

Worst warranty and customer service I have ever encountered

By John H.

,

Charleston, SC

,

Oct 13, 2019
Verified Reviewer

Let me start out by saying, I am not one of those people who gives a lot of public reviews for products, but I felt it necessary to post this review.

I was given a NuWave Brio 3-quart air fryer for Christmas from my grandmother. To be fair, I loved the product when it worked from December until August. Unfortunately, the air fryer quit working altogether, and even though the company has a one-year warranty, if your grandmother does not keep a receipt, they are unwilling to do anything at all to rectify the situation.

The company was going to require my grandmother to go back to Belks and have a copy of the receipt printed before they would start a claim. Another aspect of their conflict resolution was to send me a link to re-purchase the product at a "discounted rate" and a simple Google search proved that you can buy the product for a minimum of a 20% discount on other websites than what was offered in the link.

In all fairness, the product is great when it works, but know that the lifespan, at least for me, is less than a year on their products, and when they fail, you are not given the time of day without proof of purchase.

Bottom line, do not purchase a NuWave product as a gift, and if you do, make sure you buy them from one of their "licensed dealers". If not, the warranty is void. If you buy one for yourself, make sure it's from one of their "dealers" and keep a proof of purchase, because in all likelihood, you'll be trying to get the company to replace it after 6 to 8 months of use.

Bottom Line: No, I would not recommend this to a friend

---

2 out 2 people found this review helpful

Not as advertised

By Jon D.

,

Gray Court, SC

,

Jan 17, 2019
Verified Reviewer

I am still new to cooking with this. So far it does not compare to the results you would get with a deep fryer. French fries are not crisp, even if you only cook one layer "shaking" them halfway between...by shaking, you have to actually turn them, that's why I even tried just one layer, which does not yield many fries. I have not tried frozen chicken wings because I have not seen anywhere that states I can cook from frozen, big disappointment there. But doing buffalo wings, they want you to preheat, so after it reaches the desired temp, you have to pull the basket out and load your wings. I don't know how much heat stays in the cooker as you have it completely open, being mindful to quickly load your food and get the basket back in so you don't lose all the heat. It does not crisp up very well. I have not tried overcooking, but to me, they taste better from the regular oven, place them on a rack, so the grease drips. And clean up is easier using my regular oven. Cooking time is a little bit shorter in the NuWave.

Bottom Line: No, I would not recommend this to a friend

---

Advertisement

---

1 out 1 people found this review helpful

Smoking

By Shane M.

,

Texas

,

Dec 29, 2018
Verified Reviewer

I pulled out of box threw some nuggets in for the kids. Fine minutes after being done, the unit started smoking and melted the bottom of the unit where the cord comes in. I grabbed unit by the cord to pull out of wall socket and trow outside and noticed the cord was playable and extremely hot. Dealing with customer service is a joke - the stance of the company and the representative is that the consumer is an idiot. I tried reaching out via Facebook and Messager and they deleted my post of NuWave's now Facebook page. I have screenshots of all posted and pics of the melted unit.

Bottom Line: No, I would not recommend this to a friend

---

24 out 26 people found this review helpful

Junk product and horrible customer service.

By Matt G

,

Flint, MI

,

Feb 17, 2018
Verified Reviewer

It lasted seven months then just beeped when plugged in and no lights or LCD readout. I contacted for warranty. It took 4 business days to reply. Then I sent information and they said I purchased from an unauthorized dealer. Warranty void. What a crock! Worst experience with a company ever. Spend your money on a different manufacturer. You've been warned!

Bottom Line: No, I would not recommend this to a friend

---

Advertisement

---