NuWave Oven Reviews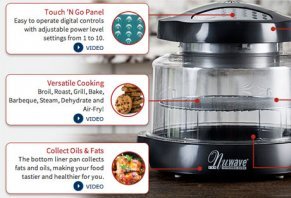 The NuWave Oven claims to use infrared technology and Triple Combo Cooking Power to help you prepare better tasting, healthier food in less time.
About NuWave Oven
A product of Healthware, Inc. and based out of Libertyville, IL, the NuWave Oven Pro is an "As Seen on TV" countertop oven that uses infrared heat to cook your food up to 3x faster – and healthier – than conventional ovens. Whether you're cooking, broiling, roasting, grilling, baking, barbecuing, steaming, dehydrating, or air-frying (similar to the AirWave Fryer), the makers of the NuWave Oven claim that no defrosting or preheating is necessary, and it helps you save money on energy costs by using up to 85% less energy. As such, the company's website claims that the NuWave Oven has sold more than three million units, and is the number one countertop oven in the U.S.
The NuWave Oven has gained a fairly high amount of publicity, having been featured on ABC, CNBC, FOX, Good Morning America, and more. Even though Healthware, Inc. has specialized in a variety of countertop kitchen products since 1997, they currently hold an F rating with the Better Business Bureau, with a total of 1284 filed complaints within the past three years. Of these complaints, the majority appear to be related to problems with services/products and advertising issues.
How the NuWave Oven Pro Works and Features
When compared to conventional ovens, the makers of the NuWave Oven claim its Triple Combo Cooking Power is what makes it so unique and powerful, which consists of the following:
Conduction – Direct heat, much like a conventional oven.
Convection – Uses a fan to circulate hot air around your food.
Infrared – Penetrates your food, and simultaneously cooks it from the inside and the outside.
According to the company, this Triple Combo Cooking Power results in food that is evenly cooked and is always crispy on the outside and moist and juicy on the inside. In addition, you can begin cooking frozen foods, without drying them out like a traditional microwave.
Getting started with the NuWave Oven is simple and easy. First, you place your food into the oven. Then, set your timer based on the food type, whether or not it is frozen, as well as total weight. The oven's power level will be set to 10 by default but can be adjusted to whatever you need. One nice feature about the NuWave Oven is that it will automatically shut itself off once cooking is complete so that you don't have to worry about it continuously running like a conventional oven.
Also, because it doesn't require any preheating or venting, it won't heat up your kitchen, and all the heat is focused on cooking your food to perfection. It's important to note that your oven will come with a reference sheet/guide that explains what power levels and times are best for different types of foods, whether or not it is frozen, weight, and several other attributes. This is intended to help ensure the best possible cooking results, and if it's not followed, your food may not turn out as you intended.
The NuWave Oven comes with a total of 10 power settings, with "HI" being the maximum, which roughly translates to about 350 degrees in a standard oven. Unlike a traditional oven though, your food will cook very quickly due to the Triple Combo Cooking Power. For example a 10lb frozen turkey will roast in about 2.5 hours. In order to avoid any cooking confusion, your oven will come with a handy power level/temperature equivalency chart.
Once you're finished cooking, you NuWave Oven is completely dishwasher safe (with the exception of the powerhead), allowing for quick and easy cleanup. However, it's highly recommended that you set your dishwasher to "air dry" in order to avoid damaging your oven.
Can the NuWave Oven Help You Stay Healthy as Promised?
According to the manufacturer, the NuWave Oven helps promote good health, as it helps to reduce cholesterol and to aid in digestion. This is because their proprietary cooking technology helps keep your food juicy and moist, so you'll be less likely to add fats or oils while cooking your food, or grease or fatty sauces after it's complete.
With this said, the NuWave Oven will not have a direct influence on your health like a weight loss product would, since you always make the decision as to which foods you'll cook. In other words, you can still cook unhealthy foods. However, if you're already cooking healthy meals, the NuWave oven will support this decision by draining unhealthy oils while it cooks.
So, can the NuWave Oven really help you stay healthy? Perhaps it's best to think of it this way: The NuWave Oven simply acts as a tool to help support your healthy cooking choices, which can ultimately help you lose weight. Just like with any other cooking device, if you choose to prepare healthy, low-fat foods, you'll increase your chances of losing weight. In this way, the NuWave Oven can help you live a healthier life, but only if you make the conscious decision to do so first.
NuWave Oven Pricing and Return Policy
The NuWave Oven is available from a wide variety of retailers, including Macy's, Walmart, Bed Bath & Beyond, and more, and ranges in price from $120-$160. However, if purchased directly from the manufacturer, it will cost you $120, or three separate payments of $39.95, in addition to $29.95 shipping and handling. This will also give you the opportunity to purchase a second NuWave Oven¾just pay an additional $29.95 shipping and handling.
However, if you go this route, there are two red flags that we noticed during our research:
When you click on the "Buy One Get One Free" special offer on their home page, you'll be redirected to a checkout section that will only display one oven, without the option to add a second.

In addition, you won't be given the opportunity to make a full payment, but instead will only be able to choose the three-payment option.
If you decide to proceed with your purchase directly from the manufacturer's website, you'll pay $69.90 upfront ($39.95 for the first payment, plus $29.95 shipping and handling), and will then be billed two follow up installments of $39.95 every 30 days thereafter. In other words, after your initial payment, you'll have your NuWave Oven paid off in 60 days. With all this said, we would recommend calling the company directly at 1-800-809-4035 to place your order.
The NuWave Oven comes with a 90-day money back guarantee, though you likely won't receive any of your shipping and handling charges back, and you'll have to incur additional charges to ship the item back to the manufacturer. Because of this, we would recommend purchasing your NuWave Oven from your local Macy's or Walmart in order to avoid additional shipping charges, as well as the hassle of returning it should you be dissatisfied with its performance.
Love it, love it

By Charlene P.

,

Riverview, FL

,

Dec 31, 2019
Verified Reviewer

I am on my third one. I cook everything in it. Brownies, roast, cookies, pizza, and the biggest thing so far, a 20 lb turkey in 3 and 1/2 hours. I cannot say enough good things about this cooking device. This is a real review and I would recommend this to one and all.

And extremely easy to use.

Bottom Line: Yes, I would recommend this to a friend

---

It has replaced our air fryer

By Andy H.

,

United Kingdom

,

Jul 23, 2019
Verified Reviewer

I replaced this as a replacement for our air fryer, although good, its capacity was limiting to one of two pieces of food.

I had tried halogen ovens, which were OK but the food generally got sunburnt on top whilst raw under neither. Yes, I could have messed around with foil but who wants that faff?

I got the NuWave oven and although the first item - frozen 12-inch pizza - welded itself to the cooking rack, I found if you preheated the oven and low rack for 5 minutes on high, then put the pizza in to cook it doesn't stick and nicely cooks the bottom. They do say you're meant to cook the pizza upside down first then flip it. You may get the base extra crispy but I find my method works fine for me.

I was surprised the maximum temperature the oven got to was 177C, but everything seems to cook just fine. I especially like the delay function, load up the oven and set the delay and then cook time - it's as easy as that.

I've done stuffed crusted frozen and fresh pizza using the 5-minute prehead on high using the low rack.

Jacket/baked potatoes 2 x large, rolled in a coating of oil and sprinkled in salt, used the delay for 1.5 hours, cooking the dish for 1 hour on high.

Sticky toffee pudding - admittedly shop-bought, not homemade.

Halloumi fries and burgers, burgers on the top, wrap fries in the cooking dish on the low rack.

Generally, I use the low rack for anything you'd would in a normal oven and the high rack for anything you'd grill.

The only point out I'd give is place the dome back on the base when complete - can't leave it on its stand as the manual says it may warp the shape.

Once the oven has cooled down I leave the cooking dish/racks to soak in hot soapy water to loosen anything baked on. Clean up is then washing it off, drying, and setup for next time.

Bottom Line: Yes, I would recommend this to a friend

---

Advertisement

---

Poor customer service

By Robert L.

,

Maine

,

May 17, 2019
Verified Reviewer

The NuWave cooked our rotisserie chicken awesome, then after 4 uses the device never turned on again. Customer service wanted to charge $22.95 to ship $84.95 (for a part without receipt). $22.95 to return a non-working component, and agree to a $79.95 two year protection plan on a replacement part. I spoke with Michelle, ID# MJ1, 1-800-689-2838. After $210.80 I reached out to Emeril Lagasse 360, they offer free replacement and shipping. I advise asking the "what if" questions before making a decision.

Bottom Line: No, I would not recommend this to a friend

---

NuWave Oven

By Chris S.

,

Alabama

,

Apr 15, 2019
Verified Reviewer

I just got my new oven and I just tried to cook a pork roast that was 5 pounds and after doing what it said I had to add 15 minutes twice to get it where it would not bleed and it still was tough to cut. I would love to know what is wrong with this product. It looked so good on TV! Thanks. I hope that I did not lose my money.

Bottom Line: No, I would not recommend this to a friend

---

Advertisement

---

Horrible products and customer service!

By Ofelia S.

,

Florida

,

Apr 15, 2019
Verified Reviewer

Horrible horrible customer service. I purchased a BRAVO XL AIR FRYER SMART OVEN, at $179.97. Once the oven was received, I checked with other distributors, and Kohl's had it for $ 119.00 plus $ 20.00 in Kohl's money. I wrote NuWave for a discount several times and never got a response. I decided to return the oven, and was told I had to pay for shipping handling $140.00! I tried playing around with the oven to use it and found it was not what I wanted and wasn't even happy with the product. I contacted customer service several times and no luck. Very very disappointed all around with the company and the product.

Bottom Line: No, I would not recommend this to a friend

---

No customer service

By Nancy G.

,

Rocky Point, NC

,

Apr 7, 2019
Verified Reviewer

I received my NuWave as a Christmas present. So here I am 4 months later, I decide to try and use this product. It came without the manual explaining how to use it, and without the cookbook that also was promised on the box. So I called NuWave, explained all the above. I had to give my name, the model number, and serial number. So next, in order to send me any information, I had to prove that I purchased it. What? I just gave you the information off the oven. Why can't you just send me the stuff I was shorted. Is it a secret? This is ridiculous. So now I have a piece of useless crap, unless I find a book of instructions online, along with a cookbook. Which is a pain to always have to use that way. Very frustrated. Lousy customer service.

Bottom Line: No, I would not recommend this to a friend

---

La la love it

By Jennifer T.

,

Fresno, CA

,

Mar 20, 2019
Verified Reviewer

It has always worked for me. I haven't used my actual oven in probably a year. It makes meat, cookies, cakes, veggies...it all comes out great! I've owned two now. The first lasted years. The second is still working, and I've had it for at least three years.

Bottom Line: Yes, I would recommend this to a friend

---

Do not purchase it from their website. The "Buy One, Get One Free" offer is a scam.

By Alma Y.

,

New York

,

Jan 6, 2019
Verified Reviewer

I purchased the "buy one, and get one free" deal for $119 with $30 shipping and handling. I distinctly saw two NuWave ovens and a bunch of additional accessories in my cart for $119. I received the first oven about a week later. But I was wondering why the second oven had not arrived. When I called, I learned that they were not shipping it because I was expected to pay $30 extra to ship the second oven and $30 extra for the accessories. On what planet would someone spend $90 to ship items which cost $119? I was so annoyed and upset. I paid through PayPal and I don't even remember seeing any screens about additional shipping and handling costs. If I had known that, I would have purchased two individual ovens at a store or I would have bought it on Amazon and received it more quickly with free shipping through Prime. I'm very disappointed.

Bottom Line: No, I would not recommend this to a friend

---

Do not buy over the phone, you will pay more than in the stores

By Rockley C.

,

San Diego, CA

,

Sep 15, 2018
Verified Reviewer

I bought this over the phone after watching and recording the TV advertisement. I went ahead and bought over the phone. It did not arrive in the 2 to 5 days promised. It did come on the 7th day but on the 6th day I watched my recorded version. It said it was over a $400 value for 3 payments of $39.95 plus S&P. I paid $424. That sure is a lot of S&P.

I tried to return it, but they said I had to pay $134 processing and shipping fees, plus I had to pay to ship it back. They never told me that part. Well, it is the first and last time I will do this. After reading other reviews, I saw the motors and plastic covers are also not so good. I hope I get $400 worth before it breaks.

Bottom Line: No, I would not recommend this to a friend

---

Big headache

By Patricia B.

,

Arizona

,

Jul 10, 2018
Verified Reviewer

I purchased my NuWave Pro a year ago this month. It cooks great when it works. A few months after I got it the fan made a lot of noise, they sent a new unit with $14.95 postage. I was happy for awhile, then went to serve dinner and the food wasn't cooked. They had me run the toast test, but I got dry bread, not toast. More postage, another unit. I used it twice with it working, then once again the food wasn't cooked. I ran their toast test, didn't even get dry bread, no heat from the unit. My warranty would be out in about one week, it was like they sent a unit they thought would last until then. I won't bother getting another cooking head, the price of postage I could soon buy another unit. Trying to save on the electric bill, but I guess it's back to the microwave and toaster oven so I don't have to use the 220.

Bottom Line: No, I would not recommend this to a friend

---

Works great!

By Puma Girl

,

Georgia

,

May 18, 2018
Verified Reviewer

This product works really good. I honestly think that some people are not reading the instructions properly or at all on how to use the cooker; I think they're kind of just copying what they might have seen the commercials. It's really important that you read your directions on anything you buy, especially if it's electric and it involves very high heat. I know it's not easy to make time nowadays because everyone is so busy and pressed for time, but if you just read them, it will make a big difference.

I also have the NuWave induction cooker that is the best things ever it's really great. I also have the NuWave Air fryer. I'm still kind of on the fence about that because I've only used it once to make french fries, and nothing really comes up that I need it for. Plus, I have so many other things I can use because I'm always trying to find different cooking products to give me a shortcut or just make cooking a bit easier.

Needless to say, I've bought a lot of different cooking products and gadgets and to be honest a lot of them end up in my Goodwill donations. So far nothing I have by NuWave gone to Goodwill yet, but I think the air fryer might be heading there soon, however, NOT because it's a bad product, I'm not saying that, but what I am saying is I like to fry my food in good, old fashion hot oil in a traditional fryer.

Bottom Line: Yes, I would recommend this to a friend

---