NuWave PIC Flex Reviews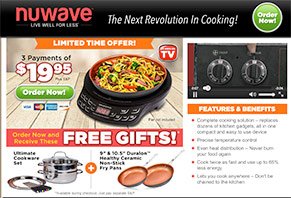 NuWave PIC Flex is a portable induction cooktop that directly heats the bottom of your cookware, reducing your cooking time and using up to 65% less energy.
About NuWave PIC Flex
Called "the next revolution in cooking" by the manufacturer, NuWave PIC Flex is a portable induction cooktop that promises to help you make "virtually anything," whether you're looking to grill, stir fry, barbecue, sear, slow cook, steam, or deep fry. You can even take it with you while camping or fishing!
Unlike other portable cooktops though, because NuWave PIC Flex doesn't use open flames or hot coils to heat your food, it stays cool to the touch and safe for the entire family. According to the company, Flex also features precise temperature control from 100° to 500°, even heat distribution, and the ability to heat up to twice as fast as conventional cooking methods, while using up to 65% less energy.
Taken together, NuWave PIC Flex promises to be an all-in-one cooking solution that can help anyone make "incredible" meals and get "great" results, and to replace dozens of kitchen appliances—helping you save cabinet space, money, and time.
You've got to admit that the idea of having a safe, flameless cooktop that can go anywhere is appealing. After all, that's probably why you're here! But when the rubber meets the road, how well can you realistically expect NuWave PIC Flex to work? Will it really allow you to cook anything? Are there other options that provide better values? We'll explore all of these important questions in this review.
To begin, let's briefly dive into the world of induction cooktops.
How Do Induction Cooktops Like NuWave PIC Flex Work?
We won't go into too much detail here, but in a nutshell, an induction cooktop uses magnetism to generate heat.
If you were to take something like the Flex apart, you'd find a metal coil underneath its cooktop. When you turn the device on, electricity is fed to this coil, thereby creating a magnetic field. However, not just any electrical current will do. In this instance, you'd need an alternating current, which constantly reverses direction in order to produce heat through something known as an oscillating magnetic field.
Now, you might be picturing a standard electric stove coil here, but this isn't how induction works. Instead of generating heat directly (as with a hot coil or open flame), this magnetic field heats the cookware directly above it. And because this heat is distributed evenly throughout the bottom of the pot or pan, hot and cold spots are largely eliminated.
But here's the catch: When using an induction cooktop, only specific types of cookware will turn this magnetism into heat.
Can You Use Any Kind of Cookware with NuWave PIC Flex?
In short, no. As you might imagine, only magnetic metals will react with induction cooktops, which include iron, magnetic stainless steel (contains a small amount of iron), and steel.
Pro tip: You're not limited only to pans made with these materials (although they're certainly the most common). Some manufacturers will design their pans with induction-ready bases, while featuring a ceramic non-stick surface that makes contact with your food.
Want a surefire way to know if a pan will work with an induction cooktop like NuWave PIC Flex? Look for this symbol on the packaging. Source: Artisan's Square
In fact, as we'll talk about next, you might be able to purchase induction-ready pans when checking out with your PIC Flex.
How Much Does NuWave PIC Flex Cost?
Each NuWave PIC Flex will cost you three payments of $19.95, plus $19.95 S&H, bringing your total to $79.80.
According to the fine print at the bottom of their site, you'll also be able to purchase the Ultimate Cookware Set for an additional $15 S&H, along with 9" and 10" Duralon Healthy Ceramic non-stick fry pans for an additional $14.95 S&H. Note: These options weren't available when we attempted to check out.
With your order, you'll also receive free access to the Precision Cooking Club, which offers videos that show you how to master your NuWave PIC Flex through step-by-step videos, along with gourmet recipes.
All NuWave PIC Flex's come with a 30-day refund policy, less S&H charges. On order to request one, customer service can be reached at (877) 689-2838.
How does NuWave PIC Flex's price compare to the rest of the field?
NuWave PIC Flex vs. the Competition
Seeing what the competition has to offer is as easy as typing "portable induction cooktop" into any search engine (you'll find the original NuWave PIC among the top results—more next). If this is your first time researching these devices, Heavy.com wrote a fairly in-depth comparison of some of the top models, so it might help give you an idea of which features are important.
From a price perspective, even with its fairly high S&H charges, NuWave PIC Flex falls toward the lower end of the spectrum. Is it the least expensive? No, since some single burner options can be found for as little as $35. In fact, Flex's predecessor, the NuWave PIC, could be purchased for $58 at the time of our research.
Speaking of which …
Original NuWave PIC vs. NuWave PIC Flex
Although the manufacturer claims the Flex is the "new generation" of the original NuWave PIC, they don't tell us specifically how they're different. However, we wrote an in-depth review for the original NuWave PIC, which we'd definitely recommend reading at your leisure to get an idea of what you might experience with the Flex.
On the outside, comparing both versions' touch panels, it appears the Flex has only one extra button labeled "Watts" in the upper left-hand corner. While we're not told exactly what this means by the company, Flex's commercial mentions something about wattage control, but doesn't go into any additional detail. What is it?
We spent a fair amount of time searching online, trying to connect wattage control and temperature, and just about every result referenced e-cig modifications.
Nonetheless, other than this wattage control, the original NuWave PIC and the more recent Flex model appear to be nearly identical. We'll be sure to update this review as reader reviews start flowing in and we learn more.
Will NuWave PIC Flex Revolutionize the Way You Cook?
Based on what we learned during our research, as well as online customer reviews for the original NuWave PIC, we think there are some important considerations for the Flex.
You Can Still Cause a Mess
NuWave PIC Flex's commercial opens with a shot of a very messy stove, complete with overcooked, dried-on food, boil-overs, and splattered sauces. And the line of reasoning is that the induction cooktop will help prevent something like this from occurring.
But keep in mind that if you don't know what you're doing or you're not paying attention (e.g. setting the temperature too high), you can just as easily burn food, cause a boil-over, or splatter sauce all over the place. In other words, NuWave PIC Flex only changes how your food is heated, not necessarily the amount of heat it's exposed to.
You Won't Become a Professional Chef Overnight
Next: Yes, just like a traditional electric or gas cooktop, you'll be able to make "virtually anything" with NuWave PIC Flex. But, remember two things:
Cooking tasty food involves much more than just heat (such as ingredients, technique, etc.), which are things NuWave PIC Flex obviously won't help you with.
As we discussed above, you'll need special induction-ready cookware to do so. Be sure to factor this into your overall budget if you don't already own some.
Replace All Your Kitchen Appliances?
Speaking of cookware, the Flex commercial claims you'll be able to replace "hundreds of dollars in kitchen clutter," while showing pictures of fondue sets, slow cookers, and more. Remember though; NuWave PIC Flex is just a heat source. So, to replace all these appliances, you'd need the appropriate cookware to serve the same functions.
Will You Experience Faster Results?
Finally, as we learned in our original NuWave review, we found that a traditional electric cooktop boiled water faster (by about a minute) than the NuWave PIC. This doesn't mean that the manufacturer is overhyping Flex's performance, though. We only mention it to outline the fact that there are many different factors that can affect your cooking time, with the NuWave PIC Flex or any other cooktop.
Have you cooked with the NuWave PIC Flex? What were your initial impressions? Do you continue to cook with it on a regular basis? Give us your insight by writing a review below!