Oasis Financial Reviews
Claimed This company has claimed this profile, is getting alerted on any new customer reviews entering this page, and may engage in dialogue with its customers to address their matters.

Companies cannot pay money or provide goods in order to remove or alter customer reviews.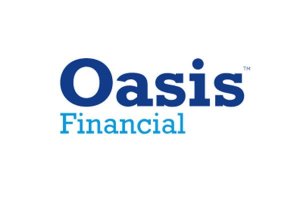 Oasis Financial specializes in providing immediate funds for individuals in the midst of a pending legal settlement related to auto accidents, worker's comp claims, and more.
About Oasis Financial
As their name implies, Oasis Financial specializes in lawsuit and legal funding services targeted toward individuals who need to liquefy cash related to pending legal settlements.
The company claims to be the "largest and most recognized national brand in legal finance providing non-recourse lawsuit funding to consumers involved in personal injury litigation," and to be a fast and efficient method of obtaining the cash you need.
In business since 2002, Oasis Legal Finance is based out of Chicago, IL, and is a founding member of American Legal Finance Association (ALFA).
The company holds an A+ rating with the Better Business Bureau, which is based on 13 closed complaints over the past three years.
Based on our research, the most common complaints we encountered cited high fees, which in some instances amounted to more than the final settlement (read more about this in the Bottom Line section).
How Oasis Financial Works
Oasis Financial can help you liquefy future payments related to structured settlements, and turn it into a lump sum cash payment.
Unlike these other companies, though, Oasis Financial specializes in lawsuit and legal funding.
For example: If you're involved in a personal injury suit and find yourself unemployed for a period of time, your obligations don't stop. You may have a mortgage, car note, medical and legal bills, and more, all of which need to be paid each month.
With this in mind, Oasis Financial claims to have "a simple, fast and efficient streamlined funding process" that can provide you with the cash you need, in exchange for "selling" them the future payments related to a pending settlement. This is how it works:
You submit your application and give Oasis Financial permission to speak with your attorney, who will then contact them to see whether or not your case qualifies.
Your lawyer will prepare documents relevant to your case, including retainer agreements, incident reports, medical bill summaries, and so forth.
If Oasis Financial's "team of legal, business and financial professionals" deems your case to be strong, funding will proceed from there. For full details, see the company's Funding Overview.
Oasis Financial Pricing
According to the Oasis Financial website, applying is free, and there are no upfront costs. The company also claims that, because the process is not a traditional loan, your credit rating has no impact on your approval, which can often be obtained in 2 days.
Fees associated with your future payment purchase often vary and will need to be discussed with the company at 877-333-6675 or via an online form.
Pros
Claims to be the "largest and most recognized national brand in legal finance."
Claims that if you don't win your case, there's nothing to repay.
Extensive website with very detailed information about the legal funding process.
A rating with the Better Business Bureau.
Cons
Numerous customer complaints involving high fees, in some instances, totaling more than the final settlement amount.
Bottom Line – Should you Use Oasis Financial Finance?
Keep in mind that, while the cash provided by Oasis Financial technically doesn't constitute a loan, if you don't repay it quickly, large fees and high interest rates can quickly add up.
In fact, according to this NY Times article from 2011, because legal lending "remains unregulated in most states," they are "unrestrained by laws that cap interest rates," which "often exceed 100 percent a year."
This means that if your case doesn't conclude soon after taking out your "loan," you could end up paying thousands in interest.
As a testament to this, one of the individuals mentioned in the article owed Oasis Legal Finance more than $23,000 after it took their case 18 months to settle, on a loan that originally totaled just over $9,000. To further solidify the issue, you can read about similar situations here, here, and here.
In addition, Oasis Legal Finance was sued by the State of Colorado in 2010 for alleged deceptive trade practices and unlicensed lending, which appears to have been upheld by the courts.
Ultimately, Oasis counter-sued, claiming that "the state was improperly trying to regulate them as lenders under the Uniform Consumer Credit Code." A copy of the court documents can be found here.
What this comes down to is that if you don't absolutely have to take out a "legal funding" loan, it's best to avoid them altogether.
Totally awesome people to work with, make things very easy and smooth, explain things very clear.

By Ean S.

,

Florida

,

Mar 23, 2020
Verified Reviewer

Oasis is the way to go. My overall experience with Oasis was great. Everyone I spoke with was very clear, consistent, caring, supportive, and forgiving. Understandable, simple paperwork, no mumbo jumbo. Tony was great, and the experience overall, and I would recommend it to family and friends, and will possibly use them again in the future.

Bottom Line: Yes, I would recommend this to a friend

---

Oasis help me get in the place where we were practically on the streets and I so deeply appreciate it

By Lora G.

,

Chicago, IL

,

Mar 13, 2020
Verified Reviewer

You guys were a tremendous help for me and my grandson. We really truly truly are blessed that you guys came into my life because I was in so very much in need and I would definitely recommend you guys to anyone that's needing your service, and I will definitely plan on using you guys in the future. Thank you.

Bottom Line: Yes, I would recommend this to a friend

---

Advertisement

---

Good experience

By Tammy M.

,

Binghamton, NY

,

Mar 3, 2020
Verified Reviewer

I was able to get the money needed to save my apartment while waiting for my settlement, the process was easy and fast, had my money in a few days. Not having a bank account was not a problem, Western Union was an option for me. I would recommend this company to friends and family who are waiting for their settlement to come through. Staff was very friendly and helpful walked you through the process.

Bottom Line: Yes, I would recommend this to a friend

---

Fast service

By Raymond W.

,

Rock Hill, SC

,

Feb 21, 2020
Verified Reviewer

I called Oasis in the afternoon and by 7 pm that night I had the money in my hands. It was very easy, the customer service was on point and pretty much did everything for me. I would totally recommend their services.

Bottom Line: Yes, I would recommend this to a friend

---

Advertisement

---

They definitely have done enough just keep me afloat to start at least.

By Anthony S.

,

Colorado

,

Feb 11, 2020
Verified Reviewer

I was a little worried if it would take long. But surprisingly they came through quite quickly, it was in about a week when I got my amount of money and it was saving me for some rent and then some so I was completely grateful. Hopefully, I can get a little bit more assistance from them but I will soon see and try to contact them again.

Bottom Line: Yes, I would recommend this to a friend

---

Very fast approval

By Taylor S.

,

Massachusetts

,

Feb 9, 2020
Verified Reviewer

They were wonderful, very fast approval and very professional. They helped me in a very tough time when I was in need of help to pay my bills. I would highly recommend them to a friend.

Bottom Line: Yes, I would recommend this to a friend

---

Excellent service.

By Sheila H.

,

Virginia

,

Feb 6, 2020
Verified Reviewer

This was my second time using Oasis. I used them several years ago and never had a problem. I just used them recently and it was quick, hassle-free, and great service. I appreciate Oasis.

Bottom Line: Yes, I would recommend this to a friend

---

Quick and helpful

By Sandra C.

,

Jonesboro, GA

,

Jan 31, 2020
Verified Reviewer

In a time of need I would recommend Oasis to anyone - my friends, family. I was desperate, that was quick. Curtis was patient overnight and very helpful, I would do it again if I had to, my bills are piling up, thank you so much.

Bottom Line: Yes, I would recommend this to a friend

---

Ok service

By Sarah R.

,

Wellford, SC

,

Jan 13, 2020
Verified Reviewer

They really helped me. I just wish I could make payments, instead of the money coming out of my very small settlement. Other than that, it really helped me. This is all I have to say, my attorney, I'm not so happy with.

Bottom Line: Yes, I would recommend this to a friend

---

Milton is the best!

By Tiera P.

,

Houston, TX

,

Jan 13, 2020
Verified Reviewer

My experience was the best, they worked really fast on my case, and they made sure I was happy. The first person I spoke to was Milton, he's very professional and understanding. The people after him, they are really straight to the point but I'm not complaining, I have no problem calling back for things I don't understand. Overall, I had a great experience!

Bottom Line: Yes, I would recommend this to a friend

---

I needed help so my kids could have Christmas

By Anthony H.

,

Illinois

,

Jan 13, 2020
Verified Reviewer

I'm very grateful for Oasis, if it wasn't for Oasis, my kids would not have had Christmas. My Workers Comp checks stopped and I didn't have anything. I was depressed trying to figure out where was I going to get the money for my children for Christmas. I saw a commercial talking about Oasis so I gave them a call and my kids were happy, and so was I. Thank you Oasis, my kids had Christmas.

Bottom Line: Yes, I would recommend this to a friend

---