Oclean One Reviews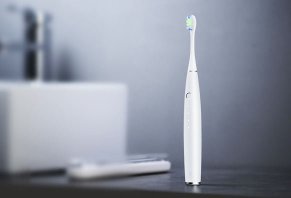 Oclean One is a high-end smart sonic toothbrush that uses special sensors, Bluetooth connectivity, and a smartphone app to help improve brushing habits.
What Is Oclean One?
Billed as the first intelligent audible electric toothbrush, Oclean One features a variety of technological innovations that promise to help users track and correct their brushing habits, personalize their oral care, and take their overall experience to the next level.
The company notes that the sonic toothbrush also features a simple and elegant design, along with a soft touch exterior, a powerful motor, and long-lasting battery. Whether inside or outside, we're told that all parts are manufactured to exacting specifications for a luxurious feel and appearance.
From kitchen appliances and lighting to thermostats and laundry machines, an ever-increasing number of the electronics we use every day are gaining 'smart' capabilities. And for a good reason—they can often help simplify our lives.
But a smart toothbrush? The Oclean One is clearly an attractive device that seems to feature top-notch engineering. But how much value will you get from the information it provides? Are there any competing models?
You're here because you want to learn more before handing over your hard-earned money. Before diving in, though, one important question that might be at the forefront of your mind is: Smart or not, will a more expensive electric toothbrush provide more value than a standard manual one? Let's quickly address this.
Are Electric Toothbrushes Better Than Manual Options?
Based on their built-in motor, there's no doubt that an electric toothbrush will provide more power per dollar than manual options. Although the American Dental Association indicates that they're equally as effective for maintaining oral health:
"Both manual and powered toothbrushes are effective at removing plaque. While the powered toothbrushes are more expensive than most manual toothbrushes, some people prefer the powered version. People who have dexterity problems—like the elderly, people with disabilities, or children—or those who have dental appliances, like braces, may find a powered toothbrush easier to use."
The Mayo Clinic reports something similar, although they add, "An electric toothbrush's bristle movement might even help you remove more plaque from your teeth and improve your gum health."
Along these same lines, research firm Cochrane published a 2014 study showing that, when comparing a powered toothbrush with a manual model, the powered version resulted in "an 11% reduction in plaque at one to three months of use, and a 21% reduction in plaque when assessed after three months of use. For gingivitis, there was a 6% reduction at one to three months of use and an 11% reduction when assessed after three months of use."
However, they emphasized during the summary that, "the benefits of this for long-term dental health are unclear."
Long story short: If you have gingivitis concerns, dexterity or other movement problems (such as arthritis), or simply prefer the unique feeling, then an electric toothbrush could be exactly what you need.
But will Oclean's smart capabilities add to the appeal of an electric toothbrush? Let's find out how it works.
Taking a Closer Look at the Oclean One Smart Sonic Toothbrush
Vibrating electric toothbrushes utilize a battery-powered motor to move the attached bristle head in quick back-and-forth motions. If this vibration is fast enough to produce an audible sound, it's then known as a 'sonic' toothbrush.
With this in mind, why does Oclean One claim to represent the next generation of sonic toothbrushes? For several reasons:
On the outside, Oclean's all-new material and painting process are said to deliver a smooth, luxurious look, along with built-in anti-bacterial and anti-fouling protection. There are no gaps in the ultra-portable unibody design larger than 0.4mm, and it's rated IPX7 waterproof.
At the head, Oclean uses Pedex diamond, Pedex reminder, and DuPont Tynex Brilliance Pro bristles, which are diamond shaped to allow for a deeper clean, while maintaining a comfortable feel.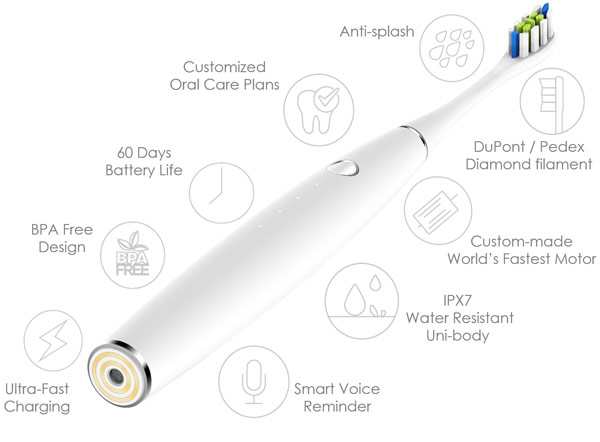 Even compared to other sonic toothbrushes, Oclean One's smart technology allows users to gain insight into their brushing habits and create custom care plans. Image credit: YunDing Inc.
On the inside, the toothbrush features a built-in gyroscope that detects motion, angle, and pressure. Using an intelligent algorithm, the CPU then analyzes this data and passes it along to the smartphone app (more soon) via Bluetooth 4.2, where it can provide users with different modes, care planning, bristle replacement reminders, and reports.
Users can even listen to voice reminders while they're brushing, while all the over-the-air software and firmware updates are handled seamlessly.
The One smart toothbrush provides three different modes (cleaning, whitening, and massage) and four intensity settings, allowing users to customize thousands of brushing plans for any specific need.
According to the company, Oclean One's sonic motor features a patented structure design that increases power more than 20 percent over the competition, with a lifespan of about 5,000 hours.
This motor is powered by a 2,600 mAh battery that's said to vibrate the head at 42,000 rpm, with the largest oscillation movement at 5.5mm. It will last 60 days per charge, and only takes 3.5 hours to recharge.
How Does Oclean One's App Work?
While Oclean One's hardware provides users with brushing ability, all of the data it collects is sent to and processed by the companion iOS (v8.0 and higher) and Android (v4.4 and higher) app. How's it work?
While the company didn't provide a whole lot of detail on iTunes or Google Play, we're told that users will receive a smart score after they're finished that shows how well they brushed.
This takes into account factors like total brushing time, technique correctness, and cleaning and brushing intensity, which you'll be able to use to earn points and win rewards as you improve your oral health.
Inside the app, users will be able to choose between the different modes and customized cleaning plans discussed earlier, as well as track their progress and obtain suggestions about how to improve brushing habits.
Omate's marketing manager let us know that if the app isn't near the user, in order to manually record their activity, they can open it at any later time to modify their plans or adjust other customizations.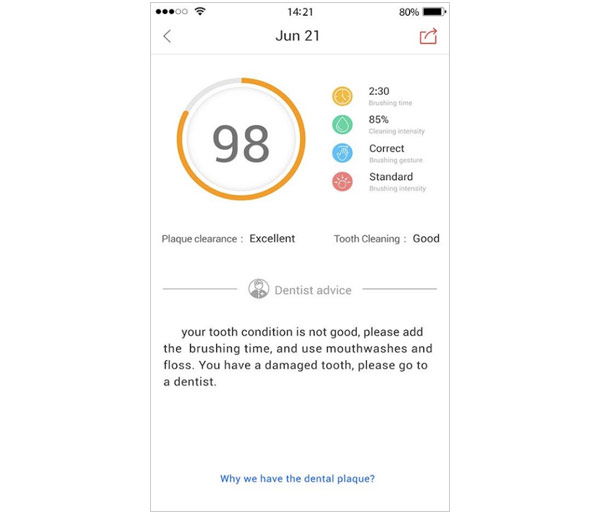 In this Oclean App screenshot, we can see the user's overall brushing score, including total time, intensity, and technique. Below, suggestions appear that can help improve habits, although the grammar appeared to be less-than-stellar at the time of our research. Image credit: Google
How Much Does Oclean One Cost?
According to the main product website, Oclean One wasn't available at the time of our research, with an as-yet unannounced Indiegogo campaign on the horizon.
We learned that Oclean's campaign released on August 31, with an expected shipping date in November 2017. Products and prices were as follows:
Mount: $9
Head Brush Pack x 3: $19
Oclean One Toothbrush: Pledge options between $79 and $99
Two Oclean Toothbrushes: $149
Three Oclean Toothbrushes: $199
Unless otherwise noted, each unit comes with a travel case, standard clean brush head, magnetic USB charger, and a user manual.
What's the difference between each head? Standard options are said to feature DuPont Brilliance and Pedex bristles, while the deep cleaning head uses a different combination of DuPont Brilliance Pro and Pedex bristles.
Additional accessories include a mirror mount for $9, which will eventually retail for $14.
Important note: We also found a Chinese version of the Oclean One sonic toothbrush available on GearBest for $100.89, with an average shipping time of 19 days to the U.S.
Per the company (Omate's) marketing manager, all Oclean brushes come with a five-day no question asked return policy from date of reception, along with a one-year global warranty
Oclean One vs. Other Smart Sonic Toothbrushes
There are dozens of sonic toothbrushes on the market competing with Oclean One, many of which come from name brand companies like Philips Sonicare (some of whose models use similar Diamond bristles as Oclean), Sonic FX, and Waterpik.
Price-wise, most seemed to hover between $20 and $40, although some options were available for as low as and as $10 and as high as $200.
But what about other smart electric toothbrushes? We encountered a total of four models during our research, two of which were geared toward adults, while the remainder were for children.
From a similarities perspective, all featured app access, Bluetooth connectivity, and the ability to record brushing activity. Were there any standout features between them?
| Brand/Model | Price | Target Market | Special Features |
| --- | --- | --- | --- |
| Oclean One | $79-$169 (pre-order) | Adults | Soft antibacterial surface, smart voice reminder, 60-day battery life (3.5hr recharging) |
| Kolibree Ara | $129 | Adults | Proprietary AI technology, built-in magnetometer, tracks zones brushed, can also work without an app. Comes w/kids app as well. |
| Oral-B Pro 5000 | $129.99 - $159.99 | Adults | Head oscillates, rotates, and pulsates; 5 modes, pressure alert if pressing too hard, pulse timer for switching between mouth areas |
| Grush Smart Gaming Toothbrush | $49 | Children | Game-based tracking app, tooth-to-tooth navigation technology, parental tracking equipped, free cloud storage |
In addition to their respective prices and special features, WebMD indicates that the right toothbrush—electronic or otherwise—will also come down to factors like:
Size – It should be easy to handle and comfortably fit in your mouth

Bristle Variety – Most dentists recommend soft or medium bristles, which must have a rounded tip

Expert Recommendation – Look for the ADA Seal of Acceptance, which indicates that it's been thoroughly tested and passes their safety criteria. Also, ask your dentist about any models you're considering.
Clearly, if you have a small child in mind, then the Grush model's kid-specific design seems to take the cake. On the other hand, if you're an adult and price is the main factor, then the Oclean One might be difficult to beat, although there's currently no release or ship date available.
Interviewed in the Mayo Clinic article referenced earlier, Thomas J. Salinas, D.D.S. adds that "other features, such as adjustable power levels, timers, and rechargeable batteries" could also be beneficial, depending on your specific needs.
Our Final Thoughts About the Oclean One Smart Sonic Toothbrush
Based on what we learned from the device's website, the Oclean One seems to be a high-quality, thoughtfully designed sonic toothbrush that, when paired with the smartphone app, could provide insightful information that might help maximize your oral health.
On top of this, the toothbrush was one of the lower priced smart options at the time of our research.
Because of this, it's no surprise that Oclean appears to be a highly popular product. In fact, since the Indiegogo campaign released on August 31, 2017, the company had already raised more than $50K, with more than three weeks to go, based on an original goal of just $20K.
Considering this, if you're interested in getting your smart toothbrush for the lowest possible price, now may be the best time to act. And if you're ultimately dissatisfied with its performance once it ships (keep in mind that delays are common with crowdfunded projects), you'll have five days to return it for a full refund.
In the end, as long as you can potentially wait a few months, it doesn't seem that customers have much to lose when it comes to Oclean One, outside of perhaps a few dollars in return S&H charges.
Failed in a month

By Martin S.

,

United Kingdom

,

Dec 10, 2018
Verified Reviewer

After a few weeks of intermittent use (I continued with my Oral-B brush mostly) the Oclean became unusable. It switched itself on repeatedly for brief bursts. Operating the switch didn't solve this and neither did the app help. It happened with Bluetooth disconnected (according to the app).

I cannot recommend.

Bottom Line: No, I would not recommend this to a friend

---

Terrible product, possible scam

By Adam S.

,

Florida

,

Sep 26, 2018
Verified Reviewer

I went through four of these toothbrushes (thanks to Amazon's amazing customer service and free returns), and they always had the same issue. The toothbrush would simply die, probably from water damage (a toothbrush should be waterproof) and would only last a maximum of 2.5 months. Amazon has since removed the product from their website, I'm assuming because of fake reviews (it had a 4.5 rating) and because of so many returns. It's a terrible product. If you see it for sale, DO NOT BUY.

Bottom Line: No, I would not recommend this to a friend

---

Advertisement

---

Terrible customer service

I must first say that I truly like the toothbrush. What I don't like is the inability of the company to back the quality of their product nor treat customers as they are customers.

I bought two brushes, one in each color so that my partner and I can know which is which. I also ordered a number of additional brushes, in each color. I received all white brush heads and when I asked whether they could be exchanged for a black and white toothbrush, which looks kind of goofy to me, I was told that I could make the "additional purchases" on Amazon ("only one color could match the extra brushes but today you can buy any color on Amazon: https://www.amazon.com/Sonic-Electric-Toothbrush-Rechargeable-Toothbrushes/dp/B077S6NHC7/"). The fact that I asked for four in each color was not their concern. The additional sale was.

Then after two months, the charger stopped working. It kept saying something along the lines of charger not correct and eventually the brush ran out of juice and stopped working. Again, I contacted customer service and was told that I would need to take a video (of what a toothbrush that didn't work or a charger that was not engaging, I'm not really sure) and to provide the serial number. Now I assume that most people don't write down the serial number of items they buy unless they are extremely expensive. I do assume that a company has the serial number of the item they sell. In other words, they should have it whether I have it or not.

They basically then told me that they couldn't help me. To say that I find their service bad would be kind. There are a number other similar toothbrushes out there. My suggestion is to go explore other options. I was going to buy one for each of my children, not anymore. Companies that don't stand behind their product and treat people poorly don't deserve the business.

Bottom Line: No, I would not recommend this to a friend

---

Terrible customer service, like no customer service

By Don Clifton

,

Washington

,

Jan 19, 2018
Verified Reviewer

My toothbrush quit working properly after less than a month. I tried to contact customer service, but there is none. There is no contact information located anywhere on their website, on any of the product boxes anywhere.

I finally went back to Indiegogo, which is where I purchased my unit, and found an email message left by the company's president. I emailed him with my complaint.

After a few days, I got an email from an assistant of some sort who told me I'd have to send my unit to China for examination and gave me a Chinese address to send it to, written in Chinese characters.

I emailed back complaining that this isn't customer service at all, sending a unit back to China is ridiculous and asked for another way to resolve the problem.

I'm still waiting to hear back.

If this is the way customers are treated, with no contact info, and you have to send your unit to China, then, to say the least, I'm not impressed.

Beware, now you know what to expect if you have a problem. I would not recommend purchasing a toothbrush from Oclean.

Bottom Line: No, I would not recommend this to a friend

---

Advertisement

---