Odyssey Blanket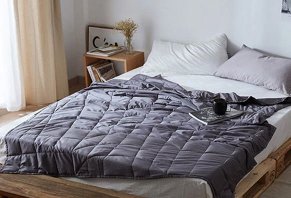 Summary
The Odyssey Blanket is a weighted blanket that is designed to help you fall asleep faster if anxiety and other conditions tend to keep you awake at night. While the science indicates it could be helpful if you struggle with anxiety, ADHD, or stress, it is more expensive than comparable options and only comes in one size.
Odyssey Blanket Review: Does It Work and Is It Worth It?
The Odyssey Blanket is a weighted blanket meant to help offset anxiety and ADHD symptoms, and provide better sleep.
If you struggle with falling asleep because you're anxious or you can't stop your mind from racing, you're not alone. Data indicates that around one out of four people has a hard time falling asleep and nearly 70% of us have sleep issues at least once a week.
Weighted blankets have become a popular way to combat these sleep issues. Odyssey Blanket says the weight of their blanket provides a sense of peace and calmness that offsets our worries and helps us fall asleep faster.
This review will help you decide if the Odyssey Blanket is the right remedy for your sleep issues.
Scientific Efficacy: Do Weighted Blankets Work?
The Odyssey is a twin-size, square-stitched cotton blanket the manufacturer fills with small ceramic balls that make the blanket weigh around 15 pounds.
When you pull the blanket over you, the weight mimics a hug or swaddling, two things that tend to calm down adults and children.
In theory, this feeling of calmness helps you fall asleep faster and sleep more soundly than if you used a comforter or sheet.
When you buy a product like the Odyssey Blanket, your goal is to find a solution for your sleep issues.
Our analysis of existing research indicates that while there aren't a high number of studies about weighted blankets, the ones medical experts often cited are promising.
People with anxiety, ADHD, and those dealing with autism all experienced lower levels of anxiety and varying levels of better sleep when using a weighted blanket.
Yet while the results are promising, Dr. Maegan Pisman, a board-certified behavior analyst and adjunct instructor at Pepperdine University, says the studies, in general, aren't exhaustive enough to conclusively say weight blankets will help you.
"It is important to recognize that although some individuals may report experiencing improvements as a result of using these products, it does not mean there is a direct causal relationship between their use and symptom reduction," Dr. Pisman told us.
That being said, if you decide to use a weighted blanket, the studies we reviewed used either 30-pound blankets or suggested that you use a blanket that weighs at least 10% of your body weight.
That weight limit is lower than the average weight of American men and women: around 200 and 170 pounds, respectively. For you, this means you might experience diminished benefits from the Odyssey Blanket.
Also, much of the research about weighted blankets focuses on children with ADHD or autism, or adults with anxiety issues.
Side Effects of Using a Weighted Blanket
As you consider if the Odyssey Blanket is right for you, it's important for you to understand the side effects of using one. These side effects relate to specific health conditions as well as a mental-health drawback you may not immediately recognize.
It Could Make Breathing Issues Worse
Harvard Health advises people with sleep apnea or respiratory issues to talk with their doctor before using a weighted blanket. The extra weight on your lungs and chest could exacerbate your existing breathing problems.
It Could Keep You from Solving Your Anxiety Problems
Stephanie Woodrow, a Maryland-based licensed clinical professional counselor, said that weighted blankets can help with anxiety but they could impede your ability to cope.
"With lots of different tools or devices, whether it be apps or weighted blankets or teas, what we're doing is teaching ourselves that we can't handle those emotions and those internal experiences and that we need those external factors in order to handle those things," she said.
For example, if you're in a meeting at work and begin to feel anxious, you can't wrap yourself in a blanket Woodrow observed.
Therefore, she said, you need to get to the root of the anxiety issues you face.
"For people who don't have an anxiety disorder but struggle with anxiety, even having one or two sessions with a therapist who specializes in anxiety, just learning some new information can be incredibly beneficial," she said.
Pricing
All prices include free shipping:
$99.95 for one
$179.95 for two
$249.95 for three
$319.95 for four
If you aren't satisfied with your Odyssey Blanket, you have 90 days to make a return.
How the Odyssey Blanket Compares to Popular Weighted Blankets
Weighted blankets have become a popular product because of the number of people dealing with sleep issues like you.
The following list helps you see how the Odyssey Blanket compares to three other twin-size weighted blankets that Amazon shoppers purchase often and rate highly:
Odyssey Blanket: $99.95, 15 lbs.
RelaxBlanket: $45.90 to $59.90, 7 to 25 lbs.
Syrinx: $39.90, 15 lbs
YnM: $64.90 to $79.50, 12 to20 lbs.
A few things to consider as you make your choice is that the Odyssey Blanket only has one size, weight, and color. If you want any variety in these options, you'll need to expand your search. The three brands we listed above have multiple options for color, weight, and size.
The Bottom Line
As you search for a way to fall asleep easier and achieve more comfort during your sleep, weighted blankets present a promising option.
In the past 15 years, several studies show that weighted blankets helped people with a variety of health issues. Anxiety went down. Stress went down. Sleep quality went up.
If you're dealing with anxiety or ADHD, there's a chance this blanket can help you calm yourself down enough to fall asleep.
However, the blanket's relatively light weight (15 lbs.) and single size make it limited in its ability to help you if you weigh more than 150 lbs. and want a blanket for your queen or king bed.
Finally, this blanket is meant to help with the way anxiety and ADHD impede your sleep. It is not meant to be a cure for either condition.
If you don't address the underlying condition, you won't solve the sleep issues for which the Odyssey Blanket is a temporary solution.
Customer Reviews
Our Promise to You
In order to safeguard you and ensure helpfulness and relevance, our compliance team manually assess every customer review before it goes live.
We have a zero-tolerance policy for fake reviews, and companies cannot control or alter any reviews at any time.