Off The Record Reviews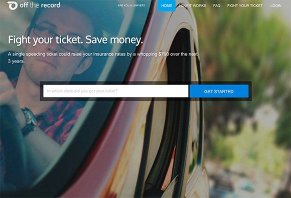 Using their network of more than 250 traffic lawyers, Off The Record claims to help customers contest tickets and keep them off their driving record.
About Off The Record
Promoted as the smart way to fight your traffic ticket, Off The Record's mobile and web technologies promise to make it easy for the country's more than 200 million drivers to fight tickets, keep violations off their record, and protect their insurance premiums from unjust penalties.
In fact, the website indicates it's as easy as ordering take-out; the company also boasts a 97 percent success rate.
Compared to traditional traffic ticket lawyers, we're told the process works over four steps and takes less than a minute. You won't be required to mail in your ticket or show up in court, the company will send you real-time updates and allow you to communicate with your lawyer at any time, and you'll be notified if any further action is required once your case is resolved.
But compared to the long-term costs associated with insurance rate hikes, should you choose to hire Off The Record? How do they compare to the competition? What about just handling it yourself? Let's answer this question first.
Is It Possible to Fight a Traffic Ticket on Your Own?
There are many moving variables that may have an effect on whether or not you can contest traffic tickets. Some of these factors include:
the city, county, and state in which the ticket was received
your previous driving history
the type of ticket and severity
However, the process is often intimidating, cumbersome, confusing, and time-intensive. After all, according to DMV.org, you'll need to—at minimum—ensure that have legal proof that the ticket can be contested, that you have time to devote to (sometimes multiple) court appearances, and that you're approaching the case using the best strategy.
As a result, as mentioned on the Off The Record site, the vast majority of drivers just choose to pay the fine. However, if you decide to contest your ticket and go to court without the help of a lawyer, Jalopnik's Steve Lehto recommends:
Reading the back of the ticket, which outlines how many days you have to respond.
Entering a plea, such as Not Guilty.
On your court date, dressing nice, arriving early, and pleasantly pleading your case, depending on your chosen strategy.
In the end, he emphasizes that "The bulk of the run-of-the-mill tickets get reduced in bargains like this. Why? Prosecutors often have 100 files to dispose of and time to only try 10 of them. The other 90 have to go away somehow. The lesser ones usually get the deals. But there is a lot of wiggle room in there. Every case the prosecutor can resolve by way of an agreement is one less that has to be dealt with later."
Don't have the time or the know-how to go through the process yourself? Let's find out what you'll need to do with Off The Record's app.
How Does the Off The Record App Work?
Currently only available for iOS devices, the Off The Record app works over the following steps (note: More or less, these steps also apply to their website):
Take a picture of your ticket and send it in.
Answer a few questions to tell them about your ticket.
The company's proprietary Smart Match platform will intelligently match one of their 250+ experienced lawyers to your ticket.
You'll pay one flat fee. If the case doesn't go in your favor, you're covered by their money back guarantee.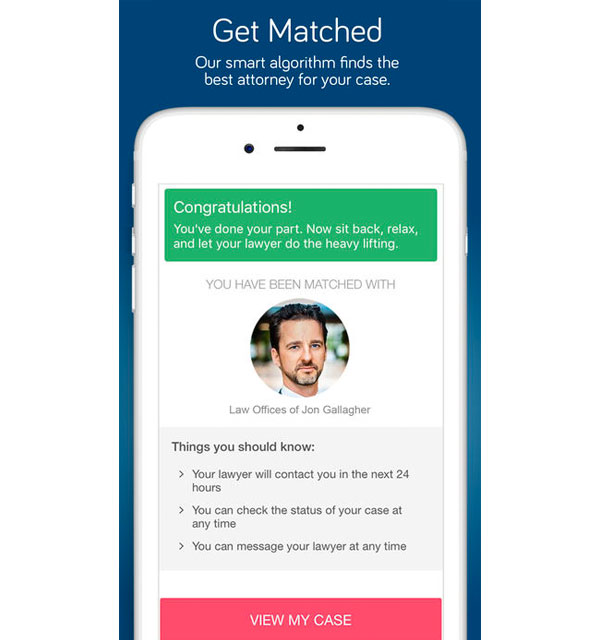 After taking a picture of your ticket and paying the one-time fee through their website or iOS app (pictured above), Off The Record will match you with an experienced lawyer who you can message at any time. Image credit: Apple Corporation
It seems that Off The Record's app and website-based technology have the potential to save customers a lot of time, hassle, and frustration when contesting a traffic ticket. But does this mean they'll always be able to completely avoid the violation from impacting your driving record?
What Are Some of the Possible Outcomes With Off The Record?
According to the company's FAQ, they "work exclusively with traffic lawyers who have extensive experience dealing with all types of traffic matters," which means they can contest all traffic violations, including popular ones like speeding, illegal use of the HOV lane, and negligent driving.
Regardless of the ticket type, Off The Record emphasizes that their primary goal is to get the ticket and the associated fine completely dismissed, which is most likely to occur if you have a spotless record, or if your ticket has errors or inconsistencies.
However, depending on the specifics of your case (as mentioned in the previous section), this might not always be possible. Other potential outcomes could include:
Non-Moving Reduction – Here, your lawyer will negotiate to have the charge reduced to a non-moving violation. This might still involve a (sometimes reduced) fine, but the violation will not appear on your driving record or impact insurance premiums.

Point Reduction – You'll still have to pay a fine, but reducing the points associated with the violation could minimize its impact on your driving record.

Deferral – The current violation won't appear on your record, as long as you don't receive another one for a certain period of time. The Off The Record website indicates this is typically only implemented as a last resort.

School & Classes – Similarly, the state will drop the case if you agree to take some sort of traffic school or defensive driving class. Again, this is typically only used when no other options are available.

Committed (Case Lost) – While the company boasts a 97 percent success rate, sometimes nothing can be done to avoid the full penalty and the driving record impact of a violation.
How Much Does Off The Record Cost & What Are Their Eligibility Guidelines?
No prices were listed on the Off The Record website at the time of our research. We contacted the company for further information, but we have not yet received a response.
From an eligibility perspective, Off The Record's FAQ indicates that their services are "available in most states and cities across the US. We're working hard to make it available everywhere, and we add new cities each week."
The only way to find out if they'll be able to address your ticket is to take a picture of it and send it in through the app or website. If they can't help (or even if they can and you simply choose not to proceed), you won't have to pay anything.
If they can help, what will you pay? This seems to largely depend on the specifics of your case, although their FAQ emphasizes they "work hard to make sure we have the most competitive fees available anywhere. If you find a lawyer with a more competitive legal fee, let us know. We may be able to price match."
Also, any legal fees you pay to the company do not include fines or court fees you're assessed during the process.
OTR also offers a 100 percent money back guarantee if they're not able to resolve your case, and you'll know whether or not your ticket is eligible before you book your case.
If you have questions, Off The Record's customer service department can be reached at (844) 687-2946 or team@offtherecord.com.
What Can We Learn From Off The Record Customer Reviews?
Outside of the company's iOS app, we didn't come across a lot of online customer feedback for Off The Record during our research.
On iTunes, the app had a total of 151 combined reviews, with an average rating of about 4.5 stars. There, most compliments appeared to revolve around effective results, ease of use, and solid customer support.
On the other hand, what few complaints there were frequently referenced no ticket dismissal and high prices.
From a company perspective, Off The Record was co-founded in 2015 by Alex Guirguis, who previously worked as a software engineer for Amazon and Golder Associates, as well as a Program Manager for Expedia.
According to an interview in GeekWire, Alex noted that OTR had its first customer 30 minutes after launching in the iOS App Store.
Off The Record vs. TIKD & Other Ticket Fighting Services
We talked earlier about the inconvenience of going to court, but the reality is that there are almost certainly at least a few traffic ticket lawyers in your area that can be hired to attend on your behalf. Going this route, CostHelper Personal Finance reports that the average speeding ticket costs somewhere between $900 and $2,500 to contest.
But it seems that Off The Record is one of the leaders in this niche, as the only other direct competitor we encountered during our research was TIKD. How do their key factors stack up?
Outside of the fact that they both promise to help you fight traffic tickets, they work fundamentally differently.
For example, with Off The Record, customers will pay a preset fee for legal services, as well as any fines or other money ordered due by the court. On the other hand, TIKD customers pay their associated fine to the company, who then "hires a qualified attorney on your behalf to challenge your ticket." This payment can even be split into three installments.
But if any additional fines, court costs, or other additional costs arise, TIKD covers all of them. Then, if money is left over, they refund customers the difference.
How to Choose the Right Ticket Fighting Company?
Whether Off The Record, TIKD, or traditional legal counsel, WiseGeek notes that choosing representation can prove difficult, as there are many lawyers out there who focus on traffic tickets, hold significant experience, and boast "detailed knowledge of the technicalities of having a fine dismissed or reduced."
As a result, they recommend focusing on using online consumer review sites like HighYa to distinguish the cream of the crop, as well as references from loved ones, and of course, each companies' overall legal fees.
Once you've narrowed down your options, Avvo.com recommends also asking the following questions:
How long have you been handling traffic cases like mine?
How many traffic cases like mine have you successfully handled?
What would you consider a successful outcome in my case?
How much will you charge me?
Will you appear with me in court, or will you send someone else from your firm?
What Are Our Final Thoughts About Off The Record?
At the beginning of this article, we referenced some of the inherent difficulties in contesting traffic tickets, such as the system's complexity and the time commitment involved. But as FindLaw.com outlines, even just deciding whether or not you should contest a ticket can be a relatively involved process.
It seems that Off The Record removes nearly all of these potential roadblocks and makes contesting traffic tickets quick, easy, and competitively priced.
On top of this, the company came with almost universally positive online customer feedback at the time of our research. And even if you don't end up counting yourself among their 97 percent success rate, they seem to stand behind their services with a 100 percent money back guarantee.
---
This company is actively collecting reviews from its customers. All reviews submitted are subject to moderation and approval to ensure they meet our

Review Guidelines

.

Awesome firm

By Alex J.

,

Liverpool, NY

,

Jun 26, 2020
Verified Reviewer

Length of Use: Less than 3 months

Overall Experience:

I was so worried about my ticket and I called Cerio Law Office, and right from the start, they told me do not worry about this ticket, you're in good hands with Cerio Law Office. Excuse my language, but you guys are truly a lifesaver, bless all of you guys, awesome work. And I will tell everyone who is in need of your services. Thank you once again.

Pros and Cons:

Positive attitude
Straight to the point
And it keeps you out of court
No "cons" were specified in this review

Bottom Line: Yes, I would recommend this to a friend

---

Excellent service

By Daniel K.

,

New York

,

Jun 24, 2020
Verified Reviewer

Length of Use: Less than 3 months

Overall Experience:

Communication with my lawyer was easy and efficient through the app. Responsiveness to any of my questions was immediate. Periodic updates on the progress of my case were useful.

Great service!

Pros and Cons:

Ease of use
Efficiency
Responsiveness
No "cons" were specified in this review

Bottom Line: Yes, I would recommend this to a friend

---

Advertisement

---

Couldn't be happier!

By Mary S.

,

Santee, CA

,

Jun 15, 2020
Verified Reviewer

Length of Use: Less than 3 months

Overall Experience:

I recently got a speeding ticket on a trip to Vegas to visit friends. I was pretty bummed as I had gone 3 years without a ticket. I was going with the flow of traffic but was pulled over for going 85 in a 70 zone. I reluctantly paid $100 to OTR thinking they wouldn't be able to help me with my $308 ticket. Guess what? In a few short weeks, I received an email saying my ticket had been reduced to a parking violation, meaning NO POINTS on my insurance! I was beyond elated. The whole process was hassle-free.

Pros and Cons:

Quick resolution
No points on my record
Less cost than the ticket
No "cons" were specified in this review

Bottom Line: Yes, I would recommend this to a friend

---

Quick and easy

By Nathan T.

,

Renton, WA

,

Jun 1, 2020
Verified Reviewer

Length of Use: Less than 3 months

Overall Experience:

This is a great resource for helping you get a ticket to not affect your insurance. The responses were quick and helpful and I got the desired result.

Bottom Line: Yes, I would recommend this to a friend

---

Advertisement

---

Fighting traffic ticket

By Jasmine C.

,

Seattle, WA

,

May 23, 2020
Verified Reviewer

Overall Experience:

Kevin did an amazing job! He always updated me when changes were going on. In the end he got my ticket reduced and off of my record. Great experience. At first I was skeptical but it turned out great. The person I was assigned to was very professional and stayed on top of things.

Bottom Line: Yes, I would recommend this to a friend

---

These guys are AMAZING!

By David R.

,

Seattle, WA

,

May 23, 2020
Verified Reviewer

Overall Experience:

The whole process was really easy to use. I just uploaded my ticket and was automatically assigned an attorney to fight my speeding ticket. I was worried that my ticket was going to increase my insurance and also didn't want it on my record. They updated me with the court date and the attorney took care of it all for me. In the end, my ticket was dismissed! I was so happy about the outcome. Thank you Off The Record. I will definitely be using you again in the future.

Bottom Line: Yes, I would recommend this to a friend

---

Relief and grateful...

By Donald E.

,

Louisiana

,

May 1, 2020
Verified Reviewer

Overall Experience:

Honestly, I don't know a more sufficient and quicker way to handle a ticket. Off The Record is 1000% what they advertise, 97% accurate! I'm 100% satisfied with the money I paid, the lawyer that they appointed me, and most importantly the results. WOW...the tickets are completely off my record. I salute Off The Record.

Bottom Line: Yes, I would recommend this to a friend

---

Wreck case

By Emerald R.

,

Gainesville, GA

,

Apr 11, 2020
Verified Reviewer

Overall Experience:

I had an amazing experience with Off The Record. I got in a wreck and had two citations and they took care of it and I did not have to do anything! They were awesome! Best decision I have ever made to choose Off The Record!

Bottom Line: Yes, I would recommend this to a friend

---

Aaron did it thanks to you guys!

By Dejanee D.

,

New York

,

Mar 6, 2020
Verified Reviewer

Overall Experience:

So happy that Aaron was able to help me on getting my tickets reduced down to a 4-point violation! I was looking at 12 points and getting my license taken away. I'm happy you could help me with this one. I'll be referring to friends and family if the need arises.

Bottom Line: Yes, I would recommend this to a friend

---

My lawyer went to court 15 minutes late

By Zahir A.

,

Georgia

,

Mar 5, 2020
Verified Reviewer

Overall Experience:

I had 7 years of a clean driving record, knowing that, I thought I would get my tickets thrown away with the lawyer's help. The things that really bother me is that I could do this by myself instead of hiring a lawyer and paid $180 for no reason.

Teasley William Law Group did not suggest to me otherwise. They could have at least said that one can by law request for Nolo every 5 years in Georgia. More over, the fact that my lawyer was late and I had to apologize for my lawyer's tardiness to the judge. It was an absolutely horrifying experience. It was a total waste of $180.

Bottom Line: No, I would not recommend this to a friend

---

Things Off The Record does not tell you

By Alan D.

,

Kansas

,

Mar 4, 2020
Verified Reviewer

Overall Experience:

I was introduced to Off The Record via a pop-up ad. Since I had received my first ticket in 10 years, I decided to give them a try.

The ad said that it would cost me $250 which would be refundable if the lawyer lost my case. After I filled out the information, the price went up to $300, which I paid.

A day later I received an email saying that since my ticket was on a commercial driver's license, they would not honor the guarantee of getting my money back. The lawyer never contacted me to get any details about the case, they just decided they could rake me over the coals since my job depends on my license.

At this point, I canceled and requested a refund. I am still waiting for that.

Bottom Line: No, I would not recommend this to a friend

---