OnDeck Reviews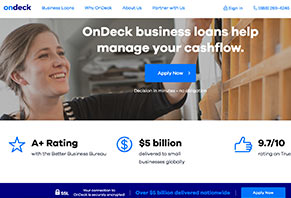 OnDeck is a small-business lending site that offers short- and long-term business loans up to $500,000 as well as lines of credit starting 12.99%.
About OnDeck
OnDeck is an online lender who claims to be able to approve you for a loan in less than 10 minutes and get you your money, in some cases, in less than 24 hours.
According to their website, they've lent $5 billion to small businesses, have an A+ rating with the Better Business Bureau and a 97% rating on consumer rating site TrustPilot.
The company is led by Noah Breslow, a Harvard Business School grad who's been OnDeck's CEO since 2012. In 2015, the company expanded its operations to Australia and Canada.
The New York-based company uses Shark Tank maven Barbara Corcoran as a visual spokesperson for its internet ads.
While OnDeck may have its unique culture and website, its lending services are not uncommon in the small business world. We've reviewed companies like Fundbox, BlueVine and Fundera, all of which offer some form of small business loans or lines of credit.
What's important to us is to not only know who's in charge but to figure out what types of loans and lines of credit OnDeck offers, what the fees are, what business owners and review sites are saying about it and other details you should know before signing on with them.
What OnDeck Offers: Business Loans and Lines-of-Credit
The company's lending can be split into two categories: business and line-of-credit. Each of these has their rules about how long they're offered and how much they lend.
Business Loans
When you start researching business loans, you need to know three basic things: how much can be borrowed, for how long and who can qualify.
OnDeck's business loans are split into short-term and long-term. Short-term loans range from 3 to 12 months long, while long-term loans are 15-36 months. Loan amounts can be up to $500,000.
Business loans are used and recommended in situations where a big chunk of cash is needed quickly. For example, a company may need to load up their inventory for the holiday season, so they use their loan to buy that stock knowing their holiday sales will pay back the loan.
Line-of-Credit
While loans are disbursed all at once, a line of credit is like a credit card. You have an approved limit and can use (or not use) that credit whenever you want. Once you withdraw money from your line of credit, an annual APR kicks in.
A line of credit can be used as a safety net of cash you can use to counter unexpected costs or to take advantage of in-the-moment low prices on products or services that pop up down the road.
Who Qualifies for OnDeck Cash
OnDeck's Business Loans page is helpful because it gives you the minimum requirements to get a loan and the average financial standing of their borrowers. Here are the numbers:
Minimum requirement: In business for 9 months, at least $75,000 in annual income and a credit score of 500.
Average borrower: 7 years in business, $450,000 yearly revenue and at least a 660 credit score.
As you can see, the minimum requirements are pretty different than the average customer. OnDeck leads us to believe that while they have a pretty low bar for borrowers, their average customer has been in business for a while and that business is bringing in nearly a half million dollars in revenue.
OnDeck Fees You Can Expect When You Borrow Money
Though the requirements for getting funding from OnDeck are the same for loans and credit, the fees for the two lending avenues are different.
OnDeck' Business Loan Fees
The typical business loan given by OnDeck has an AIR of 38%, although they say you can get a long-term loan for as low as 5.99%. AIR, or annual interest rate, is an interest rate that does not include your origination fees (more on that in a second).
So, if you borrow $100,000 for six months, you might only pay $19,000 in interest (which is still a huge amount). But, factored out over an entire year, that's $38,000 in interest or an AIR of 38%.
When you add in the up-front fee you pay for OnDeck to process your loan (an "origination fee"), you end up paying an additional $4,000 for six months, or, theoretically, $8,000 per year. (OnDeck's origination fees are 2.5% to 4% of your loan amount.)
Add that $8,000 to the yearly AIR of $38,000 and you've paid, from an annual perspective, $46,000, or 46% APR. That number is pretty outrageous, considering business credit cards like the Chase Ink and Capital One Spark offer APR's under 25%.
Quick note: Business loans are paid back by automatic business bank account withdrawals either daily or weekly. Fees and interest are fixed, so there's no benefit to paying them back early, NerdWallet's Steve Nicastro says.
OnDeck Line of Credit Fees
OnDeck says their APR's for credit are as low as 12.99%, but you have to remember that number is based on someone who has lots of revenue and a great credit score. As in the case of their business loan AIR's (38%, but advertised as low as 5.99%), there's a good chance your APR will be well above 12.99%.
There are no origination fees, but you do have to pay $20 a month in fees if you don't withdraw $5,000 as soon as your credit line is approved.
In general, we recommend small businesses using sites like OnDeck as a last resort, especially for business loans. The APRs are insanely high, and you'll end up paying a lot of money for the amount you borrow.
There are certain industries to which OnDeck won't loan. Some of them include banks, credit unions, pawn shops, vehicle sales and call centers. To get a full list of their restricted industries, click here.
Quick note: Credit lines are paid back weekly.
Possibility for Reduced Interest Rates and Fees
In an interview with NerdWallet's Steve Nicastro, OnDeck CEO Noah Breslow said, "borrowers who decide to refinance with OnDeck before a loan is repaid in full may qualify to get the remaining interest and fees waived on their first loan, with the principal balance rolled into the new loan."
OnDeck Reviews: What Other Small Business Owners Are Saying About OnDeck
As OnDeck advertises on their site, they have a 97% rating on TrustPilot. We went to check out that rating and found that recent reviews are mostly good. Of the 19 most recent reviews on TrustPilot, 15 were five-star, one was four-star, and three were one-star.
Five-star reviews said the process is easy and quick, with one reviewer saying, "The experience was fantastic, convenient and expedient. I will use them again in the future if needed."
Negative reviews talked about hassles resulting from changing payment bank accounts, and one customer said a salesman misled him into paying down existing OnDeck debt to get more funding, only to have that promise of funding pulled.
Meanwhile, 50 reviews on Yelp gave OnDeck 3.5 stars. According to Yelp's records, reviews have gotten significantly worse since Jan. 2016, at which point the company had a 4-star rating.
OnDeck's Better Business Bureau (BBB) page shows an A+ rating, as mentioned earlier. The company has been BBB accredited since 2008. Over the past year, OnDeck has had 15 closed complaints filed with the BBB and 34 in the past three years.
A complaint from April echoes what we read from a review on TrustPilot. In the complaint, the customer said they were promised a lower rate if they paid off half their loan. When they hit the 50% mark, the customer said, they asked for the lower rate and OnDeck did not oblige.
"We couldn't stop the $2,500-a-month payments from coming out and that has put our business on the verge of bankruptcy. We have made 7 attempts to work something out and all we are told is (to) file hardship letters, which we did. They told us that they were putting a hold on the account and cutting the payment in half, but they lied to us."
While it's difficult to verify the customer's claims (aside from it being officially filed with the BBB), this complaint is a reminder only to borrow from quick-cash sites like OnDeck if you have no other option. Even then, make sure you know exactly how much your daily/weekly payments will be.
Our Conclusions About OnDeck
OnDeck has been in business since the late 2000's, but it's only recently that they've expanded into Canada and Australia.
Their business loans and lines of credit are pretty standard for the small-business lending industry.
While the site says percentage rates for loans (5.99%) and credit lines (12.99%) are pretty reasonable, their fine print indicates that those rates are reserved for borrows with high revenue and excellent credit scores.
Because interest rates on these loans and lines of credit can be very high when viewed through a one-year lens, we suggest a more patient route and talking with your bank about a business loan.
As Steve Nicastro pointed out, banks often give SMB's loans at rates below 10%. While the process of getting a bank loan will take longer than the less-than-24 hours processing that OnDeck promotes on their site, it may very well be worth your wait to get an APR under 10%.
However, if you find yourself in a position where banks won't lend to you, consider researching several online lenders before settling on one company. OnDeck could be a good fit for you, but perform your due diligence before making a decision.
Read Next: The Best Travel Card of 2017