One Power Readers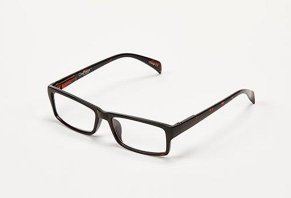 Using multi-focus lenses and a variety of styles and colors, One Power Readers have introduced multi-focus glasses that offer a good combination between customization and function.
One Power Readers Review
One Power Readers are self-correcting reading glasses that use Flex Focus Optic Technology to provide multiple focus powers of .5 to 2.50 without making you switch glasses.
The multi-focus feature of these glasses is what could make them a welcome relief for someone who has a fixed-power pair of glasses that give them only one magnification power.
A promo video for the glasses includes a quote from Dr. Allon Nejatheim, an optometrist who praises the glasses.
"I recommend One Power Readers because they can take the guesswork out of reading glasses. There is no fixed power. The Flex Focus Optic Technology allows them to precisely to correct for almost everyone's close-up and reading vision," Nejatheim says in the video.
The glasses are the product of Tristar Products, a company who sells a variety of As Seen on TV products. At the time of publishing, their products included the Copper Chef line of cookware, the Power AirFryer XL and the Genie line of shaping and custom fit ladies wear.
In this review, we're going to analyze how the glasses work, talk about the pricing and return policy, then compare One Power Readers to other glasses that provide multi-focus magnification.
How One Power Readers Work
Blurry vision makes life difficult. From reading emails to prescription labels and everything in between, living with less-than-perfect vision makes simple tasks hard and, in some cases, impossible.
Corrective eyeglasses have long been a solution for this problem by providing you a fixed magnification power that works best for your particular vision shortcomings. In some cases, you can buy bifocals that give you two different magnifications.
The One Power Readers are part of a new generation of glasses that don't limit you to one magnification power. Rather, they provide magnification ranging from .5 to 2.5. We were curious about how the glasses actually did that, as they look like regular glasses with no obvious alterations or added pieces.
When we queried the company's live chat, a representative named Rich gave us the following answer when we as how Flex Focus technology:
"With One Power Readers, there's no fixed power – so you only need one pair of glasses. Every pair custom-corrects your up-close vision to give you the "just right" individual strength you require at any given time."
We weren't satisfied with this answer so we asked rich the same question but a different way: "How does it custom correct my vision?"
Rich responded with what sounded like another rehearsed answer that didn't really provide any details about the actual technology the glasses use to provide a range of magnification:
"Every pair of One Power Readers has a range of .5 – 2.5 of strength engineered inside each innovative lens. Whether you're reading a book, browsing online, or threading a needle, One Power Readers custom-correct your up-close vision using the precise focal power strength you need."
We then called the One Power Readers customer service line at 973-287-5122 and asked a phone rep how the glasses actually work. He told us that he didn't have an answer but that his supervisor could help me. He transferred me and after about 15 minutes a supervisor came on the phone.
When I asked her how the glasses actually worked, she responded with, "I'm not able to give you that information."
After 40 minutes of waiting on the phone, we weren't able to speak with anyone who could tell us how the sunglasses worked.
Believing that we wouldn't get a good answer within a reasonable amount of time, we tried to find other glasses that claimed to have multi-focus capabilities.
We found that Foster Grant, a well-known name in eyewear, had a pair of multi-focus glasses whose lenses had three magnification bands: normal strength on the bottom, "slightly less than normal strength" on the middle band and the top band had a magnification that was "half the normal strength."
The most plausible answer is that they have multiple magnification bands running across the lens similar to what Foster Grant does with their multi-focus glasses.
If you're curious about the size of the glasses you want to buy, Tristar lists the glasses' measurements when you click on a pair of glasses you want to buy. Here's an example of measurements for square-framed red glasses:
Bridge size: 18 mm
Temple length: 136 mm
Width: 137 mm
Height: 37 mm
Pro tip: Each pair of One Power Readers includes a carrying case and microfiber cleaning cloth.
One Power Readers Pricing and Return Policy
These glasses come in various frame styles and colors. You can choose from half-frame, classic and fashionable shapes, as well as the following color options, depending on which style of frame you choose:
Black
Tortoise
Blue
Gray
Red
Your first pair of glasses will cost $14.99 while each additional pair will cost $7.99. Shipping is free.
The glasses are available on Amazon for $18.90 - $20.99, depending on the seller. They're also available on Walmart for $9.88.
When purchasing directly from the company, the glasses come with a 60-day money-back guarantee. The deadline starts the day your glasses are delivered.
According to Tristar, you'll have to call 973-287-51222 to get what's known as a return merchandise authorization number. The company's phone reps will instruct you where to write this number on or in the box you send the glasses in.
Keep in mind that you're responsible to pay any shipping costs to return the glasses. If you get a replacement set of glasses, Tristar will cover the cost of sending the new glasses to you.
The glasses also come with a limited lifetime warranty that covers faulty workmanship. According to the fine print, the warranty doesn't cover accidents or abuse, like stepping on your glasses. To make a warranty claim, you'll eventually need to send in the glasses along with your:
Name
Address
Reason for return/replacement
Proof of purchase or order number
Include a check for a $5.99 processing fee
The owner's manual you get with your glasses will provide more details about the warranty.
Comparing One Power Readers to Other Multi-Focus Glasses
As we mentioned earlier, Foster Grant has a pair of multi-focus lenses priced at $34.99. This gives you a bit of context as to how much similar glasses cost.
Amazon's highest-rated multi-focus reading glasses ranged in price from $12.95 to $15.95. The advantage you get with the One Power glasses is that you have multiple styles and color options, whereas the top-rated glasses on Amazon had limited style and color choices.
The Final Word: Our View on the Pros and Cons of One Power Readers
These new multi-focus glasses intrigue us because they ship for free and they're priced similar to multi-focus glasses we found on Amazon. You get the benefit of choosing between multiple colors and styles, which is something we didn't find when research some of the top multi-focus glasses on Amazon.
We believe the downside of these glasses is that Tristar wasn't able to explain to us how the multi-focus lenses worked. While we're fairly certain the lenses are split into multiple magnifying bands, we can't say for sure. Keep this in mind as you consider buying these glasses.
As a closing note, we want to point out that One Power Readers' website makes it abundantly clear that these glasses aren't meant to substitute prescription glasses.
Pretty good

By Bruce A.

,

Dallas, TX

,

Jan 30, 2020
Verified Reviewer

I was going to have cataract surgery done on both eyes, and was having trouble using my prescription bifocals for reading so I bought a pair. Didn't like them at first. After my surgery, I started using them and am thrilled with how well they work. It took me a little time to figure out how to use them properly, but now I use them to read, for my phone, and on my computer. Glad I didn't give up on them.

Bottom Line: Yes, I would recommend this to a friend

---

They sort of work. I think.

By Tom K.

,

Hartford, CT

,

Jan 23, 2020
Verified Reviewer

Recently had cataract surgery and the left eye came out a little weaker than right. I bought a pair of 2.0 and 2.75 and swapped in the left lens from the 2.75. They work well for reading but not a computer. These SEEM to have a somewhat bigger range; for reading and computer, maybe 30 inches. And are a bit better than my many other (1.0 to 3.0) glasses. They seem close to 2.0. They do NOT give both my eyes equal vision at desktop computer distance, though usable. They are almost right for reading distance. My guess is that they are progressive lenses. Also, they cost less than the sturdy pairs I have bought at CVS ($15), so to me, worth a try. I did get a case and a cloth.

Bottom Line: Yes, I would recommend this to a friend

---

Advertisement

---

Don't waste your money.

By Martha S.

,

Washington

,

Jan 6, 2020
Verified Reviewer

Nope. Didn't work. They helped for about five inches but not to read my phone or my computer - which is what you need reading glasses for these days. Don't waste your money.

I have used Foster Grants multi-focus lenses with great success. Going back to them.

Bottom Line: No, I would not recommend this to a friend

---

Don't waste your money

By Hector V.

,

Texas

,

Aug 19, 2019
Verified Reviewer

I bought a pair just last night, they are ok-looking glasses and fit ok, but they don't adjust unless you are constantly moving the article you are reading and even then it's not 100% clear. The box came with no instructions, also the only booklet in the box mentions a microfiber sleeve that is supposed to be included for storage and cleaning but it wasn't in the box. Overall disappointed.

Bottom Line: No, I would not recommend this to a friend

---

Advertisement

---

Great glasses

By Charles S.

,

Florida

,

Jun 22, 2019
Verified Reviewer

Brought a pair from Walgreens. They are amazing. Using CrystaLens replaces the normal eye lens with an adjustable one that is adjusted by using the eye's focusing muscles to focus.

Bottom Line: Yes, I would recommend this to a friend

---

They suck!

By Deb P.

,

Milford, NJ

,

Apr 13, 2019
Verified Reviewer

They do not work. They fit well, felt great, however, they did not meet my 1,75 needs as stated. Non-adjustable - I can't imagine how they can work for very many. Price is fair if they would just perform as claimed, but they failed big time. Plus they did not provide the MICROFIBER case or sleeve they recommend you to store them in, which they implied they were included, however, both boxes did not provide anything but papers and glasses. They fit better than my prescription frames, I really wish they worked as stated. So this is why they suck!

Bottom Line: No, I would not recommend this to a friend

---

Terrible

By Susie S.

,

United Kingdom

,

Apr 3, 2019
Verified Reviewer

These are simply a pair of strong reading glasses, they are too strong for me and make my eyes hurt. They do not adjust themselves to suit your reading needs, the only adjustment that makes any difference is when you move the actual article you are trying to read or move further from the computer screen. I found that I needed to hold my book at arm's length in order to see the words clearly and this is not a natural nor comfortable way to read. I'm guessing that all good reviews for these glasses have been written by those who require a 2.5 magnification and by fluke believe that this product is working as advertised.

I have gone back to using my dollar store readers, they may not be stylish, but at least they work! Also did not include cleaning cloth, which is bad considering how expensive they were. Do not waste your money!

Bottom Line: No, I would not recommend this to a friend

---

One Power Readers

By Tim M.

,

Bellevue, NE

,

Mar 16, 2019
Verified Reviewer

One Power Readers are just that. One power. There is no adjustment, automatic or otherwise, despite the claim on the packaging that they adjust from .5 to 2.5. The pair I got has a diopter of about 2.5. Also, in the instructions, which say nothing about the adjustment feature, they recommend that you "return them to the microfiber storage case" when not in use, though no such case came with the glasses.

The glasses are ok so long as I'm viewing something between 8 and 10 inches from my face. Outside that range they are useless.

In short, this product promises a feature it does not have.

Bottom Line: No, I would not recommend this to a friend

---