One Reverse Mortgage Reviews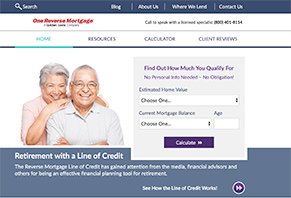 One Reverse Mortgage is the largest reverse mortgage lender in the nation, who can help those 62+ free up the equity in their home to live more comfortably.
About One Reverse Mortgage
Endorsed by actor Henry Winkler, One Reverse Mortgage is a licensed lender that specializes in home equity conversion mortgages, more commonly known as reverse mortgages. This way, One Reverse Mortgage claims to help customers use the equity in their home to eliminate or consolidate debt, complete home improvements, pay for unexpected expenses, make retirement more comfortable, and more.
Owned by Quicken Loans, One Reverse Mortgage is licensed in all 50 states (although they only operate in 47) and is one of the largest lenders in the reverse mortgage industry. They're also approved by the U.S. Department of Housing and Urban Development, which means they "must follow strict guidelines that help protect consumers."
If you're nearing retirement, you may have come across the term reverse mortgage much more frequently. But what in the world is it? Do reverse mortgages make good financial sense? Even if they do, does this necessarily mean you should choose One Reverse Mortgage?
Let's answer your most important questions by first taking a look at what a reverse mortgage is.
What is a Reverse Mortgage? How Does It Work?
With a normal mortgage, a lender gives you money to purchase a home, which you'll repay by making monthly payments. As each payment is made, some money is applied to interest and the remainder is applied to your overall balance. This way, the lender makes money in the transaction, and you're able to slowly increase your equity in the home as time goes on.
A reverse mortgage works similarly, but, well … in reverse. Here, lenders will provide homeowners with cash in exchange for the equity in their home. Then, this loan can be disbursed to the homeowner over monthly payments. In other words, lenders pay homeowners with reverse mortgages, hence the name.
Where the name might become confusing, though, is when talking about who the loan goes to. If a reverse mortgage actually 'reversed' the entire process, then homeowners would provide a loan to the lender—but this isn't the case. Instead, reverse mortgages are just another loan rooted in your home's equity.
Given this, how is a reverse mortgage any different than a home equity loan?
What's the Difference Between a Reverse Mortgage & a Home Equity Loan?
On the surface, there probably doesn't seem to be much of a difference between a reverse mortgage and a home equity loan. However, there are some meaningful factors that might make one a better option than the other:
Perhaps one of the biggest differences is that you can defer repayment with a reverse mortgage, whereas you cannot with a home equity loan (we'll come back to this in a second).
According to federal mandate, you must be at least 62 years old in order to qualify for a reverse mortgage, whereas there is no age requirement for a home equity loan.
Reverse mortgages don't come with any income requirements, although One Reverse Mortgage will run your credit in order to ensure you can afford to continue making tax payments and maintaining the property.
With a reverse mortgage, you can choose to receive monthly or lump sum payments, although home equity loans are typically only paid lump sum.
There aren't any tax advantages for taking out a reverse mortgage, although there can be (up to a certain limit) for home equity loans.
Outside of the differences between reverse mortgages and home equity loans, are there any other considerations?
What Are the Pros & Cons of a Reverse Mortgage?
Reverse Mortgage Pros
With a reverse mortgage, homeowners can choose to receive their loan as a lump sum payment through monthly payments, or via a line of credit (this way, you'll be able to use the money as needed). You'll also be able to choose how you'll use the money, as long as your mortgage is already paid off.
If you don't touch the money in your reverse mortgage account, its value can grow. In fact, you could end up with more money in your account than your home is worth after only a few years.
Once you start using the money from your reverse mortgage loan, you can decide whether or not to make a monthly payment when it comes due. If not, this means the interest from that month will be added to your overall loan balance.
Even if you use your entire loan, your name remains on the title and you retain ownership until the time you vacate your home. At this point, the full balance of the loan will come due.
Reverse mortgages are known as "non-recourse" loans, which means you (or your loved ones) will never have to repay more than the home is worth. In fact, if your home sells for less than what is owed on the loan, FHA insurance will pay the difference.
Reverse Mortgage Cons
Despite all these benefits, there are some important considerations when it comes to reverse mortgages. For example, reverse mortgages tend to involve (sometimes much) higher fees than traditional mortgages. In some instances, you might end up paying as much as $40K in fees alone, which is certainly nothing to sneeze at.
Also, remember that as soon as you no longer live in your home (such as if moving to a nursing facility), your loan will come due. Considering all the other expenses that might arise at a time like this, paying off the balance of a reverse mortgage might be just one more thing to worry about.
Speaking of which, if a considerable amount of a reverse mortgage loan is used, it can drastically reduce the equity available for heirs, which is why it's always smart to speak with a financial advisor before making a big decision like this.
Finally, remember that an individual's Medicaid availability can be affected by a reverse mortgage, so be sure to also speak with a financial advisor about this aspect as well.
Another factor that will determine your course of action is price, so we'll talk about this next.
How Much Does a One Reverse Mortgage Loan Cost?
Just like any other mortgage, what you pay can depend on a wide variety of factors. Like we mentioned above, your credit score will not be one of these factors, although One Reverse Mortgage will check your credit to help ensure "you are willing and able to meet your financial obligations such as paying property taxes, homeowners insurance, and home maintenance costs."
On top of this, the company will analyze other factors, such as property taxes, homeowner's insurance, assets, expenses, and income in determining your rates and fees. If you're looking to get a general idea of how much money you could obtain through One Reverse Mortgage, you can use their Reverse Calculator simply by choosing your home's estimated value, your current mortgage balance, and your age.
With this said, here's what we're told about some of One Reverse Mortgage's fees:
Closing costs will include a loan origination fee of 2% of the first $200,000 of your home's value (or a minimum of $2,500) plus 1% of the remaining value, not to exceed $6,000, a 0.5% or 2.5% mortgage insurance premium (based on loan circumstances).
If you'd like to know more specifics about One Reverse Mortgage, you can order their free education guide or contact a licensed specialist at 800-401-8114.
What's everyone saying about One Reverse Mortgage?
What's the Customer Feedback for One Reverse Mortgage Reviews?
Despite having been in business since 2001 and being owned by industry giant Quicken Loans, there wasn't a whole lot of online customer feedback for One Reverse Mortgage at the time of our research.
On the Better Business Bureau website, One Reverse Mortgage had an A+ rating, based on just 4 closed complaints (as of 4/19/16). Only one of these complaints was available for review, which referenced continued correspondence from the company, despite numerous requests to cancel the application.
We also found one customer review for One Reverse Mortgage on Consumer Affairs, who rated them 1-star based on a long, drawn out, and confusing approval process, which was canceled at the last minute by the company.
Should You Fill Out an Application for One Reverse Mortgage?
Even if you've already spoken with your financial advisor and weighed all the pros and related to reverse mortgages, it's important to remember that you have dozens of other reputable companies to choose from outside of One Reverse Mortgage, including Liberty Home Equity Solutions and many more. This is no different than any other kind of lender, whether for your car or business.
Sure, One Reverse Mortgage may be the largest reverse mortgage lender in the industry, but based on their specific underwriting criteria in place at the time you apply, you might be able to score a higher payout, lower fees, and more by going with someone else. As a result, it's important that you explore all your options before making a decision (you're already off to a great start!).
Read Next: Pros and Cons of Reverse Mortgages for Seniors and Veterans