OneClass Reviews
Claimed This company has claimed this profile, is getting alerted on any new customer reviews entering this page, and may engage in dialogue with its customers to address their matters.

Companies cannot pay money or provide goods in order to remove or alter customer reviews.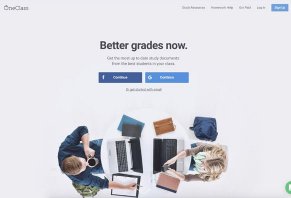 By offering access to millions of student-generated notes, video tutorials, and study guides, OneClass claims to help 90% of members improve their grades.
What Is OneClass?
With a community of more than 2.2 million university students, OneClass provides access to up-to-date documents like lecture notes, textbook summaries, video tutorials, and exam study guides from the best students in your class, which could help you achieve better grades in less time.
In fact, the website reports that 90 percent of all students who use their service improve their grade by at least one letter.
OneClass' system is credit-based—students earn credits by contributing their own self-created documents, which can then be redeemed to unlock notes and other study materials, join contests, purchase gift cards to many popular retailers, and even for cash. To date, the company claims to have rewarded students with more than $500K.
This all sounds simple and straightforward, but is OneClass really the best source for notes and study guides? Is it legal? Will you have to complete a ton of notes for just a few credits?
In this article, we'll explore—and help you find answers to—all of your important questions.
Is OneClass Legit? How It Works
According to their homepage, OneClass currently boasts more than 500,000 documents, which can be filtered by:
Country (U.S., Canada, Australia, New Zealand)
School
Course code
Document type (lecture notes, textbook notes, exam study guides)
Semester (Fall, Winter, Spring, Summer)
Professor
A search bar at the top also allows you to manually enter a course code or keyword.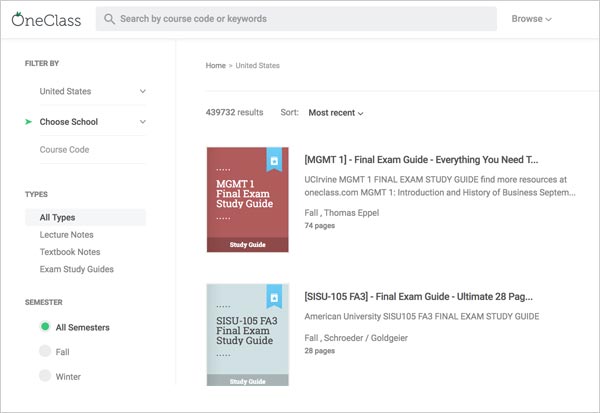 From the home page, users can filter or search among OneClass' database of more than 500,000 pieces of content. Image credit: Notesolution, Inc.
On the right-hand side of the screen, you can also go directly to the Study Resources, Video Tutorials, Homework Help, Textbook Solutions, and Scholarships sections of the site.
After filtering or searching, users can click on any relevant results, which will redirect to a page where the document can be previewed, including details about who uploaded it, the semester, professor, and a short description. Here, you'll also find related documents (if any).
If you want to unlock the document, you'll have to sign up for an account by entering your email address (note: you must have a .edu email address in order to qualify), choosing a password, and then entering your first name and the school you attend. Then, you can either redeem credits or gain access by paying for an unlimited account.
According to their website, OneClass is a completely legitimate service that utilizes a "rigorous system to evaluate each set of notes that is uploaded to the platform." Also, the community can flag documents they deem unrelated or irrelevant, while an internal audit team checks all documents on a daily basis.
However, they cannot accept:
"(1) copyright documents created by professors or instructors, including but not limited to: PowerPoint slides, assignment questions, past exams, textbooks, e-textbooks, published articles, journals; (2) homework, labs, assignments, essays; (3) duplicate documents; (4) single page documents with little or no information; (5) one full set of notes separated into multiple documents in order to gain additional credits."
How Do You Become a OneClass Note Taker?
There aren't a whole lot of specifics provided on the site regarding what it takes to become a OneClass Note Taker, although they emphasize that you'll need to be neat, organized, and enrolled as a student, as well as motivated to help others in your school and upload notes weekly.
At the time of our research, the company was only accepting Note Takers for the Winter 2018 term—a little less than a year away. Keep this in mind if you're looking to sign up and start earning money immediately.
For each approved uploaded document, Note Takers will earn 25 credits. Eventually, you can achieve the opportunity to be classified as an Elite Note Taker, which increases the per-document credits to 75.
OneClass notes that "we also have additional opportunities for Elite Note Takers to get paid more for what they do, and we will contact individuals personally for these opportunities." We reached out to the company for additional details but hadn't yet received a response at the time of publishing.
Similar to students who download notes, OneClass emphasizes that 68 percent of their Note Takers "have also seen a significant improvement in their grades after becoming a note taker – some as much as three grade points."
How Much Does OneClass Cost?
OneClass is free to join. In addition to uploading documents, members can earn 500 credits if a friend upgrades their account, 100 credits if they become an Elite Note Taker, and 25 credits for earning badges.
At the time of our research, one document unlock was 300 credits, five unlocks was 750, and 10 unlocks was 1,000. Additionally, $10 gift cards to retailers like Sephora, Chipotle, Paypal, Google Play, Walmart, iTunes, Target, Visa, Starbucks, and Amazon were 1,200 credits each.
OneClass also offers paid memberships, which provide unlimited access (including direct downloads to your desktop) and are automatically renewed:
Monthly: $39.98
Semester $59.94
Yearly: $95.76
According to the site's terms, all payments and credits are nonreturnable and nonrefundable. However, members will continue having access to the site through the end of their billing period after requesting cancellation.
In order to request a refund, you'll need to reach out to customer support through the site's contact form or send an email to info@oneclass.com.
Are There Any OneClass Customer Reviews?
Although OneClass has been in business since 2010, we didn't encounter a whole lot of online customer feedback for the service during our research.
When answering the question 'is OneClass worth it,' some Redditors felt the notes helped them pass a class or improve their grades, while others indicated students could obtain similar notes for free by joining study groups. And while none reported that they got rich from being a Note Taker, many felt it was a good way to earn extra spending money.
Outside of this, TechGeek.com.au felt OneClass inadvertently helps slackers take the easy way out. They also reported that the company's spammy approach to Facebook advertising was less than stellar.
From a company perspective, Notesolution, Inc. is based out of Toronto, ON and was co-founded by CEO Jack Tai, COO Kevin Wu, Chief of International Jackey Li, and Maggie Peng, Chief Design Officer.
Are There Other Ways to Obtain Online College Notes Like OneClass?
The most similar was StudySoup, which also distinguishes between regular and Elite Note Takers, who can earn up to $450 and receive payment via direct deposit or PayPal.
Nexus Notes offers many of the same materials for Australia, Great Britain, New Zealand, and U.S. students, while note takers only earn a 50 percent commission once their notes sell. Payments are made directly through PayPal.
The company says they "review uploaders' notes and academic transcripts to ensure our notes are written by students who receive HDs and Ds only." If customers aren't satisfied, they're backed by a 100 percent money back guarantee.
ClassFeed.ca also offers access to lecture, tutorial, midterm, and finals notes and offers a satisfaction guarantee, although they only support Canadian universities. Uploaders are also only paid once a sale is made and will earn $2-$9 each time, depending on whether they're Class, Tutorial, Midterm, or Finals notes.
Other popular search options include:
StudyBlue – Provides unlimited access to 400 million pieces of content, including those for high school and college. Uploaders can earn credit by sharing their content, while a membership costs $7-$19 per month.
ULoop – Offers free access to hundreds of thousands of documents, which can be rated by other users.
StuDocu – Provides access to documents and books and offers free (uploaders can earn the ability to access Premium documents after contributing to a community), or paid memberships. A commission is only earned when someone purchases your notes.
KarmaNotes – This is a free service, although their database only contained 5,100+ notes at the time of our research.
Our Final Thoughts About OneClass
Which of these is right for you? Despite all of the information we've covered here, if you're looking to download university notes, we think the most appropriate option largely boils down to two questions: Do they provide documents for your specific class? Do you have the funds to pay?
If you're looking to upload documents, there are a couple more questions you'll want to keep in mind: Do you want to get paid as soon as you upload, or only when someone purchases your notes? Do you prefer to get paid directly, or through alternatives like gift cards? Do you want to earn cash or credits?
Speaking of which, since OneClass was the only credit-based option we encountered, we thought it would be helpful to quickly point out that, as a beginning Note Taker, you'd have to upload 48 documents before earning enough credits for a $10 gift card (1,200 / 25)—or, a little less than $0.21 per document.
Even once you reach Elite status, this only increases to about $0.63 per document, so you'll have to decide if it's worth the time and effort.
Pro tip: While OneClass emphasizes that their service is legal and legit, the Penny Hoarder recommends checking with your "school's honor code — which addressed important issues like plagiarism and cheating," before uploading notes.
See Also: 33 Genius Ways to Save With Your Student ID
Another important factor to consider is that OneClass is the only top paid online college notes site that doesn't offer a refund on paid memberships. As such, you might want to start by signing up on a month-to-month basis and upgrading from there if you find their documents useful.
In the meantime, we reached out to the company to learn more about how they verify the accuracy of uploaded notes, how they if verify their notes are uploaded by "top university students" (i.e., do they verify grades?), as well as a general idea of the "additional opportunities" potentially available to Elite Note Takers.
OneClass is the most useful website for undergraduates!

By Zhan Qing L.

,

Blacksburg, VA

,

Dec 10, 2019
Verified Reviewer

Have been using OneClass for more than 3 months now. It is a very useful website for note sharing and also to get resources and other materials for exams. Resources on materials published on OneClass are very helpful as they had been vetted by OneClass before published.

The pay from OneClass for each uploaded note is not bad at all. I find this especially helpful as it helps college students like me who are already taking notes in classes.

Online support from OneClass is reliable with the live chat option on OneClass.com. Support is also available in emails, which are usually replied by OneClass within 2 days.

Bottom Line: Yes, I would recommend this to a friend

---

OneClass is worth your time!

By Pachia V.

,

California

,

Dec 2, 2019
Verified Reviewer

OneClass is a fast and efficient way to make extra money when you're in college. I've been using it for a few years now and it has never disappointed. The gift cards come within a 14-day period and they have fast customer service. Would recommend if you're trying to find somewhere to make a few extra bucks!

Bottom Line: Yes, I would recommend this to a friend

---

Advertisement

---

Highly recommend OneClass

By Zain S.

,

Ontario, Canada

,

Nov 27, 2019
Verified Reviewer

OneClass is an amazing platform to share notes and get compensated. Through this website, I was able to get a few dollars as well as get detailed notes for other classes I am taking. I would definitely recommend this website to other students!

Bottom Line: Yes, I would recommend this to a friend

---

Awesome resource

By Geo H.

,

New Jersey

,

Nov 27, 2019
Verified Reviewer

OneClass has really helped me and my friends. I have recommended OneClass too. It consists of several detailed notes and other resources that truly help students like me. OneClass is a major GPA booster, that is for sure!

Bottom Line: Yes, I would recommend this to a friend

---

Advertisement

---

Great way to study

By Aji S.

,

Ontario, Canada

,

Nov 26, 2019
Verified Reviewer

OneClass has helped me study for my classes over the past semesters and I've been able to upload enough notes to earn while also helping my fellow classmates, which I believe would come in handy.

Bottom Line: Yes, I would recommend this to a friend

---

OneClass is a lifesaver

By Adriana P.

,

Ontario, Canada

,

Nov 25, 2019
Verified Reviewer

OneClass is the absolute best resource for students who need notes that are actually relevant to the course they're taking and not just the topic in general. The fact that notes are taken by actual students in that professor's class makes them super relevant to what you're studying, when you're studying it. As a notetaker, the fact that you have an incentive to go to class and upload your notes makes it so much more rewarding to keep that perfect attendance streak and stay attentive whether your lecture is one hour is three. Each uploaded document is reviewed by a real human to make sure it actually has the content you need, so you know you're getting good quality. Whether you need notes or you're the one taking them, you can't go wrong with using OneClass!

Bottom Line: Yes, I would recommend this to a friend

---

Great company!

By Erin G.

,

Illinois

,

Nov 25, 2019
Verified Reviewer

I really enjoy using OneClass. It helps me keep up with classwork by making sure I regularly upload my notes, and I love the benefits it offers! Overall, I've had a great experience over the past couple of years and I hope to continue to use this service throughout my college years.

Bottom Line: Yes, I would recommend this to a friend

---

Amazing notes and customer service

By Julie X.

,

Santa Clara, CA

,

Nov 25, 2019
Verified Reviewer

OneClass has amazing notes. I've experienced really fast uploads and access! The notes are all from students in my class so they are accurate and easy to read! OneClass also has amazing customer service that's really responsive and caring.

Bottom Line: Yes, I would recommend this to a friend

---

Easy side hustle!

By Sery G.

,

Columbus, OH

,

Nov 25, 2019
Verified Reviewer

I take notes in many of my classes, and OneClass offers an easy way to get gift cards when you upload your own notes for others to use. They have a great selection of cards (Starbucks, Amazon, etc.) and also the option to enter raffles for larger sums of money. I love that I can get paid for doing something I do anyway!

Bottom Line: Yes, I would recommend this to a friend

---

Great source!

By Connie T.

,

San Jose, CA

,

Nov 19, 2019
Verified Reviewer

I truly love utilizing OneClass for school! It's extremely helpful when it comes to studying for midterms and exams and overall understanding courses better by looking at other students' notes for the same course and same professor! And being an uploaded as well is beneficial because they encourage you to upload your notes in order to help other students that could be taking your past courses by allowing you to earn points which can be then used to redeem gift cards!

Bottom Line: Yes, I would recommend this to a friend

---

Amazing site for learning and notes

By Melis S.

,

Alberta, Canada

,

Nov 19, 2019
Verified Reviewer

I wish I had discovered OneClass earlier, as it has been a huge help to me in my studies. I love posting notes and helping others out, as well as discovering helpful study guides and notes myself. It's a great place to find fantastic notes and midterm guides for those tough tests ahead, or even if you missed something. I can't express how helpful it is. The website itself is easy to use and very user-friendly.

Bottom Line: Yes, I would recommend this to a friend

---