Opal Glow Serum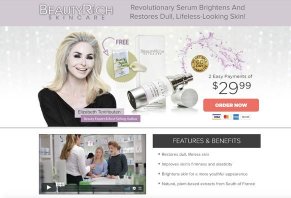 Former model Elizabeth TenHouten developed the Opal Glow Serum as a way to improve your skin, tone, and elasticity so that you achieve a naturally radiant appearance.
Opal Glow Serum Review
The Opal Glow Serum is a specialty skin product from BeautyRich Skincare that is designed to brighten your skin tone and improve its firmness and elasticity, especially around your face, neck, and chest.
According to the company website, the serum is clinically proven to increase skin cell turnover and smooth the skin to give you a more naturally radiant complexion.
BeautyRich Skincare credits the serum's success to the use of ingredients harvested from the South of France. They state that the formula is both hypoallergenic and non-comedogenic, meaning it won't cause you to break out. But will this serum really help you restore dull, lifeless skin to its younger glory? We'll dig into the details and let you decide.
About BeautyRich Skincare Founder Elizabeth TenHouten
The BeautyRich Skincare line was founded and run by Elizabeth TenHouten, a former model and author of two beauty books.
According to the company website, Elizabeth serves as a member of Cosmetic Executive Women and is a National Affiliate for the Society of Cosmetic Chemists.
"For me, beauty and health are synonymous… in order to unveil our most beautiful selves, we must nurture our bodies in their entirety – mind, body and spirit," she states on her website.
The connection between health and beauty served as her catalyst to create a skincare line with a focus on harnessing skin-brightening technology from the South of France. We'll next look to see how this translates to the Opal Glow Serum.
How Does the Opal Glow Serum Work?
To use the serum, the product website states that you will need to apply one or two pumps to your face, neck or chest after the skin is cleansed and dried, taking care to avoid your eyes. Allow the cream to absorb for at least five minutes before applying moisturizer overtop if desired. For best results, BeautyRich Skincare states that you should use the serum twice daily.
We couldn't find any independent studies about the effectiveness of the Opal Glow Serum online, but the company website highlights their in-house clinical research. According to their findings, women of all ethnicities between 36 and 64 experienced improvements in their skin's elasticity, brightness, and firmness.
The company reports that approximately 90 percent of women who applied the cream twice a day for four weeks felt that it made them look younger by at least two years and that it improved the texture and softness of their skin. After eight weeks, 90 percent of the study participants reported that their skin looked brighter and more radiant.
What Ingredients Are in the Opal Glow Serum?
Those are impressive results, but do we think the serum stands a chance of delivering them as promised? We like to look at the ingredients list to get a better idea, and below are some of the ingredients that stood out to us.
alaria esculenta extract
algae extract
citrus auratium dulcis (orange), peel oil
citrus reticulata (tangerine) peel oil
jasminum officinale (jasmine) oil
juniperus virginiana oil
mentha, piperita (peppermint) oil
salvia sclarea (clary) oil
sodium hydroxide
tin oxide
titanium dioxide
phenoxyethanol
After looking through research on the Environmental Working Group (EWG) cosmetic database and TruthinAging.com, we think that these ingredients are fairly standard for a skin serum.
There are a lot of plant-based compounds that can add antioxidants and other nourishing compounds to your skin. Most of the other compounds act as skin conditioners, coating agents, and preservatives.
Are There Any Side Effects Associated with the Opal Glow Serum?
As we looked through the full ingredients list, a few compounds caught our eye because they can potentially trigger negative side effects:
Sodium Hydroxide
This inorganic compound acts as a buffering agent in personal care products, and it's also used to control pH levels. The EWG cosmetics database highlights some concerns about this compound regarding neurotoxicity, skin irritation, and potential carcinogenic effects.
Tin Oxide
It is a natural mineral that the EWG database tells us is easily absorbed into your skin. This can cause it to build up in your tissues, and it's also known to irritate the eyes.
Titanium Dioxide
Used in a wide range of beauty products, titanium dioxide acts as a coloring agent and thickener. The EWG database reports it has a low potential for skin penetration, but it can irritate your lungs if inhaled and there is evidence it can lead to organ toxicity problems.
Phenoxyethanol
Commonly used as a preservative in cosmetics, phenoxyethanol is a fragrance additive that's known for acting as an extreme irritant on the skin. Truth in Aging reports that there's even evidence that it can lead to reproductive issues with too much exposure, though at the time of writing these experiments are limited to mouse-based trials.
These ingredients are unexpected for the industry, it pays to be aware of them, especially for those with naturally sensitive skin.
What Does the Opal Glow Serum Cost?
At the time of writing, the Opal Glow Serum was only available through the company website. You can purchase a 60-day supply (a 1-oz. tube) for one payment of $59.98 or two payments of $29.99. Both payment plans qualify for free shipping.
It's also possible to sign up for a subscription program, which provides you with a new tube of Opal Glow Serum every $60 days. The subscription is optional, and the company states that you can customize or cancel your shipments at any time by contacting customer service.
If you aren't happy with the results you receive from the Opal Glow Serum, the company will honor a 60-day money-back guarantee, minus shipping and handling. You can initiate a return by contacting BeautyRich Skincare at 833-779-9922 to process the refund.
Which Products Are Similar to the Opal Glow Serum Mask?
Skin brightening products are a popular market, meaning that dozens of serums are competing for market space against the Opal Glow Mask. Two popular options include the Sunday Riley C.E.O Rapid Flash Brightening Serum and the InstaNatural Vitamin C Anti-Aging Skin Clearing Serum. We choose to look at these products because they are both bestsellers on Amazon and each has dozens of positive reviews.
According to the company website, the Sunday Riley Serum works to brighten your face and fight off free radical damage so that your fine lines, wrinkles, and even acne scars become less noticeable. The serum's active ingredients include beeswax, vitamin C, and alpha hydroxy acids that work to improve your skin. As you do with Opal Glow Serum, you apply it twice a day.
One ounce of this serum costs $85, which puts it about $25 more expensive than Beauty Rich Skincare's serum. Customer reviews for the product average four stars out of five on Amazon, so many people have used and love it.
Another option to consider is the InstaNatural Vitamin C Anti-Aging Skin Clearing Serum. This skincare product promises to brighten your skin by regulating oil production so that it minimizes your pores and dark spots.
It relies on retinol, beta hydroxy and salicylic acid as its key ingredients. Over 2,000 people on Amazon have left positive reviews for the serum, and they report that its primary benefit is clearing up acne and breakouts.
At the time of writing, you'll pay $20 per bottle or approximately a third of the cost of the Opal Glow Serum.
Our View: Should You Try the Opal Glow Serum?
Pulling all the information together, do we think you should commit to the Opal Glow Serum? We're a little hesitant to recommend it because of the lack of available customer reviews.
We couldn't find any customer reviews of the Opal Glow Serum or any other BeautyRich Skincare products that were independent of the company. Saying that, the product website does highlight some purported testimonials from past users.
These reports all give glowing reviews of the serum, stating that it improved the brightness of their skin, restored its elasticity, and made their skin tone look more even and radiant. However, it can be hard to verify the authenticity of reviews when they are left on a company website.
That being said, there's nothing too suspicious in the serum's ingredients list, and BeautyRich Skincare founder Elizabeth TenHouten has a history of promoting a wellness-based approach to beauty. If you choose to try this serum, be sure to leave a review so future shoppers can learn from your experience.
» See Also: Best Foods for Healthy, Clear, Glowing Skin Recommended by Experts