Opencare Reviews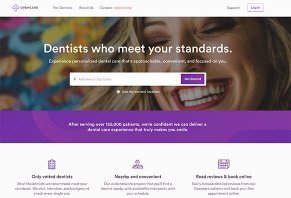 Before recommending any practices to patients, Opencare thoroughly vets all dentists listed on their website to ensure they provide great care and that they'll meet your standards.
About Opencare
After answering a few simple questions, Opencare promises to help you find dentists among their wide network who meet your standards, are personable, convenient, local, and focused on your needs.
To begin, all dentists are thoroughly researched, background-checked, and interviewed by the company's team. Then, after searching their easy-to-use website, customers can view important information about any dentists they're considering, including detailed patient reviews, as well as quickly book an appointment that works with their schedule.
Together, Opencare advertises their goal is to change the way patients and health providers interact by "bring[ing] them together using a streamlined appointment booking platform"—which they claim to have accomplished for more than 120,000 patients.
There's no mistaking the fact that choosing a new dentist—or any other healthcare provider, for that matter—can be a daunting task, so there's clearly a compelling concept behind Opencare. But are they the only option? Even then, what's the best method of finding a reputable, convenient dentist near you?
Let's dive right in by taking a closer look at Opencare's functionality.
How Does Opencare Dental Work?
Using Opencare as a patient is straightforward: simply enter your zip code on their home screen, and they'll guide through a series of questions like:
What's the reason you need to visit a dentist? Checkup and cleaning (routine initial visit), specific treatment (e.g., crown or a root canal), or urgent issue (pain or damaged tooth)
How long has it been since you last visited a dentist? Less than a year, 1-2 years, 2+ years, never visited
Do you feel nervous about visiting the dentist? Not at all, a little, moderately, very, extremely
Do you have a preferred time? Early (before 9 am), Morning (9 am – 12 pm), Noon (12p – 2 p), Afternoon (2 pm - 5 pm), Evening (After 5 PM), Weekends (Sat-Sun). Or, no preference.
How soon do you want to visit? As soon as possible, within one week, within 2 weeks, in more than 2 weeks
Do you have dental insurance? If yes, you'll choose the provider, the type of plan (PPO, HMO, Social Aid, unrestricted), and member ID
Is your doctor's gender important?
Are you ready to book right now? If not, what's stopping you?
After taking a couple of minutes to enter these details, along with your email address (optional), and clicking the 'Show My Matches' button, the Opencare website will display a list of potential matches.
In this quick view, you'll see each dentist's name, their practice's name, their address and map view, and drive time from your zip code. It will also display important details like whether or not they're in-network (depending on the details you entered during the questionnaire), average patient rating and review details, and the number of patients who've booked through Opencare in the past 30 days.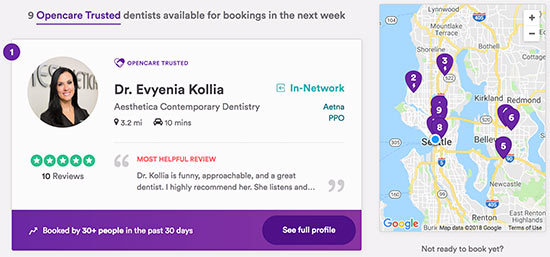 After answering a few quick questions on Opencare's website, their automated system will recommend professionals near you who have passed their stringent screening guidelines, at which point you'll be able to quickly view each of their details. Credit: Opencare
Clicking on any listing will take you to that dentist's main page, where you'll be able to read about services provided, reviews, preferences and highlights (e.g., if accepting new patients, if anxiety friendly, length of practice), and features (e.g., financing plans, flexible hours, paperless, kid-friendly, free parking, etc.). You'll also see the doctor's education and certifications, a short bio, their practice's address, and pictures (if available).
Note: If you want to search a different zip code, you'll have to restart the process from scratch.
Once you're ready, you can click on the Book Now or Request Appointment button, at which point you'll enter patient information (first and last name, DOB, email, phone number), and whether they're a primary member or dependent, if insurance is in place.
While all of this can be handled on the Opencare website, to cancel an appointment, you'll need to contact the provider you booked with.
Opencare for Dentists
To qualify for an Opencare listing, each dental practice must have a track record of positive online reviews on third-party sites like Yelp, Google, and RateMDs. Their entire staff also undergoes a comprehensive on-site interview, and they cannot have a history of professional misconduct such as fraud or malpractice.
If a practice meets all of these criteria and also has exceptional patient reviews on Opencare, they can earn an additional 'Trusted' designation, which is signified by purple highlighting around each of their listings.
From there, the company will "help dentists grow their practice by matching them with new patients" across "multiple marketing channels including social media, digital advertising, search engines, and [their] referral network." Then, Opencare provides practices with complementary management tools that can help these practices communicate with and schedule among their patients.
Whether you're a patient or a provider, how much can you expect to pay for Opencare's services? Let's find out.
How Much Does Opencare Cost?
Opencare is completely free for patients and is currently available in multiple metropolitan areas across North America. They're also quickly expanding their service into new cities each month.
The easiest way to find out if they're available in your area is to enter your zip code on their home screen. Alternately, you can contact a representative directly via the contact form on their website.
For dentists, according to the company's FAQ, there are no recurring fees or commitments, and practices will only pay for new patients that are referred through Opencare and who receive dental care. They point out that the price dentists pay can vary depending on a few factors, "including practice location and participation in insurance networks."
What Can We Learn From Opencare Patient Reviews?
Opencare was founded in 2012 and is based out of Toronto, with offices in Chicago and San Francisco. Despite the length of time they've been in business, however, we encountered very little online patient feedback about their dental matching services during our research.
On TrustPilot, three customers had given them an average rating of three stars: one reported ease of use, while two others complained about difficult site navigation and manipulated data.
Opencare had an A+ rating with the Better Business Bureau, based on five customer reviews and nearly 30 closed complaints, as of 5/7/18. Most appeared to revolve around spam emails and aggressive selling techniques, although a company representative responded in each instance with a solution.
Are There Other Dentist Matching Services Like Opencare?
In the age of the Internet, finding a local dental professional can often be as easy as entering the phrase 'dentists near me' into your favorite search engine. Not only will this bring up names, addresses, and contact details, but it will also almost certainly lust dozens of combined reviews for different practices across sites like Yelp, HealthGrades, and ZocDoc, to name just a few.
Even limiting your scope to dentist-specific sites, Opencare is up against entrenched competitors like 1-800-DENTIST and Smile Generation who offer many of the same features, including:
Personalized recommendations for local dentists based on your answers to a few short questions
A full range of services (e.g., root canals, implants, surgery, etc.)
Patient ratings and reviews for different practices
Emergency help available
How do they compare?
Smile Generation offers a phone number for patients to call, whereas Opencare only provides an online contact form (if direct connection is important to you). Smile Generation also offers dental plans and financing, although there's no indication on their website exactly what their acceptance process involves; only this disclaimer:
The advertisement is paid for by participating dentists who have paid a fee to participate. No representation is made about the quality of the dental services to be performed or expertise of the participating dentists, and that participating dentists are not more or less qualified than dentists who are not participating in the service.
Comparatively, 1-800-DENTIST indicates their rigorous approval process involves confirming state licenses, reviewing background reports for criminal malpractice, confirming the presence of active malpractice insurance, and performing an "online reputation check, including patient reviews and news stories."
Unlike Opencare, though, the process isn't handled completely online, since you'll receive a recommendation call from a representative after entering your information on their website.
Finally, 1-800-DENTIST has been around since 1986 (long before the Internet became a tool of choice) and advertises they've helped over nine million patients in that time. Again, if factors like these are at the top of your list.
Where does all of this leave you when it comes to Opencare?
Our Final Thoughts About Opencare
Outside of services like Opencare and their close competition, the old-fashioned and time-intensive—but often effective—method of finding the 'right' dentist largely involves asking family, friends, neighbors, co-workers, family doctors, or even local pharmacists for recommendations.
WebMD recommends that you can also contact your local or state dental society directly, whose information can usually be found on the American Dental Association website.
Compared to this method (as we mentioned at the beginning of this article), it's easy to see why sites like Opencare have become immensely popular. The bottom line is that as technology advances and algorithms can more accurately gauge our needs, they can help save a ton of time.
Given the fact that Opencare has been in business since 2012, they come with a mostly positive—although fairly limited—online customer reputation, and their services are free for patients, it doesn't seem like you have much more to lose than a few minutes of time by answering a few simple questions, browsing their local listings, and reaching out to a dental professional if a specific practice catches your eye.
Before handing over your information to any website, though, be sure to read through their privacy policy to ensure they won't sell your information to third parties.
Great visit

By Lesa A.

,

Austin, TX

,

Mar 23, 2020
Verified Reviewer

My visit with Dr. Zayed at Peak Dental was fantastic! She was very knowledgeable and explained every part of my treatment going forward tremendously. Her staff was very friendly and made me feel very comfortable throughout my visit. I look forward to working with her and her staff and getting the treatments and smile that I've always wanted.

Bottom Line: Yes, I would recommend this to a friend

---

Very effective

By Brianna S.

,

Washington

,

Mar 20, 2020
Verified Reviewer

This website got me an appointment with an office who took care of my pain and extracted two teeth the same day. The office was close and took my insurance. I highly recommend this service to everyone.

Bottom Line: Yes, I would recommend this to a friend

---

Advertisement

---

So comforting

By Jada M.

,

Mar 18, 2020
Verified Reviewer

I really loved the calm atmosphere and despite my nerves, I had a quick and easy treatment. Highly recommended. I'm normally a big cry baby but they numbed me pretty quickly and talked me through the entire process.

Bottom Line: Yes, I would recommend this to a friend

---

Quick and easy

By Kendra R.

,

California

,

Mar 17, 2020
Verified Reviewer

Found a dentist that was covered by my insurance within close distance, made an appointment through the platform (all completely online), and was able to set an appointment just 5 days later. Super easy and satisfied.

Bottom Line: Yes, I would recommend this to a friend

---

Advertisement

---

Great

By Gladys C.

,

Ontario, Canada

,

Mar 16, 2020
Verified Reviewer

It was a good idea to use Opencare. I did not regret it! I was able to have my dental care appointment at the nearest location with no issues at all! I love it! I would recommend it to anyone.

Bottom Line: Yes, I would recommend this to a friend

---

Excellent follow-up and service

By Rajendran P.

,

Brampton, Ontario, Canada

,

Mar 16, 2020
Verified Reviewer

Its excellent service and follow-up through the whole process from appointment until I reach the hospital. We get an immediate response to the queries asked and I would recommend Opencare to my friends and family.

Bottom Line: Yes, I would recommend this to a friend

---

Convenient and easy

By Mary S.

,

Kitchener, Ontario, Canada

,

Mar 14, 2020
Verified Reviewer

I was referred by a friend and at first I was not sure about it. I just wanted to give it a try, it was very convenient to book and very happy about my appointment. I booked the next appointment with this location, and I will recommend Opencare to my family and friends.

Bottom Line: Yes, I would recommend this to a friend

---

Good so far

By Thuan L.

,

Santa Clara, CA

,

Mar 14, 2020
Verified Reviewer

It is my first time using Opencare. It is quite convenient to schedule a dentist appointment and get good reminders through text messages. I like the idea and I completed my first appointment at the new dentist.

Bottom Line: Yes, I would recommend this to a friend

---

Dental with care

By Crystal P.

,

Washington

,

Mar 14, 2020
Verified Reviewer

This was a very helpful tool to get me back into the dentist's chair WITHOUT kicking and screaming. I had a great time at my new dentist's and it was easy to schedule. Thank you Opencare for the nudge back in the right direction.

Bottom Line: Yes, I would recommend this to a friend

---

My first dentist appointment in Canada

By Reena B.

,

Toronto, Canada

,

Mar 14, 2020
Verified Reviewer

The staff at Dentistry was very welcoming. The doctor was very reassuring and gave me multiple options to tackle my problem. They referred me to a specialist to help me manage my condition quickly.

Bottom Line: Yes, I would recommend this to a friend

---

100% would recommend! Easy and pleasant.

By Melissa O.

,

Colorado

,

Mar 14, 2020
Verified Reviewer

All of the staff were pleasant and made my experience as painless as possible. The dentist explained to me exactly what was going on and even showed me with a mirror. Would definitely recommend!

Bottom Line: Yes, I would recommend this to a friend

---