Openfolio Reviews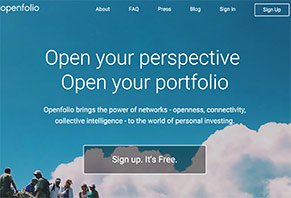 Openfolio is a social network for investors that provides you with the ability to see how others are investing, and how you stack up against the competition.
About Openfolio
Founded by former Wall Street bond traders Yinon Ravid and Hart Lambur, and dubbed the "Yelp of investing," OpenFolio is a social media website focused on helping users freely share investing ideas and opinions among one another. As a result, Openfolio claims to provide "openness, connectivity, and collective intelligence" to its members, who can then gain ideas and validate their investing decisions before pulling the trigger.
According to Yinon and Hart, the idea for Openfolio was borne from their experiences on the trading floor, where their colleagues would collaborate and discuss investing ideas, while freely sharing their opinions. However, they soon realized that there wasn't a place where everyday investors could go, not just to share insights and ideas, but to actually see how their peers' portfolios were performing.
After all, Yinon and Hart believe that we all learn from each other's successes and mistakes, and by offering the opportunity to see what others are doing with their portfolios, you can add a "new, intelligent layer in the decision-making process."
How Does Openfolio Claim to Work?
After signing up for your Openfolio account using your Facebook, Twitter, or email information, you can then link it your brokerage account. Once this occurs, all the information is aggregated to Openfolio's database of more than 25,000 pages—one for every U.S. stock, ETF, mutual fund, and closed-end fund they could identify (updated daily).
Then, your information can be subdivided based on the factor(s) of your choice, which allows you see how your investments stack up against other men and women in different age brackets, different industries, and even by colleges. Each time you log in to Openfolio, your performance is updated in real time, so you'll always be able to immediately benchmark your performance.
Now, you might be worried that other Openfolio members will be able to see too much of your financial information. However, according to the company (as you can see from the image above), your information is displayed only in percentages, and never in dollar amounts, although members will be able to view individual components, such as your stocks, mutual funds, bonds, and ETFs. In other words, "You show people what you're investing in, but never how much you're investing."
Much like traditional social networks, other Openfolio users will be able to view your information and send you "connect" requests, although you can limit which activity is viewable to those inside and outside of your network.
When compared to other investing websites, Openfolio claims to work for investors of all levels by using "collective intelligence" to help you to "gain access to the thinking of experts beyond your circle, including legendary investors like Buffett and Icahn." In addition to their PC-based platform, Openfolio also offers a free app for iDevices.
Sounds intriguing, right? But should you give Openfolio a try? Consider the following:
Who Might Benefit Most From Openfolio?
According to BusinessInsider's writeup about Openfolio (we'll talk more about other feedback in a moment), they noted that the site might be a little intimidating for 401(k)-only investors, and recommended that it's primarily targeted at "currently, active, informed investors."
This is because much of the discussions on Openfolio are centered around individual stock and fund activity that could be confusing to a beginner without the necessary knowledge or investing vocabulary.
Openfolio is Not a Brokerage Account
Also, although you might receive a ton of great investment advice on Openfolio, unlike "robo-advisor" investing platforms such as Interactive Brokers, TradeKing, and WealthFront, the company is not a brokerage firm where your investments are managed or where trades can take place.
Instead, it will be up to you to decide which advice you're going to act on, and then execute trades through your broker.
As we mentioned above though, your Openfolio account is linked to your brokerage account, so others will be able to see how your trades played out in the real world the next time you log in to Openfolio.
Are Investors Pleased with Openfolio?
Overall, Openfolio seems to have a very positive online reputation, and has been featured in popular publications such as TIME, TechCrunch, Yahoo!, Bloomberg, and more.
InvestorJunkie noted that they enjoyed the usability of the site, and that you can gain investment knowledge from some of the top names in the game, completely free of charge. In addition, the author noted that Openfolio gives you information about what people are actually doing, instead of advice from the media. Because of this, they called it a "virtual no-brainer."
According to a piece by Financial News, the Openfolio team "analysed data from 20,000 investors including more than 500 teachers and found that the latter outperformed 80% of all investors over the past year." In other words, teachers tend to perform much better than those employed within the financial world, which is a powerful lesson that we might be able to learn more from those around us than from those trained to invest out money on our behalf.
Goldman Sachs noted that Openfolio "empowers consumers to make their own investment decisions" similar to investing clubs of the past, but at "scale advantages that a club never could [match]."
Openfolio Corp is based out of New York, New York, and is not listed with the Better Business Bureau.
Openfolio Pricing
Openfolio accounts are completely free, and you can sign up quickly using your Facebook or Twitter accounts, or your email address. However, the company is considering adding fee-based premium features at some point in the future.
Should You Open an Openfolio Account?
Chopping to the Point: Although Openfolio deals in ideas instead of money, it appears that much of the information on the site is targeted toward investors with at least a moderate level of trading experience. As such, if you're just starting out, the amount of information and level of detail offered by Openfolio's members might be overwhelming.
With this said, if you're an active and informed investor, it appears that most industry professionals consider Openfolio a welcome addition to the investing landscape. And because it's free, you've got nothing to lose if you decide to try it on for size.