OpenInvest Reviews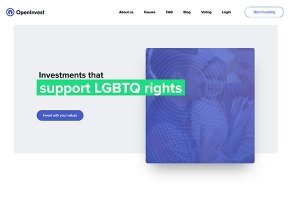 Using a proprietary algorithm, the OpenInvest robo-advisor website and iOS app claim to help make socially responsible investing easy and affordable.
About OpenInvest
OpenInvest is an automated, SEC licensed investment advisor that promises to make customized, ethical, low-cost investing available to everyone, while bringing honesty and transparency to financial services.
Whether climate change, deforestation, LGBTQ rights, or several other important issues, the company claims to build personal investment portfolios based on the causes you care about, while helping you easily plan your financial future and maximize your impact. And to do all of this without having to sacrifice performance.
How's it work? In a nutshell, OpenInvest's proprietary automated algorithms monitor your accounts each day, and are designed to track the performance of the S&P 500. And at any point, you can take action by manually divesting-investing (as well as voting in shareholder resolutions) with a swipe.
As time progresses, you'll also be able to see the real-world impact your investing decisions have made on your dashboard, such as "impacts on climate, gender, weapons," etc.
There's no doubt that money talks. So, if you're looking to make a positive social impact in areas you're passionate about, it might make sense that one of the best ways to accomplish it is through investing.
But will OpenInvest really provide you with investing that's "better, easier, and something you can really feel good about"? Even then, are they the right automated investing company for you?
Let's start off by taking a closer look at how they operate.
How Does OpenInvest Work?
What Is a Robo-Advisor?
The detailed answer: As we outline in our Robo-Advisor Beginner's Guide, these automated services use algorithms (which are almost always proprietary) to make investments on behalf of their clients, without human supervision.
According to their FAQ, OpenInvest can manage "personal investment accounts, joint investment accounts, IRAs, and Roth IRAs," which you'll choose upon signup.
However, as a company, robo-advisors rarely touch their clients' money. Instead, this is usually held by a custodian and moved around by a broker, based on the instructions provided by the advisor. In this instance, OpenInvest is the advisor, Tradier Brokerages is the FINRA-compliant broker, and Apex Clearing is the SIPC-insured clearinghouse custodian).
The short answer: Using different strategies, robo-advisors help automatically guide their clients' money to different investments, depending on the overall goal.
Setting Up an OpenInvest Account
When opening your OpenInvest account, you'll start by answering a few questions about your finances, your goals, and the things you care about (more next). Based on this information, their algorithm will "launch a broad market diversified portfolio that, by design, will track the performance of the S&P 500, but is representative of your values."
Specifically, their FAQ indicates the securities (or stock, equity) side of your portfolio is chosen based "on how well companies align with the set of issues that we support," which are labeled as good, bad, or neutral for a particular issue.
They'll also "use neutral companies to balance other factors such as sector diversification, beta and average weighted market cap." This will never go below 60 stocks.
"For the bond side of your portfolio," the OpenInvest FAQ reports, "we invest in BND, a diversified bond ETF with a very low expense ratio." Together, the company claims this gives you the diversified broad market portfolio that represents the right way to save for retirement.
Once in place, clients can easily monitor their portfolio's real-time performance related to impact on carbon, gender, weapons, and so forth, whether through the dashboard on their phone, computer, or tablet.
Portfolios are automatically rebalanced. New data on corporate behavior is frequently being released, and OpenInvest claims they're always evolving their scoring metrics.
Which OpenInvest 'Themes' Can Customers Choose?
Currently, OpenInvest offers a total of 11 different 'themes' that can be customized to match your values:
Ethical Supply Chains – Screens only the top two percent of companies (among a total of 900) with the fewest potential violations and human trafficking controversies.
Other screening indicators include "each company's internal governance practices, adoption of supply chain standards, corporate policies, audit procedures, public disclosures, and appropriate internal staffing and reporting."
Big Tobacco – OpenInvest will divest you from all companies that are in the tobacco industry.
Pro-LGTBQ Companies – Invests you in companies rated 80-100 on the Human Rights Campaign's Corporate Equality Index, while divesting you from companies rated 0-20.
Fossil Fuels Producers – Based on data from Fossil Free Indexes' Carbon Underground 200 report, this "divests you from the companies with the highest emissions potential and keeps you in the companies with the lowest emissions potential."
Corporations Driving Deforestation – Divests you from any company that ranks lower than a three on the Forest 500 scale.
Women In the Workplace – Invests only in companies with at least one woman on their board, as reflected by 2020 Women on Boards list.
Companies Who Support Refugees – Favors companies most dedicated to helping refugee populations, based on a list drawn from a variety of data sources, including "Obama White House's 2016 "Call to Action" commitments; mainstream media, foundation, and NGO reporting and public filings; company websites; and discussions with a number of leading refugee relief organizations."
Gun Violence – Divests you from all companies who "derive more than five percent of their revenue from the sales of weapons or ammunition."
Carbon Emissions Pollution – Based on "scope 1, 2, and 3" emissions data, OpenInvest invests you in companies with the lowest carbon emissions and divests you from those with the highest emissions.
Dakota Access Pipeline – Here's how their website explains it: "If you select this screen, OpenInvest divests you from the American companies financing the Dakota Access Pipeline, as well as Phillips 66, a confirmed part-owner of the Pipeline."
Stand Up to Donald Trump – If companies and their executives have openly spoken out against President Trump, or if they proactively withdrew from his business council after Charlottesville, they're included. If not, or if they're boycotted by the #GrabYourWallet campaign, they will be divested.
While OpenInvest's robo-advising is passive (they don't change the allocation mix), customers can further fine-tune their portfolio at any time by individually including or excluding companies based on their personal values. Customers can also send screening suggestions to the company.
What's the Difference Between OpenInvest's Website & App?
OpenInvest's app acts as a mobile version of their website. While it doesn't appear to add any functionality, this means you'll still be able to "launch a complete investment portfolio, tailor your values, vote proxies with a swipe, and see your impacts."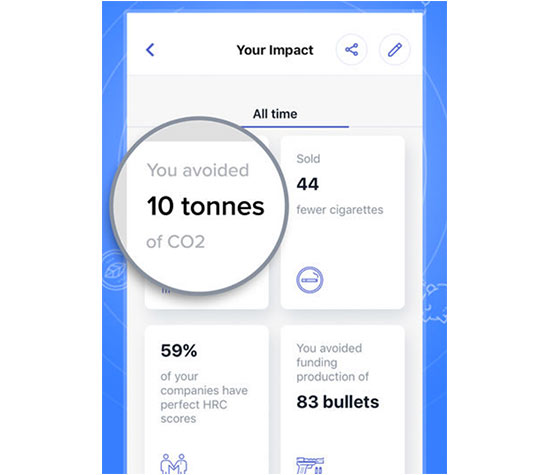 Customers can perform all the same functions on OpenInvest's iOS app as on their website, including viewing the real-time impact their investments are making. Image credit: Apple, Inc.
What Are OpenInvest Pricing, Fees, & Eligibility Criteria?
Based on what we learned from their FAQ, OpenInvest's core eligibility criteria stipulate customers must be a US citizen or permanent resident and at least 18 years of age to open an account, with at least $3,000 to invest.
The company charges a 0.5 percent annual fee of assets managed, which is billed monthly. This covers all ETF expenses, although your fee could be higher if you elect to use a 'Green Bond' fund (CGAFX).
OpenInvest can provide tax-loss harvesting at the individual equities level for all accounts.
In order to withdraw money, you'll need to send an email to support@openinvest.co. If you have additional questions, customer service can be reached at 855-466-6545.
What Can We Learn From OpenInvest Customer Reviews?
Although OpenInvest has been in business since 2015, we didn't encounter a whole lot of online customer feedback for the company at the time of our research.
Although he felt they "can be a decent option for ethical investors," The College Investor's Robert Farrington felt "OpenInvest oversells the power of the retail investor in the boardroom. The fact is, if you want to change a company's behavior, buying or selling a few shares won't help."
Because of that, he labeled OpenInvest "a feel-good platform. Retail Investors won't make a difference in the boardroom, and it's irresponsible of [the company] to make investors think otherwise. You should feel good about your investments. You should not mistake feeling good for doing good."
OpenInvest's iOS app had a total of six user reviews and an average rating of about five stars on iTunes at the time of our research. No details were available.
From a company perspective, OpenInvest was co-founded by CEO Conor Murray, CTO Phil Wei, and Chief Strategy Officer Josh Levin. Previously, Conor worked as a technology associate for Bridgewater Associates, Phil as a quantitative strategist for Blue Mountain Capital Group, and Josh as senior program officer of finance and commodities for the World Wildlife Fund.
Are There Other Robo-Advisors Like OpenInvest?
As technology continues to progress at a lightning pace, many financial jobs that were once handled by humans are now processed by software algorithms.
These ultra-complex programs can take information and make 'decisions' based on pre-set parameters—common examples include everything from underwriting a loan (whether personal or business) and transferring money, to making payments and even potentially changing our currency system.
Cumulatively, this industry is referred to as financial technology, or fintech for short.
A rapidly growing segment within fintech is robo-advisors like OpenInvest, who's up against many other popular companies, each of which is carving out their own niche. These include (to name just a few):
While Betterment and WealthFront have recently announced that they're also favoring companies with strong social responsibility, if this is your core criterion when selecting a robo-advisor, the field thins considerably. In fact, it really comes down to two direct competitors:
| Company | Specialization(s) | Fees |
| --- | --- | --- |
| OpenInvest | 10, including LGBTQ and women's rights, fossil fuels, and gun violence | 0.5 percent annual fee of assets managed; $3K minimum |
| Earthfolio | Screens for sustainability, including environment, clean tech, fair labor, and shareholder advocacy | 0.5 percent annual fee of assets managed; $25K minimum |
| Motif Impact | Sustainable planet, fair labor, good corporate behavior | $9.95/mo; $1K minimum |
How to choose?
Like most other financial decisions, it largely comes down to your preferences and goals. Looking for the lowest fees? OpenInvest and Earthfolio tie at 0.5 percent, although Motif's $9.95 monthly fee could be much lower, depending on your total investment amount.
Speaking of which, Motif's $1K minimum investment could be attractive if you're just starting out, or if you're looking to dabble with the system, without risking a ton of money.
Our Final Thoughts About OpenInvest
Putting your money where your values are, so to speak, is an honorable way to support social change, whichever side of the political spectrum you might find yourself.
And if OpenInvest's 'themes' align with your interests, then their relatively low fees and account minimums—along with their mostly positive (if not limited) online feedback—could open up a whole new world of investing possibilities.
Just be sure to speak with a financial professional before diving in, so you could avoid any potential pitfalls along the way. For more about this, be sure to read Deciding Who Will Manage Your Financial Future: Advisors, Planners or Robo-Advisors.