Orbitrim Reviews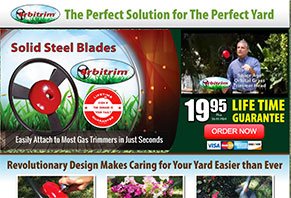 Orbitrim is an "As Seen on TV" circular grass trimmer blade that's claimed to attach in seconds and to prevent unwanted damage to flowers and other plants.
About Orbitrim
Billed as "the perfect solution for the perfect yard," the Orbitrim is a metal grass trimmer blade that's claimed to feature a patent pending safety ring to protect flowers and trees while you're trimming.
In addition, Orbitrim is claimed to also make edging, trimming hedges, and cutting thick, heavy grass quick and simple, while easily attaching to most gas trimmers in seconds. As such, Orbitrim claims that their revolutionary design "makes caring for your yard easier than ever."
But once you cut through all the marketing hype, is Orbitrim worth your hard-earned money? Consider the following:
Orbitrim's Unique Design
While the Orbitrim Trimmer design is unlike anything we've reviewed before, based on the product's commercial, it appears that you have to come over the top of the grass in order to cut it (versus trimming/edging in a side-to-side motion with traditional string trimmers), which could take some getting used to.
And until that time, it might take several passes to achieve the same result as your trust string trimmer. Even then, we could imagine that Orbitrim might consistently miss individual blades of grass, which could quickly become frustrating if you're especially picky about the look of your lawn.
Who Might Benefit Most by Using the Orbitrim Trimmer?
Given this, we might think that Orbitrim is ideal for those who have small, compact yards with numerous flowerbeds and other sensitive plants, where traditional lawnmowers may not fit and string trimmers may easily damage sensitive vegetation. If you're using Orbitrim on anything larger, we could imagine that the over-and-down motion could translate into added time, as well as extra wear and tear on your arms and wrists.
And if you were inclined to use Orbitrim on one part of your yard and a traditional string trimmer on the other, taking each head off and reattaching might waste more time than it saves.
What Happens When Orbitrim Needs to Be Sharpened?
We're not informed what type of metal Orbitrim is crafted from, or how long you can reasonably expect its sharp edges to last.
However, once the time comes, Orbitrim's outer "safety ring" might make the sharpening process more laborious.
No Customer Feedback for Orbitrim
Orbitrim was a very new product at the time of our research (URL registered March 2015) and didn't have any online customer reviews available.
We did learn that the manufacturer is based out of Boynton Beach, FL, although they weren't listed with the Better Business Bureau.
Orbitrim Pricing & Refund Policy
One Orbitrim trimming blade is priced at $19.95 plus $6.95 S&H, and comes with a 30-day refund policy, less S&H charges.
In addition, Orbitrim is claimed to come with a lifetime guarantee, even if the damage is your fault.
In order to request a refund or process a warranty claim, you'll need to contact customer service at 561-739-8219.
Will Orbitrim Make Your Yard Work Easier?
Chopping to the point: Overall, it appears that the main benefits associated with Orbitrim are that you 1) don't have to constantly replace string, and 2) that you won't have to worry about damaging flowers and other plants. However, if you have anything other than a small yard with numerous shrubs and flowerbeds, the over-and-down motion necessary to use the Orbitrim—and the fact that you'll need a socket to change it out—might not be worth the added effort.
For additional ideas on making your yard work easier this spring and summer, be sure to read our 5 Tips For Achieving the Greenest Grass on the Block article!
3 out 3 people found this review helpful

Bad product

By Rick R.

,

Alabama

,

May 7, 2019
Verified Reviewer

I bought this product thinking "Hey no line changing or spoon feeding" and boy was I wrong. I replaced my old head with this head, cranked up the weed eater, and it almost vibrated out of my hands. It is not balanced and I never got to see if it even works. Spent 19 bucks and will NEVER buy some gimmick like this again. The old saying is "If it is too good to be true, then it probably is not good."

Bottom Line: No, I would not recommend this to a friend

---

6 out 6 people found this review helpful

Danger!

By Christine D.

,

Streamwood, IL

,

Jul 14, 2018
Verified Reviewer

You have to angle this product to get it to cut anything, and then you increase the danger of hitting something/rock and causing the product to break apart and become shrapnel. The rim of the product broke into three pieces, sending a piece of metal into my leg to the bone, causing a 12-inch laceration around 60% of my leg and two puncture wounds on the ends of the laceration. It was caused by the force of the impact. Please do not by this product, for your sake and anyone/animal that it could be injured.

Bottom Line: No, I would not recommend this to a friend

---

Advertisement

---

5 out 5 people found this review helpful

Customer

Garland, TX

,

Jun 21, 2018
Verified Reviewer

I am so disappointed in this product. I so wanted to find something to replace the traditional weed eater line that is so frustrating to work with. It takes so long to stop every few feet and unscrew the top to pull out the line. They have bump heads, however, the plastic line gets hot and sticks together, and I thought this product was a real solution. This was not the case however, the second time I used it the head spun off the weed eater and spun like a top on the ground. My bad, I should have read the reviews before I purchased it. I ordered two, so now I either have to try and sell it, which I am reluctant to do after my experience, or chalk it up as a learning experience. It looked so good on the commercial, but looks can be deceiving. What a piece of junk!

Bottom Line: No, I would not recommend this to a friend

---

2 out 2 people found this review helpful

Not what I expected

By Rich D.

,

Minnesota

,

Jun 13, 2018
Verified Reviewer

Corners clog up with grass and weeds after a couple of minutes of use, even in shorter grass. It does not work well in longer grass. This is a As Seen On TV gimmick and I should have known better than to buy it. I will be putting my old head back on and using string.

Bottom Line: No, I would not recommend this to a friend

---

Advertisement

---

3 out 6 people found this review helpful

Bolt boondoggle

By Martin B.

,

Shepherd, MI

,

May 26, 2018
Verified Reviewer

Even though the information about the Orbitrim Pro said it would be compatible with my Ryobi gas trimmer, none of the bolts that came with it would affix to its female bolt end. I went to several stores trying to find a bolt that would work, but try finding a one inch long 8mm hex head that is 9/16 and is a left turning bolt with fine threading.

The Ryobi attachment bolt has a courser thread than the ones in the package. Unfortunately, it has a pentagon head, so it will not work with the Orbitrim. I called the Orbitrim company and they only have the 5 bolts that they sent me, so they couldn't send me a bolt that would connect the Orbitrim to my Ryobi. They said they would have a tech guy call me, but I never got a call.

I wasted a lot of time trying to get it attached. Now I have to repackage it, drive back to the store and go through customer service at Menards and show my sales receipt, then go back home and reattach my old Ryobi string trimmer head.

Bottom Line: No, I would not recommend this to a friend

---

12 out 12 people found this review helpful

Dangerous!

By Sharon Foster

,

New South Wales, Australia

,

Dec 29, 2017
Verified Reviewer

I really, really should have read these reviews before buying the Orbitrim as a surprise for my husband!

Surprise alright, because after less than an hour of use the "deluxe" model snapped, nearly taking out his legs. Lucky his instincts kicked in and he jumped quick enough!

This is the most dangerous piece of rubbish that you could waste your money on. Do NOT buy one!

Bottom Line: No, I would not recommend this to a friend

---

22 out 23 people found this review helpful

Orbitrim = 5 months in hospital

By Scott White

,

Walgett, New South Wales, Australia

,

Sep 25, 2017
Verified Reviewer

My job in life is to get this product off the shelf. I bought one off the internet. After two hours of use, it spun apart while my wife was using it and caused horrific damage to both ankles. Spent five months in the hospital, lucky to be alive, let alone able to walk or have a foot.

Not the outcome you want from doing a simple job like edging. Don't even buy for an ex-wife or mother-in-law.

Bottom Line: No, I would not recommend this to a friend

---

28 out 29 people found this review helpful

Hunk of junk

The Orbitrim is the worst trimmer head I have ever tried. It will not cut up against the house, trees, corners, or any flat service. The commercial is very misleading. On top of this, you have to pay for shipping when you go to return it. The rep will give you a $6.99 refund instead of sending it back. Right now, I have a $19.99 piece of crap. DO NOT waste your money!

Bottom Line: No, I would not recommend this to a friend

---

22 out 22 people found this review helpful

Do not buy!

This is a SCAM. This product is a total waste of money! Not only that, it endangers the engine on your string trimmer!

Yes, it allows the engine to operate at much higher RPMS than designed. Two-stroke engines are inherently good at higher RPMS, however, when they design these products (i.e. Piston's sleeves) they use the least amount of material needed for the stresses of the designed RPMS and loads. So not only does it not work, it is damaging the engine you attached it to!

Please save yourself the hassle research stuff before you buy it. I research everything, but unfortunately, my father-in-law doesn't, and it ended up on our string trimmer I'm not happy, and now he can't find the original string trimmer. Now I have to spend 40 bucks for a new string trimmer attachment. I might as well go buy a brand new trimmer.

Bottom Line: No, I would not recommend this to a friend

---

22 out 24 people found this review helpful

Not worth a jug full of crap

By John Carey

,

Tasmania, Australia

,

Jul 7, 2017
Verified Reviewer

How the heck could I recommend this worthless piece of crap to anyone or anything else from the GlobalShop? It is total rubbish, just ripping the old off. It looked great when it arrived in its box, but that's where it ended. How could they have the nerve to advertise such rubbish on TV?

Bottom Line: No, I would not recommend this to a friend

---

31 out 31 people found this review helpful

Ditto to the other reviews!

By Jeff Snyder

,

Yacolt, WA

,

May 31, 2017
Verified Reviewer

Someone said one star is too high a rating for this product. I completely agree. I have two Stihl brush trimmers, an older FS106 and a much newer one. This will not fit properly on either, despite the manufacturer's claims. Even took it to a shop to see if they could get a good fit that didn't vibrate dangerously. No luck. It's trash. Looks like a nice idea, but beyond worthless. AND, I even bought the "deluxe" model hoping for a nice product.

Bottom Line: No, I would not recommend this to a friend

---