Orenda Coffee Reviews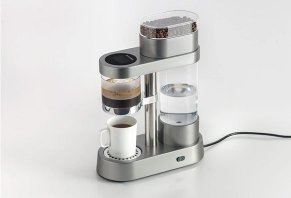 The Orenda is a smart coffee brewing system that claims to allow users greater control over their brew with custom options like texture, strength and bitterness.
About Orenda Coffee
By integrating smart, app-connected features, the Orenda coffee maker represents a shift that we've been observing in consumer electronics for several years now.
In today's tech-fueled world, the devices that live alongside us are becoming increasingly tailored to our individual preferences. More than ever, we're connected to them via our smartphones and tablets in ways that even a few short years ago would have been firmly in the realm of science fiction luxury.
Now, the latest wave of innovation is coming to the humble coffee brewer. With Orenda, the company is looking to shake up the way your daily brew is made and enjoyed.
How Orenda Works
Put simply, Orenda is a coffee brewing system that learns your preferences and tailors itself to them.
The device measures 5.5"W x 12.2"L x 15.6"H, weighs about 6.5 pounds, will brew roughly 4-5 cups of coffee per use, and features a slick industrial design, with the main structure (the part that comes in contact with the coffee) made up of stainless steel and borosilicate glass. It utilizes a built-in metal filter, but the company claims that it is also fully compatible with most paper filters as well, if that is your preference.
The way it is described on the product's website, the first time you add beans to the 1.2L glass reservoir, which features a stainless steel burr that allows for a more consistent grind size, Orenda's built-in sensors will automatically select the ideal settings.
During the brewing process, these sensors will also measure the total coffee dissolved, temperature, grind size, and time, all the while comparing this information to the official SCAA Brewing Control Chart.
After the process is finished, you can then connect to the companion smartphone app (available for Android and iOS operating systems upon launch) via Wi-Fi to rate the brew, weighing in on preferences such as bitterness, texture, caffeine concentration and overall strength. Once this is complete, Orenda will update the next brew to reflect your taste, reportedly leading to a more personalized experience.
Through the app, it looks as though you can even share your favorite recipes, or use popular ones from other users, though official details from the manufacturer are scarce on how this will work in practice at this point. Don't worry, though; should find yourself without your phone, brewing is as simple as pressing a button on the device itself.
The explainer video shows us that you can make many different types of coffee with the Orenda, from French press, to pour over, iced coffee, and cold brew. The device can even be set up to work with popular automation services, allowing you to sync its functionality with your daily alarm, as well as with the popular Amazon Alexa and Echo devices.
It also works with IFTTT, which is a free web-based service that allows you to connect devices together to work via automation.
Orenda Pricing & Warranty Info
Orenda is currently available for pre-order, with the listed ship date being August 2017 as of the time of this writing. The device's current price is $399.00, though it is shown to be $499.00 when it officially releases.
It is stated that each device includes a one-year international warranty, though no additional information is provided as to what exactly is covered under this plan. We've reached out to both the co-founder and customer support for clarification, and once we get a reply back, we'll update this information here.
The company also lists that they will ship worldwide, for a flat rate of $35. The makers of Orenda say they will ship you the correct voltage for your country by referencing your delivery address.
Orenda vs. Alternative Brewing Options
As more and more products are released with smart capabilities, you can expect that competition will start to sprout up in all sorts of different niches, and smart coffee brewers are no exception.
Based on our research, there are a number of smart coffee systems that are either releasing this year or are already out on the market, such as the Behmor Connected system and the Smart Coffee Machine. What we found, however, was that none of these various systems promise to deliver the same level of exacting control over the brewing process that the Orenda claims to offer.
Another important note: the Orenda looks like one of the only machines on the market that actually grinds the coffee as well as brews it, allowing for that extra bit of convenience and control. Many of the alternatives require pre-ground coffee beans, with some (like the Mr. Coffee Smart Coffeemaker) even using coffee pods like Keurig's K-Cups instead.
That being said, the Orenda also appears to be the most expensive offering by a fairly wide margin, with many other "smart" brewing systems ranging from $200 all the way down to $80 or so. Many of these devices let you control settings, such as the brewing temperature and number of cups to brew, but none of them show the level of personalization that the Orenda offers.
Only time will tell if these settings truly add an appreciable difference to your daily cup. Ultimately, if you're in the market for a more highly customizable experience and you have a larger budget, the Orenda might be ideal.
If you're searching for something on the less-expensive end, though, or you don't need large amounts of personalization, there are multiple different models that feature automation integration, temperature control, and a basic smartphone app for around half the asking price of the Orenda.
Our Final Thoughts On Orenda
As our devices become more connected to us, we'll be presented with deeper and deeper levels of customization. The Orenda represents this ambition clearly with an intriguing design and a full list of smart customization features that might appeal to coffee lovers who are looking for that sort of thing.
Products that get their start on crowdfunding platforms like Kickstarter sometimes have a rocky road to completion, due to the many hurdles companies must face bringing their ideas to fruition.
Other than the manufacturing delays detailed on the company's crowdfunding page (which the company has addressed in various updates), there doesn't appear to be anything else standing in the way of bringing the product to market, based on the company's communication with their customers. With these sorts of projects, however, there's always a degree of risk involved.
So, at the end of the day, can the Orenda truly deliver an unparalleled coffee experience? We'll have to wait and see when the device officially releases sometime in the near future.
---
How can you rate a product when there is no product?

By Bryan

,

Illinois

,

Sep 8, 2017
Verified Reviewer

Overall Experience:

You read that correctly! How can you rate a product when there is no finished product!? They should be rated at zero stars. Stars are for product ratings. Currently, this is just a concept with a company trying to figure out how to navigate the manufacturing process in China which is very difficult. Oh, and at their customers' expense. (They don't tell you this when you make the purchase).

Ok, so they started out on Kickstarter under another name. If you purchased this way, you know what you were getting into. However, we purchased in July of 2017 with a ship date of August 2017, believing there was a product. It wasn't a Kickstarter environment that we purchased on/in. When asked for a shipping date we received this update link:

https://www.orendacoffee.com/pages/august-update

Update, is that what they are selling it as? To me, it reads, "We don't know how to go from prototype to an actually working acceptable unit ready for consumers." We are told it will ship in October. My question is that if it is shipping in October is it being manufactured today? It would have to be drop shipped to meet that date! Yet they are selling another batch slated for December shipping when their August order hasn't even shipped and isn't until October. Did the ORIGINAL version on Kickstarter ever ship? So this is the third sale of this product? I am confused. Does anyone have one? Then they send us is this stupid update. It's stupid because they sell it as an update. They sell it as if they won't accept poor craftsmanship. As if they will only accept the highest standards. Wait Orenda, you mean you are taking orders yet haven't figured out how to make the actual product and did not disclose this to the consumer up front in your "beautiful" advertising? Is this even legal? Had their web page said this I would have never placed the order.

No matter what good intentions Orenda has, they are R&Ding off the backs of actual customers and not telling them this up front. Their own "updates" clearly show they aren't ready to ship. Companies usually invest their own money into R&D. They get investors to take the chance and give them a percentage for the risk. It appears we have a "beautiful concept" with plenty of money spent on "beautiful advertisement" for a product that has yet to be manufactured and tested successfully.

Don't believe me? Their August update states, "40 machines ready by the end of August/start of September shipped to early unit testers." Ready to ship early units to testers! Did you catch that?

I was hesitant to place my original ad because all the reviews of this product are reviews of the concept! Not the finished product. My scam radar was up, but I took a chance and put it on a card with protection. I ended up getting a refund. It took them several days to issue it. They responded with in hours when I asked about a shipping update.

Even if the product is phenomenal, this isn't the way to do business!

Bottom Line: No, I would not recommend this to a friend

---

Orenda has failed to deliver, literally

Overall Experience:

Promising a delivery date in August, it is currently October 25th, and my coffee maker has not yet arrived. It is looking more and more like Orenda is another fraudulent or incompetent start-up since they are unable to even complete a business transaction. They took my money, and after several months have not delivered their product. Please, don't let them take your money too.

Bottom Line: No, I would not recommend this to a friend

---

Advertisement

---

I can't believe I'm still waiting on this thing.

Overall Experience:

I placed my order in the summer. Shipping was supposed to happen in August. When I didn't hear anything, I checked back in September. I was told they had production issues and October was the new ship date. It is now November. And with such production issues, I have little hope that this machine will be either durable or work properly. What a scam.

Bottom Line: No, I would not recommend this to a friend

---

Overall Experience:

Is this company Orenda Coffee a con game or are they real? I ordered mine in July 2017 and have not received it or heard from them. At least if it is a real product, they should update me on delivery.

Bottom Line: No, I would not recommend this to a friend

---

Advertisement

---

Can't believe I ordered in April and still don't have it in November

By Liz

,

Georgia

,

Nov 17, 2017
Verified Reviewer

Overall Experience:

I don't really care that they keep updating us with all their problems and issues and delays. I ordered in April expecting to wait, sure, but not until after November 15. I was even told in OCTOBER that I would be in the first batch to ship last week. Still no notice of shipping.

Long story short, I wish I had saved my money and my time and hassle watching over this thing.

Bottom Line: No, I would not recommend this to a friend

---

They deserve zero stars!

By Monica

,

Utah

,

Nov 20, 2017
Verified Reviewer

Overall Experience:

I ordered my Orenda in July and they took my full payment. They said it would ship in August. Then in August, they said it would ship in September. Then in September, it was supposed to ship in October. Then in October, they said November. Then I requested a refund.

Now they are refusing to refund my money! They sent me an update that a unit for me has "shipped" on ocean freight in mid-November and will be arriving sometime in late December. Then once it arrives in their warehouse in late December, they'll give me a tracking number and actually ship it to me. This is absolutely ridiculous, and they still refuse to refund my money.

They are a scam that never delivers an actual product! This company takes your money and doesn't give you anything in return!

Bottom Line: No, I would not recommend this to a friend

---

Overall Experience:

I ordered on their website in March 2017 with a June ship date. Never did their website mention this was a Kickstarter project. I just assumed that they order by the container when they have enough orders to fill the container.

Here it is November 20th, and I still don't have it. To add insult on top of it all, on October 5th I was given a confirmed shipping of the week of November 12th.

On November 17th, I sent a request to follow up and on November 19th I got a reply saying hopefully by the end of December I should have a tracking number!

I don't want a tracking number, I want the unit!

They have a great looking website, but the product itself? Who knows!

Bottom Line: No, I would not recommend this to a friend

---

It's one big con job

By Thom Rogers

,

Summit, NJ

,

Nov 22, 2017
Verified Reviewer

Overall Experience:

I ordered this coffee maker on April 17, 2017. They said it would ship in June. No, wait, we mean August. No wait, we mean September. No, wait...

Well, I got tired of waiting, and on November 5th, I sent them an email notifying them that if I did not receive the machine within the next two weeks, I was canceling the order. I immediately got an email back apologizing for all the delays and I would be one of the first 40 to be shipped. That was 16 days ago. I just sent them my last email informing that I had contacted American Express and they would be refunding my $434.

It's one giant con game. Don't get suckered in.

Bottom Line: No, I would not recommend this to a friend

---

More excuses and more supposed delays

By John Collier

,

Franklin Lakes, NJ

,

Jan 3, 2018
Verified Reviewer

Overall Experience:

I have now lost faith in this company and in my expectations of ever receiving my coffee machine. I prepurchased the coffee maker in December 2016 with the expectation of receiving it in June. Manufacturing issues pushed delivery out to the end of October for web purchases. Their reason was perfectly reasonable, and I too commended them for maintaining high-quality standards. In November, I was informed that my unit was made and would be shipped during the week of November 12th. On December 11th I was informed that my unit was made and was on its way:

"We are delighted to inform you that your Orenda has been made and is on its way to you!

Your order is being shipped via ocean freight (in batches), and the tracking number will be assigned once the container reaches our California warehouse for individual shipments ... We expect to have all the tracking information to you by end-December, if not earlier."

However, in mid-December, I received their update that informed us that they did not ship out all of the units as previously communicated because of holiday shipment issues and not getting into the queue (https://www.orendacoffee.com/pages/november-december-update). Upon emailing them, I found that my unit had not been shipped and would be shipped in January with the expectation of it hitting the US in February.

Why did they wait so long to inform us that our units would not be on the ship? Also, what happened to the Kickstarter units that were supposed to ship before those of us who ordered via their website? Not a peep from one of them regarding receipt or reviews. If anybody has received one, please post here.

Their website states that they have sold out of their first two batches and the third batch would ship at end of February (https://www.orendacoffee.com/). If you are considering purchasing a unit, I recommend waiting until people start posting that they received theirs (and whether the wait was worth it). Something smells here, and it is not coffee.

Bottom Line: No, I would not recommend this to a friend

---

Overall Experience:

I am not sure where their physical location is, but it's NOT where they claim (1521 Concord Pike, City of Wilmington, DE, 19803, not there, never have been). That right there tells me they are a fraud.

I got suspicious when they immediately charged me for the maker when I ordered last summer (I don't pay until something is ready to ship so that, if it doesn't ship, I can contact my bank to refuse the charge). Yes, I got my money back (they had no choice, I gave them 72 hours to refund it, or I would do a chargeback).

A friend also ordered last July. He's still waiting. His bank filed a claim, but it's well past the deadline, so all they can do is ask for the money back (they can't just take it back), so he's out over $450. When he asks when he's getting his machine he is told "the first two orders sold out" and the third run is getting ready to ship. Well, ordering in July of 2017 he should have been in the second run, at least.

Nope, it's a scam.

Bottom Line: No, I would not recommend this to a friend

---

Order never shipped

By Lynn Graham

,

New Braunfels, TX

,

Jan 17, 2018
Verified Reviewer

Overall Experience:

I ordered the coffee maker April 2017. I kept receiving dates for shipment then excuses why it did not ship. I called to deny the credit card charge, but it was over 60 days and they could not help. I have sent to the company to ask for a refund and received NO RESPONSE. This is a total scam!

Bottom Line: No, I would not recommend this to a friend

---