Origami Owl Reviews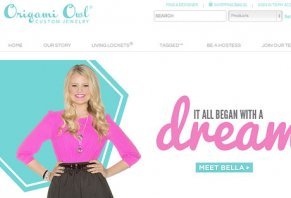 Origami Owl is a direct sales company that allows you to buy and sell one of a kind jewelry, including charms, dangles, plates, and more through social gatherings known as "Jewelry Bars."
About Origami Owl
Origami Owl is a relatively new company that gives you the ability to buy and sell custom "fun, fashionable, and meaningful" jewelry. The company claims to have thousands of Independent Designers who host jewelry parties (know as Jewelry Bars), which gives consumers an up close and personal opportunity to view products, and Independent Designers the opportunity to earn commission from each sale.
Origami Owl is based out of Chandler, AZ, and was founded by then 14-year old Isabella Weems in 2010. The company generated $250 million in revenue during 2013, and has a B+ rating with the Better Business Bureau, based on more than 200 closed complaints over the past three years. Based on our research, it appears the most common complaints reference difficulty returning/exchanging items, poor quality products, and less than stellar customer service. With this said, it appears the company attempts to address all complaints quickly.
How Origami Owl Works
Origami Owl is a new company that offers unique, customizable jewelry that helps you "tell your story" using a wide selection of charms, lockets, chains, plates, and dangles. According to the company's website, there are three different ways to use Origami Owl:
Purchase directly through the company as a consumer.
Sign up as an Independent Designer, which allows you to sell products directly to consumers through gatherings known as "Jewelry Bars," and to earn a commission from each sale. In this role, you can even have other Independent Designers under you, and you can earn an additional commission on their sales.
Act as a Hostess for an Independent Designer's Jewelry Bar, which provides benefits such as free products and exclusive discounts, depending on the dollar amount sold.
To sign up as an Independent Designer, you'll need to pay a one-time fee (see next section), which will give you access to the Origami Owl Business Package. In addition, you'll also be partnered with a mentor who can walk you through the process, as well as their 24/7 online training suite. However, you'll need to be referred by an existing Independent Designer to join. If necessary, the company can refer one in your area, though this will take 7-10 business days.
Origami Owl Pricing & Refund Policy
Signing up as an Independent Designer will require that you pay a one-time fee of $149, which will give you access to the Origami Owl Business Basics Package. Once you begin, you'll be able to earn a 50% commission on charms, plates and dangles, and 30% on all other jewelry. Commissions are paid on a weekly or monthly basis. In addition, as with most MLM/direct sales companies, you can also earn a Leadership Bonus (e.g. more commissions) by mentoring a team of Independent Designers.
All items purchased through Origami Owl come with a 30-day return policy, less shipping and handling charges, as long as they are unworn and are in their original packaging. Items not in their original packaging may be subject to a 15% restocking fee. In addition, all products come with a 90-day warranty against manufacturer's defects.
To find out more about an Independent Designer position or to begin the return process, you'll need to contact the Origami Owl customer service department at (888) 491-0331, or through their contact form.
Pros
Custom, one of a kind jewelry that helps "tell your story."
A direct sales model that allows Independent Designers to earn a commission from every sale they make.
30-day return policy, and 90-day warranty against manufacturer's defects.
Cons
The most common complaints reference difficulty returning/exchanging items, poor quality products, and less than stellar customer service.
Bottom Line: Is Origami Owl a Scam?
Origami Owl is a Multi-Level Marketing (MLM) company, which means that you can earn money two ways: Directly from the jewelry sales you make, as well as the sales made by Independent Designers under you. However, direct sales/MLM companies are often accused of being pyramid schemes, since the avenue to passive income often has more to do with how many people you recruit than it does how much product you sell. In fact, there are a numner of complaints related to this very thing regarding Origami Owl's commission structure. Most MLM companies do pay out according to their compensation plans, but the time, effort, money, and sacrifices you'll need to make in order to achieve success are often not made apparent.
Even in many of the presentations you'll hear from existing Designers, the amount of work involved is often minimized, while income figures are often inflated. In fact, according to one review, "The typical company pitch from corporate or field leaders usually involves the concept of compound interest and how getting just 2 people involved will soon grow to a team of 1,024 people and beyond in a shortly time!" As mentioned, with most MLM sales pitches you'll experience, regardless of the company, they often don't give you a complete picture of what it actually takes to succeed. In this instance, "The truth is that for duplication to set in a big way, you need much more than just a few people… and this applies whether you intend to focus on retailing only, recruiting new Independent Designers only, or both. In my first direct selling company where I sponsored around 30 people personally, and with some duplication the team grew to roughly 120 people. That produced an average of $2,500 a month for me. It was 30 people, not the 6 people my upline mentors had suggested."
One final (possibly) negative factor you may need to keep in mind is that Origami Owl has been in business for a relatively short period of time, at least when compared to heavy hitters like Amway. Because you're building a business solely using another company's products, you'll want to make sure that the company is going to be around for a while. Otherwise, you could spend years building up a client base, and then watch your parent company go out of business. With this in mind, Origami Owl has dramatically increased its profits over the past couple years, but it remains to be seen whether or not it will become a lasting success.
So what's the bottom line? Origami Owl appears to be a fresh new way of earning extra money. Because it's so new though, it's long-term success remains to be seen, so you may want to be careful putting "all your eggs in one basket," and to start slow.
---
I am not pleased

By Jackie Haden

,

New Smyrna Beach FL

,

Jan 21, 2015

Overall Experience:

Have a large black locket - 4 crystals are missing. Don't know when or where. Wore it 3 times. I have called you several times. Am cut off. No answer! WHY? I ordered several items Order #935360 Why can't I speak with you?

Bottom Line: No, I would not recommend this to a friend

---

Made myself an anklet.

By Melanie

,

Kentucky

,

May 30, 2017
Verified Reviewer

Overall Experience:

There was an independent consultant set up at my local festival and to be honest, I had been on the look for an anklet for a few months now because I am in a relationship where I am a hotwife and the universal symbol is an anklet to let others know but couldn't find any decently made ones.

Well, I stopped at the booth and the lady informed me there was a necklace that could be worn 10 ways and made into an anklet. So I bought that and a charm. Aye, it's pretty cute.

Bottom Line: Yes, I would recommend this to a friend

---

Advertisement

---

Origami Owl Rocks.

By Katherine

,

Ohio

,

Jul 31, 2015
Verified Reviewer

Overall Experience:

All the reviews I read online are negative and I don't quite understand why? I have never had any issues with the company, making sales, the website, or my mentor. Yes, they upgrade their website, just like every company. No company is perfect. With some patience, the orders go through. All of my customers are very happy with the products and keep coming back for more. Everything gets delivered quick and my commission is pretty good, too! You do have to actually "work" a little to get what you want, but it's not hard. Following up with customers is very important. My mentor and the rest of my team are awesome! They are always there if I have a question or need something. They have great ideas for jewelry bars too. I'd recommend Origami Owl to anyone who is willing to put some effort into it because it is well worth it to me.

Bottom Line: Yes, I would recommend this to a friend

---

Awesome company

By Melanie

,

Florida

,

Aug 17, 2015

Overall Experience:

I have been with Origami Owl since January 2013 and love it. I was in another direct sales company for over 16 years and finally burned out due to the changes in corporate (not in a good way). I love O2 -- the products are top notch and excellent quality, never had an issue with returns or replacements, the site is getting better all the time. Yes, if you want to build a team it's work - hard work. But worth the rewards. If you have a good mentor to help you, the sky's the limit. I'm self-taught and motivated which helps me a lot. But I also know when I need help I can call the Nest and they will take care of it.

Bottom Line: Yes, I would recommend this to a friend

---

Advertisement

---