Oscar Health Insurance Reviews
Claimed This company has claimed this profile, is getting alerted on any new customer reviews entering this page, and may engage in dialogue with its customers to address their matters.

Companies cannot pay money or provide goods in order to remove or alter customer reviews.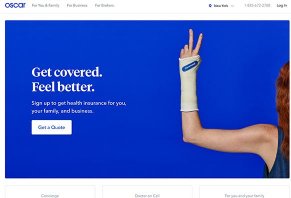 Oscar is a New York-based health insurance provider who touts technology-driven, customer-focused services and affordable plans that fly in the face of the way the modern healthcare system works.
About Oscar Health Insurance
Oscar is a health insurance company who launched in 2012 and provides EPO health insurance plans via their website or the healthcare marketplace.
What makes Oscar different is that their plans come with a myriad of services you don't typically find with health insurance companies.
Oscar's healthcare plans are currently available in the following states/cities: New York, Cleveland, Austin, LA/OC, Nashville, San Antonio, San Francisco and New Jersey.
The company's founders are Joshua Kushner, Kevin Nazemi and Mario Schlosser, who is the CEO. The trio is well-educated and has a background in capital ventures and various entrepreneurial endeavors.
According to the company's Crunchbase page, their goal is to "humanize healthcare" through "technology, design and data."
Does Oscar reach that goal? What services does it offer that differentiate it from other health insurance companies? What are customers saying about their experience with Oscar?
We are going to answer each of those questions as we work through this review. We will cover the following topics relating to Oscar's plans and their services:
What services does Oscar offer?
What types of insurance plans does Oscar offer?
How do those plans' prices compare to the competition?
At the end of our review, we'll talk about some of the general pros and cons of the company and who we think it's good for.
A Quick Word About "EPO" and Health Insurance
A few minutes ago we mentioned the acronym "EPO," which stands for "exclusive provider organization." EPO plans usually don't give you discounts for seeing doctors outside the company's network – think of a network as doctors and hospitals on Oscar's team – but you won't need Oscar's permission to see a specialist.
The Unique Services that Oscar Offers
Every health insurance company provides you a list of services they will and won't cover. These services include visits to the doctor and specialists, trips to the ER and urgent care, imaging like CAT and MRI scans, and a bunch of other stuff.
As we mentioned in the intro to this review, Oscar goes above and beyond those usual services and offers some specific perks that you don't get with the average health insurance company.
Doctor on Call
This service is perhaps the most unique one the company offers. Oscar customers can call the company's Doctor on Call line and talk with a doctor 24 hours a day, seven days a week.
In our conversations with an Oscar phone rep and through research of first-person accounts, we found that Oscar's doctors will talk with you over the phone, ask you questions about your symptoms and may, in some cases, send a prescription for you.
This can be a huge relief to people who get sick but don't have time to for a doctor's visit. It's also a financial perk because you skip having to pay for a doctor's visit.
What's unique about this, in our opinion and based on our own experiences with healthcare, is that you typically only get to call a doctor and ask for a prescription if you've been a patient for a while, have a relationship with the doctor and need medicine for a recurring issue.
If you buy your health insurance through the marketplace (ACA or "Obamacare" plans), then there's a good chance you're bouncing around from plan to plan each year as you search for the best value. Doing so makes it tough to keep the same doctor, therefore making it nearly impossible to call in and get a prescription over the phone.
Concierge Team
Every Oscar customer gets a concierge team that's made up of three "care guides" and one nurse. If you have questions about your policy, claims, bills, or your care, you call your concierge team.
According to promotional videos from Oscar, you get the same team of people answering the phone every time you call.
"We've become experts at your policy. Every time you call in each person knows how your policy works," one company rep said in a video about the Concierge Team.
Your Concierge Team also helps you find doctors in your area who are accepting new patients, coordinate discharges from hospital stays and also work out the details of ER visits you may need.
Also, the nurse on your team can provide medical advice.
Based on our experience with healthcare, we believe that Oscar's Concierge Team provides a lot of the services that you can get from any healthcare company you call. Phone reps are familiar with your plans, they can help find doctors in your area and they can provide explanations about billing.
As for having a nurse you can talk with, Molina Healthcare offers a 24-hour nurse advice line.
The main difference between what your Oscar Concierge Team offers and what you get from other companies is consistency – Oscar says you have the same group of four people dedicated to your account.
Anyone who's dealt with multiple phone reps about a billing issue or plan questions can appreciate the value of a consistent team who knows your plan and knows you.
Making Appointments Through Oscar's Site and App
This is another service that sets Oscar apart from other health insurance companies. Many competitors require you to call the doctor's office, provide information over the phone and wait a few seconds for the receptionist to find an open appointment.
Making an appointment through a website or app simplifies the whole process. As someone who used a health insurance plan that allowed online appointment booking, I can tell you it's an awesome perk.
Oscar's Insurance Plans
Now that you've got a good idea of the unique services that set Oscar apart from other health insurance companies, we want to go over the health insurance plans they offer.
Before we do that, though, we need to lay some groundwork regarding where you can buy Oscar's plans and what certain insurance terminology means.
First, Oscar's plans are available to purchase directly from their website and through the healthcare marketplace.
You'll want to use the marketplace if you believe your income and household size will qualify you for discounts on your premiums. The IRS offers a calculator that tells you if you're eligible for those discounts (also known as "premium tax credits").
You can use your full credit each month, part of the credit or none of the credit. If you choose to apply part or all of the credit, then premiums you see listed later in this review will be lower.
Second, Oscar's plans implement the same premium/co-pay/deductible/co-insurance/out-of-pocket max that other companies use. Here's a quick explanation of what each of these words means:
Premium
This is what you pay every month to have insurance.
Co-pay
This is a set fee that you pay for doctor's visits, urgent care, the ER, imaging and other services. Your co-pays are usually more expensive if your premium is lower, and vice versa.
Deductible
This is a dollar amount you have to pay in order for all your plans benefits to kick in. When you "meet your deductible", you've paid the amount needed for all your benefits to start.
In most cases, a higher deductible means lower premiums, higher co-pays and higher co-insurance rates. A lower deductible usually means higher premiums, lower co-pays and lower co-insurance amounts.
Co-insurance
This is a percentage you pay for any services that don't have a co-pay. For example, Oscar's Backup Gold plan has a 20% co-insurance after you meet your deductible.
So, let's say you come down with a nasty case of the flu and you have to go to the hospital for an overnight stay. The hospital bill is $5,000. If you've already met your deductible and your co-insurance is 20%, you pay 20% of the bill.
Out-of-pocket Max
This is the maximum amount of money you'll have to pay out of pocket each year. Once you reach this number, you won't have to pay for any additional bills or visits.
Metal Levels
For each plan (Backup, Simple Classic), there are three metal levels, too: bronze, silver and gold. A bronze-level Backup plan is meant to cover 60% of the cost of your healthcare. Silver is meant to cover 70% and gold is meant to cover 80%. Platinum, which is only available in Classic plans, is meant to cover 90%.
A plan is like a minivan and the metal level is like the trim package. So, a Bronze-level minivan is the base package. No power windows or locks, no cruise control, no Bluetooth and no back-up camera. A Silver plan has the power windows and locks and cruise control, but no Bluetooth and no back-up camera. The Gold plan has everything.
The Three Plans: Backup, Simple and Classic
Oscar offers three types of plans and those plans are called Backup, Simple and Classic.
Backup Plan
The Backup plan has low premiums, which means the co-pays, co-insurance, deductible and out-of-pocket max are higher. These plans are good for people who are healthy and don't anticipate using their plan that much.
So, they pay the lower monthly premiums in the hopes that they don't have any medical emergencies. If they do, the costs will be higher than what you'll pay with the other plans because you're paying full price for all your services.
According to Oscar's plan data for New York customers, Backup members pay full price for everything until they meet their deductible, which ranges from $1,500 for a Gold plan to $6,500 for a Bronze plan. Once you meet your deductible, then all services are free for Bronze and Silver, and Gold pays 20% of the bill.
Pro tip: Co-pays don't apply here because you're either paying full price for your services before you meet your deductible, or nothing (Bronze, Silver)/20% (Gold) after you meet your deductible.
The Simple Plan
Whereas Oscar's Backup plans make you pay full price for all services until you meet your deductible, the Silver plan has some discounts for all metal levels before you meet your deductible.
For example, their Simple Gold plan has $10 co-pays for primary care visits and $50 co-pays for mental health and urgent care visits. If you get the Simple Bronze, though, you'll pay full price for those visits.
Deductibles for this plan range from $4,000 (Gold) to $7,350 (Bronze). Once you meet your deductible, all services are free. This benefit is very unique among health insurance companies because most still charge you co-pays and co-insurance after your deductible is met.
Classic Plan
The final plan that Oscar offers is the Classic. Unlike the other plans that offer free services after a deductible is met, the Classic plan most resembles the typical health insurance plan in that you still have to make co-pays and co-insurance payments after your deductible is met.
In this plan, your pre-deductible costs will be full price for Bronze, full price on everything except prescriptions for Silver and Bronze. Platinum has affordable co-pays for most services and no deductible, but the premium is $834 for an individual.
Deductibles in this plan range from $0 (Platinum) to $4,000 (Bronze). The deductibles in this plan are lower but, unlike Simple plans, you have to pay for all the services you get after the deductible is met.
How Oscar Compares to the Competition
We did some research into pricing, using the New York state marketplace website where you'd go if you wanted to get a healthcare plan.
We did a comparison of Silver plans based on a 40-year-old living in Manhattan who is single and has no kids that would be on the plan. Here's what we found:
| | Oscar | Fidelis | MetroPlus | Healthfirst |
| --- | --- | --- | --- | --- |
| Plan Name | Backup Silver | Fidelis Care Silver | SilverPlus | Healthfirst Silver Leaf |
| Primary care visit before deductible | Full Price | Full Price | Full Price | $30 |
| Primary care visit after deductible | Free | $30 | $30 | $30 |
| Premium | $538.13 | $509.94 | $514.95 | $531.11 |
| Deductible | $4,500 | $2,000 | $2,000 | $2,000 |
| Out of Pocket Max | $4,500 | $6,750 | $6,750 | $6,750 |
| Rating | 3 Stars | 3 Stars | 2 Stars | 2 Stars |
Our first impression of this comparison is that Healthfirst is a great option for those who see their primary care doctor at least five or six times a year because you only pay $30 a visit even if you haven't met your deductible.
Oscar and the other two companies make you pay full price for these visits if you haven't met your deductible. "Full price" refers to something called the "negotiated rate", which is the max amount Oscar will allow a doctor or hospital to charge for its services.
So, if your doctor's negotiated rate for a visit is $100, then you'd pay $100 per visit. If you do this six times a year, then you've paid $600 for doctor's visits, whereas Healthfirst would only charge you $180. If these visits are the only medical care you receive during the year, then Healthfirst provides the better value.
Another thing to keep in mind is that, according to a 2015 article from the American Action Forum, less than 80% of Americans meet their deductible, which means, unless you have consistent health issues, you should consider what a plan offers you before you've met your deductible.
So, while Oscar's free care is nice, there's around an 80% chance you won't ever spend enough to get that free care and you'll be paying negotiated rates in the meantime.
In terms of premiums, Fidelis and MetroPlus are a better value than Oscar. Over the course of one year, Fidelis will save you around $360 and MetroPlus, $288.
Based on these comparisons, we believe that Oscar is the more expensive plan and its fee-free service after deductible isn't a perk that most customers will obtain.
That being said, you have to weigh the cost of paying higher premiums with the level of customer service you get. New York's marketplace website provides star ratings for each company based on three factors: plan administration, medical care, and member experience.
Oscar and Fidelis received an overall rating of 3 stars. Oscar got a 5-star rating in plan administration and 3 stars for medical care and member experience.
Fidelis earned 3 stars for plan administration, 4 stars for medical care and 3 stars for member experience. So, while their plan administration scores were lower than Oscar by two stars, their medical ranking was better by one star.
The Final Word: Pros, Cons and Who Oscar Is a Good Fit For
Based on our research, we believe that Oscar's greatest strength lies in the trio of benefits we mentioned at the beginning of this review: Doctor on Call, their four-person concierge team and the ability to book appointments through their app or website.
These three factors are most likely what resulted in the company getting a 5-star rating for plan administration from the New York marketplace.
We believe the company's downside is that the most appealing benefits – free care – are reserved for those who meet their deductibles, deductibles that are, in the case of New York, higher than other insurance companies.
And, based on our research, we found that around 80% of Americans don't meet their deductible, so they'll never be able to access Oscar's free care.
In general, we believe that Oscar is a great choice for those who live in states where the plans are offered and who want to deal with an insurance company who has excellent customer service and convenient perks like a 24-hour doctor line, an online/in-app appointment booking system and having the same team of people deal with your concerns.
Stay away from Oscar

By James S.

,

Nashville, TN

,

Jan 23, 2019
Verified Reviewer

They did an underhanded bait-and-switch with my policy. I signed up for the same plan as last year, but they didn't tell me that the benefits were radically changing. Or if they did tell me, it must've been buried in the very fine print of a 30-page booklet with the smallest text I've ever seen. Now I'm stuck with a plan that will cost me hundreds more every month compared to last year. I complained and they ditched my call by transferring me to the government marketplace. This is awful.

Bottom Line: No, I would not recommend this to a friend

---

Beware!

By Deric S.

,

Colorado Springs, CO

,

Jan 11, 2019
Verified Reviewer

By far the worst insurance company and customer service I've ever experienced! I moved out of state and canceled my service with them. The representative I first talked to said they would refund me for my last month of service since they couldn't cover me in the state I moved to. Two weeks go by and no refund. I called again and they said they couldn't refund me unless I proved to them I had overlapping insurance with a new company. My new insurance didn't start till the first of the next month, so they used that as an excuse to deny my refund. Despite proving that I moved out of state they refused to refund me the $518 I paid them for a service they couldn't provide me any longer. Typical insurance company...all they care about is getting your money! Find a different insurance company and save yourself the headaches!

Bottom Line: No, I would not recommend this to a friend

---

Advertisement

---

Worst sham insurance company!

By Mark W.

,

New York

,

Oct 14, 2018
Verified Reviewer

Worst sham insurance company! Avoid them like the plague! I have been with them for too many years, and I finally woke up. They are full of crap. Why in the world can't your insurance company ever be able to tell you what your out of pocket or negotiated fee with be? They always give the same answer, that they "can't pull it up...it's an estimate and no one ever had that procedure, so we can't tell you, have the surgery and then we'll let you know." What the heck?! As soon as iIcan change companies in January, adios! This company actually makes you sick and to need health insurance!

Bottom Line: No, I would not recommend this to a friend

---

Beware...

By Deborah L.

,

California

,

Jun 25, 2018
Verified Reviewer

I purchased this insurance because they were an EPO, which is supposed to mean that as long as you stay within network, your health care is covered. Now that I need a test done as per my medical doctor, I need a preapproval for the test. This is an HMO tactic. The insurance acts as if they are the experts in determining your health care needs instead of the medical doctor. The deductible is so high that the insurance company never pays out a penny unless I end up in the hospital. I guess I can look at it as catastrophic insurance, but after paying thousands of dollars a year in premiums, it is ridiculous.

Bottom Line: No, I would not recommend this to a friend

---

Advertisement

---

Medically unnecessary, never can get to a supervisor, they call back in 48 hours?

By Liz R.

,

Texas

,

Jun 5, 2018
Verified Reviewer

While I appreciated Oscar's technology and super streamlined enrollment processes, they have pains. I have a pain!

They signed local agreement with a provider who's insurance "price" is three times the cash price for the same procedure. When called on the issue, Oscar staff were unable to provide an estimated cost of service through that provider, or any provider. My Care Team doesn't have access that information. It is a contract by contract rate, it's in a database. Escalated without resolution.

I went out of network and refused to pay the in-network provider the Oscar rate (remember, three times cash) simply because I hadn't met my deductible. Most recently -surgery, which is the real test of any insurance company. Anesthesia practice sent a large invoice. I called Oscar. Again, the poorly trained call center, without a supervisor, he or she may or may not call me back 24 to 48 hours.

Q: Why was this claim denied?

A: Your procedure was deemed medically unnecessary

Q: Why wasn't I told before the procedure?

Q: I want a supervisor, and I want one now. I was loud.

A: Ma'am. I checked with them about this issue before I came back to the phone. They will tell you nothing different.

Q: I want a SUPERVISOR NOW.

A: Ma'am. No one is available right now. Someone will call you back in 24 to 48 hours.

So, the moral of the story is: If you don't want to talk to anyone, Oscar might work for you. If you are trying to budget your medical expenses, don't expect the estimates to come from Oscar. If you are planning on surgery though, you might BYOB.

Bottom Line: No, I would not recommend this to a friend

---