Own Zone Reviews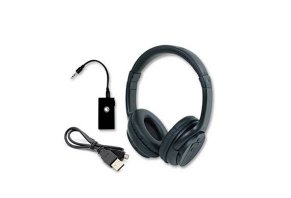 The Own Zone is designed to help you create a personalized audio experience without bothering others around you thanks to its wireless functionality.
About Own Zone
Claiming to allow for undisturbed TV watching at any volume, the Own Zone is a wireless TV headphone system from Sharper Image. The product promises to connect to virtually any TV in just seconds, giving you access to state-of-the-art noise canceling technology using a fully adjustable headphone design.
We aren't shown how they are actually powered, though it looks as though a USB charging cable is included. We tried reaching out to customer service, but after speaking with several representatives, none of them were able to confirm that this was the case.
The product's commercial illustrates the Own Zone being used in situations where one user doesn't want to disturb others, such as when lying in bed at night or when everyone is congregated in the living room. It also portrays people using the headphones while walking around the house, and even while mowing the lawn.
To accomplish those last scenarios, the transmitter that plugs into the back of your TV is stated to have a 100-foot range. The headphones themselves receive full stereo sound, and you can even turn the volume up and down using controls located on the side of the right earpiece.
At first glance, these may sound like a compelling set of features, especially if you find yourself frequently competing for volume with others who share the same living space, but is this truly what you can expect from the Own Zone?
Will the Own Zone Allow You to Enjoy TV as Loud as You Want Without Disturbing Others?
This is the central claim made by the makers of the Own Zone, and as such, we felt it was appropriate to dedicate a brief section to it in order to help you decide if the product is right for your needs.
Based on the information presented in the commercial and on the product's website, it looks as though it might potentially be able to deliver on this claim for many users, allowing you to plug in and have your own zone of sound to retreat into with disturbing your friends and loved ones. That said, we have a few thoughts about how well it's able to work in a variety of settings.
For instance, though the manufacturer claims that the product can work on virtually any TV, it looks as though it connects using a standard 3.5mm auxiliary audio cable. Though it is definitely common for modern TV's to have this output, many models do not. You can always purchase an adapter that will allow you to plug into an analog audio (red and white) output, but this will come at an added expense.
Despite this concern, it seems as though the Own Zone should be able to deliver a personalized audio environment as shown in the product's commercial, as it is able to provide you with audio while giving everyone else a break from the commotion in the process.
The headphones also feature noise-canceling technology, which means that they can cancel out ambient sounds in the room you are in, hopefully leading to clearer and more present audio. Of course, the exact quality of that audio is really where this discussion is leading to (more on this in the head-to-head section below).
Customer service was also unable to verify the specific type of noise cancellation going on with the Own Zone, as they perform differently in various situations. For example, active noise control (ANC) requires power and can drain the battery at a faster rate, while passive control does not need power, but may not be as effective at truly isolating the listening environment.
Own Zone Pricing & Return Policy
Own Zone Wireless Headphones are available on Sharper Image's website for $99 with free shipping.
Additionally, the headphones are available at the following retailers:
Amazon: $59.97
Walmart: $76.77
JCPenny: $29.00
Target: $59.99
Own Zone vs. Similar Wireless TV Headphones
As we mentioned earlier, the Own Zone certainly appears to be able to deliver on its main claim thanks to its wireless functionality and customizable volume control, but the real question becomes how well it can do so compared to the competition. Based on our experience reporting on and using similar products in the audio industry, we've found that it is very common to "get what you pay for" when it comes to headphones.
For instance, searching for "wireless TV headphones" on Amazon or Google brings up thousands of different results, many of which share similar features to the Own Zone. That said, the pricing varies widely, with products offered anywhere from around $30 to $300 and up. If we're ultimately just talking about headphones that let you listen to your TV discretely here, what's with the huge difference in price?
On the whole, the pricing for these products is largely determined by three main factors; feature set, range, and audio quality. Let's break each one of these down in an effort to help you decide which product is right for your needs.
Own Zone Feature Set
Looking online, there are a large variety of wireless TV headphones available today. Most are "over-ear" options like the Own Zone, but a few products like the Simolio wireless TV headphones are in-ear buds instead. If you aren't sure which style you prefer, it may be best to try out a few at a nearby brick and mortar electronics store, or borrow a pair or two from a friend or family member.
In addition, several products we encountered had the ability to connect two headphones at one time to the same TV for mutual listening. Though customer service was unable to confirm for us whether or not the Own Zone could accomplish this, it is heavily advertised on headphones with the capability. In our opinion and experience, this makes it fairly likely that the product in question doesn't include this particular feature.
There are also several other features that may factor into your buying decision depending upon your personal preferences, including volume controls, noise cancellation type (as discussed above), and battery capacity.
Transmission Range
Range is a crucial factor for many, but it is also misunderstood in many cases. Most wireless technology has a limited ability to pass through thick solid objects like walls, resulting in diminished audio quality and even intermittent cutouts at times, depending upon the power of the transceiver.
On Amazon, we encountered several products that claimed ranges of up to three times as high as the Own Zone, such as the Sennheiser RS120 at 300 ft. The quality of the transmitter also can directly affect how stable the incoming signal is, even from a short distance.
Audio Quality
This is definitely one of the leading causes of the price variation seen online, and unfortunately, it's one of the hardest aspects to judge, for obvious reasons. Good sound can also be subjective, making it even more difficult to determine which product is best for you without trying it beforehand.
If good sound quality is not a priority, you may want to focus on products that are priced on the lower end of the spectrum. If you are looking for a superb listening experience, however, it makes sense to go a bit slower, reading through reviews of popular products and even trying them out for yourself. Ultimately, the latter may be the best route to take when trying to find the headphones that are perfectly suited for you.
The Bottom Line: Is Own Zone Right for You?
Based on everything that we've learned about the Own Zone, can you truly expect it to provide the ability to listen to the TV at any volume without disturbing anyone around you? According to the information provided by the manufacturer, the answer is likely yes.
That said, without knowing what specific type of noise cancellation is in use, we could envision a scenario where listening to audio loudly while in close proximity to someone else in a quiet space (such as in bed with your partner at night) might prove to still be disturbing to them.
If you'd like to go ahead and try the product out, just be sure to keep the 90-day return policy in mind throughout your experience. If you find that the product isn't right for you in the end, you'll be able to return it, as long as you're willing to part ways with a bit of change for the initial shipping & handling fees.
Transmitters failed

By Paul M.

,

North Carolina

,

Jan 28, 2020
Verified Reviewer

I bought two. They worked great for a few months. Now neither transmitter works. Customer service would not offer to sell replacement transmitters. I wouldn't buy this product again.

Bottom Line: No, I would not recommend this to a friend

---

Great while it lasted

By Linda W.

,

Saint Marys, WV

,

Jun 24, 2019
Verified Reviewer

I ordered two of these for Christmas gifts 2018, one for the den and one for the guest room. Initially, one had a damaged charging port. It was replaced. That one just quit after less than 10 hours of use.

The den set has been used two hours a day, seven days a week since January 2019. It too has now quit. Their reply was "your warranty has expired" but we'll send you a new "updated" set for the same price. My disappointment (putting it mildly) is not the 90-day warranty, but the small amount of use, time-wise. We really enjoyed the product but cannot afford to purchase a new set. I bought the product based on the "Sharper Image" name. I feel "ripped off".

Bottom Line: No, I would not recommend this to a friend

---

Advertisement

---

They break after a few months

By Jerry G.

,

Martinez, CA

,

Jun 20, 2019
Verified Reviewer

I bought two of them, and after a few months, they do not function. They will not charge up anymore and are worthless. While they are working for the two months, they do the job. Too bad they do not last. They need to be more durable.

Bottom Line: No, I would not recommend this to a friend

---

Not a good review

By Verlin S.

,

Indiana

,

May 15, 2019
Verified Reviewer

I own 4 sets of Own Zone earphones. I first purchased two sets in July 2018. Used them for 4 months and went south for the winter. Home in May 2019, one set has no sound. When purchased they had a one year replacement warranty. I called the company and was told the warranty is now only 90 days. "I got screwed."

Bottom Line: No, I would not recommend this to a friend

---

Advertisement

---

Disappointed

By Marc B.

,

New York City, NY

,

May 7, 2019
Verified Reviewer

I bought a pair of Sharper Image Own Zone wireless earphones at Home Goods. The first time I tried them the sound was perfect and I was very happy with it. The next time I went to use them the transmitter would not turn on. I switched USB port with no results. I connected the transmitter to an electrical outlet with no results. Contacted customer service who told me to do what I had done and the rep finally told me to return them to the store. There seemed to be a problem with the transmitter. I exchanged the earphones for another set and explained that the transmitter was not working. The second set lasted three days and the transmitter stopped working. Hope I can get a refund. I'm pretty surprised that Sharper Image would put its name to a poor manufactured item. I will buy wireless earphones but will stay away from Own Zone.

Problem was that the transmitter was plugged into a USB port on the TV. It was supposed to turn on with the TV and turn off when I shut down the TV.

Bottom Line: No, I would not recommend this to a friend

---

Junk

By Wayne W.

,

San Antonio, TX

,

May 1, 2019
Verified Reviewer

Headphones don't work, just loud static. RCA cable and AUX cable are not options because it's 2019 and I have a modern television. Headphones are complete junk and useless. Will be returning to store to return this useless piece of junk.

Bottom Line: No, I would not recommend this to a friend

---

Junk

By Henry J.

,

Michigan

,

Apr 17, 2019
Verified Reviewer

Wow! You guys should be absolutely ashamed of your reviews! I have had my 2 sets for approximately 6 months. We have used them about 6 times and one port is already broken. Junk, junk, junk. Should have bought the Bose! Talked with customer service and they do not care about customer satisfaction. They even lied and said they really have no complaints on the port. Hah! The reviews say different. For anyone who has invested in this garbage and can't return it Amazon has a universal port for about $20.00. Still have to learn to quit getting scammed by these junk retailers! Can only hope the other port keeps working and the headphones don't fail. Shocks me that they carry the Sharper Image label! Disgusted!

Bottom Line: No, I would not recommend this to a friend

---

Junk

By Angelica G.

,

California

,

Apr 5, 2019
Verified Reviewer

Junk junk junk! I received these as a gift. I was excited to use them but once I connected them all I heard was loud static. I tried connecting them to multiple TVs and it didn't work. I contacted customer service and the guy instantly knew what I was talking about and said there's nothing they can do for me. Seriously?! I'd give it negative stars if I could.

DON'T WASTE YOUR MONEY!

Bottom Line: No, I would not recommend this to a friend

---

Broken port charger

By Bobby S.

,

Nebraska

,

Mar 27, 2019
Verified Reviewer

After using the Own Zone now for at least 4 months, I one day put the charger cord into the port and it fell inside of the headphones, which means I can no longer charge the headphones and it defeats the purpose of the purchase. And having no address or phone number to see if I can get a replacement leaves me hopeless. They work great, but if a problem arises, you're on your own...not good!

Bottom Line: Yes, I would recommend this to a friend

---

Didn't work

By James H.

,

Stansbury Park, UT

,

Mar 21, 2019
Verified Reviewer

I could never get the system to work correctly, it never seemed to pair with the base. And, of course, there is no customer service to troubleshoot the system. What a piece of junk. Don't buy this thing.

Bottom Line: No, I would not recommend this to a friend

---

NO customer service or support

By C. R. S.

,

Georgia

,

Mar 8, 2019
Verified Reviewer

I purchased two Own Zone sets that were being closed out by the retailer. One of the headsets has bad static on the right side and is essentially useless. The sets were on close-out and the retailer does not offer a refund or exchange.

I contacted Own Zone and was informed that "There is nothing we can do." This based on the fact that the item was sold as a closeout. His comment to me was essentially; You paid a reduced price so we won't do anything to help you.

Must say that the other set purchased works very well and am happy with its performance.

I do remember when Sharper Image was a respected brand and line of higher-end gadgets and devices. It is sad to see that this is no longer the case. Truly disappointed in the lack of customer and warranty support. Will not purchase Sharper Image branded items again, based solely on the very poor customer service.

Bottom Line: No, I would not recommend this to a friend

---