Oxy Lean Elite Reviews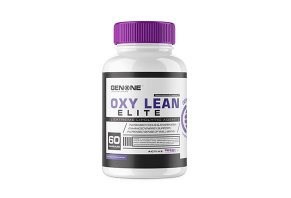 Genone Nutrition's Oxy Lean Elite thermogenic supplement promises to increase body temperature, leading to a raised metabolism and a reduction in appetite.
About Oxy Lean Elite
Oxy Lean Elite is advertised as a premium weight loss fat burner that can deliver a wide variety of benefits, including appetite control, boosted metabolism, increased energy and endurance, and improved mental clarity and focus.
When combined with a healthy diet and regular exercise, Genone Nutrition tells us you only need to take one capsule of the supplement twice per day, about 30 to 45 minutes before breakfast and lunch.
Because of the caffeine content (more soon), they recommend assessing your tolerance by starting with one capsule per day for the first week, and then increasing your dosage from there. Effects typically last six to eight hours, although this can vary by individual.
It's positive that the website emphasizes Oxy Lean Elite "is no magic pill." But, compared to the competition, is it really one of the most advanced weight loss supplements you can buy? What criteria can you use to make a better decision?
We'll cover it all in this article, starting with the topic of thermogenesis.
How Do Thermogenic Dietary Supplements Work?
Despite its fancy-sounding name, thermogenesis simply references heat given off by the body. There are many causes of this heat production, including normal metabolism, exercise (cells burn calories to produce energy that fuels muscle), and environmental temperature (such as shivering when cold).
There's also diet, as certain substances (e.g., stimulants like caffeine, catechins in certain teas, and the capsaicin in some peppers) will cause a temporary increase in body temperature.
Now, the question is: Will these external substances help you lose meaningfully more weight than diet and exercise alone?
We'll answer this vital question in a moment, but let's first build a solid foundation by addressing Oxy Lean Elite's ingredients, side effects, pricing, and online customer feedback.
What Ingredients Will You Find in Oxy Lean Elite?
According to its supplement facts label, each capsule of Oxy Lean Elite contains:
Oxy Lean Elite Proprietary Blend: 550 mg – Caffeine Anhydrous (93 mg), Thermo-V TM, Bauhinia L. (Leaf and Pod) Extract, Bacopa Monnieri (Leaf), Theophylline, Isopropylnorsynephrine, MexxEndure XV (Stearoyl Vanillylmide), Rauwolscine (Leaf and Root), Selenium, Magnesium, Niacin
According to their summarizations of the available clinical evidence, sites like Examine.com, the Natural Medicines Database, and WebMD report that taking 250 mg of caffeine per day is likely effective for temporarily boosting mental alertness.
Consuming two to 10 mg/kg of caffeine may also increase physical strength and endurance, delay exhaustion, reduce feelings of exertion, and improve performance during certain athletic activities.
Furthermore, 200 mg of daily caffeine is listed as possibly effective for improving memory in some people, and taking the ingredient combined with (the now illegal) ephedra, it may also help enhance weight loss.
Consuming 300 mg of bacopa per day over the course of 12 weeks could improve memory and thinking.
Whether contained in Oxy Lean Elite or on its own, MedlinePlus indicates that theophylline is a prescription medication often used to treat "wheezing, shortness of breath, and chest tightness caused by asthma, chronic bronchitis, emphysema, and other lung diseases. It relaxes and opens air passages in the lungs, making it easier to breathe."
What's in doing in Oxy Lean Elite's formulation? According to the manufacturer's response to a customer question on their website, they explain:
"Theophylline is a naturally occurring compound found in Green Tea Extract. Regulations require that all ingredients, be it the ingredient itself or naturally occurring compounds within the ingredient, be listed on the product. The levels of Theophylline in this product are very low and only occur because it naturally occurs in the ingredient Green Tea Extract along with other compounds such as caffeine."
According to WebMD and the Natural Medicines Database, there is insufficient clinical evidence to support the manufacturer's claims for Oxy Lean Elite's remaining ingredients.
Oxy Lean Elite's Potential Side Effects
As a thermogenic supplement, the manufacturer points out that you should expect a slight increase in body temperature when taking Oxy Lean Elite.
Due to the stimulant content (caffeine and isopropylnorsynephrine), they also note that sensitive individuals might experience nausea or jitteriness as their body adjusts over the first few days. Avoid taking past late afternoon to help prevent insomnia.
Pro tip: At 93 mg per capsule, Oxy Lean Elite contains about as much caffeine as an 8 oz cup of regular coffee.
If you experience nausea, Genone Nutrition advises that previous customers have found relief by consuming with food, as well as drinking at least one gallon of water per day.
As with all supplements, you should talk with your doctor before taking Oxy Lean Elite, who can help you avoid side effects and potential medication interactions, based on your individual diagnosis. Even if they advise moving forward, the manufacturer recommends "taking a two-week break in between bottles to keep your body sensitized to the product to keep results consistent."
Outside of these, Examine.com, and WebMD report that bacopa is possibly safe when taken short-term (no longer than 12 weeks), although some study participants reported side effects (no dosages or other specifics provided) like increased bowel movements, nausea, dry mouth, and fatigue.
Similarly, selenium is likely safe for most people when taken by mouth in doses less than 400 mcg daily, short-term.
Examine.com explains that rauwolscine is a molecule that features a very similar structure to yohimbine, and that it probably delivers similar effects as well, although they point out that limited evidence exists.
With this in mind, WebMD warns that yohimbe is possibly unsafe when taken by mouth, since it's been linked with serious side effects (again, no dosages or other specifics) like "irregular or rapid heart beat, kidney failure, seizure, [and] heart attack."
How Much Does Oxy Lean Elite Cost?
If purchased from the Genone Nutrition website, Oxy Lean Elite costs (including free shipping):
1 Bottle (60 capsules): $47.97
3 Bottles: $125.90 ($41.97 per bottle)
We also found the supplement sold on SportsNutritionSupply.com for $39.97 per bottle at the time of our research.
Genone offers a 60-day satisfaction guarantee on all orders, although per the Shipping and Return Policy page, there are some important stipulations. For example:
Returns must be in new condition, with the original manufacturer's packaging included and undamaged
A copy of the original invoice or sales receipt included inside the package
You must request the refund within 15 days, less S&H
The Return Authorization Number (RAN) must be clearly marked on the outside of the box
If any of these guidelines aren't met, you could pay a 15% restocking fee.
You can obtain a RAN by contacting Genone Nutrition by phone at (678) 335-2105 or via email at Support@GenOneNutrition.com.
What Are Oxy Lean Elite Customers Saying in Their Reviews?
More than 2,500 Oxy Lean Elite customers had provided their feedback on the Genone Nutrition website at the time of our research, who gave the supplement an average rating of about 4.6 stars.
Most compliments cited boosted energy, controlled appetite, and improved weight loss. Complaints, on the other hand, frequently referenced no weight loss results, as well as temporary side effects like insomnia, jitteriness, and nausea.
How to Choose Between Oxy Lean Elite & Other Thermogenic Dietary Supplements
There are likely hundreds—perhaps even thousands—of different thermogenic formulations available. Some of the top results at the time of our research included:
GNC Total Lean Appetrex Control ($32, natural caffeine f/500 mg Yerba Mate Extract)
Pro Clinical Hydroxycut ($22, 200 mg caffeine)
Performix SST ($110, 200 mg caffeine)
Shredz Fat Burner ($25, 135 mg caffeine)
Cellucor Super HD ($30, 160 mg caffeine)
Given the fact that these are just a handful of your choices, as well as their vast differences in price, what's the best way to decide if Oxy Lean Elite will deliver the most value for the money?
By far the fastest, easiest, and most reliable method is to start by talking with your doctor. They can ask insightful questions about your overall goals, order the appropriate tests to determine your current level of health, and then recommend options based on your diagnosis.
During this visit, you can also bring up the topic of continued stimulant use, and whether or not the potential benefits to your metabolism might outweigh any risks.
Did they give you the green light? After years of writing about dietary supplements, we'd recommend only doing business with companies who:
Support their claims with quality clinical evidence
Price their products in line with most of the competition
Charge reasonable S&H charges
Offer at least 30-day refund policies, with no restocking fees
How does all of this stack up for Oxy Lean Elite?
Bottom Line: Can You Expect Good Results With Oxy Lean Elite?
The fact of the matter is that supplements are just that—something that adds to or otherwise potentially enhances your normal eating habits. As emphasized on the Oxy Lean Elite website, they're not magic pills, so you'll still need to work out and eat a balanced diet in order to achieve meaningful, lasting weight loss results.
And while sites like the Natural Medicines Database, WebMD, and Examine.com report there's insufficient clinical evidence to support most of the manufacturer's weight loss claims, the vast majority of customers on the Genone Nutrition website reported satisfactory results.
Just keep in mind that as soon as you open your bottle of Oxy Lean Elite, you'll have a pay a 15% restocking fee after requesting a refund. This is on top of whatever you'll have to pay to ship your bottle(s) back, which could vary greatly depending on your location.
» Read Next: Guide to Gym Memberships: Things to Consider Before Joining a Gym