PainCakes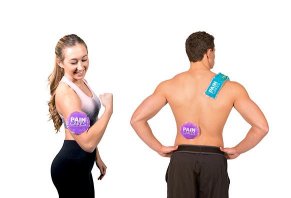 PainCakes are ice packs that claim to provide consistent cold therapy via adhesive surfaces that keep your ice packs stuck to whichever spot you choose to put them.
PainCakes Review: Does It Really Work?
PainCakes are As Seen on TV ice packs that use adhesive to stick to your body so that you can get hands-free cold therapy as you do your daily tasks.
What makes these ice packs unique is that they don't require any wraps or tape to keep them on; they stick to your skin without coming off, PainCakes' commercial says.
The company marketing and selling PainCakes is Allstar Products Group, a company with a long history of selling As Seen on TV products. Some of their well-known offerings include the Snuggie and the Simply Fit Board.
In our review of this product, we'll talk to you about how it works, how much it costs and how it compares to similar products. We'll finish up with a conclusion covering the product's main pros and cons.
How PainCakes Work
One set of PainCakes includes two large circular ice packs (5 inches wide), two small circular ice packs (2.88 inches wide) and one wrap ice pack (10 inches long).
To get the ice packs cold, you'll need to put them in the freezer for at least 30 minutes. When you're ready to use them, take them out, remove the adhesive backing and put it on your body's sore spots.
The company says you should limit each treatment to 10 minutes and give yourself at least 30 minutes between treatments.
Each one of the packs comes with adhesive on the back of it that Allstar Products says won't fall off even if you're doing physical activity.
Even though PainCakes won't fall off, the company claims, they, "glide off easy" when you're ready to remove them.
Because each set of PainCakes comes in different sizes, you can use them for various areas of the body. For example, the smaller PainCakes can go on your wrists, whereas the larger round PainCakes can go on your knee or your foot.
The product's website shows users placing the ice packs on their wrists for carpal tunnel syndrome, on the bottom of their feet for plantar fasciitis and on knees and elbows too.
The PainCakes commercial even features legendary U.S. women's soccer star Mia Hamm, who says PainCakes help her deal with aches and pains.
The final aspect of these ice packs we want to highlight is that Allstar Products says you can use the ice packs up to 100 times.
How PainCakes Differs from Traditional Ice Packs
A traditional ice pack needs to go into the freezer in order to get cold enough to provide cold therapy. When you take it out of the freezer, you have to devise a way of keeping the ice pack on the area where you're feeling pain.
In most cases, you'll use bandage wrap to create a layer of bandage over the sore spot before placing the pack on the area and then wrapping over it to secure it to the spot.
This method has a few drawbacks. First, if you need to apply ice to a sore spot and you need to remain mobile, you'll have to buy a bandage.
Second, bandages need to be wrapped just the right way to maintain pressure on the ice. If you don't wrap it the right way, the bandage will be loose and the ice pack may slip.
And, finally, if you get your bandage tight enough, then the longer you wear it the more of a chance your skin could get irritated.
As someone who has had to use bandages and ice packs on many occasions, I can tell you that the combination of an ice pack and bandages isn't always an efficient or comfortable solution.
PainCakes seem to be skipping the drawbacks of using a bandage by opting for skin-friendly adhesive. The company notes, too, that there isn't a risk of freezer burn. So, what we see is a product that eliminates the hassle of bandages and the risk of freezer burn.
However, PainCakes require some maintenance. For example, you have to replace the adhesive backing when you put your PainCakes in the freezer when you're done using them. If you don't, you could reduce the pack's ability to stick to your skin. Also, you'll need to clean off the area of your skin on which you placed the adhesive.
Finally, you'll need to keep the adhesive area of the ice pack clean, ensuring debris and dirt don't build up.
PainCakes Pricing and Return Policy
At the time of publishing, you could buy a set of five PainCakes for $29.98 with shipping, or two sets of five ice packs for $49.99 and free shipping. You could also buy each size individually on Amazon for $14.48 to $16.99 with free shipping.
The PainCakes website says you have a 30-day, money-back guarantee. The 30-day window starts the day you buy your PainCakes. To start the return, you'll need to call PainCakes customer service at (800)689-4801 to get a return authorization number. Once you have that number, you can send your PainCakes back.
Remember, though, that you won't get a refund for shipping costs you paid to get your PainCakes and shipping costs you paid to send them back. If you decide to make a return, total shipping both ways will most likely cost you at least $9.
Analysis of PainCakes Customer Reviews
At the time of publishing, PainCakes had more than 300 reviews on Amazon and multiple videos on Facebook, one of which was a segment by South Carolina news station WYFF.
Amazon sells the small circles, large circles and wraps individually, which means each size has its own set of reviews. Here's a quick summary of each size's reviews:
Large circle: 4.2 stars from 212 reviews
Two small circles: 3.8 stars from 55 reviews
Wrap: 3.9 stars from 48 reviews
What we noticed is that most people are happy with their PainCakes, saying they work as advertised. The complaints we read centered on the fact that the packs didn't stick to their skin as advertised.
The WYFF segment was excellent, in that the reporter took a pack of PainCakes to a local gym and asked a trainer and her client to try the packs.
"With reps and a lot of movement, the PainCakes did not budge," the reporter said.
When the client took the PainCake off, she said it didn't hurt.
The trainer also tried the ice packs and, when she was done, she said the packs were cold but not too cold, and that she could see the advantage to using them over a traditional ice pack and bandage.
"Whenever I have sore muscles or if I'm dealing with an injury, getting an icepack to stay in the spot where I need it and not being confined to a couch all day is a big issue for me," the trainer said. "I could definitely see (myself) using it."
The trainer also said the ice packs were cold but not too cold. She likened the coolness to what you'd get if you wrapped a traditional ice pack in a towel.
The Bottom Line: Pros and Cons of PainCakes
Based on our research, we believe that PainCakes have some clear strengths.
First, the reviews and news report we looked at indicate that the packs will stay on your skin as advertised. Second, we found ample evidence that the ice packs are cold enough to provide relief but not excessively cold. These are two huge advantages over traditional ice packs.
The drawbacks of this product are that some customers reported the packs don't stick to your skin as advertised. Also, we didn't find enough evidence in reviews to indicate that the packs will work up to 100 times. We consider this a drawback because once the adhesive stops working, the PainCake loses what makes it unique.