Painleave Reviews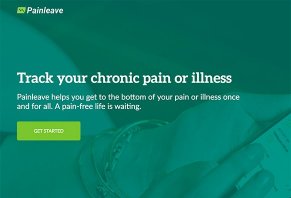 If you're looking for a no-frills way to track your pain symptoms and discover what triggers them most, Painleave might be the mobile-friendly website you need to try.
What Is Painleave?
Few things can disrupt normal life as much as chronic illness, and knowing how to best manage your pain can be a tricky process. Painleave strives to cut down on the confusion by making it simple to track doctor's visits, treatment progress and common pain triggers, all from an intuitive, mobile-friendly website.
Painleave was created to be a straightforward way to track and monitor chronic illness to make it easier to document pain triggers and manage treatment options better than before, whether you're experiencing arthritis, migraines, back pain and other physical ailments.
This service is not designed to be a cure for illness or pain; instead, it's a website that provides an intuitive way to organize doctor information, track medications and uncover deeper insight into the details of your condition.
What is Chronic Pain?
According to WebMD, chronic pain occurs when your brain's ability to adjust to pain triggers doesn't function properly. Pain is caused from a series of messages that zip through your nervous system directly into your brain to signal when something is wrong. These messages let your body know to change its behavior (like taking your hand off a hot stove) and the pain usually goes away accordingly.
With chronic pain, the injury signal sent to your brain goes into overdrive, leaving your nerves still firing their pain signals even after your body has healed. Dealing with chronic pain can be a touch and go experience, which is why tracking your symptoms to notice trends can be so helpful.
How Did Painleave Get Started?
Painleave was founded by web developer Trevan Hetzel after he struggled to track the symptoms of his wife's fibromyalgia and endometriosis, while also managing his toddler's juvenile rheumatoid arthritis. He found that notebooks quickly became an inconvenient way to stay on top of their medical information, so he created this website to help document doctor's visits, symptoms, and prescriptions and create personalized health records.
In this way, Painleave became a passion project for Trevan and a way for him better care for his family. By making this pain tracking website publically available, he hopes that it will make a difference for other sufferers of chronic pain.
As a more transparent to track the trajectory of chronic pain, Painleave has a goal of improving thousands of lives through easier access to information about what triggers pain so that it can be treated at the micro level.
What Does Painleave Provide?
The website is designed to give you an easy-access place to record pain symptoms on the go so that you can accumulate data and notice patterns over time about when and why your symptoms occur.
According to the product website, the key to success with Painleave is using it regularly for recording symptoms. The more data the website contains, the more accurate the graphs will be, making it easier to spot trends and track positive (and negative) changes in health over the long run.
Included is a calendar designed to track your medication schedule and remind you to take your daily dosage.
Another feature of the website is the ability to manage the records for your diagnoses, treatment plans and the advice given by medical professionals. Designed to be simple to use in any situation, many users report finding that the site worked well for taking notes right during doctor's appointments.
As we've alluded repeatedly, Painleave is a responsive web application that relies on a browser for its functionality; it's not a mobile app. But because a standalone app is highly requested from customers, the website's design team plans to provide one in the future.
For now, the Painleave website can be saved to the home screen on iPhones and Android phones to mimic the look of an app and make it simple to open and use. Since the site is designed to be functional on mobile screens, the text will scale to fit whatever device it's used on.
How Much Does Painleave Premium Cost?
At this point, Painleave is only offered as a free service. In the future, a premium option will be available for a monthly subscription with advanced features. We contacted the company directly, but haven't heard back yet about future pricing information or a release date for Painleave Premium. This article will be updated once we get more information.
According to the website, some of Painleave's premium features will include the following:
Tools to Better Understand What Triggers Pain: More advanced reporting and analytics to make it easier to visualize when your pain comes so that you can better understand why.
Built in Tracking Reminders: Daily reminders will help you remember to track your pain.
Greater Prescription Details: Premium features will allow for the recording of more in-depth information about your daily medications.
Track Doctor Suggestions More Easily: By tracking your doctor's suggestions, premium Painleave will make it easier for you to see if they are making a difference in your health or not.
Customized Wellness Reports: These premium reports will be specifically designed to be useful for doctors, ensuring your treatment decisions are well informed.
Control Your Medical Data: While a standard account lets you export your data, Painleave premium will allow you to access more detailed reports than before.
Manage the Family Medical History: By tracking the health history of more than one person, premium will make it easier to see overall trends in your family's health.
What Can We Learn from User Opinions for Painleave?
Initial reports from users about the usefulness and functionality of Painleave have been positive. An online review by the Ness, a health and chronic pain blogger, revealed that she was impressed with the features available in the free version, and she praised its user-friendly interface and simple way to track pain symptoms on a scale of 1 to 10.
Ness also mentioned that it was encouraging to see the changes in her symptoms over time, as it offered proof that they were slowly improving, despite dealing with daily difficulties. Another early user found it helpful to utilize the website in the doctor's office so that she didn't forget to mention certain symptoms during her appointment.
Both personal blog reviewers found the super-simple design of Painleave to be a benefit, as they noted that navigating through multiple menus to record information is the last thing that someone in pain wants to do.
Painleave Alternatives
Similar apps to Painleave already exist for mobile devices. Manage My Pain is available in the App Store and Google Play, and it comes in both a Lite and $3.99 version.
This app also provides a detailed way to track chronic pain, though only ten records can be viewed at a time with the free version. Likewise, the free PainDiary makes tracking pain easy and intuitive by allowing users to pinpoint where they feel pain on an animated body.
Which pain-tracking app is best will depend on your personal situation. On one hand, Painleave seems more straightforward and simple to use than other available apps, and it can be used on any WiFi-enabled device.
However, because it is a website, Painleave can only be used with a data plan or WiFi connection. Chronic pain doesn't limit itself to the times when you have a such a connection, so it's possible that this service won't be an option for tracking your symptoms when you're far away from a cell signal.
Is Painleave Right for You?
Though still in its infancy, by focusing on the three main categories of tracking pain symptoms, monitoring medication and recording doctor suggestions, the Painleave website is designed to help you keep your medical information in one place and better notice the triggers that can help or hurt you.
While we haven't personally tried this service ourselves, our research has led us to believe that if you haven't found a pain tracking app that perfectly suits your needs, you might find the features you need in Painleave or the upcoming Premium version.
We've reached out to the founder of the company and are waiting to hear back to gain deeper insight into his plans for Painleave Premium. In the meantime, we'll keep track of what's going on with this medical website, so be sure to bookmark this page and we'll update you as soon as more details are available.