Paint Zoom Reviews
Claimed This company has claimed this profile, is getting alerted on any new customer reviews entering this page, and may engage in dialogue with its customers to address their matters.

Companies cannot pay money or provide goods in order to remove or alter customer reviews.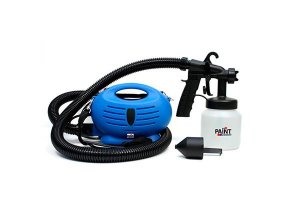 Featuring a 650W motor, three nozzle patterns, and portability, Paint Zoom is an HVLP Paint Sprayer intended for both interior and exterior use. Learn what customers are saying about this product.
---
Paint Zoom is a fraud

By Marina E.

,

Las Vegas, NV

,

Jul 20, 2020
Verified Reviewer

Overall Experience:

Paint Zoom is a fraud, buyer beware! They got my information and billed my account. Sent me an email of the bill, when I called them they couldn't do anything. The charge went through and my bank was billed for $202 and charged. It is unbelievable these people can take your money. I am now filing fraud charges against them.

Pros and Cons:

No "pros" were specified in this review
Fraud/Scam

Bottom Line: No, I would not recommend this to a friend

Jul 20, 2020

Hi Marina,

Thank you for the review. We did receive a web order from you and per the notes in your account, you emailed on 7/15 and had decided against the order. You were advised that we could not cancel the order and asked to refuse delivery. You were refunded in full on 7/18 when you called us regarding the order. We are sorry for any inconvenience.

---

Not time saving

By Ronald P.

,

Edmonton, Alberta, Canada

,

Apr 7, 2020
Verified Reviewer

Overall Experience:

Although results are ok, better results than using a roller, but not easy to use.

Set up to get paint at right viscosity, took a long time.

Using the sprayer is not easy, hard to get the coat right, looks more like a tool for a professional, needed two coats to cover. Video made it look easy.

When it came to the hallway, really no way to get it right, too much overspray, inside wall still needed to use a roller.

Faster using a roller and brush as overall time with all the setup and clean up, plus painting time took longer using the Zoom.

I will still use for jobs like painting a fence or painting baseboards in the garage before I install them, but for painting walls just hard to use, taking more time.

Bottom Line: No, I would not recommend this to a friend

Apr 8, 2020

Hi Ronald,

Thanks for the review.

With a little more experience, getting the right viscosity becomes much easier.

The manual has information about adjusting the spray patterns to suit your needs.

This will help with getting an even coat and controlling overspray.

It just takes a little more practice to get all the elements adjusted and working together smoothly.

---

Advertisement

---

Save your money

By Kevin H.

,

Middletown, NY

,

Dec 3, 2019
Verified Reviewer

Overall Experience:

Do yourself a favor and stick to rollers and brushes. You will get the job done in a fraction of the time and with a fraction of the mess! This was a complete waste of money! Poor coverage and an unbelievable amount of overspray. Very time-consuming.

Bottom Line: No, I would not recommend this to a friend

Dec 3, 2019

Hi Kevin,

Thanks for the review.

We're sorry you are not happy with your Paint Zoom.

If you experienced an excessive amount of overspray, this can be remedied. The manual has information about adjusting the spray patterns to suit your needs.

---

Refund

By Laurie W.

,

Minnesota

,

Jul 31, 2019
Verified Reviewer

Overall Experience:

I ordered the Paint Zoom, plus one more for a reduced price. I tried the first one, after about a good hour of trying the different sprays, still would have taken less time to use the roller. I called to send them back and got a return number to put on the box. I sent it back on 6/24/19 and still have not received any return on my credit card statement, and it is 7/22/19. $68 to send it back! So my total to your company was $220 something, with $40 something in shipping, plus my return shipping of $68, and my refund is only going to be around $100 for an advertised $99 and a second one for $66! Major rip-off.

Bottom Line: No, I would not recommend this to a friend

Jul 31, 2019

Hi Laurie,

Thanks for the review. We are sorry that the Paint Zoom did not meet your needs. S/p is nonrefundable as advertised and as there was nothing wrong with the unit, return postage is the responsibility of the customer.

---

No customer service...beware

Overall Experience:

I had been on able to sleep and actually watched an infomercial on this product. Easy payment plan, order now, and "we will skip one payment and add these bonus items." It said to call or go online. I went online and started the process. After I entered most of the information, I did not see where the plan or freebies were offered. The system crashed and kicked me out. I thought more about it and said I must not have been meant to order. I never received a confirmation.

The next day I saw my card was charged the full amount. I called and was told customer service was not open. I emailed several times. I filled out the internal email several times. I received no response. Not one.

When the product came seven days later, I did not open, took it to UPS and shipped it back at my cost. They had the nerve to charge me for shipping. Not one attempt to acknowledge my request. My son told me it was junk. I should have just assumed that. I would never recommend, and I will never watch an infomercial again. Senior Citizen Ripped Off!

Bottom Line: No, I would not recommend this to a friend

May 16, 2018

Thank you, Patricia, for the comments. We are sorry that your experience was less than stellar. We show that you placed your order on Saturday 4/21, and as it was the weekend, we did not respond to your email until Tuesday 4/24. Per our company policy, your email should have been responded to on Monday 4/23, so we have to assume that we had an overwhelming amount of emails that day.

Per the email we sent, we asked you to refuse delivery of the order, so you should not have paid anything to return it to us. We received the refund on 5/4 and issued a refund less s/p, however, it should have been for the full amount, as you had asked for it to be canceled. We received your credit card dispute on 5/14 and let them know that we had already issued you a refund less s/p.

Please email your return receipt to marmstrong@idealliving.com so she can request a refund check to be issued for the return postage.

---

Overall Experience:

After seeing the paint zoom commercial, I went online to see the various options. I put in my credit card to be able to see the bottom line, which NEVER showed up. I tried different options but a total NEVER showed, and I NEVER authorized ANY charge.

The next day I got an email saying my order had shipped. What order? I called them, and they said it is too late to stop it but I should just REFUSE the package. Later I got another email that another order had shipped. My credit card was charged $174.59 and $53.28. It was a lot of hassle, but I refused BOTH packages.

Finally, refunds showed up on my credit card; one for $129.84 ($44.75 short) and the other for $33.33 ($19.95 short). They have stolen $64.70 from me. This is TERRIBLE. I am fighting this with my credit card and have complained to the Attorney General.

Bottom Line: No, I would not recommend this to a friend

Jan 16, 2018

Thank you Colleen for the comments. We did receive two different web orders from you on 4/6/17. The initial order was for one base unit. The order total was a total of $119.94, which purchased on our three payment plan of $33.33 each plus $19.95 s/p. The same day we received the additional order for one Platinum Paint Zoom Unit, 3 Painter's Kits and one set of three additional paint storage containers. The order total was $174.59 pain in full.

You called customer service on 4/7/17 to check the status of the order. Per notes, you were advised that we had two orders, and you were given the pricing. You did not want either order and were advised to refuse delivery of both. We received one order on 4/20 and the other on 5/12. Both orders were refunded less s/p as advertised. However, as you refused delivery s/p should have been issued. We did receive disputes from your bank for the s/p and issued refunds for the s/p for both orders on 6/6/17. We certainly apologize for any inconvenience.

---