Paint Zoom
Claimed This company has claimed this profile, is getting alerted on any new customer reviews entering this page, and may engage in dialogue with its customers to address their matters.

Companies cannot pay money or provide goods in order to remove or alter customer reviews.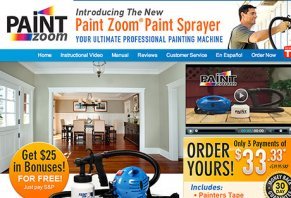 Featuring a 650W motor, three nozzle patterns, and portability, the Paint Zoom paint sprayer claims to help make the task quicker, easier, and less costly.
Paint Zoom Review: Does It Work or Just Hype?
Paint Zoom is a powerful paint sprayer that promises to help you paint like a pro, save time and money, and avoid the mess of traditional rollers, brushes, and paint trays.
With its simple, one-touch operation—just pull the trigger and paint—and industrial-strength 650W motor, the device claims to work with stain or varnish as well, whether on stucco, brick, paneling, ceilings, concrete, or wood. It's even claimed to deliver one-coat coverage and use half as much paint in the process.
In addition, Paint Zoom features a three-way head with wide, vertical, and pinpoint settings to help you cut your painting time in half, as well.
When it comes down to it, is it really the ultimate professional painting machine, as claimed on the website? Will Paint Zoom help make the painting process faster and easier? We'll help you make an empowered decision by discussing what we learned during our research—starting with the basics.
What Are the Different Kinds of Paint Sprayers?
According to Lowe's Paint Sprayer Buying Guide, there are three main types:
Airless – Ideal if you're using thicker paint, or painting exterior surfaces or interior walls or ceilings, since their high-pressure spray evenly disperses paint droplets. According to a company representative we spoke with, this is the most expensive unit. Despite this high price, they have a reputation for generating a lot of overspray.

Compressed Air – Use compressed air to smoothly and evenly eject paint onto a surface, although they have a reputation for creating more overspray and leaving behind more of a mess than other types. The rep pointed out that if you already have a compressor, this could represent a less costly solution. However, if you don't have a compressor, this could quickly become expensive.

High Volume Low Pressure (HVLP) – On the other end of the spectrum, HVLP sprayers typically use the least amount of paint, since it's ejected slowly from the gun to create a smooth finish. According to the person we spoke with, these often represent one of the most cost effective, full-system solutions.
Paint Zoom is the third type (HVLP), whose motor creates high volume air at low pressure. Attached beneath the gun is a canister that holds paint, which is then ejected using this compressed air.
Let's take a more in-depth look at the process.
How Does Paint Zoom Work?
If you're looking for the complete picture, we'd recommend watching Paint Zoom's demo video. In the meantime, here are the high points, which is information we'll be able to use later when comparing it to other paint sprayers:
To assemble Paint Zoom, you'll start by screwing the gun onto the paint container, attaching one end of the back of the hose to the gun, and the other end to the motor base. Then, plug it in and you're ready to go.
The company claims it causes very little paint mist and overspray, although they still recommend covering any surfaces you want to remain paint-free using drop cloths and taping off all moldings, outlets, and window frames.
Before adding paint to the 24 oz container, we're told that you'll need to start by testing its viscosity (thickness) by dipping the included measuring tool and timing how long it takes the paint to completely empty.
If it takes longer than the time indicated in Paint Zoom's instruction manual, you'll need to dilute with water, since the viscosity will directly determine Paint Zoom' flow rate (up to one gallon per minute (GPM), according to a company representative).
On the other hand, they emphasize that stain and varnish will rarely need to be thinned. If you're ever in doubt, be sure to reference the thinning chart in the manual.
Once you've got the viscosity right, the paint will be strained as it's poured into the container, in order to ensure it's as particle-free as possible. Be sure to test spray onto a piece of cardboard or scrap wood before applying to other surfaces.
Speaking of which, Paint Zoom's spray pattern adjuster has three available positions:
Horizontal – Best for ceilings and wood slats, such on fences
Vertical – Great for wide surfaces, like walls or floors
Spot jet – Perfect for corners and other hard-to-reach areas
On the back is a dial that adjusts the intensity of the paint coming from the gun, which can be decreased by turning clockwise, while turning counter-clockwise increases the flow rate.
When spraying high up, you'll need to angle the suction tube toward the rear of the container, and toward the front of the container when spraying down.
If you need to change your paint or even take a break, unscrew the paint container, store any leftover paint in a separate sealed container, fill the paint container with warm water, attach the hose to the gun, and press the trigger. You'll then let the water run into a bucket until it is paint-free.
Finally, when finished, you'll need to deep clean Paint Zoom by taking the spray gun apart completely and soaking each part in hot, soapy water for water-based paint, or in thinner for oil-based paint.
Do of any of these specifications differ between models?
A Closer Look at the Differences Between Paint Zoom Deluxe and the Pro (Platinum) System
By comparing the Deluxe and Platinum Paint Zoom user's manuals, we learned that the latter features a slimmer compressor with 925W of power, along with a plastic spray gun holder that can attach to your belt. And with a more powerful motor, the Platinum unit also sprays higher-viscosity paint.
Both models feature professional grade metal spray tops and nozzles, whereas many competitors include plastic ones. Why? According to the representative we spoke with, these will deliver much better paint consistency and quality; similar to what you would see on high-end commercial sprayers.
Per the ordering page on their website, it's also noted that the Pro version is constructed of "extra durable material." In addition, the rep advised that the Deluxe model features 2.2 PSI of pressure, while Platinum bumps the PSI up to 3.5.
Let's see if there are any price differences between these models.
How Much Does Paint Zoom Cost?
Paint Zoom is available in two different systems:
Deluxe System – Includes a 650Wmotor and three-way spray-nozzle: Three payments of $33.33, or one payment of $99.99, plus $19.95 S&H

Pro (or Platinum) System – Increases power to 925W, extra durable material, belt hook, and two additional paint containers: $145 plus $19.95 S&H
Either way, your system will include one Paint Zoom spray gun, paint container, viscosity cup, hose, and motor base. All devices come with a 30-day money back guarantee, less S&H, as well as a one-year warranty against defects in materials and workmanship.
In order to request either of these, you'll need to contact customer support at 800-793-2303 or customerservice@paintzoom.com.
What Can We Learn from Paint Zoom Reviews?
Since writing our original article, one HighYa reader provided feedback about their experience with Paint Zoom, giving the device a one-star rating. However, the reader's complaint referenced difficulty with the ordering and refund process, and not the product itself.
On Amazon, Paint Zoom had nearly 370 customer reviews and a 3.1-star average rating. There, most compliments appeared to revolve around effective results, ease of use, and competitive price.
On the other hand, frequent complaints referenced lower quality than expected, functionality concerns (not enough power, produced a lot of overspray, clogged easily, etc.), and that it heated up quickly.
From a company perspective, Paint Zoom had 18 closed complaints on the Better Business Bureau's website as of 8/10/17, most of which appeared to reference difficulty obtaining refunds. The company appeared to respond quickly to most of these.
In addition to customer feedback, let's take a look at different aspects you should consider when shopping for paint sprayers.
What Should You Look For in a New Paint Sprayer?
Google Shopping displayed dozens of relevant products during our research, which ran the gamut as far as price; from $35 all the way up to $200+. Many of these were also available through local hardware stores and home improvement retailers, potentially saving additional money on S&H charges.
These entailed all three types, including airless, compressed air, and HVLP.
We even found one model called the GPCT 3-Way Professional Electric Paint Sprayer with Adjustable Dial that appeared to be functionally identical to Paint Zoom and sold through third-party retailers for as little as $80. When browsing third party resellers, the rep noted, it's important to keep in mind that Paint Zoom has been tested for safety by ETL to UL safety standards. On the other hand, "many third-party resellers have no third-party safety testing, and could pose a risk to personal and property injury," they warned.
How to choose the right option for you? In addition to the strengths and weaknesses we discussed at the beginning, PaintSprayPro recommends focusing on:
Portability – Adds convenience for use on a wide variety of projects

Flexibility – Look for the most available spray options, including how fast the paint is dispersed, how thick it's ejected from the gun, spray patterns, and even paint, lacquer, and varnish settings

Ease of cleanup – Many paint sprayer models feature the ability to attach to a garden hose for easy flushing, while others will need to be completely disassembled each time they're used
As with any purchasing decision, the price will likely play a factor in most instances as well. How does all of this line up for Paint Zoom?
Our Final Thoughts About Paint Zoom
Based on everything we learned during our research, Paint Zoom appears to offer many key features you should look for in any paint sprayer, including portability, flexibility, and a very competitive price. And if it doesn't work out for your needs, the company seems to stand behind it with a 30-day refund policy.
However, like any other product, there are a couple of considerations to note.
First, based on what we viewed in the demo video, it appears to consist of many different small parts, each of which will need to be cleaned after use. So many parts, in fact, that you might want to take pictures while you disassemble for visual reference when reassembling later.
With this said, the company rep we spoke with emphasized that most paint sprayers on the market feature these same types of parts. Also, that if you want to keep a paint sprayer for years to come, disassembly will always be required. However, in many lower end models, these parts are made out of plastic, which can easily break during cleaning.
Second, depending on the type you're using, it's important to point out that not all sprayers require that you thin the paint before application. And second only to disassembly after use, this appears to be the most labor-intensive aspect of Paint Zoom.
Next, it's important that you keep your expectations realistic by differentiating between the number of coats and passes.
For example, the Paint Zoom website emphasizes that the device allows you to apply just one coat, thereby cutting your paint time and costs in half.
However, in the demo video, the host recommends that users apply three simultaneous passes: one horizontal pass to the right, and another to the left. Then, switching the nozzle to the vertical position and applying another coat in this direction to the same area.
So, while this might technically be considered a single coat, it actually involves three different passes or layers.
---
Not time saving

By Ronald P.

,

Edmonton, Alberta, Canada

,

Apr 7, 2020
Verified Reviewer

Overall Experience:

Although results are ok, better results than using a roller, but not easy to use.

Set up to get paint at right viscosity, took a long time.

Using the sprayer is not easy, hard to get the coat right, looks more like a tool for a professional, needed two coats to cover. Video made it look easy.

When it came to the hallway, really no way to get it right, too much overspray, inside wall still needed to use a roller.

Faster using a roller and brush as overall time with all the setup and clean up, plus painting time took longer using the Zoom.

I will still use for jobs like painting a fence or painting baseboards in the garage before I install them, but for painting walls just hard to use, taking more time.

Bottom Line: No, I would not recommend this to a friend

Apr 8, 2020

Hi Ronald,

Thanks for the review.

With a little more experience, getting the right viscosity becomes much easier.

The manual has information about adjusting the spray patterns to suit your needs.

This will help with getting an even coat and controlling overspray.

It just takes a little more practice to get all the elements adjusted and working together smoothly.

---

Save your money

By Kevin H.

,

Middletown, NY

,

Dec 3, 2019
Verified Reviewer

Overall Experience:

Do yourself a favor and stick to rollers and brushes. You will get the job done in a fraction of the time and with a fraction of the mess! This was a complete waste of money! Poor coverage and an unbelievable amount of overspray. Very time-consuming.

Bottom Line: No, I would not recommend this to a friend

Dec 3, 2019

Hi Kevin,

Thanks for the review.

We're sorry you are not happy with your Paint Zoom.

If you experienced an excessive amount of overspray, this can be remedied. The manual has information about adjusting the spray patterns to suit your needs.

---

Advertisement

---

Refund

By Laurie W.

,

Minnesota

,

Jul 31, 2019
Verified Reviewer

Overall Experience:

I ordered the Paint Zoom, plus one more for a reduced price. I tried the first one, after about a good hour of trying the different sprays, still would have taken less time to use the roller. I called to send them back and got a return number to put on the box. I sent it back on 6/24/19 and still have not received any return on my credit card statement, and it is 7/22/19. $68 to send it back! So my total to your company was $220 something, with $40 something in shipping, plus my return shipping of $68, and my refund is only going to be around $100 for an advertised $99 and a second one for $66! Major rip-off.

Bottom Line: No, I would not recommend this to a friend

Jul 31, 2019

Hi Laurie,

Thanks for the review. We are sorry that the Paint Zoom did not meet your needs. S/p is nonrefundable as advertised and as there was nothing wrong with the unit, return postage is the responsibility of the customer.

---

No customer service...beware

Overall Experience:

I had been on able to sleep and actually watched an infomercial on this product. Easy payment plan, order now, and "we will skip one payment and add these bonus items." It said to call or go online. I went online and started the process. After I entered most of the information, I did not see where the plan or freebies were offered. The system crashed and kicked me out. I thought more about it and said I must not have been meant to order. I never received a confirmation.

The next day I saw my card was charged the full amount. I called and was told customer service was not open. I emailed several times. I filled out the internal email several times. I received no response. Not one.

When the product came seven days later, I did not open, took it to UPS and shipped it back at my cost. They had the nerve to charge me for shipping. Not one attempt to acknowledge my request. My son told me it was junk. I should have just assumed that. I would never recommend, and I will never watch an infomercial again. Senior Citizen Ripped Off!

Bottom Line: No, I would not recommend this to a friend

May 16, 2018

Thank you, Patricia, for the comments. We are sorry that your experience was less than stellar. We show that you placed your order on Saturday 4/21, and as it was the weekend, we did not respond to your email until Tuesday 4/24. Per our company policy, your email should have been responded to on Monday 4/23, so we have to assume that we had an overwhelming amount of emails that day.

Per the email we sent, we asked you to refuse delivery of the order, so you should not have paid anything to return it to us. We received the refund on 5/4 and issued a refund less s/p, however, it should have been for the full amount, as you had asked for it to be canceled. We received your credit card dispute on 5/14 and let them know that we had already issued you a refund less s/p.

Please email your return receipt to marmstrong@idealliving.com so she can request a refund check to be issued for the return postage.

---

Advertisement

---

Overall Experience:

After seeing the paint zoom commercial, I went online to see the various options. I put in my credit card to be able to see the bottom line, which NEVER showed up. I tried different options but a total NEVER showed, and I NEVER authorized ANY charge.

The next day I got an email saying my order had shipped. What order? I called them, and they said it is too late to stop it but I should just REFUSE the package. Later I got another email that another order had shipped. My credit card was charged $174.59 and $53.28. It was a lot of hassle, but I refused BOTH packages.

Finally, refunds showed up on my credit card; one for $129.84 ($44.75 short) and the other for $33.33 ($19.95 short). They have stolen $64.70 from me. This is TERRIBLE. I am fighting this with my credit card and have complained to the Attorney General.

Bottom Line: No, I would not recommend this to a friend

Jan 16, 2018

Thank you Colleen for the comments. We did receive two different web orders from you on 4/6/17. The initial order was for one base unit. The order total was a total of $119.94, which purchased on our three payment plan of $33.33 each plus $19.95 s/p. The same day we received the additional order for one Platinum Paint Zoom Unit, 3 Painter's Kits and one set of three additional paint storage containers. The order total was $174.59 pain in full.

You called customer service on 4/7/17 to check the status of the order. Per notes, you were advised that we had two orders, and you were given the pricing. You did not want either order and were advised to refuse delivery of both. We received one order on 4/20 and the other on 5/12. Both orders were refunded less s/p as advertised. However, as you refused delivery s/p should have been issued. We did receive disputes from your bank for the s/p and issued refunds for the s/p for both orders on 6/6/17. We certainly apologize for any inconvenience.

---