Palm Beach Research Group Reviews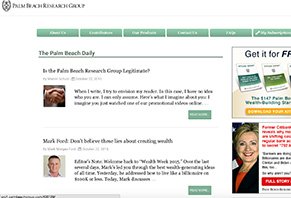 Palm Beach Research Group publishes a variety of investment-related advisories and courses that can help you invest wisely and build long-term wealth.
About Palm Beach Research Group
Founded by Mark Ford and Tom Dyson in 2011, Palm Beach Research Group publishes a variety of investment-related advisories and courses that can help you invest wisely and build long-term wealth. is an independent research and publishing company that provides subscribers with advisories and courses that can help you create a comprehensive wealth-building plan.
As such, Palm Beach Research Group claims their central mission is to "help readers get richer every single year."
In their most popular advisory, The Palm Beach Letter (more about this in a moment) the company's staff of 30-plus editors and researchers provide specific advice on a wide range of conservative, long-term investment strategies, vehicles, and securities—all focused on "reducing risk at every opportunity."
Palm Beach Research Group's other products also provide useful advice about stock market investments, cash-generating options strategies, "outside the market" ideas for generating additional active income, retirement lifestyle guidelines, and more.
If you've tried other investing advisory services in the past, they might not have lived up to your expectations. But will you experience the same with Palm Beach Research Group?
Here, we'll lay out everything out on the table so that you can make an informed decision. First, let's take a look at the company's different products.
Palm Beach Research Group Products
Overall, Palm Beach Research Group offers 11 different products and advisories:
The Palm Beach Letter
As we mentioned above, this is perhaps PBRG's most popular product, which is based on Mark Ford's investment strategies and Tom Dyson's financial expertise.
Overall, you'll learn how to create new income streams, different low-risk investment strategies, "outside-the-market" strategies, and the "safest and most profitable investment ideas in the world," as recommended by their analysts.
Creating Wealth
Written by Mark Ford, this monthly essay series will reveal the ideas he's used to create his extraordinary wealth. You'll also find news updates, a member spotlight, and Q&A.
Mega Trends Investing
A monthly investment advisory written by Teeka Tiwari, a former hedge fund manager. Here, you'll learn about "the long-term social, political, and technological trends that are changing our world," and undervalued companies that are best positioned to take advantage of the situation.
Jump Point Trader
Also developed by Teeka Tiwari, this system uses a proprietary algorithm to help you identify "momentum" stocks. And by analyzing the technical action of stocks, you'll be able to achieve higher returns, faster.
Income for Life Premium
A unique strategy involving a specific type of whole life insurance contract (keep this in mind, since we'll come back around to it shortly) that can safely harbor your cash while providing 5% annual returns.
You'll also learn how to finance cars, houses, college expenses, and investments without ever dealing with a bank.
Extra Income Project
A series of entrepreneurial essays authored by Mark Ford that reveals 24 different entrepreneurial projects outside the stock market that can make you $50 to $500 per hour, or more, all from the comfort of your home.
Palm Beach Current Income
A trading advisory that provides weekly options trade recommendations that generate average annualized returns of about 14%.
The accompanying educational course can also teach you the "best, safest ways to earn income from the options market." This includes a six-part webinar series and a post-course exam that prepares you to trade live.
C.A.P. Cash Flow Strategy
A "masters" level rental real estate course that "will you teach you how to add six (or even seven) figures to your portfolio and thousands of dollars in passive income every month," even if you have no prior real estate experience.
Perpetual Income Program
A safe, flexible retirement savings strategy that shows you how to loan money to "the strongest, safest companies in the world," while earning thousands per year in the process.
Wealth Builders Club
Dubbed "the most comprehensive wealth-building program in the world," this is a step-by-step learning program that can help you become wealthy in less than seven years using different essay series and programs.
Tom's Confidential
A "special research service" only available to a select few subscribers that gives you access to Tom's "inner circle." As a member, you'll receive closely held investment advice, as well as access to a private forum.
Now, how much will each of these products cost you?
Palm Beach Research Group Pricing
Palm Beach Research Group's different advisories and products are priced as follows:
The Palm Beach Letter (1-year subscription): $199
Mega Trends Investing: $199 per year
Creating Wealth: $199 per year
Wealth Builders Club: $2,250
Perpetual Income Program: $2,000
Palm Beach Current Income: $3,000
Extra Income Project: $895
C.A.P. Cash Flow Strategy: $1,995
Tom's Confidential: You'll need to contact the company
Income for Life Premium: $1,995
Jump Point Trader: $3,000 per year
Palm Beach Research Group's refund policy varies by product. For example, you can receive a full refund within one year for The Palm Beach Letter, Creating Wealth, and Mega Trends Investing, while Jump Point Trader only comes with a 90-day refund policy.
If you have questions about pricing (or anything else), you can contact Palm Beach Research Group at (888) 501-2598.
Are these a good deal? To help answer, let's find out who's behind Palm Beach Research Group.
Who are Mark Ford and Tom Dyson?
Despite no formal background in investing, Mark Ford (who also goes by the pen name Michael Masterson) is an author of more than 15 books related to financial independence and copywriting, and is also a prolific real estate investor and filmmaker.
There wasn't as much public information available about Tom Dyson, who is the publisher for Palm Beach Research Group, and is also an alumni of Stansberry Research (the company behind America 2020).
According to his bio on PBRG's website, Tom bought his first stock when he was 11 (which returned 300% in less than nine months) and has since traded bonds at Salomon Brothers and Citigroup. Tom is also the author of the popular advisory The 12% Letter, which he relinquished control of in 2010.
While it doesn't appear that Mark or Tom have been embroiled in any major legal trouble as individuals, what are subscribers saying about Palm Beach Research Group?
Subscriber Feedback for Palm Beach Research Group
Based out of Delray Beach, FL, Palm Beach Research Group wasn't listed with the Better Business Bureau at the time of our research. In fact, there wasn't much online feedback about the company at all.
We did encounter some in-depth reviews on StockGumshoe and BankOnYourself about a "770 Plan" that's been promoted multiple times in the Palm Beach Letter. Similarly, Nerdwallet reviewed a "702 Plan" often promoted as well.
In all of these, the authors' goal was to provide some real-world insight on programs that might have otherwise come off as over the top or oversold.
Since we didn't hear much from subscribers, in the company's own words, what makes Palm Beach Research Group different from other investment advisory publishers?
What Makes Palm Beach Research Group Different?
According to PBRG, their key distinguishing feature is that they don't accept money from any third party to promote their services, so they're 100% independent. The company doesn't even allow their editors to invest in any of their recommendations (for more, be sure to read their Code of Ethics).
They also claim to "make a point of teaching you everything we know about investing and wealth building," which involves not just investing advice and learning how different investment types complement one another, but also "living rich" advice that covers personal finance, health, travel, and productivity.
Palm Beach Research Group claims that their investments average a 6% return or better, and that they're focused on long-term wealth building instead of high-risk investments.
Does all of this necessarily mean you should sign up with Palm Beach Research Group?
Is Palm Beach Research Group a Wise Choice?
Have you ever heard the saying that no news is good news?
Well, in the instance of Palm Beach Research Group, there is very little online feedback, whether from subscribers or industry professionals, which can provide much in the way of guidance. So, we can't know if they really do average 6%+ rates of return, if their newsletters and educational programs are useful (not to mention trustworthy), and a whole host of other important criteria.
We will say that Palm Beach Research Group's website seemed to be chock full of useful information, and the company seems to go the extra mile in making sure you're as informed as possible about the company's guiding principles.
Keep in mind though, that the information provided by Palm Beach Research Group should not be considered investment advice. And the company specifically notes that, "Because we are publishers and not financial advisors, we do not provide investment advice tailored to your personal situation."
What's your experience with Palm Beach Research Group? Tell us about it by writing your review below!
Scam

By Beth D.

,

Minnesota

,

Feb 22, 2020
Verified Reviewer

They took my money ($4,000) and then denied me access blaming it on their parent company, Legacy Research Group. Now I am forced to challenge the charges with my credit card company. Definitely a scam!

Bottom Line: No, I would not recommend this to a friend

---

No support, only lies!

By Dan S.

,

Colorado

,

Feb 15, 2020
Verified Reviewer

I bought into Teeka's Palm Beach Venture. The advertised pre-IPO fortunes. Hurry up and invest...Turns out the company they praised did not close their offering on the advertised date. I contacted Palm Beach Venture twice so far, in writing, asking for a response on why they miss advertised, but there's no response. I called customer support and they were totally in the dark, having no clue what was going on. So far only bad experiences. I feel I've been taken on this deal. I'm considering canceling my lifetime, pricey, subscription for lack of support.

Bottom Line: No, I would not recommend this to a friend

---

Advertisement

---

Total scam

By Joseph H K.

,

Springfield, MO

,

Oct 14, 2019
Verified Reviewer

I paid for the postage to receive a free book, Retirement 501K or something like that 11/2017. I was then billed for $99 online stock-picking information. I have been out of the stock market since 6-2007 (it is also a scam). When I tried to call to cancel this scam I listened to over 15 minutes of ads and never was able to talk to a person or leave a message to cancel in 2018. When I called back after getting charged again in 12/2018 I did get a person to answer and cancel but that was 5/2019. The Federal SEC should close online scammers like this company.

Bottom Line: No, I would not recommend this to a friend

---

Huge scam

I subscribed to Teeka's crypto portfolio and the deal was: If you don't make 1000% in the year you have a free year subscription.

The market plunged 80% right after I bought their recommendations.

It was a year ago and the market did not recover since or barely.

I communicated with the Palm Beach Research Group to get my free year as per the deal, they took 2500 USD off my credit card.

Since then nobody answers my emails or calls.

Teeka is a fraud.

Bottom Line: No, I would not recommend this to a friend

---

Advertisement

---

Updated review

Update

By Vicki H.

,

Mesa, AZ

,

Aug 20, 2019
Verified Reviewer

I have been contacted by the company and my issues have been resolved.

Bottom Line: No, I would not recommend this to a friend

Previous review
Aug 14, 2019

Bait and switch confirmed

I want to confirm another reviewer, Bruce T. I have the same issues. Bought the VIP LIFETIME members program in May, to include ALL present and future investment programs produced. Then less than a month later out comes the Venture program, I call to have access turned on, and I'm told that it is one that the Lifetime members aren't even privy too, it's "SPECIAL"! Yeah, it's special alright, well I have it in writing that I have access to ALL present and future. Looking for others for a possible class-action lawsuit!

(

read more

read less

...)

---

Bait and switch

By Bruce T.

,

Bluefield, WV

,

Jul 10, 2019
Verified Reviewer

Some of the products listed are no longer available and others now available are not listed. So, this is an older list.

However, they sold me something called an Infinity membership. Was pitched as including everything they now offer and everything they will offer in the future, for life.

Recently they trotted out Palm Beach Venture a new service aimed at the Cannabis market. And, us "Infinity" members have to pay to participate. What? But you told me...

Doesn't matter, they decided to exclude this new service unilaterally. Emails go unanswered. They were a good organization and I've made money with them but they are backing their big earner Teeka Tiwari and smell money so they've lost their credibility with me and many of the Infinity members.

Oh, they did claim to offer us a 50% discount as Infinity members all we have to do is use the discount code they were supposed to send to us. The date for receiving that came and went. Nothing. I'd stay away.

Bottom Line: No, I would not recommend this to a friend

---

$1500 taken

By Mike E.

,

Oklahoma

,

Jun 6, 2019
Verified Reviewer

Jason charges $1500 for his services and all he does is bask in the sun and not do the diligent work I paid for. He gave me two stocks that I could afford and they briefly went up but soon tanked. The payment was for him to notify me if a serious problem existed with his recommendations so I could protect myself.

Bottom Line: No, I would not recommend this to a friend

---

Bit of a SCAM

By Derek D.

,

Indiana

,

Mar 13, 2019
Verified Reviewer

I watched Teeka's video on Crypto investing. It made it seem achievable. After I paid for a subscription and received the materials, I realize that it's IMPOSSIBLE for a non-professional investor to follow all instructions and have enough computer equipment to carry out instructions. I emailed repeatedly without any response. I called and was told that all sales are final. I told them it was a fraudulent misrepresentation of their product.

Stay away from Cryptos and Teeka unless you are a professional investor.

Bottom Line: No, I would not recommend this to a friend

---

Ok advice, high price, but totally ridiculous upsell and marketing!

By Mark M.

,

Indiana

,

Mar 1, 2019
Verified Reviewer

Here's the email I sent their parent organization Legacy Research Group (which also includes Casey Research) yesterday:

Guys,

I want to contact you about your spammy, slimy, high-pressure upselling techniques.

A couple years back I started with subscriptions to Casey Report and got upsold to Crisis Investing. I think that Casey's team has some good advice, but the constant email annoyances were terrible. You guys have been absolutely the worst on the sheer volume of email that you send.

However, when I heard Palm Beach was going to offer crypto advice, I signed up for the Palm Beach Letter. Then, of course, I realized that the Letter wasn't really offering anything of value and I would have to get Teeka's Palm Beach Confidential to get the REAL advice. I chose to accept the upsell. Teeka's recommendations haven't done anything for me, but now you want me to buy the REAL REAL advice via yet another upsell! The nerve!!

Thankfully I don't get any email from any of the Legacy Research firms at present. What relief! However, your guy Spencer at Palm Beach left a couple messages for me about my account. I thought it might actually be important, so I called him back today. Only to get a high-pressure sales call on Teeka's REAL REAL stuff. You have a recording, somewhere, so be sure to check it out. It's funny that he insists that it's not a sales call when it clearly is.

It's pretty awful how you treat your customers who have paid you thousands of dollars for your services. As these subscriptions wrap up I'll be canceling each and every one of them. Other people offer advice from an Austrian viewpoint, and I'm willing to bet that they don't treat paying customers as poorly as the Legacy Research Group does.

Simply stated: It doesn't matter if the advice is good, if you are going to bombard a paying customer with bullshit upsells. Especially when these upsells appear to be for something that we've already paid for. It is evident that you are not interested in serving the customer. Only yourselves.

...OK, let me see about getting this out into some social media platforms after I hit SEND...

Bottom Line: No, I would not recommend this to a friend

---

Just run...

By Steven P.

,

Minneapolis, MN

,

Jan 7, 2019
Verified Reviewer

I made a huge mistake of trying one of their "special" offers. Nothing special. Same ole same ole. Then, with no warning, I was charged $105 renewal. When I called their call center people, they said I had 30 days from December 1st to cancel. I didn't see the charge until I received a credit card statement on January 2nd. With the holidays and all, and they must not have a money back guarantee like the legitimate letters I continue to subscribe too. Seriously, do not take the bait.

Bottom Line: No, I would not recommend this to a friend

---

Fraudulent charges

By Casandra A.

,

Delray Beach, FL

,

Dec 19, 2018
Verified Reviewer

Fraudulently charged my credit $2500 for a service that I did not request. I signed up for a $47 a month service and somehow they charged me $2500 and claimed that I agreed to it in the fine print as an upsell. Contact with this company to resolve led absolutely nowhere. When disputed with the credit card company, PBRS seemed to have a slew of legal nonsense to send over to my credit card company to enforce the charge and discourage a refund. I NEVER signed in to this $2500 upsell and did not know I was being charged. And of course...no call back from the company.

Bottom Line: No, I would not recommend this to a friend

---