Pancake Pillow Reviews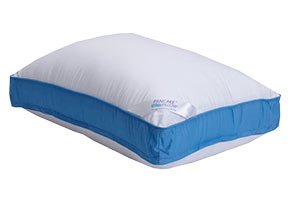 Using six soft layers filled with down alternative, which fit within a 100% cotton, gusseted cover, Pancake Pillow promises to deliver the perfect height.
About Pancake Pillow
Pancake Pillow's unique design uses six soft, stackable pillows inside an outer shell that promises to help you find your "perfect pillow height."
On the outside, the company tells us you'll find a 300-thread count, 100% cotton case that's zippered on three sides. This provides easy flip-open access to the inner layers, which are filled with an ultra soft, down alternative microfiber fill.
This way, the manufacturer claims you'll be able to add or remove these "pancake" layers until you achieve your perfect comfort level, which could help you sleep better. What's more, we're told Pancake Pillows are crafted with "5-star luxury materials"!
Luxury materials or not, will Pancake Pillow make you more comfortable, regardless of your sleeping preference? And perhaps more importantly, will it help you wake up feeling more refreshed and ready to take on the day?
Let's dive right in and help you make a more informed decision—before handing over your hard-earned money.
How Does the Pancake Pillow Work?
According to the product's website, Pancake Pillow features six different layers and heights:
1 Layer: 1.5" height, ideal for back sleepers
2 Layers: 3" height, ideal for stomach sleepers
3 Layers: 4.5" height, ideal for side and stomach sleepers
4 Layers: 6" height, ideal for side sleepers
5 Layers: 7.5" height (no sleeper recommendations)
6 Layers: 9" height (no sleeper recommendations)
Inside each layer, you'll find the "highest quality and non-allergenic" puff gel microfiber fill, while the outside case's 3-inch gusseted sidewall helps maintains shape and stability.

Here, you can see how each of Pancake Pillow's six different layers affects height. Image credit: Pancake Pillow
How Comfortable Is Pancake's Pillow "Puff Gel Microfiber Fill"?
There are a lot of different terms used to describe Pancake Pillow's fill, including "puff gel," "microfiber," and "ultra soft down alternative." While "puff gel" doesn't seem to be a common term used in bedding, what can we learn from these other terms?
We've discussed the concept before in some of our other bath and bedding product investigations, but microfiber is a generic term that only references 1) a synthetic fiber that is 2) very fine (less "than one denier or decitex/thread").
In other words, this term doesn't tell us exactly how fine the threading is on Pancake Pillow's exterior case, or what type it is.
Similarly, "down alternative" only tells us that the fill found in each of Pancake Pillow's six interior pillows is intended to mimic the qualities of down obtained from fowl (usually ducks and geese).
However, it doesn't tell us what type of material this involves (e.g. rayon, cotton, polyester, etc.), or the fill power, which references "the loft or "fluffiness" of a down product."
Despite this unknown information, how much will you pay for Pancake Pillow?
How Much Does Pancake Pillow Cost?
If ordered directly from the manufacturer, a queen Pancake Pillow will cost you $79.99, while the king version is priced at $99.99. Both options include free S&H.
All Pancake Pillow purchases come with a 30-day satisfaction guarantee, less S&H.
Keep in mind that, according to the company, your Pancake Pillow "must be unused and in the same condition that you received it," as well as in the original packaging to qualify. In other words, if you so much as open the package, you've lost the ability to obtain a refund.
Pancake Pillow is also sold through Amazon for the same prices, although you won't get the free S&H.
To request a refund, Pancake Pillow customer service can be reached at (703) 594-7674 or support@gravitysleep.com.
Speaking of Amazon…
What's Everyone Saying In Their Pancake Pillow Reviews?
On Amazon, 172 customers had left reviews for Pancake Pillow at the time of our research, with an average rating of 4.5 stars.
There, most compliments referenced better sleep, the adjustability to accommodate different sleeping preferences, as well as its quality construction. In fact, more than one customer claimed that Pancake Pillow was the best pillow they'd ever used.
On the other hand, we found several customers who complained that Pancake Pillow's fill felt very light, leading them to wonder how long it would stand up to repeated use, as well as high price.
Most other complaints seemed to reference personal preference-related issues, such as being too soft, or uncomfortable enough to cause neck and shoulder pain.
From a company perspective, Pancake Pillow is manufactured by Gravity Sleep, although their website only consisted of a holding page and there wasn't any additional information available through third-party sites.
Are There Other Products Like Pancake Pillow?
If you search online for "stackable pillow," "layered pillow," "six-layer pillow," or "adjustable pillow," the vast majority of results returned will point you back to Pancake Pillow. As such, if you're looking for a pillow exactly like Pancake Pillow, it seems to be your only option.
Pro Tip: A similar ASOTV product named Comfy Sleeper was previously sold online, although it no longer appears to be available.
However, this doesn't mean you won't find other options that use the same basic concept, which might better match your preferences. This includes options that can be aired up to achieve optimum comfort or ones that only use 2-4 layers of multi-density foam.
The point? You certainly have options, so be sure to search around online before making your decision.
What's the Bottom Line About Pancake Pillow?
In the end, while it's certainly more expensive than a lot of other options, Pancake Pillow appears to be a unique product that the vast majority of customers are pleased with.
Also, the manufacturer seems to stand behind their product with a 30-day refund policy, although if you try your Pancake Pillow, you own it. As such, you'll need to carefully consider your purchase before placing an order (or, at the very least, before opening the package).
Just remember: Despite Pancake Pillow's adjustability, no one pillow (or product in general) will meet everyone's needs or represent a perfect solution in every scenario. For example, while Pancake Pillow might help you adjust height, you can't simultaneously adjust softness or firmness.
In other words, adding all six layers to your Pancake Pillow will increase height, but it will also increase firmness. On the flip side, removing layers will decrease height but will also increase softness.
So, if you're looking for a tall, soft pillow or a thin, firm pillow, it doesn't seem that Pancake Pillow will provide a viable solution.
Looking for more information before you go? Be sure to read our Pillow Buyer's Guide!