Pane DR Reviews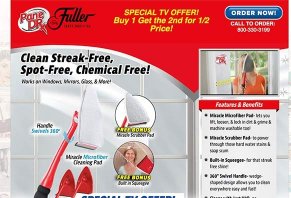 Using a 360° swivel handle, wedge-shaped head with attached microfiber cloth, and built-in squeegee, Pane DR claims to help you clean without chemicals.
About Pane DR
Made by Fuller Brush Company, Pane DR features a wedge-shaped design with an attached microfiber cleaning pad that uses dozens of 'tiny squeegees' to loosen, lift, and lock in dirt and grime.
Coupled with its 360° swivel handle and built-in squeegee, they claim you'll be left with clean, streak-free, spot-free, and chemical free windows, mirrors, glass, shower doors, windshields, headlights, tile, and plastic. All you have to do is add water, and Pane DR will handle the rest—even on soap scum and hard water stains.
When you're finished, these microfiber pads are machine washable for easy cleanup, along with reusable convenience.
Once you've handed over your hard-earned money, will you find that Pane DR works as well in real life as the commercial made it seem? Let's start with price, and then we'll walk you step-by-step what we learned during our investigation.
How Much Does Pane DR Cost?
According to the website, two Pane DR devices are priced at $22.48, plus $7.95 S&H and a $2 web service fee. During checkout, however, the system seemed to assess separate $7.95 and $9.95 charges for shipping and processing (see image below).
We contacted customer support, who advised that they weren't sure what was going on with the system, but that the $32.43 total was correct.
Although an extra $9.95 S&H fee was added to our order when we attempted to check out, customer support ensured us that the $32.43 total was accurate.
Important note: According to support, replacement pads are not available, which means that when yours wear out, you'll have to purchase a whole new Pane DR unit.
All purchases come from Fuller Brush Company with a 30-day money back guarantee, less S&H. In order to request one, you'll need to call 866-881-1890.
Are There Other Cleaning Devices Like Pane DR?
Using online marketplaces like Amazon, Walmart.com, and Google Shopping, did we encounter anything exactly like Pane DR during our research? No.
However, we did come across several other popular models that featured very similar functional designs, including wedge-shaped heads, washable microfiber 'bonnets' that fit over the head, and various length handles with padded grips. These included:
Glass Master Pro Glass and Surface Cleaner, $20: Doesn't feature a built-in squeegee-like Pane DR.

Invisible Glass Reach and Clean Tool, $13.47: No squeegee and appears to have a shorter handle.

Stoner Car Care 2-Piece Invisible Glass Reach and Clean Tool, $13.47: By all appearances, this is a rebranded version of the Invisible model.
But, keep in mind that there are perhaps hundreds of other handle-based microfiber glass cleaning devices out there, although not all will feature longer handles, removable/washable heads, wedge-shaped designs, padded grips, or squeegees all the same unit.
In other words, if you're looking for all of this in one, your options are currently limited to Pane DR and some of the direct competitors above.
But outside of this specific design and price, are there any objective details you can focus on to help you make a more empowered decision? Let's carry this thought over to the next section.
How to Choose a Microfiber Cleaning Tool
Writing for CleanLink.com, Mary Erpenbach notes that manufacturers have released a dizzying array of microfiber cloths over the years, which can make it difficult for professionals—much less average consumers—to sort through.
According to Dave Frank, president of the American Institute for Cleaning Sciences, who was interviewed for the article:
"Users always want to make sure the product performs to their specifications, so they need to look at the type of area they're cleaning, [their] preference, the type of soil that has to be removed, the types of finishes they'll be cleaning, [and] the amount of square footage they expect out of a single application."
He goes on to explain that higher-end microfiber that's ideal for cleaning glass should feature tighter weaves, heavier cloth, and a stiffer feel. And while we didn't test Pane DR or any of its competitors directly, based on what we learned from their advertisements and sales copy, they all seem to feature thin, tightly-woven microfiber bonnets.
We contacted customer support in search of additional specifics about the device's microfiber (thickness, weave tightness, layers, etc.), although none of the representatives we spoke with had this information available.
However, to test the quality of a microfiber cloth, Dave Frank recommends running "it over the back of your hand and feel how it catches." You can also try rubbing hand lotion on a mirror and then looking "at the number of passes it takes to remove the lotion — a high-end cloth will do it in one or two passes."
Obviously, performing these tests will require that you purchase in advance. Who, exactly, will you be buying from?
What Do We Know About Pane DR's Manufacturer?
Fuller Brush Company is a division of Torrington, CT-based Prime Time Solutions Inc., which has been in business since 1999 and manufactures a wide range of brushes, cleaners, cloths, mops and brooms, sweepers and vacuums, and personal care products.
They held an A+ Better Business Bureau rating, based on one negative customer reviews and three closed complaints, as of 11/01/17. One referenced long shipping times, the other difficulty processing a return, and the third related to refunds. In each instance, a company representative responded with a solution.
Our Final Thoughts About the Pane DR Microfiber Cleaning Wedge
At $32.43 (assuming this is what you'll actually pay—see the pricing section above for an explanation) for two Pane DR's, this works out to about $16.21 per device.
While this price is meaningfully lower than the Glass Master Pro, it's still not as low as the Invisible and Stoner Car Care models. On top of this, we found these models sold through several third-party retailers like Walmart, Auto Zone, and Home Depot, which could help you shop locally and save on S&H charges.
Furthermore, if you're dissatisfied, shopping locally could make the return process as easy as hopping in your car.
But if you're willing to roll the dice on Pane DR, Fuller Brush Company seems to stand behind it with a 30-day refund policy. Just keep in mind that you'll lose your original S&H charges, any fees associated with the BOGO offer, as well as return shipping charges back to the manufacturer.
In a nutshell, this means it could cost you $15.44, plus return shipping charges, just for giving Pane DR a try. While we've laid all the necessary information out for you in this article, this ultimately means only you can decide if it's worth the risk.
Waste of money

By CJ H.

,

Tulsa, OK

,

Aug 15, 2018
Verified Reviewer

I have purchased Fuller Brush products in the past, as well as my mother and grandmother from a door-to-door salesman. I have expected the same old-fashioned quality, but this was a big disappointment. The product is wimpy plastic, the turning mechanism in the back doesn't lock so it constantly moved. I have an odd window in my bathroom that I thought this would be perfect for, but the turning of the pad was horrible, preventing a smooth squeegee.

I also have a huge ceiling to sink mirrors that looked streaky from using the squeegee part. I use an industrial liquid window that leaves my mirrors crystal clear, but with the pain, I had to redo them by hand because of all the streaks. The rough scrubby sided pad works ok, but once the smooth cloth cleaning pad gets wet, it's worthless. I bought two sets, one for my inside windows and one for the outside. The second set, not used, is going to Goodwill. I wish I could return them.

Bottom Line: No, I would not recommend this to a friend

---

Free second not shipped

By Shirley Lowe

,

Montgomery, TX

,

Apr 25, 2018
Verified Reviewer

I was cheated out of the free one after I was charged the shipping. I called, but was told basically "too bad." I opened the package today, and it was shipped four days ago, so I didn't call within 48 hours. This is lousy customer service, and I will never order from these people again.

Bottom Line: No, I would not recommend this to a friend

---

Advertisement

---

Mom had the same experience as those mentioned. Do NOT waste money!

West Virginia

,

Mar 29, 2018
Verified Reviewer

Customer service is no help. You have to pay for the return shipping on the "bonus" items, and you already paid the shipping to receive them ($23.85)! Buyer beware! The above rating is not worthy of the one star (required field for this review).

Bottom Line: No, I would not recommend this to a friend

---

Pane DR is a horrible product

By Kim Venezia

,

San Lorenzo, CA

,

Mar 19, 2018
Verified Reviewer

I ordered Pane DR on my phone. Big mistake, it went crazy (I think it is their site). I Thought I was ordering $40.00 worth of merchandise, and it ended up $177.33. I called to cancel, they are closed on weekends. I replied to the two emails I received from them with "please cancel." Nothing. I called during the week, and the guy claimed he could not find my order. I called my bank, asked them to flag and refuse payment, that did not happen.

I received the product, which is flimsy and a pile of junk, (had also order Roto Sweeper, which is garbage too). I called and they said full refund, but it is costing me $60.00 to ship, when it cost them $17.00 to ship, and I end up with nothing but a huge headache. Pane DR does nothing but smear used water with pad and then scrubber, finally pulled out Windex and a paper towel to clean the mess it left. Roto Sweeper picks up a few hairs (very few hairs) and nothing else. I returned it all. $60.00 and nothing to show for it.

Bottom Line: No, I would not recommend this to a friend

---

Advertisement

---

Missing microfiber pad

By Mary Karatka

,

Pearl River, NY

,

Mar 9, 2018
Verified Reviewer

After calling about a missing microfiber pad, I was advised that it had to be done within 48 hours. I asked to speak with a supervisor, was told no, he would tell me the same answer. This is a phony company using the good name of Fuller Brush and should be investigated about their unfair practices. I still would appreciate a solution and receive my missing microfiber pad. They took my money, and I received no satisfaction because of their negligence.

Bottom Line: No, I would not recommend this to a friend

---

Horrible customer service and product.

The product was delivered to the post office, and I did not get it until the next day. It does not perform as shown. I paid extra for the item, and a free bonus was not included, but I thought it would come later. After a few days, I called and was told the complaint had to be within 48 hours. Nowhere on any paperwork is this stated. They would not send the rest of items or return the money for the not received items. We were given no recourse for the problem. I can't believe Fuller Brush would put their name on this. Definitely, do not waste your time or money.

Bottom Line: No, I would not recommend this to a friend

---

Advertisement

---