PayPal Money Pools Reviews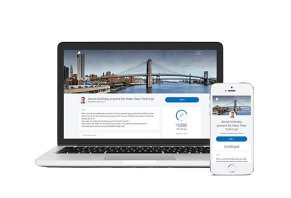 PayPal Money Pools is a savings tool launched in late 2017 that provides a way for friends and family to save money toward a common goal via a single savings pool within PayPal.
About PayPal Money Pools
PayPal Money Pools is a tool available to non-business PayPal customers who want a platform through which they can pool money together from friends and family to reach a savings goal.
The service launched in November 2017 and brought with it some key differences between what it offered and what you'd get through a similar community-savings site or a crowdfunding site.
What's perhaps most unique about Money Pools is the simplicity of the entire concept, from how you create your pools to how you receive payments and then, once your goal is reached, how you transfer payments to your account.
You have to be careful with simple platforms like this because you may assume that PayPal Money Pools does things that it doesn't or provide services that it doesn't. With all the crowdfunding websites and savings sites floating around the internet and app stores, you could easily confuse what Money Pools does with a crowdfunding site like GoFundMe.
However, Money Pools isn't a crowdfunding platform. Over the course of this review, we're going to tell you exactly what this platform offers by doing an examination of how you sign up, how it works and what fees (if any) are involved in using it.
Then, we'll compare it to GoFundMe. After our comparison, we'll wrap up the review with our thoughts on the pros and cons of using this savings tool and we'll give you our thoughts on who we think it's good for.
How to Set Up Your Money Pool
You have to be a PayPal customer in order to set up a Money Pool and you have to have a personal account (U.S. customers), or, according to PayPal, a premium account if you live in certain countries.
Business customers cannot do Money Pools via their business account.
To open a Money Pool, go to your PayPal account and click on the Money Pools option. From there, you can name the pool, add a background or banner photo for it, designate how payments are received (specific amount, any amount, etc.) and then add a description of what the Money Pool is for.
You also have the option of setting a deadline for the pool. When the deadline passes, contributions won't be accepted. However, you can extend the deadline via your pool management page.
Once you have the pool set up – it takes about three minutes – it will appear on your account page along with a running total of how much money is in the pool.
How to Get Money into Your Pool
Contributions to your money pool come via friends and family; they don't have to be PayPal customers to contribute. You, as the account holder, cannot contribute to the account, which is something you need to keep in mind.
You can't contribute to the pool makes.
Money Pools purpose is to provide a place where multiple people can put money into one pool that is then transferred to the pool's creator.
PayPal's fine print says they may place a "hold" or a "reserve" on payments made to your Money Pool. These happen in specific situations, including out-of-the-ordinary transaction amounts and doing a transaction after not having used your account for a long time.
Assuming your contributors are in good standing with PayPal or aren't PayPal customers, there's a good chance their money won't be put on hold or reserve.
How to Get Money Out of Your Pool
Once your savings goal has been reached, you can transfer the money to your PayPal account. All of these transfers are free.
When the money is in your PayPal account, you have two options for sending it to your checking. First, you can do an instant transfer to your debit card that costs 0.25% or you can send the money via ACH transfer, which will take one business day and is free.
Pro tip: PayPal says you're only allowed to use the money for the purpose which you state when you set up the Money Pool. The account can't be used, for example, to receive payments for goods or services you provide.
Fees for Using Money Pools
There are no fees for setting up a Money Pool or for transferring the money to your PayPal account and then doing an ACH transfer of the balance to your bank account.
However, those who contribute to your Money Pool may be subject to the basic schedule of fees PayPal charges for transactions.
Your contributors can expect to pay at least a 2.9% fee for sending money to your pool via a credit card or debit card, a fee which also applies to payments made via a mix of the contributor's PayPal balance and a card.
Also, you can expect fees to be assessed to your contributors if they're making contributions via foreign currency, or vice versa. The fees for these transactions range from 0.5% of the transaction (sent from Japan) to 2% (sent from Germany).
If the transaction is between a U.S. PayPal account to your account, then it will be free if the payer is using funds in his or her PayPal account.
How PayPal Money Pools Compare GoFundMe
By now, you've got a good sense of what PayPal Money Pools are and aren't. They are a way for friends and family to send you money you'll use for a specific goal. It's not a way to get payments from customers or to fundraise for those who want to make tax-deductible donations.
Those two points are important because they're the two aspects of this savings platform that make it different than GoFundMe.
Many of the groups have at least four people and are typically comprised of strangers. The first two people who cash out will pay an 8% and 7% fee, respectively, and the last person who cashes out gets a 2% bonus.
GoFundMe, on the other hand, is a fundraising platform that has more complex rules than Money Pools, mainly because you're dealing with tax-deductible donations that carry with them certain IRS requirements.
The goal of GoFundMe is to help someone – whether a company or an individual – get enough money to do something, whether it's launching a new product or cover the cost of medical bills. Also, GoFundMe charges a combined 7.9% fee for every donation made and for withdrawals you make.
Money Pools, on the other hand, can be used for all sorts of causes. It may be the fulcrum by which a group of friends saves money for a group vacation. Or, it could be a way for everyone to pay up for the past week's happy hour. And, unless your contributors are paying with a credit or debit card, there are no fees.
Pros, Cons and Who PayPal Money Pools Is Good For
Based on our research of this savings platform, we believe Money Pools' strengths are in its simplicity. Groups of friends or family members can save together for a common goal or simply to pay off a dinner they ate together or trip they all took in the past. The platform is familiar and pretty much universal, as PayPal had nearly 180 million U.S. users in 2016.
Also, in our opinion, Money Pools has the advantage of not charging any fees, something that sets it apart from similar community savings apps/websites and fundraising sites.
We'd say the main downside to the app is that the person who created the pool can't contribute to it. So, if a friend starts one, gets all the money and the transfers it to his or her account, there's no guarantee that they'll pay their share if the pool was designed to get everyone to save for a future goal/event.
In our opinion, PayPal Money Pools are best for groups of trustworthy friends or family who have PayPal balances and want to save for a goal in the future.
Money pool, needs individual donations also

By Lee R.

,

Louisiana

,

Feb 19, 2020
Verified Reviewer

Love the concept. This has worked great to raise funds for a friend who needed help with medical issues. One thing that should be changed is allowing the person who set it up to add funds to the pot.

Bottom Line: Yes, I would recommend this to a friend

---

Problematic and unaccountable

By Gilly H.

,

Durham, United Kingdom

,

Oct 19, 2019
Verified Reviewer

I started this money pool as a safe way for people to donate towards my service dog MRI Scan and £2,600.

I initiated the fundraiser via Facebook but was contacted by donators to ask if there were a "safer option", upon which I invited them to pay via my PayPal account (people trust PayPal more than Facebook), and also via my bank directly.

Both of these were utilized.

However, as I had problems with Facebook, I closed that fundraiser down and instead - created a money pool via PayPal thinking it would be more trustworthy and simple.

I could not have been more wrong.

Despite hitting the target via Facebook, my own bank account and via PayPal collectively - and so closing the PayPal pool down - they have not released any money from the pool to me as yet.

Instead, I got elusive call center agents, passed around the call center - on hold for 40 minutes, disconnected - not just once or twice but repeatedly - and told, "we can't see the money in your account", "we can't see the pool details at this end". And, since PayPal closed the pool, within minutes of them doing that without my "informed consent", I also - as the account holder - cannot see the money pool anymore - it entirely vanished from my PayPal screen. I'm told now, that NO ONE CAN SEE IT. It's as if it never existed - and has vanished with £410 of donators' money.

I then fought for answers every day - on hold - passed around - stressed - frustrated for many days - to be finally told - we will raise a "ticket ID" and send this into the "back office" to have it looked into - that was on the 12th of October.

On the 14th I had no updates and it turns out - the ticket ID had NOT BEEN RAISED. The agent then stated she would "prioritize this ticket ID".

It's not the 18th of November and in today's call I am told this money will not be released in time for Rea's (my service dogs) MRI scan to go ahead, as there is an "investigation" that is ongoing.

I have had to cancel Rea's scan, despite suspected brain tumor, as the neurosurgeon to do the scan refuses to go ahead until I have the full funds.

This means that if it is a tumor, it is growing every day in Rea's head and we may lose her.

After everyone's kind and heartfelt contributions, I can't go ahead because PayPal won't release the money they gave in good faith and humility - and they refuse to tell me why there is an investigation.

To make matters worse - those donators that paid directly into my own PayPal account via entering my email address when asked for recipient details - I have tried to withdraw this money into my account to offer this as a deposit for Rea's scan - and the withdrawal was declined as "on hold" with no explanation as to why my OWN PRIVATE MONEY IN MY OWN PRIVATE PAYPAL ACCOUNT is now being withheld also.

I am a 45-year-old, BA (Hons) educated, law-abiding person - the first person to support and help others throughout my life - and yet now I have NO ANSWERS. NO FUNDS. NO COMMUNICATION. AND HAVE HAD TO CANCEL MY SUPPORT DOG'S SCAN.

In contrast - my Facebook fundraiser - has slowly released the fund via STRIPE payment system to total the £1,563 that people donated via them - WITHOUT ANY ISSUES AT ALL.

I am heartbroken that this put my support dog at great risk and deeply concerned at where this money has gone.

I would quite simply - never again - use PayPal for a Money Pool.

Bottom Line: No, I would not recommend this to a friend

---

Advertisement

---