PeachDish Reviews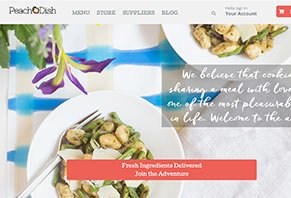 PeachDish's weekly meal kit subscription plans promise to deliver everything you need to make great meals at home, including ingredients and instructions.
About PeachDish
The folks over at PeachDish believe that cooking and sharing meals is "one of the most pleasurable things in life," so they've created a meal kit program that delivers all the ingredients you need to create a healthy, delicious, Southern-inspired meal in the comfort of your own home.
PeachDish tells us that their ingredients are sourced regionally and seasonally, and combined with their recipe cards (more soon), allow you to create dishes that are akin to something you might order at a local restaurant. This way, they promise to not only help you save time hunting for ingredients, but at $12.50 or less per serving, to help you save money too.
Overall, the process works over 3 steps:
Place your order before midnight on Sunday night.
PeachDish pre-measures everything and packs it in a special insulated box, so the fresh ingredients arrive at your front door ready to be cooked.
Enjoy your freshly prepare meal.
Whether you're looking for PeachDish's meal kit service to provide convenience, help you learn how to cook, eat healthier, or even host a dinner party, can you expect them to deliver on their promises? Here, we'll talk about what we learned during our research so you can make a more informed buying decision.
Let's begin by taking a look at how the process works.
How Does PeachDish Work?
PeachDish's Menus, Recipes & Ingredients
Within their 8-menu lineup, PeachDish changes 4 of their menus weekly (two meat-based protein dishes, and two vegetarian dishes) and the remaining 4 on a seasonable basis, all of which are created by the company's classically trained chefs. To begin receiving their quick and easy to prepare meal kits, you'll need to:
Sign up for a free account. You'll need a valid credit card or Amazon account.
Visit their This Week's Recipes page.
Choose your delivery window by entering your zip code (we'll talk about why this is required in a second).
Pick the dishes that you prefer.
Indicate the number of servings you need (either 4, 6, 8, or 12).
Then, PeachDish will send you all the ingredients you need to create the dishes you've chosen (excluding kosher salt, black pepper, and oil). This can even be purchased in PeachDish's store.
Included with each PeachDish box are colorful, simple-to-understand recipe cards—with photos—that provide step-by-step instructions on how to prepare each meal. This way, the company claims you'll be able to do the fun part and "enjoy around the table with friends and family."
Before placing each dish in your cart, you'll be able to view a brief description about it, the ingredients included, complete nutritional facts, cook time, and a bio about the chef. Compared to other meal kit services (more soon), PeachDish claims their registered staff dietician doesn't only focus on taste, but also on ensuring their "menus offer maximum health benefits to customers."
Based out of Atlanta, GA, we're told that PeachDish sources many of their ingredients from small-scale farms and "food artisans," which you can learn more about on their Suppliers page.
PeachDish's Boxes & Subscription Plan
When signing up your PeachDish account, you can choose to place a one-time order or set up a subscription service. If you choose the subscription option, you'll have the ability to create a custom order (following the steps outlined above), which will be shipped weekly.
Should you change your mind, you'll have until Sunday night to alter or cancel your order.
Important: Keep in mind that if you don't create a custom order or navigate to your account to manually skip a week, the PeachDish team will create an order based on your "order history and dietary selections." Alternately, you can try a meal kit out as a guest, although this will cost you more (we'll talk about this in the next section).
In addition to the ingredients, each of your PeachDish boxes will include an insulated liner and ice packs (proteins will be located at the bottom of the box), the recipe cards mentioned above, along with a weekly letter from the company's President. You'll need to pull out many of these ingredients and refrigerate them prior to use.
Here's a quick video outlining what's inside a PeachDish delivery:
Will you pay a lot for these ingredients and meal selection?
How Much Does PeachDish Cost?
PeachDish's standard box (two servings of two weekly dishes) is priced at $50, or $12.50 per serving. As a subscriber, you'll be able to add up to 10 additional servings (12 servings total).
Unless you live in AZ, CA, CO, IA, ID, KS, ME, MN, MT, ND, NE, NM, NV, OK, OR, SD, UT, WA, WY, PeachDish offers free shipping. Otherwise, you'll pay a flat shipping charge of $15.00 per box. Also, remember that checking out as a guest will add $7 to your shipping charge.
Your card or Amazon account will be charged on Monday morning, and the company cannot ship to addresses outside the continental U.S.
All PeachDish meal kits come with a 100% satisfaction guarantee. The company promises that if you don't feel satisfied with your meal, contact them at (404) 939-1860 or help@peachdish.com and they'll "remedy the situation for you."
PeachDish's Reviews: Are Customers Pleased?
TheKitchn tried out two of PeachDish's boxes, and found that they offered a limited variety of menus, only small portion of which were "Southern infused." On the other hand, they liked that PeachDish's boxes featured less packaging and more "biodegradable, recyclable, and reusable" materials than the competition; nice recipe cards that were easy to follow, high quality ingredients, and recipes that cooked up exactly like they appeared on the card.
On Yelp, PeachDish had 25 customer reviews and a 3-star average rating at the time of our research. There, common compliments referenced fresh ingredients, delicious meals, and easy-to-follow recipe cards, even for beginners.
However, more than one customer complained about boxes that never arrived, missing items (one reviewer claimed only 2 out of 6 items arrived in their second box), and poor customer service (usually, slow response times and unwillingness to rectify a problem).
From a company perspective, PeachDish had a D rating with the Better Business Bureau, despite having only 3 closed complaints (as of 7/23/16), one of which the company failed to respond to. One complaint referenced the company's unwillingness to honor a promotion, while another referenced paying for shipping, despite the company's claim that they offered free shipping.
How Does PeachDish Compare to Blue Apron?
While we didn't test either service directly, we did review Blue Apron several months ago, and 17 HighYa readers had provided their feedback at the time of our research.
Overall, Blue Apron had an average rating of 2.8 stars, with several customers noting the high-quality food and tasty meals, with others complaining about difficulty canceling subscriptions, high prices, and too-frequent shipments.
Like PeachDish, Blue Apron also claims to provide all the ingredients you need (except for salt, pepper, and olive oil), and to focus on fresh, seasonal ingredients. Blue Apron doesn't claim to employ a dietitian, but they do promise that each of their meals is between 500 and 700 calories.
However, whereas a full half of PeachDish's menu changes only once per season, Blue Apron promises to never repeat a recipe more than once per year. It seems that you'll get more customization options with PeachDish, since you'll be able to choose specific meals that match your tastes. On the other hand, Blue Apron only provides meat and fish or vegetarian subscription plans.
From a price perspective, Blue Apron's subscription plans cost more than PeachDish's, but you'll generally receive a greater number of meals. As such, Blue Apron's per-serving pricing can go as low as $8.74.
Based on a 2014 interview in TechCrunch, Hadi Irvani, PeachDish's founder, claimed he planned to unseat the current meal kit king by focusing on quality ingredients, which often come at higher prices.
Keep in mind, however, that Blue Apron isn't PeachDish's only competitor, including popular options like HelloFresh, Plated, Purple Carrot, and many others.
Who Founded PeachDish?
PeachDish was founded by Hadi Irvani in 2013, who previously hosted dinner parties where guests had the opportunity to cook their own meals and meet new people. Based on this power of cooking, Hadi launched PeachDish to help anyone—whether experienced chefs or novices—to cook great meals at home and to "nourish people's lives through good food experiences."
Today, PeachDish claims they ship more than 200,000 meals per year.
Prior to founding PeachDish, Hadi worked in e-commerce, sales, and business management.
Should You Sign Up for a PeachDish Subscription?
Whether during our research or based on customer reviews, one of the biggest caveats we see with meal kit subscription services is that you can't be a picky eater. Why? Because for the most part, you have little control over the ingredients you receive.
From our perspective, perhaps PeachDish's biggest advantage in the increasingly crowded marketplace is the ability to choose your own meals. Of course, this comes at a price (namely, the fact that PeachDish's recipes aren't rotated as often as much of the competition).
Speaking of which, PeachDish seems to be more expensive than other popular options, although the company claims this is due to their higher quality ingredients.
Does this mean PeachDish is right for you? Since food is such a personal experience, this is something only you can decide. If you're on the fence though, you can always sign up for a single shipment and go from there.
Did you find PeachDish's ingredients fresh and their meals delicious? Tell us all about your experience in your review below!