Peachtree Financial Solutions Reviews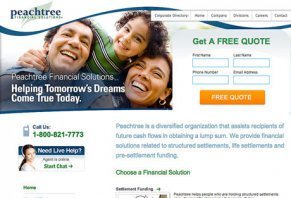 About Peachtree Financial Solutions
Peachtree Financial Solutions provides funding solutions for lump sum payments associated with settlements, annuities, life insurance, lottery winnings, and more. According to the company's website, they are supported by a variety of financial institutions, and "consistently rank as #1 or #2 in each of the segments in which [they] participate."
Peachtree Financial Solutions is based out of Boynton Beach, FL, and has been in business since 1996 and is owned by JGWPT Holdings, who also owns JG Wentworth. The company holds an A+ rating with the Better Business Bureau, with just 13 closed complaints over the past three years. Online customer reviews regarding Peachtree Financial Solutions appear primarily positive, with very few online customer complaints. However, based on our research, the most common complaint cites poor customer service.
How Peachtree Financial Solutions Works
As a company, Peachtree Financial Solutions offers five different financial solutions, depending on your needs:
Peachtree Settlement Funding: Allows you to receive one lump sum payout for your structured settlement.
Annuity Purchase Plan: Helps you liquefy your annuity investments, and turn them into one lump sum payment.
Pre-Settlement Funding: Cash advance services for victims of personal injury claims.
Life Settlements: Helps you free up cash related to life insurance settlement payments. As of the time of this writing, this section of the website was under construction, so no additional details were available.
Lottery/Special Asset Funding: Allows you to sell some (or all) of your lottery payments in exchange for one lump sum payment; extended payments through their Asset Advantage program; and even instant payment advances.
Regardless of which option you need, Peachtree Financial Solutions claims they can get you your money in five easy steps:
Contact the company.
Receive a free, no-obligation quote.
Peachtree Financial Solutions's highly trained experts will help you decide on a solution that best fits your needs.
Send the company a copy of your legal paperwork, in addition to a signed contract.
Receive your lump sum payment in as little as two weeks, depending on your chosen product.
Peachtree Financial Solutions Pricing
While obtaining a Peachtree Financial Solutions quote is free, fees associated with funding vary depending on the product you choose. According to the company's website, pre-settlement funding services carry a 2.95% monthly fee. While no information was available for settlement funding, industry averages range between 10% and 20%. To find out exactly how much you'll be charged, you'll need to contact the company directly at 800-903-1696.
Pros
Five different financial solutions that can help you free up the cash you need, when you need it.
Claims to employ only highly trained financial professionals who have your best interests in mind.
Most payouts can be settled in 90 days or less.
In business since 1996, and an A+ Better Business Bureau rating.
Cons
While the majority of online reviews are positive, the most common complaint cites poor customer service.
Some fees can be relatively high, and can add up quickly.
Bottom Line – What's the take on Peachtree Financial?
Peachtree Financial Solutions has been in business for close to 20 years, and offers a wide variety of financial solutions depending on your needs. With a very high BBB rating and primarily positive online reviews, the company appears to be a solid choice for those in need of lump sum payments related to structured settlements, annuity purchases, and more.
Despite this, the number one complaint we encountered during our research cited poor customer service. On top of this, Peachtree Financial is part of a February 2014 class action lawsuit, which alleges deceptive business practices.
With this said, keep in mind that many settlement companies charge very high fees for their services, in some instances reaching as high as 50%. This means that unless you're left with no other option, it's often a good idea to stay away from settlement companies altogether.